John spent a lot of time in Perry White's office. Occasionally he ventured outside and away from the Daily Planet. In "The Evil Three" he's bonding with Jimmy (and not nearly as scolding) when they stumble upon a strange hotel with some even stranger in inhabitants. He dies in "Mystery in Wax" after castigating the loony Madam Selena Dawn. In "Perry White's Scoop" he decides to solve the mystery himself after complaining how his reporters rely too much on Superman for help. He ventures to Africa to find his sister in "Drums of Death." In 1954, John as Perry again left the Daily Planet. Perry feels like he's losing his mind. The episode entitled "Great Caesar's Ghost" showcases John's ability to reveal another more vulnerable side of Perry White. Other notable moments include a trip back to the stone age in "Through the Time Barrier," caught in a diving bell trap in "Superman's Wife," and rope-tied to a saw mill log in "The Perils of Superman."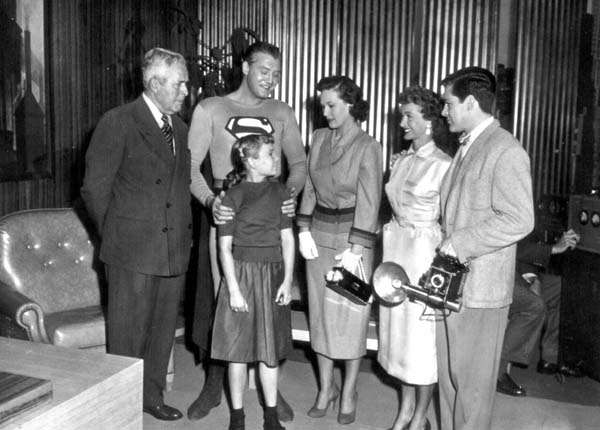 John Hamilton, George Reeves, Judy Anne Nugent, Kay Morley, Noel Neill and Jack Larson in the classic episode Around the World With Superman
He played White until the series ended in 1957. Health problems had began to crop up. His memory was getting faulty. Director Tommy Carr remedied this. "Take him away from his desk and we were gambling. We could be there all day trying to get the words out". According to Jack Larson, script pages were kept on John's desk. They looked like normal pieces of paper that blended in so no one was the wiser. John's lapses must have bothered him but he kept on working. He appeared in episodes of Blondie, Chicago Confidential, and Tales of Wells Fargo in late 1957 and '58.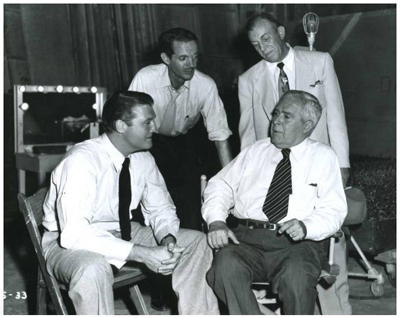 John Hamilton during a break between filming Joey, with Mauritz Hugo, Billy Nelson and George Reeves.
During the run of the Superman series, John was living in an apartment on Vine Street in Hollywood.
In 1958 he moved to Glendale with his son. In October of that year, John suffered a heart attack and died. He was 71 years old. The Superman cast would reunite one more time.
In some respects, John Hamilton has achieved the same kind of immortality as George Reeves. He played a bigger then life character and made him totally his own. Whenever there's a discussion on who was the best Perry White, John usually comes out on top. He layered his Perry with depth and dignity and even made him lovable. There is no doubt that part of the reason that the Adventures of Superman is so popular is the dignified presence of John Hamilton.
So rest easy Mr. Hamilton senior. Your boy did very well.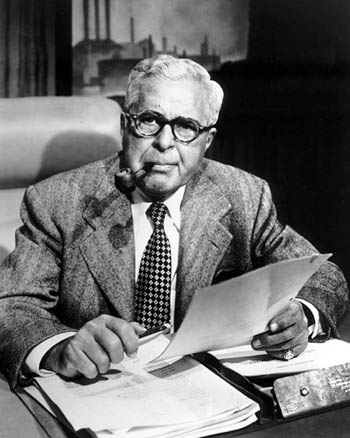 John Rummel Hamilton
John J. Raspanti
---
From Michael J. Hayde
Hey, John: Just want to say that I really enjoyed your article on John. It was very informative, and extremely cool to see pictures of his boyhood town and the schools he attended. You really captured a picture of his youth. It's difficult to go that far back in time and accurately recreate someone's life, but you did a very good job. About the only thing missing was his full middle name: Rummel.
Since I'm a member of Ancestry.com, I have obtained a copy of John's World War I Draft Registration card, from 1917.

Thanks for this well-written and crucial piece about a key TAOS member.

Sincerely, Mike
---
To our readers. I think it can be said that to date not much has been told in great detail about John Hamilton and thanks to John "The Rascal" Raspanti we can appreciate Mr. Hamilton just a little bit more than we've come to know. I hope you enjoyed this segment and we thank you for tuning in. I like to think we will, over time, be able to add more information if we are fortunate enough to see anything come our way.



For those who may have missed John's previous contribution to TAC. Please refer to
In the Shadows of "Panic in the Sky"
Posted: November 3, 2010
Lou