Shattered
A Superboy Story
by Mike Cline
Chapter 1
Superboy.
Powerful. Fearless. Invulnerable.
The only survivor of the doomed planet Krypton, home of a race of fine and noble humans far advanced over those of our own world. Whose scientist father sent him hurtling into the far reaches of inter-stellar space in a tiny craft moments before great Krypton exploded into a billion fragments, speeding the space ship on its course for planet Earth, where landing safely, the infant was found and adopted by a small town couple, Jonathan and Martha Kent.
Now, some twenty-one years later, Martha Kent is a widow, while the child is now mild-mannered Clark Kent, who works as a full-time reporter for the Smallville Sentinel, the little town's newspaper. A decision made with his parents some years earlier, but still carefully guarded, was to hide his exciting secret...the secret that Clark Kent is in reality...Superboy, the Boy of Steel.
It had been a very hectic couple of weeks.
Now in only the second week of his first full-time job, Clark sat behind the desk in his new office, new to him anyway. He was juggling his schedule between work, courting his fiancee and his on-demand duties as Superboy.
"How's that look to you?" asked maintenance man Clarence Colby. "Looks like I got it straight."
Kent agreed, "That's great Clarence. Good job." He referred to his name on the office door.
"Just curious, Clark, why did you take the office furthest from the front of the building? Seems like a lot of walking to Mr. Larson's office and the copy desk."
"Several reasons Clarence. Betty Bonner asked if she could have Rusty Ellsworth's office when he left, and since she's been here much longer than I have, I thought she was entitled to it. Plus the exercise up and down the hall will be good for me." Another reason, one he didn't share with Colby, was that being near the back of the building made it easier for him to slip in and out when Superboy was needed.
"Sure gonna miss ole Rusty," the staffer lamented.
"Yeah, me too. We worked together really well, I thought. We've been friends since we were kids, you know. But Uncle Sam called and that was that," Kent replied.
"Yeah, I guess so. I remember when I was drafted. Ended up in Korea. Not a happy time, but thank God, I came back. A bunch of them didn't. Well, I'll see ya later, Clark."
Kent smiled, then took another look at his name on the door. A full-time reporter at twenty-one, not bad, even if it was just a small town paper. He hoped the experience would be worth what he gave up, the continuation of his college education, at least for now. And soon he'd be a married man. Already in debt, paying back the loan he had taken out at the Smallville bank for the purchase of Rusty's 1959 Ford Fairlane, he'd be buying an engagement ring for his future bride as soon as he could afford it.
Buying his buddy's car was a good thing for both of them. It was Rusty's pride and joy and was in immaculate condition. But as young Ellsworth had said before reporting for his induction, it didn't make sense for the car to sit for at least two years while he was away. "A sweet car like this, Clark, needs to be driven and enjoyed, otherwise it'll just rot away. And I rather sell it to you than anybody." And it would be handy in as much as he and Lisa could now use it to get to and from work. Before long, people would get curious and start asking how the two got to town everyday. And telling them, "Oh, we fly," wouldn't quite cut it.
"Inspector Henderson, please. Clark Kent calling," he spoke into the receiver.
It was almost a minute before the call was answered. Inspector William Henderson, the second highest in the Smallville Police Department (topped only by the Chief / Commissioner - people called him either) apologized for the delay.
"And how is Smallville's newest reporter today?"
"Fine, Inspector. I wanted to touch base with you and see if there was any new information concerning Brody Murphy."
Murphy, the heroin-addicted and mentally ill young man responsible for the recent, brutal crime wave in the little town, caught because of Lisa Landon, who's secret identity as Supergirl was nearly exposed in the process.
"No, not really. Still be evaluated by the doctors in Metropolis. But between you and me Clark, and this is "off the record," I bet they end up saying he's not competent to stand trial."
"They wouldn't just let him go, would they Inspector?"
"I wouldn't think so. I mean I hope not. Hopefully, he would be placed in a long-term hospital away from society. But, that's not up to me."
"Well, thanks, Inspector. I'll check back with you in a couple of days."
"Fine, Clark, I'll let you know if I hear anything in the meantime. And tell your Mother hello for me."
Clark's mother, Martha Kent, almost had dinner on the table when her two boarders came into the kitchen from the living room.
"Hi Mom."
"Hi Martha, can I help you with anything?" Lisa Landon asked.
"Just have a seat, and help me eat all this," was her reply.
The three sat down to fried chicken, corn on the cob, fresh biscuits and lima beans.
"Anything exciting happen in town this afternoon?"
Both replied, "Not really."
"Lisa, when I was in the store this morning, I saw Dan Grayson's nephew Todd. How's he working out?"
"Good, so far. He's a pretty fast learner." Grayson had hired his brother's recently-graduated boy to take Brody Murphy's place at the general store.
"Shouldn't be too long before the drug store reopens, Dan said. The only thing that bothers me is that it's some kind of chain store. The headquarters is in Metropolis," the matriarch stated.
"Yeah, MED-X, it's called. I'll be doing a story on them in the next week or two. I heard they'll probably be open in about a month."
"Well, I miss our drug store, but I was hoping Ruth Gower would have sold to a private individual, not one of these big city chains."
Clark commented, "She can probably get more money for it that way. I've been told that MED-X had been after Mr. Gower for a couple of years to sell to them, but he held out. Now that he's gone, I guess it's the easiest way for Mrs. Gower to handle it."
"Well, maybe, but I still wish she would have sold to a private party."
"Chains seem to be the new wave these days, Mom, we're probably going to see more and more of them in Smallville and all around. Mr. Larson (Clark's boss at the Sentinel) said that he's heard there's some developer from Metropolis looking at some land right outside of town. He's trying to put together a deal to build an entire shopping center, with all kinds of stores."
"Just what I mean, son, that sort of thing will hurt all the downtown merchants, people we've known for years."
"Well, Martha, like it or not, that seems to be the new thing, " Lisa interjected. "Some call it progress."
"Well, NOT ME! You know, Dan told me this morning that a new restaurant opened in Cliffton a few weeks ago that sells hamburgers for fifteen cents. McDaniel's or something like that. How can they sell a hamburger for fifteen cents?"
"The big chains have better buying power than the individual stores, Martha," Lisa answered.
"Well, it all sounds like a conspiracy to me, sounds like Communism."
Deciding it better to get his mother's mind off the current topic, he winked at Lisa and replied, "Say, Mom. Since we're all here, this might be a good time to let you in on a little secret."
"A secret, huh?" Martha Kent replied.
"Yes, Mom, but maybe you should put down the coffee pot before we tell you," her son Clark answered.
"All right," she replied as she sat back down in her kitchen chair. "Now, is this when you're finally going to tell me that you two are going to get married?"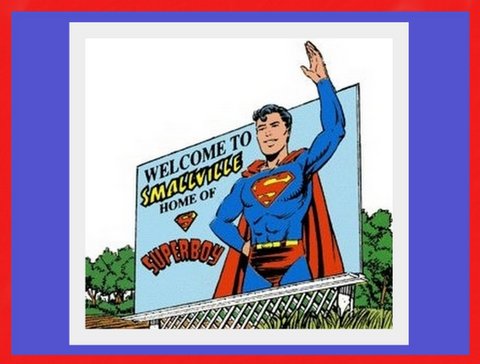 Chapter 2
"Mom! How did you know we're going to get married?"
"Listen, kids, just because you both can fly like birds and crash through cement walls doesn't mean you're the only two with special abilities. I have something neither of you possess...a mother's intuition. A mother knows her son, Clark. I've been watching you two float around this house smiling and grinning at each other for quite a while now. You both need to work on your poker faces."
"Well, there you are Lisa. That's my Mom."
"So, tell me, who asked whom?"
"Well, he asked me, Martha, and it was so romantic. We flew to a remote island in the Pacific, walked along the beach, and then your son asked me to marry him."
"And you said 'yes' I assume?"
"Well, of course, I did!" They laughed.
Martha stood back up and went to each and gave a big hug. "Now, you really will be my daughter. I'm so happy for both of you."
"Thanks Mom. I wasn't quite sure how you might take it."
"Clark, why would I have an objection? You're both wonderful young people, and it's pretty obvious that you love each other very much. So tell me, how have you decided to handle this?"
"What do you mean?" they replied in unison.
"Well, are Clark and Lisa getting married, or are Superboy and Supergirl getting married?"
"Wow, we really hadn't thought of that? Besides, what difference does it make?" Lisa inquired.
The matriarch wrung her hands. "Land a Goshen, you two. The blood test, for one thing."
"Huh?" Clark said.
"Kids, in this state, all couples getting married have to have a blood test before they can be married. Now just how could Clark and Lisa explain to the doctor why his needles couldn't pierce your skin for him to draw blood?"
"Gosh, she's right," Lisa responded. "Clark and Lisa certainly can't sit down for a blood test."
"Ricky Ricardo would say that you'd have a lot of 'splaining to splain," Martha laughed. "Perhaps you'd better discuss this a bit further before moving forward. You know, anyway you approach it, this would not be an ordinary marriage."
Martha retired to her room earlier than usual after dinner so the young couple could put their heads together.
Clark volunteered his views first. "Of course, Clark and Lisa's getting married could be handled much easier and low-key. They're just a couple of kids in a small town. But the legalities involved, looks like we can't get around that. And we can't risk our identities, so as much as I'd rather not have to go through all the hoopla, we may have to go the other route."
"I guess so," Lisa replied. "Maybe we could ask the folks in Smallville to respect our privacy and we could keep it a small civil affair. It would probably all pass over in a couple of days anyway. People have short memories about such things anyway."
"O.K. I'm good with that. So how should we proceed?"
"Well, darling," Lisa giggled, "Shouldn't we set a date?"
Kent answered, "With our schedules? We never know what's going to be happening from one hour to the next. Some quiet moment, in the next couple of weeks, let's just go to the Magistrate's Office at the Court House and get married. I know that may not be quite the wedding you were hoping, but..."
"The ceremony isn't what's important to me, Clark. Becoming your wife is all I care about."
After a long kiss, Clark tells his fiancee he will write a small blurb for the Smallville Sentinel's society column announcing their engagement, then they'll wait for that quiet moment.
Chapter 3
"Is this for real, Kent!" Laurence Larson, editor of the Smallville Sentinel, bellowed as he read the copy his newest reporter had just turned in.
"Well, yes sir. I wouldn't make it up."
"This is incredible! And you got this information when?"
Kent explained to his boss that he wrote the story at home the night before after a meeting with the betrothed couple.
"They just called you out of the blue and came to your house?"
"Well, they told me they had a story and since they were based in Smallville, they wanted the Sentinel to have it. I thought that was kind of them."
"Huh, oh sure, sure. They could have taken this story anywhere. Very nice of them. Kent, this is the story of the year, no, the decade! Do you realize what this will do for the Sentinel? Everybody in the country, make that the world, is going to be contacting us. We'll have to coordinate all of this. BETTY! GET IN HERE!"
"Mr. Larson, I really think they want to keep this as low-key as possible," Clark offered. The boss would hear none of that.
"NONSENSE! How can something like Superboy and Supergirl getting hitched be kept low-key! The wedding at the Court House in Smallville, why this town will be smothered with people from all around the globe. But we've got to keep the Sentinel the center of information. BETTY!" the editor roared.
Betty Bonner ran into the room.
"What kept you?" Larson yelled.
"Sorry, Mr. Larson, I was just listening to the police scanner. A dump truck went off the road into a pond on the road to Silsby, and the driver is trapped inside the cab. Emergency units are on their way out there. I was on my way out the door when you called."
"Well, this Superboy / Supergirl story is bigger. Betty, here's what I want you to do."
"I need to get out there Mr. Larson," she insisted.
"Oh, all right, go, but get back here as soon as you can. We have plans to make. Now Kent, " he shouted, looking back in Clark's direction. The space previously occupied was now vacant. "Now where did he go? KENT...KENT!"
Outside the back door of the Sentinel, Clark was shedding his outer garments and was soon airborne towards Silsby.
Fifteen minutes later, newshound Bonner, having driven like a banshee getting to the scene, parked her car and ran towards the wreck site only to find the dumptruck out of the pond, water still pouring from its cab. The emergency squad was treating the driver, who was relating to the medics how Superboy had lifted the vehicle out of the pond and set it down on the road. She looked to the left to see Inspector Henderson and Clark Kent in conversation.
"What can you tell me, Inspector?" she interrupted.
"Just gave it all to Kent, Miss Bonner. Excuse me."
"Where's Superboy?" she asked.
Henderson replied, "I'm not sure. He was here just a moment ago."
"Looks like the driver is going to be fine. Just shaken up. How about a ride back to town? I need to get this on paper," Clark stated.
His co-worker's expression wasn't one of love. "Clark Kent, how did you get out here before I did? And where's your car?"
"Uh, how about that ride?"
"GET IN!"
As the convertible sped back towards Smallville, Clark remarked that he was hoping to get back to Smallville in one piece. "Do you have to drive so fast?" he remarked.
"I know, Superboy," she offered.
"Uh, what do you mean?" Kent inquired.
"Superboy fly you out here, Mr. Kent? You seem to be the chosen one all of a sudden. He and Supergirl give you the interview of a lifetime and this morning he flew you out here to the accident. Am I right?"
"O.K., Betty, you got me. When Superboy got here a few minutes ago, I was with him."
Quickly written, Kent handed Larson his second story of the morning. "Looks like you'll own the front page today, Clark. Betty, better watch out, you don't want this wet-behind-the-ears reporter getting the beat on you."
"I assure you Mr. Larson, that I don't intend for that to happen," she stared at her competition.
"Now, where were we? Oh yes, Kent, I'm going to have Betty work with you on this wedding story and all follow-ups. Betty, I want you to interview Supergirl, get the woman's perspective for our readers. Kent, you stay in touch with Superboy as much as possible and keep us all updated on the wedding plans, etc."
"But, Mr. Larson, what makes you think I can get in touch with Superboy any time I want?" Clark meekly asked.
"Well, obviously, he likes you or he wouldn't have given you this story about the wedding. Get close to him. Develop a relationship. Hell, I don't care, Kent. Let him move into your house. Just stay in touch with him. Am I clear!"
"Seems Clark and Superboy are already in touch a lot these days," Betty barbed.
"Huh, well, that's great!" Larson answered. "Then we don't have to worry about anything! Good job, Kent. Now, stay on this wedding!"
"Please don't let this thing get out of proportion," Kent begged, "This thing with Superboy I mean. It was just lucky that I'm the one who got the story yesterday."
"Well, even so, now that you've on his good side, run with it. That's all. Now both of you go and do what I pay you to do. I'm counting on both of you!"
As Clark walked down the hall towards his office, he was thinking how this quiet little ceremony had already gotten out of hand, and his tiny story hadn't even been printed yet. "Maybe Lisa and I didn't think this through as much as we should have."
And to add to his worries, he heard from over his shoulder, the voice of veteran reporter Betty Bonner, "I'm going to be keeping a close watch on you, MR. Kent!"
Chapter 4

In a surprise announcement yesterday, Superboy and Supergirl revealed their intentions of becoming husband and wife.
In a meeting with the couple at a location they asked to be kept secret, the two confirmed that he had recently proposed marriage and she had accepted without hesitation. 'The easiest way to put it is that during the time we've spent working together, we fell in love,' the Boy of Steel explained. 'I want to spend the rest of my life with Supergirl, not only as my partner, but as my wife.'
'And I with him,' Supergirl added.
The couple has not decided yet on the exact date, but both stated it would be in the near future.
Of course, this takes both super heroes out of circulation in the dating game, something that will probably disappoint many of both sexes.
When asked where they planned to reside after the marriage, Supergirl said she hoped everyone would not be upset by the couple's asking for privacy. 'My future husband and I have very busy schedules, and there are times that we need to be alone. We are appreciative of the kindness we receive from the public, and are grateful that you have taken us into your hearts. Be assured that we shall both continue being accessible, and from the public perspective, nothing will change. We both love Smallville.'
Superboy answered that the couple plans on a small wedding, perhaps at the Smallville Court House before a Justice of the Peace. 'We're not looking for anything fancy or elaborate. Just a simple civil ceremony, then back to work.'
When asked about a honeymoon, the couple answered that would depend on what was going on in the world that day."
"Well, so much for keeping it simple," Lisa laughed, as she dropped the newspaper on the counter of Grayson's General Store.
The day had been unusually busy. Customers flowed in and out of the store most of the day. And every single person who did their shopping at Grayson's after the Sentinel had come out was talking about the super wedding.
"I have a good friend at the Court House, and I made her promise me that when Superboy and Supergirl come in to get married, she is going to call me, and I'm going to rush down there so I can watch. I've already picked out the dress I'm going to wear. It's light green," Lucinda Hobbs stated as Lisa handed the fussbudget her $3.00 change.
"Uh, that's great, Miss Hobbs, I'm sure the happy couple would want you to be there."
"Of course they would, dearie. You know, I'm best friends with both of them."
"How nice. Well, thanks for shopping with us, Miss Hobbs."
"Yes, the best of friends," Lucinda went on, refusing to go away like a bad cold. "Supergirl's been to my house for tea on several occasions. She's so sweet. You're sweet too, Lisa, maybe you ought to be thinking of finding a young man and settling down, too. You know, you're not getting any younger."
"I doubt Supergirl will be settling down any time soon."
"Oh, but she will. When she was over the other day, she told me that she and Superboy wanted children right away. I'm guessing she'll be hanging up that pretty red cape right after the wedding. Well, toodle-loo, dearie."
As she turned to help another customer, the beleaguered Landon thought to herself, "Whew! That conversation seemed longer than my trip from Septron to Earth."
At 5:45, Clark Kent pulled up out front of Grayson's and honked the horn. Lisa wasted no time in exiting the building and hopping into the front seat.
"Saw your little blurb in the society column. I'll bet it the first time a small, insignificant little column was splashed across the front page in bold headlines," she ribbed the driver.
"It didn't quite go as I was hoping," Kent responded.
"I guess we were both a bit naive in our thinking."
They looked at one another and both burst out laughing.
"Sounds like your boss is going all out over our wedding," she stated as the Fairlane headed out of the town limits towards the Kent home.
"Overboard would be more like it," Clark replied. "He's seeing all of this as an opportunity for the Sentinel to go big time in the newspaper world. And he's put me in charge of it all. He told me to be in touch with Superboy for any updates related to the wedding. I told him that just because I wrote the announcement story, that didn't mean I could turn Superboy on and off like a water faucet, but he didn't seem to hear that. He says I'm the man, and the Sentinel is counting on me!"
Trying to soothe him, Lisa said, "Looks like your breaking-in period as a reporter is over, and you're really part of the team. Isn't that what you wanted?"
"Well, I want my work as a reporter to be noticed and respected, but I wasn't expecting that my big "break" would be writing about my own marriage."
"Sweetheart, we never know what the future will hold for us. None of us does."
"I know. I'll just have to make the best of it. I guess my first big task is to establish a relationship with this Superboy guy like the boss said."
Again, more laughter.
She suggested, "Maybe you could talk with Mr. Larson and convince him to put someone else in charge of all of this."
"Nope, his mind is made up. But Betty Bonner should be taking the reins. She's more experienced than I am, but he won't change his mind. Larson has instructed Betty to assist me, and I can tell she's not happy being in the second slot. Oh yes, at some point, probably soon, she's going to want an interview with Supergirl, the woman's angle he told her, so be ready for that."
"He's certainly covering all the bases, isn't he?" Lisa commented.
"Oh yeah, he's going to ride this story for all it's worth. It's the Sentinel's big chance, and he isn't going to blow it. He wants all the other news outlets coming to him. And that includes radio and television. Nothing is to be released to anyone until it's appeared in the Sentinel first."
"So, you and Betty got off on the wrong foot?" she asked.
"I'm afraid so, and it's really my fault. I shouldn't have taken the dump truck story away from her today. I just wasn't thinking. After I made sure the driver was O.K., I should have left the scene so she could write the story. Instead, I changed to Clark and talked to Bill Henderson. When she saw me, she could have chewed nails. A veteran doesn't like to be scooped by a rookie, even if they work for the same paper. But what's done is done. It's going to be uncomfortable working along side her every day. She even told me,"I'm going to be keeping a close watch on you, MR. Kent!"
"Nice job, dear."
Right at the three mile mark from home, both felt their signal watches buzzing. Lisa took the call. Officer Kelley reported that Almira Sessions' boy was stuck high in a tree in the Sessions' back yard and was afraid to climb down. He could send the fire department, but if she could help, it would save three men from having to take the hook and ladder out. She assured the officer she would take care of it.
"Don't bother stopping, I'll handle this and see you at home," she requested. Lisa made a quick change and without the Fairlane missing a cadence, Supergirl exited the front passenger window and headed back towards town. Arriving quickly, she spotted the youngster a good twenty-five feet off the ground. Hovering beside the lad, she plucked him from the branches and lowered him to the ground. He ran to his nearly-hysterical mother.
"Well, young man, we meet again," the Girl of Steel addressed the boy. "Remember me, I'm the one who got your head out of the court house fence a few weeks ago."
"I remember you," came the response. "I wanted the fire department to save me."
"You mean, you did this on purpose?"
There was no response.
"If you did, that was a bad thing to do. I'm not going to stay here and lecture you. I'll leave that to your mother. But remember, there may not always be someone around to get you out of a mess like this."
Looking at Almira, Supergirl sternly suggested, from her look alone, that she should have a good talk with her son.
Chapter 5
"Kids, I know this didn't go the way you had hoped," Martha addressed Clark and Lisa as they all lounged in the living room. "But, look at it from a different perspective. You two have done so much for so many people that their making your wedding 'a big deal,' as you call it, is their way of saying thanks. Just go along with them and let them enjoy it, too. As soon as you're married, things will go back to normal, and everyone will go on with their lives.
"I guess you're right, Martha, but we had hoped we could avoid all the commotion."
"Well, it looks as if they're not going to let that happen, so just suck it up and go with the flow."
"Go with the flow? Mom, where did you come up with that," Clark asked his mother.
"Oh, I heard someone say that on TV the other night."
"I bet it wasn't Lawrence Welk," Lisa laughed.
"Well, I'm going to give Smallville a quick patrolling, then I'm turning in," Clark declared. "Tomorrow, I suspect the backlash of the big wedding's going to shift into high gear."
He disappeared through the revolving bookcase.
Lawrence Larson had left word that Clark and Betty were to come to his office as soon as they got to work.
"All right, you two. Update me on the latest from the super couple," he requested.
"Nothing new this morning, Mr. Larson," Kent stated.
"What! Why is that? Haven't you talked with Superboy since yesterday?"
"Mr. Larson, like I told you, before I can talk with Superboy, I have to know where he is. It may take some time."
"WE DON'T HAVE TIME, Kent," the editor bellowed. "What about you, Betty. Got that Supergirl interview lined up?"
"Not yet, Boss. Working on it."
"Well, what's your excuse?"
"Same thing Clark said. I have to find her first. Supergirl isn't listed in the phone book, ya know."
"Don't be cute, Betty. Listen to me, both of you. This is not acceptable. We're leading the way on this story. We can't let it stagnate. I need something fresh every single day. Now, get out there and find these people. NOW!"
All the two reporters could say was, "Yes sir."
Clark had been in his office no more than ten minutes when Betty popped her head in and told him to come with her.
He asked where. "Please, just get into the car," she sternly requested. He obliged. The obviously upset female reporter showed her ire by the squalling of her tires as she pulled out of the Sentinel parking lot.
"Would you mind telling me where we're going?" he asked.
"To the high school. I'm speaking to the journalism class at 9:00, and to avoid making excuses and to save time, you might as well come along so you can answer all their questions about the big wedding, since you're the one Larson gave the assignment."
"Betty, listen to me please. I tried to get out of that so you could have it. I really don't want anything to do with it, but you heard the boss."
"Uh huh," she snorted.
"You're mad about the story yesterday, aren't you?"
"Yes I am. You know Clark, Rusty and I got along fine. We had a professional understanding that we wouldn't steal stories from one another. He got his share and I got mine. I was hoping that kind of understanding would continue with you after Rusty left, but you made it pretty clear yesterday that it's every man, or woman, for themselves. So if that's the way you want to play, I'll play. I don't intend to let some greenhorn bust into the Sentinel and move me to the back page. Not me."
"Betty, please listen. I was wrong yesterday. I didn't think about what I was doing. The "greenhorn" in me, as you call it, got the best of me. I am sorry. I want us to get along. I have no intention of stealing your thunder. You're a good reporter. I've read your stuff since you started, what two years ago?"
"Three," Bonner answered. "Well...all right, I'll let it slide, unless it happens again. And if it does, just know that you and I will be at war. O.K.?"
"O.K. Betty. And if you want, I'll ask Larson again to relieve me of the wedding assignment."
"No, don't do that. He won't change his mind. A good reporter carries out their assignments, like them or not. Larson's the boss, and if he wants you as the key man, I'll assist you as he ordered. I suppose from his perspective, since you did the announcement article, it makes sense. But why did they call you instead of me?"
"Beats me Betty, you'll have to ask Supergirl and Superboy."
"Believe me, I intend to."
Kent and Bonner were back at their Sentinel desks an hour after addressing the SHS budding journalists. The only part of the visit enjoyable for Clark was walking the halls of where he had attended high school. The memories flooded back. Memories of Lana, Pete, Rusty, Phyllis and the seemingly immortal Mr. Winters. Betty's pride was damaged a bit as her prediction had been accurate. Nearly every question from the students had something to do with Superboy, Supergirl or the future nuptials. But the events of the rest of the day gave her little time to brood. Phone calls were coming in from all over the world. Kent's article of the super wedding had been picked up both both UPI and AP. Reporters from both services had called wanting all the information they could get. Clark had to refer calls from the BBC as well as Chet Huntley of NBC to Betty as he was tied up on the line with Walter Cronkite of CBS. The Sentinel operator had sore fingers from answering all the incoming calls from Cliffton to Chicago, Midvale to Minneapolis.
Imagine her embarrassment when Betty had to cut short her conversation with Chet Huntley. Over the police scanner in her office, she heard a request from the Metropolis PD for a roadblock on the highway leading from Metropolis to Smallville. Bank robbery. Suspects making their getaway in dark blue Chrysler heading in the direction of Smallville.
Grabbing her hat and purse, she ran from her office, out the back door of the building. On her desk was the telephone receiver with the muted voice of Huntley saying, "Hello?...Hello?" The wedding was Kent's story, this bank robbery was her's!
A moment later, Kent stepped into the empty Bonner office. Hearing the voice over the telephone, he finished the call with NBC's Huntley, one of the most powerful men in journalism, still on the line. Smoothing things over for Betty's sharp departure, Clark bid Huntley a goodbye. Just as he was leaving the office, he heard a repetition of the police call over the scanner.
Bonner's Dodge was pushing ninety heading towards Metropolis. Not knowing exactly where the roadblock was being set up, she threw caution to the wind. She had to be on site by the time the escaping suspects reached the road obstacle.
An upcoming curve in the highway partially blocked her visibility of a log in her lane. Just as she came upon it, she saw it and instinctively jerked the steering wheel. She felt the car lift off two wheels to overturn. She fell across the front seat screaming.
Betty Bonner thought she was dead. Nothing but silence. It took a moment for her to come to her senses. She was very much alive. And the car had remained upright, which was impossible. Flipping at ninety, she should have rolled over a dozen times. She should be dead.
Slowly sitting back up in the seat behind the wheel, her first sighting was a red and blue outfit filled with the nicest looking angel she had ever seen.
Opening the car door, Superboy asked, "Are you all right?"
"Yes. I think so, thanks to you."
"Going a bit fast, weren't you?"
"I guess I was, Superboy. I'm a reporter for the Smallville Sentinel. I was trying to get to a roadblock for a bank robbery story."
"Well, a roadblock wasn't necessary after all. Supergirl overtook the car, stopped it and turned the bank robbers over to the Metropolis Police. So you nearly killed yourself for nothing, ma'am. Is any newspaper story worth that?"
"It is to me, Superboy. My name is Betty Bonner. I'll do just about anything to get a story."
"Yes, apparently," he answered. "But such enthusiasm, I'll call it, could also harm innocent people. Didn't you ever think of that?"
"I guess I didn't, but from now on, I will. Thank you for being here for me."
"I'm glad it worked out, Miss Bonner. The Smallville Sentinel you said, isn't that where Clark Kent is working?"
"Yes it is. You know him?" she inquired.
"Our paths have crossed," he casually answered. "How's he doing?"
"Well, he's green, but he seems to have the right sense for being a good reporter."
The Boy of Steel continued, "Well, good. Glad to hear it. You two work together?"
"Well, actually we are now. In fact, because of you."
"Me?" the super hero registered surprise.
"Your upcoming wedding. Oh, congratulations by the way."
"Thank you."
"He's in charge. I should be, but that didn't happen. But I'll do what I can to help him."
Superboy stated, "I know he'd appreciate your help. Clark's a good person. He's a friend you can always count on."
"I'll remember that."
"Well, I must be going, Miss Bonner. I believe your car is O.K. to drive, just not so fast this time, huh?"
"Right. Oh wait. I really need to talk with your fiancee, but I don't know where to reach her."
"I'll pass on your message. I'm sure she'll contact you."
"Thanks, Superboy. Oh wait. Clark needs to talk with you."
"Thanks for telling me. So long."
He lept into the air and was soon out of sight.
"Supergirl, you lucky devil, you," she muttered getting back into the front seat.
Chapter 6
Standing in front of the large somewhat beat-up desk of his editor, Kent was the bearer of good news.
"I've spoken to Superboy, Mr. Larson, and he has agreed to check in with me on a daily basis until the wedding has taken place. The bad news is that there's nothing new on the wedding situation, so I don't have anything for today's paper."
"Sure you do, Clark, you can print what you just told me. Now you can assure our readers that Superboy is working in tandem with the Sentinel to keep everyone informed of the nuptuals. Got it?" asked Laurence Larson.
"Oh, yes sir. Thank you, sir." He bolted from the executive surroundings.
Larson thought to himself, "Love that boy's enthusiasm."
On his way down the hall to his own office, Kent looked in as he passed Betty Bonner's to see his colleague had returned. She was sitting with her head down on her desk.
"Betty," he whispered. "Are you sick?"
She raised her head, "No, just pulling myself together. Come in. You can close the door."
As he sat, Kent asked, "Pulling yourself together? From what (even though he knew)?
"Clark, the Sentinel came close to losing one of its reporters just a while ago," she informed the rookie.
"What do you mean, Betty."
Bonner relayed her near-death experience to Kent. He expressed surprise and comfort. "Gosh, Betty, how horrible. Thank goodness Superboy was there when you needed him."
"And how. Clark, has Superboy ever helped you out of a scrape?"
"Well, Betty, all I can say is that...if it weren't for Superboy, I wouldn't be here."
She continued, "Actually, he spoke quite highly of you, as if you knew each other pretty well, like you were friends."
"Oh, I think Superboy tries to be friends with everyone. But I am flattered he would remember me."
"Well, thanks for being concerned, Clark, but I have work to do, so you can..."
She was interrupted by the blaring of her telephone. "Hello. Betty Bonner speaking . Oh, hello..." She waved her hand at Kent signifying it was time for him to leave. She waited for the door to close before continuing, "Supergirl, thank you so much for calling."
"That sounds fine. I'll see you at eight o'clock in your office tomorrow morning."
"Thank you, Supergirl. Goodbye."
"Goodbye, Betty," Lisa Landon replied as she hung up the telephone on her desk at Grayson's General Store. She then went into the front of the store to help Dan and Todd wait on customers. When the place cleared out, she asked Dan if she could be a little late the next morning to take care of a personal matter.
"I'll make up the time by the end of the week," she promised.
"Lisa, that's fine. Don't worry about making up the time. You know I don't keep a stopwatch on you or Todd. I probably owe you a bucket of money for the days you work over and never complain," Grayson responded. "And how's about my taking you to lunch today, say, noon. I need to talk to you about something."
"Uh, well, sure, Dan, that'll be fine," she answered, her curiosity peaked. "Well, back to the office. Checks to write."
As she returned, she wondered what was the cause of this meal with Dan. She had never been asked to eat lunch with her boss before.
Chapter 7
"Great supper, Martha," Lisa complimented the lady of the house.
"Sure was, Mom. I have to admit...brussel sprouts in a casserole. I wasn't so sure, but they were really good."
"Important you both eat your vegetables. They'll make you strong," Ma Kent laughed. "Lisa, you were telling us about having lunch with Dan Grayson. What was that all about, if I'm not prying."
"Oh, it turned out not to be a big deal. I kind of panicked a bit when he asked me to lunch. It's like every time I get startled about something, I immediately jump to the conclusion it's about my Supergirl identity. Well, it wasn't."
"Hey, don't I know it!" Clark added. "All those times Lana tried to prove I was Superboy...it must have happened a couple dozen times. She used to make me so mad. I always had to be on my guard with her, especially since she was also my girlfriend. And the poor thing, the one time she did find out my secret, she was drugged and didn't remember it."
"What did Dan want to ask you, dear?" Martha questioned.
"He wanted to know if everything was O.K. with me. He said he had noticed I was acting a bit differently lately. I really didn't know what he was talking about. He said I seemed distracted sometimes and was acting even happier than I usually acted. Well, of course I'm happy. I'm going to get married very soon. And Dan's right. I do catch myself sometimes during the day doing a bit of daydreaming about it. I wasn't aware it was that obvious."
"How did you respond?" Clark inquired.
"That's what's strange. I said the first thing that came into my mind. Don't ask me where it came from, but I told him that I had a lead on finding my real parents. Then I told him about living at the Midvale Orphanage and all that. I was thinking he knew about that, but he said he didn't recall hearing it before. As we were walking back to the store, I was thinking to myself how weird that was, I mean, looking for my real parents."
"Sounds good to me," Martha added.
"I'll just have to remember to watch myself and not too giddy about marrying the greatest guy in the world!" Lisa concluded.
"And on that happy note, Mom, I'll do the dishes tonight," Clark advised, as he rose to clean off the table.
It doesn't take a super boy long to wash, dry and put away pots, pans and dinner dishes. It actually takes longer for the sink to fill with water. As he dried his hands, Lisa walked into the kitchen.
"You know, I have an interview with Betty Bonner in the morning. She said it was concerning our getting married. Do you believe she's shooting straight with me about that?"
"I know that's the assignment Mr. Larson gave her. To give our readers the feminine side of it all, but you need to be careful. I don't know Betty all that well yet, but I know she's a darn good reporter, so she may try to get more out of you than just your take on getting married. Just be on your toes."
"What if she gets into my background, stuff like that," she questioned.
Clark responded, "Just be nice and answer any questions you think is appropriate, just don't give her any information that she could trace to Lisa Landon. Remember, she's already told me that she's keeping an eye on me. I think that deals with my being a rival reporter, but I know she was very curious about me the day I scooped her on that dump truck story, I mean how I got to the scene so fast. She immediately guessed Superboy was involved and I had to tell her he was how I got there. I hope she bought my explanation. We seem to be getting along better now, but I'm very cautious of her, and you should be, too.
Chapter 8
A few minutes past eight the following morning found the Girl of Steel seated in a chair across the desk from Smallville's ace reporter Betty Bonner.
"I really do appreciate it, Supergirl, your taking the time out of your busy schedule to sit down with me for a chat. I know our readers are very anxious to get the feminine perspective on your upcoming marriage. I did some research and went back through back issues of the Sentinel, and it dawned on me that, other than the original interview Superboy and you gave Rusty Ellsworth about your coming to Smallville, there hasn't been anything written about you on a personal level."
"I'm happy to oblige, Miss Bonner. The citizens of Smallville have all been so friendly and warm towards me since I've been here."
"Well, I know we all, and I include myself, are grateful for all the great things you have done to help us during rough times. And please call me Betty."
"O.K. Betty, now as for getting married..."
The reporter quickly cut her off. "If you don't mind, I have a format I usually follow in doing an interview. May we please do it my way? It's easier and moves faster that way."
Supergirl responded, "Of course." Clark was right about her, she thought.
"You said 'since I've been here.' How long exactly have you been here? I mean, did you just happen to come here the day you appeared at the college gym dedication?"
"Well, no. I had actually been in the area for quite some time. Superboy thought it best that I not 'go public' until I was familiar with the area," came the response.
"So you knew Superboy when you came to Smallville? Is he responsible for your coming here?"
"I knew of Superboy, but we had never met. And no, he didn't bring me here. I came on my own accord, but I came to Smallville because he was here. I wanted to meet him."
"Any particular reason?" the reporter hammered on.
"Well, who wouldn't want to meet Superboy? He stands for all that is fair and right, and I wanted to do the good kind of things for people that he does."
"Excellent," Bonner applauded. "So you just walked up to him in your red and blue outfit and said, 'Hi Superboy. I'm Supergirl. I'm here to help you."
"No, of course not. It's a bit more complicated. I was around Smallville for some time before Superboy knew I was here."
"Interesting," Betty continued, hammering away on the typewriter keys. "And how is it that Superboy, or anyone for that matter, didn't know you were here for, how long did you say it was?"
"I didn't say," the super hero answered.
"Well, how long was it...a week...month...six months?"
"Betty, that's really not important."
"Very well, back to my other question...why didn't anyone see you during...this unknown period of time? You weren't hiding out in a cave, were you?"
"People saw me, Betty, they just didn't know who I was. I didn't wear what I'm wearing now."
"So you were disguised? In what way?"
There was a knock on the door. "Come on in," Bonner answered.
Clark Kent opened the door enough to stick his head into the room. "Oh, excuse me Betty, I didn't mean to interrupt...Well, hello Supergirl," he said, extending his hand.
"Mr. Kent, isn't it?" as she took his hand. "Nice to see you again."
"You two know one another?" Bonner inquired.
"Well, we've met," Kent meekly answered.
"Actually, right here at the Sentinel, I believe," Supergirl added. "Rusty Ellsworth introduced us the day the gentleman was injured in the press room."
"Yes, that's right," Clark replied. "Oh, congratulations on your engagement."
"Thank you, Mr. Kent, that's why I'm here, or so I thought." Supergirl aimed that at Betty.
"Uh, Clark, we're very busy, and I'm sure you have a story to write about some dog fight or jaywalker, so if you don't mind..."
"Oh, yes, of course, well, goodbye Supergirl, nice to see you."
"Nice seeing you Mr. Kent," as her eyes signaled him things were getting pretty warm in Betty's office.
Before they continued, the super hero said, "Seems like a nice man."
"Oh yeah, just the type you'd want to take home to mother. Shall we continue? "So you were disguised? In what way?"
"That, also, isn't important as to why I am here," the reporter was informed.
"I'm just curious, Supergirl. We folks of Smallville seem to see you, and Superboy for that matter, only when you're helping out the police, or the fire department, or people in trouble. That seems odd to me. I mean, where do you spend the rest of your day when things are all calm and peaceful?"
"I not sure I understand your question," the blonde replied.
"Sure you do. You yourself said you disguised yourself so people wouldn't know you. That's been the talk about town for years concerning Superboy. And seems it would apply to you. That you would hide behind the disguise of, say, an ordinary citizen, so you could live a more normal life. You and Superboy create a lot of notoriety wherever you go, so I can certainly understand your need for privacy. Disguising yourself could provide that. Don't you agree?" Bonner pressed on.
"I came here to discuss my engagement and upcoming marriage."
"A while back, our Mr. Millionaire, Lex Luthor, spread the word around Smallville that the Sentinel's own Clark Kent, whom you just saw, was actually Superboy. I don't know why Luthor did such a thing, and when it blew up in his face, he fled the country. But it's a good theory. He just picked the wrong guy. If Clark Kent is Superboy, then I'm Ladybird Johnson. So, who are you, Supergirl?"
"I'll tell you who I am. I am someone who came here in good faith to give an interview about being married. Instead, I am invited into your office where I am ambushed by an assortment of questions which have nothing to do with my engagement. Now, Miss Bonner, here's what we're going to do. I will keep my word and answer your questions about my betrothal. Then I'm leaving. Nothing else. And if you haven't any questions about my betrothal, I'm leaving now. And all of this other nonsense that went on...I'll be very disppointed if I see a word of it in your newspaper. So, I'll ask you a question...what's it gonna be?"
Chapter 9
"No, no, no...you didn't...oh my God, Betty. You ambushed Supergirl in your own office?" Sentinel editor Laurence Larson fumed as he read the copy Betty Bonner had handed in for the day's edition. I'm not printing any of this, except for the part concerning her upcoming marriage."
"Wait a minute, boss, listen..." she tried to take control.
"NO, you listen, young lady! You were supposed to interview Supergirl about her marrying Superboy, not do an expos'e of her personal life!"
Clark Kent innocently was passing Larson's door. "KENT! In here, NOW!"
The shocked reported jumped into the office, "Yes, Mr. Larson?"
"Did you know anything about this?" the boiling boss roared as he handed Kent the copy Bonner had turned in.
As he read the sheet of paper, his eyes opened wide in disbelief. Handing it back to Larson, he answered, "No sir, I didn't."
"Clark had nothing to do with this, boss, it was all me," Betty confessed. "Look Chief, the wedding is a fine story. We should all be happy it's going to happen here in Smallville. But it's going to be covered by every paper, radio station and TV station in the country. And I'm glad to be involved. But we're not going to be able to keep all these other people out of it. The Sentinel will be swallowed up whole by the big city people when they get to town. BUT...what if I could find the answer to a big question most of us in town have been thinking for a long time? What if Supergirl AND Superboy do disguise themselves as other people when, you know, when they're not doing Supergirl and Superboy things? I mean, where do they live? Where do they spend all their free time? If I could crack this nut, that would be a story even bigger than their getting married. Don't you see?"
"Well, Betty, I hear what you're saying, but I'm not sure it's something we should go after. Kent, what do you think?"
"Well, sir, I think there's a lot of assuming going on here?"
"And what do you mean by that?" Bonner fired.
"Just because Supergirl and Superboy do a lot for Smallville, they also do just as much or more for other towns, cities, or countries for that matter. They may stay busy around the clock going all over the world. Disguises may not even be an issue. Remember just last week, Superboy saved that ferry boat in England from capsizing. And Supergirl saved those skiers in that Switzerland avalanche. They could have their headquaters in Switzerland, for all we know, or New York, Chicago, South America...who knows?"
"Good point, son," Larson acknowledged.
"And regardless where they might live, I think they're entitled to their privacy in their personal lives. Betty, I'm sure you wouldn't want reporters or investigators digging into every aspect of your life, would you? I know I wouldn't want them digging into mine."
"Well, maybe..."she hesitated.
"I mean, what kind of payback would it be to invade their lives considering all the good things they've done for all of us? That might run them off...for good. And then what would we do? Covering the wedding is one thing, but what next...infiltrate their honeymoon? I say NO, Mr. Larson."
"And I agree, Kent. That's it. Back off Betty. That's an order. Your first order of business should be to patch things up with Supergirl, and apology for your, shall we say, overzealous behavior. Ya got me?"
"Yes, boss. I got you. But I don't know how to contact her."
"Kent, maybe you can help here. The next time Superboy gets in touch with you, see if you can persuade him to have Supergirl contact Betty. And if she does, the rest is up to you, Miss Bonner. Capish?"
"Yes sir," Bonner answered like a whipped puppy.
"Now, both of you get out of here! Go earn your salaries."
As the two reporters headed down the hall to their offices, Clark stated that he had never seen Larson so upset.
"Oh, he gets that way from time to time. Makes him feel important I suppose," she volunteered. "He probably thinks I plan to spend the next forty years working at the Sentinel, but if he does, he couldn't be more wrong."
"What do you mean," he inquired.
"I want the big time, Mr. Kent, not just the Smallville Sentinel. And to break out, a reporter needs a big story. This is my big story."
"You mean, you're not going to drop it like he said?"
"Let me put it this way. I'm going to go easy on it. I'm not going to go out and turn over every rock I see to prove my point. But...if something jumps out in my face, I certainly intend to pursue it. And if Superboy and Supergirl have disguises, I intend to find out who these disguises are! That will be my ticket out of this podunk town." She went into her office and closed the door.
Kent continued down the hall towards his own office, with concern etched into his face.
Chapter 10
"If Clark Kent is Superboy, then I'm Ladybird Johnson. She said that? You mean, she actually said that to you?" Clark Kent inquired of his fiancee Lisa Landon a.k.a. Supergirl.
"Yep, ole timer, that's what she said," Lisa laughed her response.
The events at the Smallville Sentinel were the hot topic around the Kent dinner table on this particular evening. Martha seemed amazed at about everything she heard. First, Lisa's telling of the Supergirl interview with Betty Bonner which went south in a hurry, then Clark's reporting the aftermath in editor Larson's office.
"If Clark Kent is Superboy, then I'm Ladybird Johnson. I don't know if I should feel annoyed or relieved," Kent added.
"Sounds like you might want to lay off that 'mild-mannered reporter' bit for a while," Lisa answered, laughing again. "Apparently your fellow Sentinel reporter thinks of you as a cream puff."
"Hmmm..." he gruffed.
"Look at the bright side, sweetheart, it's pretty obvious that this "Betty Bonner mission" is centered on me, at least for the time being. She and Lisa have never met, and she doesn't encounter Supergirl but once in a blue moon. She's going to have a tough time making a connection. You, on the other hand, are under her nose everyday. If she starts dogging you around, she could be quite the problem. So, if I were you, Mr. Kent, I'd be relieved. Now go put a band-aid on that bruised male ego."
"I think Lisa's right, Clark," Ma Kent chimed in with her opinion. "Betty sounds like quite the aggressive type."
"Oh, I don't necessary blame her, Mom. I think I understand her situation a little. Here she is, a single young woman, trying to make a name for herself in the journalism world, holding down a job that's mostly held by men. Most women who write for newspapers usually are limited to the society page, you know, weddings, parties, births, anniversaries. Betty wants more. I admire her for that. She just needs to fine-tune her methods a little."
"She came onto me this morning as if I were a corrupt politician who got caught with his hand in the cookie jar."
Clark continued, "Well, what I know is that neither one of us should give her any ammunition, because she will definitely light a match to it."
Eight o'clock a.m. the following morning found Larson and his staff of four reporters holding a meeting in his office. "Being Saturday, and according to the schedule, Williams and Harding, you two are doing half-days. That is, unless something big should break. Bonner and Kent, you're both here until we get our updates on the wedding. Either of you heard from the bride or groom yet?"
"Well, not yet, Mr. Larson, it is early. Superboy may not even be up yet," Kent answered.
"And what about Supergirl? Any chance she'll ever speak to us again after the Bonner blunder yesterday?"
Clark replied, "When I spoke with Superboy yesterday, I apologized for the misunderstanding, and he said he couldn't answer for her, but would talk with Supergirl about getting back in touch with Betty."
"Good lad, and if she does, Betty, I expect you to be so sweet that your teeth rot. Get me?"
"Loud and clear, Boss," Bonner responded.
"Now, all of you get out of here! Go earn your salaries."
Grayson's General Store was packed with customers laying in all the things they would need for the extended Labor Day weekend. It was Dan Grayson's custom to close the store on the holiday. Lisa generally spent Saturdays working the front counter, ringing up the customer purchases. Judging from the onslaught of business, it looked as if she would be chained to the counter all day. So when her signal watch vibrated her wrist, she could do nothing but ignore it, hoping her counterpart wouldn't have to do the same.
He didn't. Just as he stepped out into the hall from his office, he saw Betty trotting towards the back door leading to the parking lot.
"Fire at the Sartania farm. Don't bother, Clark. I called it."
"O.K. Betty. It's all yours. I have to wait here for Superboy's call anyway."
He peered out the door to see his rival peel out of the parking lot. Then, with the coast clear, Kent exited the building to his space behind the dumpster, shed his outer clothing and was airborne towards his childhood friend Chester Sartania's home.
"What do we have, Chief?" Superboy asked upon his quick arrival.
"Silo fire. Too hot for my men to get close. Chet says it's full of grain. Might lose the silo and the barn."
"Not if I can help it!" replied the Boy of Steel, who flew through the burning silo, not once but twice, allowing the ignited grain to pour out onto the ground from the four holes he had created. This allowed the firemen to put water on the inferno and with the addition of his super-breath, the flames were quickly reduced to that of a campfire.
"I'm sorry I had to pretty much destroy your silo, Mr. Sartania," he apologized to his friend's father.
"It was a goner anyway, Superboy, but you saved my barn and I am grateful," the aging farmer answered. "Spilling it out like ya did, I'll be able to salvage some of the grain. Otherwise, I'd have lost it all."
The fire chief was thanking Superboy as the Bonner vehicle pulled up. She ran up to the Chief and Superboy with her notebook open and ready to write.
"Miss Bonner, we meet again," the super hero greeted the reporter.
"Hello, Superboy. May I assume you are responsible for the holes in Mr. Sartania's silo?"
"Guilty as charged," he smiled.
"Superboy saved the day again, Miss Bonner," came the Chief's comments.
"Can your men handle it from here, Chief?"
"Yes, Superboy, we've got it now. Thank you."
As he started to depart, Betty stopped him long enough to ask if she would be hearing from Supergirl.
"I gave her Clark Kent's message, Miss Bonner. The rest is up to her. Goodbye." He took several steps and was soon flying out of sight.
Betty seemed a bit discouraged by his reply. She had to talk again with Supergirl, so Larson would get off her back.
Chapter 11
It was getting close to the Sentinel deadline. Larson was holding the press as long as he could waiting for Betty to report back on the Sartania fire.
Dan had told Lisa to take a ten-minute break, so she immediately went to her desk in the store's back room office to check in with Clark. While relaying the events of the fire at Chester's, he heard Bonner come in the back door of the building.
Putiing on his best acting voice, he spoke into the telephone, "Thanks for checking in with me, Superboy."
Hearing that, Bonner stopped dead in her tracks at Kent's doorway. He motioned her to come into his office.
"Well, that's great news, Superboy. Chester Sartania and I have been friends since we were little kids. I'm glad you were able to save their barn. How's that? No, I didn't cover the story. Actually, I was waiting here, hoping to hear from you."
Betty Bonner sucked it all up like lemonade through a straw.
"But we did have a reporter there...Betty Bonner. Oh, you saw her. Great. Actually, she just walked into the building."
On the other end of the line, Lisa was laughing to herself. She knew her fiancee was up to something, so she just listened.
"Oh, she's there with you now. Yes, sure, please hold the line." Looking up at Bonner, he motioned, "Betty, here, take this, Supergirl wants to talk with you."
"Really! Oh, O.K." She took the receiver, "Hello, this is Betty."
Lisa went right along. "Hi, Betty, it's Supergirl."
"Oh, Supergirl, I am so sorry for the way I acted yesterday. I don't know what came over me. I do so appreciate your speaking with me again. I wouldn't blame you if you never wanted to see me again."
"Betty, don't worry about it. I guess I was a little edgy myself. Getting married and all. So, I have what you call a scoop for you. My fiancee, Superboy, and I are going to be married this coming week. With the Court House closed Monday for the holiday, we're planning on being at the Magistrate's Office at noon on Tuesday, and we'll have the ceremony there. I'm counting on you to be there."
"Oh, I will! Wouldn't miss it for anything! Thank's so much for letting me know. It'll be in the afternoon paper."
"Now, Betty, please understand that these are our plans as of now, unless something requiring our services elsewhere arises. But right now, it's set for Tuesday at noon."
"Thank you, Supergirl."
"Goodbye, Betty. See you Tuesday." Both parties hung up.
Bonner reached down and gave Kent a kiss on the cheek. "Thanks, Clark, for your help. It's Tuesday at noon! Got to get this on paper. "I wonder where they were calling from?"
"BETTY!" Kent yelled.
As she ran up the hall, she shouted, "Mr. Larson. Bonner comes through again."
Chapter 12
Sunday mornings were usually quiet at the Smallville Sentinel. Laurence Larson, the editor, often went to his office to take care of matters that needed his immediate attention. Then headed down the street to church.
Except for the boss, the building was usually void of workers, since the Sentinel didn't publish a Sunday edition.
This Sunday morning was not ordinary. No paper to get out, but lots of planning to do. The marriage ceremony of the world's two super heroes was forty-eight hours away. And it would be taking place almost directly across the street at the Court House building.
Larson was basking in the glory that his small-town newspaper would be the host of representatives from all over. He had called his staff of four reporters in to make sure everyone dotted their i's and crossed their t's.
"Thank you all for coming in so early on a Sunday. I'll make this brief, so you can get back to your families. I just want to make sure that everyone is aware of their assignments, because I want a story from all four of you for tomorrow's front page. O.K., Kent, you're up first. You are in charge of Superboy, of course, as well as the Governor. I want an update article from Superboy, you know, last minute details. Get as much out of him as you can. Find out about the honeymoon and their post-wedding plans. That sort of stuff. Coordinate with the Governor's staff. His people told me he plans to arrive in Smallville about an hour before the ceremony. That makes it eleven o'clock Tuesday. He's to be in the magistrate's office with a bird's-eye view of all that goes on. Make sure that happens, Clark."
"Yes, sir," he answered.
"Betty, a final pre-wedding Supergirl story from you. Now that you two patched up your differences, that should be a reasonable request."
"But, Boss, same problem. I don't know how to contact her."
"Kent can help you on that, through Superboy."
Bonner bristled when she heard those words. Her having to rely on Clark didn't sit well with her. After all, he was the rookie reporter.
"Yes, Boss."
"You'll write the lead story, Betty, for Tuesday's paper concerning the ceremony. Kent will be too busy dealing with the Governor."
That made her feel a little better.
"Clark, Betty, I also need you both to make sure the TV networks are taken care of when they arrive tomorrow afternoon."
Bonner asked, "Chief, is Cronkite really coming?"
"It is my understanding that he is."
She continued, "What about Huntley and Brinkley?"
"Last I heard, one of them will be here. Don't know which one. Are we clear on this?"
Kent and Bonner answered in unison, "Yes, sir."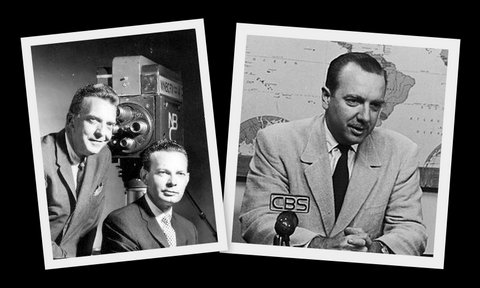 Any local TV stations and other newspapers are on their own. The Police Commissioner assured me they would be treated nicely, but not at the expense of the Sentinel, if you understand what I mean."
Bonner and Kent glanced at one another when they heard that.
"Williams, wake up!" Larson blasted. "I need you to do a story from the people of Smallville's perspective. Mingle through the crowd Tuesday morning and get their thoughts about what's going on. You can include personal stories of how Superboy and Supergirl have helped them out, stuff like that. Understand?"
"Yes, sir," Williams replied.
"Harding, your turn. I want a story from the police about all the security and crowd handling they're responsible for. The Police Commissioner will be in the magistrate's office during the ceremony. So will the Mayor. Talk with both of them, you know, their feelings of what this wedding means to the town. For the other part, talk to Bill Henderson. I've heard he's in charge of the security. Got it?"
"Got it."
"All right. Tomorrow's Labor Day, so most of the businesses in town will be closed. But the police will be roping off the side streets and other areas for traffic and crowd control. So that will be a good time for you, Harding, to get the information for your story. O.K., you all have your assignments, you know what needs to be done. Folks, this is big for our town and really big for the Sentinel. We have a great opportunity to put this newspaper on the map, not confined to the county lines like we usually are. So I'm counting on all four of you to run with the ball, no fumbles," Larson preached, sounding more like the Smallville High football coach rather than a newspaper editor. "Thanks for coming in, and I'll see you all at eight sharp right here tomorrow morning.
Chapter 13
Since she had the day off from the general store, Lisa decided she would surprise Clark and Martha by cooking breakfast for the three of them.
They all bit into their helpings of scrambled eggs, livermush and toast. No one said anything, but kept on eating, or appeared to do so.
"I'm sorry," Lisa apologized, "don't eat it. It's awful. It won't hurt my feelings."
"It's not that bad," Clark offered.
"Sure it is. The eggs are supposed to be soft, and they're crunchy. The livermush is supposed to be crunchy, and it's soft. And the toast tastes like plywood. Are you sure you want to marry me tomorrow? You'll probably starve to death."
"Listen, Lisa, it takes time to learn to cook. No one gets it right the first time," a gracious Martha stated. "Here, let me fix some more eggs while you two drink your coffee."
"Sorry, Mom, but I'm not going to have time. I have a meeting in Mr. Larson's office at eight sharp. I've got to get going. Lisa, should I leave you the car?"
"No, you take it. The truck is here."
"So what do you have planned for your day off?"
She responded that she was going to stay home and help Martha with whatever Martha needed help with.
"I know what, honey. I planned to have meatloaf for supper tonight. I'll show you how I make mine, and you can help."
"Oh well, there goes supper, too. Clark, you'd better eat at Tony's before you come home," she said.
"Can't. Tony's is closed today. I'll have to risk the meat loaf," he laughed.
He gave both women a kiss before heading for the door.
"Oh, I'll handle any calls that might come in. I expect you're in for a busy day at the paper."
"O.K. Don't forget to call Betty Bonner."
"I won't," she assured him.
Like the previous morning, Laurence Larson had three of his four reporters standing in his office. Much of this meeting was a recap of the one held twenty-four hours earlier, but the editor was stressed out about wanting nothing to go wrong that could hurt the Sentinel's big chance. "Good grief, where's Harding! He knew about this meeting."
Just as Larson ended his sentence, Harding entered reading a piece of brown paper.
"You're late! Where have you been?"
"Sorry, Mr. Larson. I was waiting to pull this off the UPI teletype. A huge industrial dam in Ranchipur is threatening to burst due to heavy monsoons. Says if the dam goes, twenty-five thousand people are at risk because the water will flood their towns. They're trying to evacuate the area, but there probably isn't enough time. By the way, where's Ranchipur?"
"It's in India, Harding. Didn't you ever take geography in school?" Betty Bonner fired.
"Yes, I took geography. It just wasn't my best subject," Harding fired back.
"Harding, I'm sorry to hear that, but we can't cover a story in India. Good God, man, I'm worried we can't cover this story in Smallville. We'll keep an eye on the dam story from the wire service. Now, where were we?"
Larson observed Kent getting up and heading for the door.
"Now, where are you going, Kent?"
When Kent turned to answer, he had his handkerchief up to his face. "Slight nosebleed, Mr. Larson. I"ll be right back."
"Well, hurry back, and don't bleed all over the place. The custodians are off today."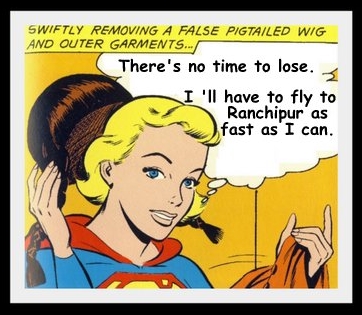 Naturally, the nosebleed was just an artifice so Kent could get to the men's room to use his signal watch to contact Lisa. He relayed the information Harding had read, and she told him she would leave right away for Ranchipur. Lisa, in turn, passed on the information to Martha, and that she was leaving to help in the situation.
"I'll be back as quickly as I can," she told her future mother-in-law as she swung through the living room bookcase.
With the message passed on to Supergirl and handkerchief back in pocket, Kent returned to the meeting.
"Are you all right?" Larson asked.
"I'm fine. Sorry for the interruption, Mr. Larson."
"So, can we please finish our meeting?" he requested.
Chapter 14
A trip from Smallville to Ranchipur, even via the fastest military or commercial jet, would probably take at least twenty-four hours.
Supergirl had arrived in less than thirty minutes.
The darkness of night had hampered the evacuation process down to a crawl.
Making several passes over and around the area, using her super extraordinary vision, the Girl of Steel could see water already flowing over the huge structure and several large cracks forming in its foundation. Time was of the essence.
Quick thinking convinced her that if the dam gave way, there was little she could do, but if she could limit the flow of water towards the dam, it might hold.
"If I burrow a series of tunnels and ditches upriver, letting the water drain away from the dam, that might do it. Just as long as none of the tunnels lead towards any of the populace."
She bore into the ground, digging northward. Thousands of gallons of water followed right behind her. After about a mile, she surfaced and surveyed the results. Things looked promising. Flying upstream another couple of miles, she repeated the process with the same result.
The water level at the dam subsided somewhat.
"A couple of tunnels headed south just may do the trick."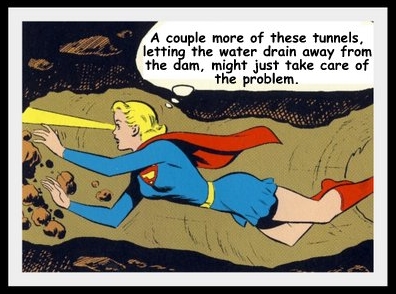 Heading in the opposite direction as before, Supergirl dug through the Indian soil two more times.
It wasn't very long before the Indian journalists were reporting that the imminent threat of devastation appeared to be over. The water level had subsided. Engineers on the scene estimated the river, with its massive flood waters, would be back to its normal levels by morning.
Back in Smallville, Betty Bonner pulled the story off the UPI wire service and informed Laurence Larson.
"That's great news, Betty. Does it say how the damage was averted?"
"No sir, just that a number of towns and as many as twenty-five-to-thirty-thousand lives were probably saved."
"O.K. Get that story to composing, and we'll put it on page two. The front page is already full of our wedding stories."
The Labor Day holiday, a day of rest for many, but not for Smallville Sentinel reporters, had drawn to a close. Clark pulled the Fairlane into the Kent driveway, and entered the house via the kitchen door. Martha was putting the final touches on the dinner.
"Hi Mom," he greeted his mother.
"How was your day, Clark?" she inquired.
"Crazy! I'll be glad come tomorrow at this time when all of this wedding stuff is over. Lisa back yet?"
"No, not yet, son, and dinner's almost ready. Do you think we should wait for her? My concern is that the longer this meat loaf sits, it'll taste more and more like Lisa's scrambled eggs."
Laughing, he answered, "I guess we should go ahead and eat. She should be back any time now. I'm really proud of her. She prevented that dam from bursting and saved thousands of lives. I'll go wash up."
"Oh, thank goodness. I'll have it on the table in five minutes," a relieved Martha answered.
The two Kents ate their meal, although Clark fidgeted in his chair through the duration.
"What's wrong, son?"
"I'm worried about Lisa. She should have been back by now."
"Clark, what do you have to be worried about? She's Supergirl, remember? She's probably taking her time flying back. It's a long way you know."
"Well, maybe."
"Tomorrow's a big day...for both of you. She may be taking her time, lost in thought about what's going to take place tomorrow. It's a big day for her...you, too. Just take it easy."
"You're right, Mom."
The evening slowly passed. Clark seemingly counted every minute. It got to be midnight.
"Mom, I should do something. I think I'll go look for her."
"Look for her? How would you know in what direction to go? She could be returning by a dozen different ways. Even by flying at your super-speed, it would take you hours and hours to cover all that territory. What you need is to go bed and get some sleep. Tomorrow's going to be a very busy day, and even Superboy needs sleep. She'll be here when we wake up in the morning."
"I don't know, but maybe you're right."
"Did you try contacting her with your signal watch?"
"Several times, but the signal is good for only about a hundred miles."
Martha, trying to calm down her anxious son, "She probably got delayed somewhere helping out in some other situation. Come on, bedtime."
"All right," he replied.
Even though he climbed into his bed, he and sleep were strangers. Every creak he heard, he sat up, hoping to hear his fiancee coming in. This went on for hours.
Finally, around three a.m., he fell into slumber.
Chapter 15
"CLARK! COME HERE! HURRY!"
Martha's scream pierced the Kent home.
Clark jumped out of his bed and rushed down the steps to find his mother kneeled beside Supergirl, who was sprawled across the living room roof. The bookcase stood wide open.
"What's wrong with her!" he asked.
"I don't know. I was going into the kitchen to start breakfast, and when I clicked on the light, I found her just like this. Clark, I can barely feel her pulse!"
Both tried to revive her but to no avail. "Lisa, can you hear me?" he pleaded. There was no reaction.
"I've got to get her to a hospital," he yelled as he ran back to his room to don his red and blue outfit.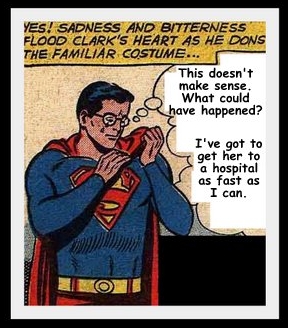 Back in seconds, he carefully took Supergirl in his arms.
"Mom, you need to call Dan and make an excuse for Lisa not coming to work. Then call Mr. Larson and tell him Clark has gone to Metropolis to cover a story, and that I'll call him as soon as I can."
He and his passenger vanished. Martha closed the bookcase behind them.
"This doesn't make sense," she thought. "What could have happened to her? She's Supergirl."
Gathering her thoughts as to what to tell Dan Grayson, she took the telephone receiver in her hand and called Grayson's General Store. Dan answered on the third ring.
"Good morning Dan. It's Martha Kent."
"Hello Martha. Hearing sobs, he asked, "Martha, is something wrong? Are you crying?"
"Dan, I have some bad news. Lisa won't be in today and probably not tomorrow. The truth is, Dan, I don't know when she'll be back."
"Martha, what's happened? Is she sick?"
"Well, Dan, actually she's gone," came the response.
"I don't understand, Martha. What do you mean gone?" he asked.
"Uh, it's about her parents. She's gone to try to find them. When I got up, I found a note. It said that she received some information last night telling her where she might find her parents, and she left to follow up on it. That's all I can tell you at this point, Dan. I'm sorry."
"And that's all she said?"
"Yes, except to tell you that she's sorry to leave you in such a bind."
"Well," a dejected Grayson answered, "Thanks, Martha, for calling. If you hear from her, will you let me know?"
"Of course, Dan."
"Well, will I see you in town this morning, for the marriage ceremony? Everybody will probably be here."
"No, I don't think so, Dan. This thing with Lisa has me pretty torn up. I'm just going to stay home."
"Call me if you need anything, Martha."
"Thank you, Dan."
Having to lie to her friend cut through her like a butcher knife.
One down, one to go.
The call to Laurence Larson didn't go as well. Martha informed him that Clark had taken off to Metropolis to cover what he called a major story and would be in touch with the Sentinel as soon as possible.
"Metropolis! He should be here! We have a wedding in four hours. All the network radio and television affiliates and major newspapers are here, and Clark's in charge of them. What's he doing in Metropolis!"
"I told you, Larry, he went to cover a story."
"WHAT STORY!"
"He didn't tell me, Larry. Look, I'm just passing along his message. I can understand your anger, but don't you go raising your voice at me, do you hear me Laurence Larson!"
That got the editor's attention.
"You're right. I'm sorry, Martha. I do apologize. When's he gonna call?"
"He said as soon as he could. And I'm sure he will. Good-bye, Larry." She hung up the receiver, sat in her favorite chair and burst into tears.
Chapter 16
Superboy paced back and forth behind the doors of the emergency room at the Metropolis Mercy Hospital, considered the best medical facility in the entire state.
He had arrived with the unconscious Supergirl within minutes after leaving the Kent home in Smallville.
Doctors responded immediately and took the patient into an examination room. Virtually every doctor in the facility came to her aid. After about fifteen minutes, one man, dressed all in white, came into the hall to find the Boy of Steel.
"Superboy, I'm Doctor Shafer, Chief of Staff."
"Pleased to meet you, Doctor," shaking his hand.
"What can you tell me about the situation? Do you have any idea what happened to her?"
The lad answered, "Not really, I found her unconscious this morning and rushed her directly here."
"Where did you find her?" Shafer inquired.
"She had collapsed on the floor. Her pulse and breathing were weak, and I couldn't wake her up. Any idea what is wrong with her?"
"Not yet. It would be very helpful if we could get a sample of her blood for analysis, but our needles can't penetrate her skin. Can you help us?"
"Yes, I think so," he answered.
"Good. (Calling to a nearby nurse) Nurse, get Superboy into a mask and gown and bring him in."
When he approached the table, he saw that she had been put in a hospital gown. Her red and blue outfit was sitting in a chair in the corner.
"I know it won't be the best way to get blood, but I'll have to use my thumbnail to puncture her arm. Will that be all right?" he asked.
Shafer answered any way he could get them her blood would be fine. The procedure took about a minute. The doctors then stated that a sample of his own blood would be of great help, for comparison purposes. So he repeated the process on himself. He remarked that was the first time he had ever seen his own.
"We'll get these samples to the lab right away and see what it might tell us. In the meantime, we're taking her upstairs to our Intensive Care unit, and get her on a ventilator so she can breathe easier. She's straining now to get air, and that will only weaken her further. Why don't you wait back in the hall? I'll come and get you when there's any change."
"Thank you, Doctor Shafer."
The clock was nearing ten. Everyone in Smallville was expecting a marriage ceremony at noon, one that wasn't going to take place. He needed to call the Sentinel, so the cancellation announcement could be made. He didn't want his townspeople to be inconvenienced any more than they already had. Not wanting to step out into the waiting room as the Boy of Steel, he used his x-ray vision to be sure the men's rest room right down the hall was vacant. Making sure no one observed him, he slipped into the room, changed to Kent, and made his way out to a pay telephone in the waiting room.
"Mr. Larson, this is Clark."
"Kent, where the devil are you!" his editor roared.
"Calm down and listen, please." He informed his boss of the goings-on, that the wedding would not take place due to Supergirl's being in critical condition at Metropolis Mercy Hospital.
"Wait a minute, wait a minute. I'll let you give all this to Betty. She can write it up. Hold on. BETTY! BETTY! Get in here."
Running into his office, "Yes, Boss."
"Here's Kent. Take it all down for the front page."
Clark, taking everything he had to maintain his composure and not break down, relayed everything to Betty right up to the minute and told her he would call back when there was any change."
"How long are you staying?"
"I'll be here as long as necessary," Kent assured her.
Laurence Larson painfully called the Mayor's Office and notified His Honor that there would be no wedding on this day. The Mayor, in turn, walked to the front steps of the Smallville Court House, and standing in front of almost everyone in the county who had gathered, as well as all of the news media people, shared the dreadful news and announced Supergirl's crisis in Metropolis.
The Smallville citizens, for the most part, stood in shock, conversing with one another. The news people all dashed for their cars and trucks.
A helpless Laurence Larson sat in his desk chair, looking out his main street window, as television, radio and newspaper vehicles passed his building, one by one, all on their way to Metropolis. His "big story" had evaporated before his eyes and was now in another city.
Chapter 17

Kent placed a call to his mother Martha to let her know the dire situation. She was so upset, she was still in her bathrobe and nightgown.
"Oh, Clark, I'm so worried. Are the doctor's going to be able to help her?"
Almost crying himself, he answered, "I don't know. I feel so helpless. All of these great powers I have and there's nothing I can do for her."
"She's in the hands of the doctors and the Lord, son."
A moment later, Clark was Superboy again, exactly where he had been earlier. The elevator bell rang, and Doctor Shafer stepped into the hall. "Ah, Superboy, there you are."
"Any change, Doctor?"
"Not yet. We've completed a preliminary blood analysis, and I can tell you that both you and Supergirl's blood is quite similar to that of Earthlings. Not exactly the same, there are some differences, but we believe close enough that we can proceed with the drugs that we have. There is a big difference in the readings between your blood and her's. Supergirl's white cell count is so high, we can't really get an accurate reading. I'm sure you know that white blood cells fight infection in the body. With her white count off the charts, we do know that she has a massive infection of some sort. What kind, we don't know. But we want to give her very strong antibiotics to fight the infection and saline so she won't dehydrate. We need your help once again, to establish a route in her vein to insert an IV needle so we can administer the drugs we have chosen."
"Has she awaken?" he hoped.
"No, she is in a coma. Her blood pressure is extremely low, and her breathing is irregular. The ventilator is helping, but her respiratory system has endured a strong shocking of some kind. We'd better get upstairs."
The daily edition of the Smallville Sentinel hit the street around two o'clock, the normal time. Only the headlines and stories Larson had printed weren't what he had planned.
SUPERGIRL RUSHED TO METROPOLIS HOSPITAL - DOCTORS BAFFLED, SAY CONDITION CRITICAL by Betty Bonner.
The veteran editor was all but in a trance. The big story had migrated about an hour down the highway to the big city. The only news people in Smallville now were the employees at WSML, Smallville's 1000-watt AM radio station and the Sentinel, just like it usually was. He had the thought that this catastrophe was only a postponement, that the marriage could still happen, but only if Supergirl recovered, and she very likely would. After all, she was Supergirl. Nothing could hurt Supergirl. But something had, and the information from Mercy Hospital wasn't sounding good. He informed Betty Bonner to stay by her phone the rest of the afternoon. Kent could be calling with updates at any time.
Doctor Shafer informed the Boy of Steel that the staff had started administering the drugs they had selected. "Now all we can do is wait. You should get some rest, Superboy. You're probably exhausted."
"I do have something I need to do, Doctor Shafer, but I want you to call me if there is any change."
"Of course, I will. But where do I call you?"
"Where are Supergirl's things?" he asked.
"We put them in a bag, and they're in a closet in the ICU," a nearby nurse answered.
"Would you get them for me, please?" the super hero asked.
Looking thru the bag, he located her signal watch a nurse had placed in one of her red boots. "Here Doctor, when you need me, just mash this button right here (showing him) and I'll answer. It's sort-of a walkie-talkie communication system."
"I certainly will. I won't let this watch out of my sight," Shafer promised.
"Thank you. I'll return as soon as I can. May I use this door?"
"That's the employee's entrance. By all means."
Chapter 18
Clark Kent entered his living room via the bookcase and called out to Martha. She burst through the door from the kitchen, met her son and they embraced. He told her everything that had occurred since he left with the unconscious Supergirl earlier in the morning.
Their attempts at consoling one another were difficult, but it was all they could do for one another.
"Is she going to be all right?"
Fighting back tears, he answered, "I don't know, Mom. She's really sick, and other than infection, they don't know anything else. They're doing all they can."
"Clark, I've been beside myself all day, trying to think of what could have happened to Lisa. None of this makes any sense to me."
"Me either, although an idea struck me when I was flying home. It's the only thing I can think of that sounds logical. I need to make a telephone call."
"Who to?"
"Oh," he reported, "I have her Supergirl outfit. I didn't want to leave it at the hospital. I left it in the secret room where it will be safe."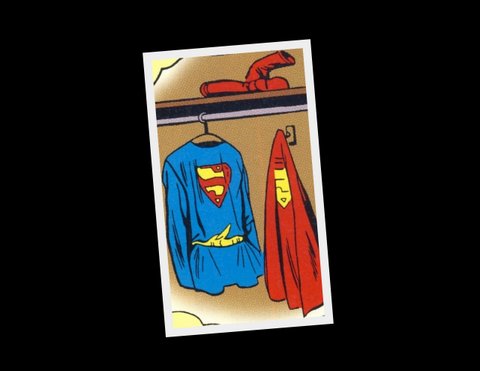 "Who are you calling, Clark, the paper?" she inquired.
"No, there's one person I know to talk to who might be able to help me shed some light on all this."
Chapter 19
Clark Kent stood outside the closed office. He tapped his knuckles three times on the wooden door. A voice answered, giving permission to enter.
Opening the door, the visitor was welcomed by a handshake and asked to sit down.
"It's good to see you, Clark. To be honest, I get few visits from students once they have graduated."
"Thank you for seeing me, Professor Peterson. It has been a while."
"I must admit, I was a bit surprised when I heard that you had decided not to pursue your four-year degree, but, for what it's worth, I do read your articles in the Sentinel and think you're a fine writer. Does being a reporter have anything to do why you asked to see me?"
"No, sir. I'm not here as a reporter. This is all completely off the record. Frankly, you're the only person I know I feel I can talk to about a very sensitive matter, and I'm hoping you can help me. It's very important."
"I'll certainly do what I can," the instructor offered, settling back in his chair, "So, what's on your mind?"
"Professor, do you remember the day I got sick in your class and collapsed?"
"I sure do. First day of the semester. You put quite a scare into all of us."
"Yeah, me too. You see, Professor Peterson, prior to that day, I had never been sick in my life. Never."
"Really? Never?"
"No sir. Not the flu, any childhood diseases like mumps or chicken pox, not even a cold."
"Well, I'd say that's amazing, Clark. You're a very lucky guy. Do you have any explanation how you could have never been sick for, what, eighteen or nineteen years?"
"Actually, I can, but let's set that aside for the moment," Kent replied. "I'm really here about Supergirl."
"Supergirl? I don't understand."
Clark continued, "I'm sure you've heard that she's in the ICU unit of Metropolis Mercy Hospital in critical condition."
"I have, and I'm very sorry. I've also been curious as to how this could be. Nothing is supposed to be able to hurt Supergirl...or Superboy, for that matter."
"Well, that's just it. I believe I know what has caused her to be so sick."
"Indeed? What?"
"The day I passed out in your class, you were showing the class several meteorites that you had borrowed from the museum in Metropolis."
"Yes, I remember," the professor answered, "And when they were later stolen, I nearly lost my job. But fortunately, Superboy recovered them and returned them to me. I'll forever be in his debt. But why bring up those meteorites?"
Clark proceeded cautiously, "I later learned that the green meterorite is what caused me to pass out in class, and I have a strong hunch that is what caused Supergirl to become ill as well."
"Whoa, whoa! You've lost me. You mean that you think you're allergic to the green meteorite? And that Supergirl is as well? Sorry, but I'm a scientist, I have to ask what criteria you have that would cause you to make that giant assumption?"
Kent fielded another question, "Can you tell me anything about the meteorite that you didn't know two years ago?"
"Yes, a little. The scientists doing the research determined that it was a fragment from a star or planet from another solar system that through many years found its way into the Earth's orbit, and with the gravitational pull made its way to the Earth's surface."
"I'd say about twenty-one years," Kent responded.
"You've lost me again, Clark. How could you possibly know that? The researchers couldn't put a time frame on it. And I have to ask again...what would be the connection between Supergirl and you both being affected by this meterorite?"
"Professor Peterson, I find myself in a situation in which I must share some information with you. I must trust you to share this information with no one. Actually, if others found out you knew what I'm about to tell you, you could be put in harm's way. I regret that's a possibility, but, for Supergirl's sake, I'm afraid it's necessary."
Sitting up in his chair, the college teacher stated, "Clark, now you're sounding like a mystery writer instead of a reporter."
"I have to know...can I trust you to remain silent and never discuss what I'm about to tell you with no one but me."
"Yes Clark, you can trust me. I give you my solemn word. Now, what's this information."
Kent, thinking this situation would never happen, took a deep breath, "Professor Peterson, I am Superboy."
There was silence. After a brief moment, Peterson responded, "Clark, you had me there for a minute. I never saw you as a prankster or practical joker. But frankly, I'm disappointed that you would take up my time to play this little game, and especially involve Supergirl, who's fighting for her life. Now, if you'll excuse me..."
"NO! NO! Professor, it's true. The reason the green rock affected both Supergirl and me is because we're both from a different solar system than Earth. I really am Superboy! Look!"
The Boy of Steel quickly unbuttoned the top four buttons of his shirt, pulling it open enough to expose the red and yellow "S" insignia of his super costume. "See?"
"That's nice, son, but you and I both know that the college bookstore sells replica Superboy T-shirts, although yours is nicer than what the kids wear around campus. Where did you get yours?"
As Clark buttoned back his shirt, he told the professor, "You have 46 cents in your right pants pocket. And in your coat pocket hanging on the rack behind you, there's a church bulletin, a lighter and a pack of Winston cigarettes."
Counting his change, Peterson asked, "How did you know that?"
"My x-ray vision, Professor. May I borrow this?" he asked, walking to and picking up a four-foot steel bar.
"Sure."
Clark grasped the bar in both hands and bent it as if it were a coat hanger. Then he returned it to its original shape.
"Now do you believe me?"
Peterson slowly sat back down in his chair. "Oh my God!" Trying to take in all in, "Clark, please forgive me for not believing you."
"That's O.K., Professor. Ya know, it's ironic that in the past I have had to go to extreme measures convincing people that Clark Kent wasn't Superboy, and when I actually tell you my secret, I have to prove that I am."
"I guess it's the scientist in me, Clark. We like to have proof. But, wait a minute, last Spring, Lex Luthor had everyone at the college and half the people in Smallville convinced Clark was Superboy, but both of you were at the gymnasium dedication. I was there. I saw both of you!"
"Let's just say that was accomplished with a bit of smoke and mirrors. It was enough, though, that folks put it out of their minds."
Peterson inquired, "But why the disguise? Why go to all the trouble hiding the fact that you're Superboy?"
"It's the only way I can have a life with some degree of normalcy, Professor," Kent answered.
"Yes. I guess I can understand that. You'll need to give me a minute to digest what you just told me. My head is spinning."
"All the time you need, Professor," Clark answered, as he returned to his chair.
Chapter 20
"O.K. I'm ready to continue," the Smallville Junior College instructor stated.
Clark Kent's startling revelation that he's secretly Superboy had sort of sucked the wind from the chest of Professor Peterson.
"Back to the green meteorite. You believe that is what made you become ill in my class?"
"I know it!" Kent confirmed, "Because the rock was later used in an attempt to kill me."
"What?"
"Otto Ort was a man I had dealt with once before. I helped smash his criminal activities in Metropolis and Smallville. Unfortunately, he escaped and vanished for a couple of years. But he returned to Smallville and disguised himself as a custodian here at the college. To force a showdown with me, he forced his son to break into your office and steal the meteorites you had on loan."
"That would be the Morgan boy?" Peterson inquired.
"Yes, Bob Morgan. Then he abducted Lana Lang and used her as bait to lure me into a trap. At the first opportunity, he exposed me to the green rock, and it had the same effect on me as it did in your class. I collapsed, in intense pain and had trouble breathing. As he came closer, it got worse. I probably would have died if it hadn't been for Bob Morgan's interference."
"That's when Bob was killed?" Peterson asked.
"Yes. Ort was so obsessed with killing me that he shot and killed his own son. Ort left me to die and made a break for it, but the police shot and killed him."
"One thing I don't understand. How did he make the connection between Clark and Superboy?"
"Because during our first encounter, he learned that I was Superboy. And when he saw me being carried out of your class, he did some snooping and assumed the meterorites were the culprit. Unfortunately, he was correct."
"All right, so how does Supergirl fit into all this?" came the instructor's next question.
"She had to have come into contact with a similar green rock. There must be more out there."
"That's certainly possible. Very possible, in fact. Clark, hundreds of meteors enter the Earth's atmosphere every day. Most of them burn up before they reach the Earth's surface. And a good percentage of those that don't, fall into the oceans and seas all over the world. Scientists seldom hear of meteorites unless they fall in or near populated areas, and they're discovered. Most people wouldn't distinguish a meteorite from a regular old rock, except for size perhaps."
"Or its bright green color?" Kent asked.
"Or its bright green color, yes," Peterson responded.
"Professor, Supergirl flew to Ranchipur, India, yesterday to keep a dam from bursting. News accounts all say she was successful. They said she did it by boring through the ground, creating large tunnels and ditches for the water to run off. My theory is that during this digging, she must have encountered another of these green meteorites."
"Either that, Clark, or perhaps on her way back from India to Smallville. I remember that as soon as we got you away from the rock that morning, you were fine."
"Not completely, it took nearly twenty-four hours until all the ill effects subsided."
"I see. So the determining factors could be the time she was exposed and maybe even the size of the meteorite. The one I had was only the size of a baseball. Perhaps if she ran into one larger, yes, that could very well be. And you found her?"
"Yes, unconscious, faint pulse and barely breathing. That's when I rushed her to the Metropolis hospital. Professor, the doctors don't know what to do. I need to tell them something, but what? They told me she is full of infection, her white cell count is very high. They're giving her antibiotics to fight it."
"The meteorite could be acting as a poison to her blood system. Or an allergic reaction from being exposed. I can't say. It would take a great deal of research and testing. That would take time, lots of time."
"WE DON'T HAVE TIME!" Kent answered, getting impatient.
"I know, I know, I don't have the magic words that will help her. I wish I did. Sometimes, in matters like this, luck is the best thing you can hope for. I'm sorry. I don't know what else to say, except I do think your theory is plausible. Unless there's something else out there that can harm either of you."
"So I'll tell the doctors that it's an allergic reaction or poisoning, probably..." The Boy of Steel stopped short when he felt his signal watch. "Excuse me, Professor. Yes, Dr. Shafer."
"Superboy, I need you here at the hospital."
"Yes sir, I'm leaving right away." He looked at Peterson. "I need to get to Metropolis right away."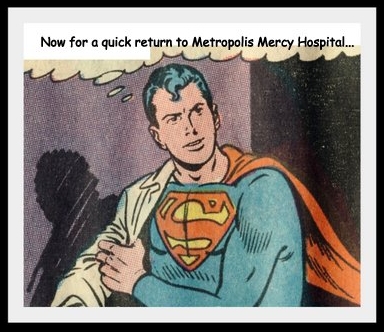 "I heard," the instructor replied. Before he could say another word, Kent had made the change to Superboy right in front of him. "May I use your window?"
"Of course."
Peterson watched his visitor leap into the sky. Closing the window to save the air conditioning, he thought, "Amazing. Clark Kent really is Superboy."
Chapter 21
Flying at super-speed to the Metropolis hospital, the Boy of Steel set down at the main entrance of the facility, which was swarmed with reporters. Many approached him for comments, but, as politely and quickly as he could, he made his way inside through the crowd. Metropolis police prevented any reporters from following.
He found Chief of Staff Doctor Shafer standing outside the ICU area, as if waiting for him.
"What is it, Doctor? Any change? Has she come out of her coma?"
Shafer gently placed his hand on the super hero's shoulder. "Superboy, I'm very sorry. She's gone. We couldn't save her."
The ordinarily strong legs trembled, growing weak, as if near collapse. Shafer helped him into a nearby empty office. "We can talk in here privately."
After giving the young man a moment, Shafer explained, "She never woke up. She stopped breathing on her own. Only the ventilator was keeping her going, but the brain scan we ran showed no activity at all. When I stopped the ventilator, she didn't take a single breath. There's nothing more we could have done. I am so very sorry. The drugs we administered apparently had no effect. If we could have known what caused her condition, perhaps we might have been able to do more. But, even knowing, maybe not. Being that she is different from regular people, well, any treatment would have been guessing. I hope you understand. We did all we could."
"I understand."
The doctor continued, "You can stay in here as long as you need. There are some formalities I need to take care of. I know this is a difficult time for you."
"Give me a while to get my thoughts together, can you Doctor Shafer?"
"Of course. Like I said, I have some paperwork to do. I'll check back with you as soon as I can."
Left alone, the grieving young man decided he should call Martha, before she heard it on television or the radio. Using his x-ray vision to verify the hallway was clear, he found a pay phone as Clark and placed the call to his mother. After consoling her as best he could until he could get back to Smallville, he felt the obligation as a Sentinel employee to notify his newspaper of Supergirl's passing. If, by chance, his boss had held the edition waiting for any news, he might scoop the "big boys" with this story, since all of the editor's other plans for greatness had vanished.
He had barely managed to slip back into the office without being seen when the Chief of Staff attempted to enter but found the door locked.
"Superboy?"
"Coming," he answered quickly shedding his outer garments, returning to the Boy of Steel.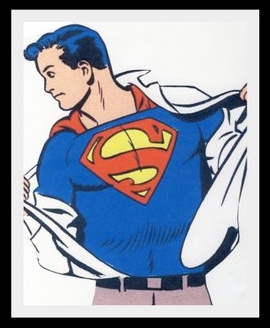 "I'm sorry. I locked the door so I could be alone."
To spare Superboy any additional grief, Doctor Shafer volunteered to speak to the news people on the front steps of the hospital.
"I'll inform them that you have taken Supergirl and have left our facility."
"Thank you, Doctor Shafer, for all you and your staff did today. I'm sure we can work out some type of payment schedule. It may take me some time..."
"That won't be necessary. There will be no charge. Actually, because of all the good things you both have done for everyone, we're actually in your debt. I just wish we could have done more."
The Boy of Steel took Supergirl back to the Kent home. He and Martha dressed her in the red and blue uniform. As the early September sun was setting, giving off a sort of heavenly glow, Superboy took his friend, partner, fiancee into the sky beyond the Earth's atmosphere. Continuing until he was out of the planet's gravitational pull, he released her into the darkness of space.
From whence both he and she had journeyed before.
Chapter 22
The church that Clark Kent had attended with his parents since he was but a tyke was the largest house of worship in Smallville, but it was no where near large enough to hold the gathering of local citizens who wanted to attend the funeral service of his mother.
Martha Kent's heart, which she had shared with so many people for so many years, had given out. Perhaps it was the devastating loss of Lisa, just before the young lady was to marry her son, and knowing the grief her passing had brought to Clark, which was the final straw. Who knew?
The fact is, she was gone.
None of Clark's super abilities were of any help to him as he sat in the front pew of the church listening as the preacher eulogized one of the town's best-loved citizens.
"Martha Kent was a cornerstone of this community, just as her husband Jonathan had been, for so many years," the pastor spoke. "Her passing leaves us all with a feeling of emptiness..." he went on.
His words were sincere and accurate, yet Kent heard few of them. He sat motionless, almost in a trance. At his request, Dan Grayson and the Grayson family sat next to him. He really had no one else.
Near the end of the service, Clark rose and spoke to the congregation. "I can't express properly how appreciative I am that you all came to the service. My Mom would appreciate it as well, even though she would probably tell you that you shouldn't have made such a fuss. But it means a lot to me, it really does."
He looked out at the gathering for the first time and saw an array of folks, some he had assumed would be there and some he was surprised to see. Lana Lang was in the sanctuary with her father Professor Lang. Lana had returned to Smallville from California for the first time since she had left town. Professor Peterson from the college. Rusty Ellsworth, able to get a few days leave from the Army, was there. His boss, Laurence Larson, Bill Henderson, the mayor, the police commissioner, the fire chief, co-workers from the Sentinel, including Betty Bonner, who stood at the very back. She was there covering the service for the paper. The one face he spotted that surprised him more than any...Lex Luthor.
Once the service ended, Clark greeted people outside. It was a beautiful late summer afternoon. Most of Martha's lady friends, including Lucinda Hobbs and Gladys Parker, spoke with him. Lana came over and gave him a hug.
"Hi, Clark."
"Hello, Lana. It's wonderful to see you."
"It's really nice to see you, too. I am so sorry about your Mom. Such a wonderful person. I often thought about her."
"Thanks." On an upbeat, "So, how's sunny California?"
"It's great. I really love it."
He inquired, "Still in school?"
"Oh yeah. Two more years. I did make up for the time I lost here when...well, you know."
"Sure. That's great. Seeing anyone special?" he asked.
"Actually, yes. His name is Brad. He's taught me how to surf. You'd like him, Clark, really."
"I'm very glad you're happy, Lana. You deserve it."
"How about you. Have a girlfriend?"
"Uh, no, not at the moment." Struggling to speak, he managed to tell Lana that he worked so many hours that it's difficult to do any dating. That, of course, was only part of the reason.
"I heard you're at the Sentinel. That's great. You like it?"
Kent answered, "I do. Keeps me plenty busy. How long you in town? Couple of days?"
She disappointed him when she told him she was catching a plane from Metropolis back to California the following morning. Her classes had already started for the Fall semester, so she couldn't hang around.
"Too bad, well, maybe we can get together sometime down the road," he lamented.
The funeral home had the family car waiting for him at the curb. Just as he started to climb into the back seat, a voice caught his attention. "Clark, may I see you a minute?"
He turned back to see Lex Luthor extending his hand. "Clark, I wanted to let you know how very sorry I am about your Mom."
"I'm surprised to see you in Smallville. Last I heard you were living in Europe. Are you back to stay?"
"No, heading back right away. Clark, I know we've had our troubles. Seeing you and Lana together a minute ago, well, wow, the memories all came rushing back. But in spite of ourdifficulties, which were all my fault, I never once heard anyone in this entire town say anything negative about your mother. I have an idea what you're going through. You might remember that both my folks are gone."
Clark certainly remembered. It was a bullet ricocheting off his chest as Superboy that struck and killed Luthor's father.
"I know I've been nothing but a jerk in your life, but I did want to pay my respects about your Mom. So long."
"Bye, Lex."
The funeral director asked Kent if he was ready to go.
"Curtis, I'm sorry to hold you up, but I think I'll just walk around for a while. You can go on. My apologies for keeping you."
"Are you sure, Clark? I'm here to drive you out to your house. After all, you're paying for it."
"I know, but thanks anyway, Curtis. I'll find a way home later."
Even with all his recent problems, getting home wasn't one of them.
Chapter 23
A grieving Clark sat in the living room chair Martha Kent had occupied for years, so many years in fact, several recoverings had been necessary. But she loved that chair and would never consider discarding it for a replacement.
The most powerful living being on the planet Earth didn't feel very powerful. In fact, all he felt was loneliness, just as he must have felt in the rocket he occupied as an infant on its long journey from the extinct planet Krypton to his new home.
But in the very room he sat, he had vivid memories of a very happy childhood with the greatest parents any kid could hope to have. The instances he could recall growing up as the three Kents realized that this visitor from another planet had powers and abilities far beyond those of mortal men. How his mother, using the red, yellow and blue blankets from his rocketship, created for him the uniform he wore to this very day. How Martha told him that she thought the "S" emblem on his chest stood for not only "Superboy" but also for "Saving lives, Stopping crime and giving Super-Aid wherever it's needed."
He remembered the day he donned his special garment for the first time and his folks took him to a remote area where he could see if he could maintain flight. How he jumped Up...Up...and Away into the air and flew for as long as he wanted.
Then came the day when the three decided it was time for him to begin his duties as Superboy. Thinking that in revenge against him, criminals might come after Jonathan and Martha if they found out that Superboy was their son, the decision was made that his meek, retiring manner of Clark Kent would hide the exciting secret known only to himself and his foster parents...the secret that Clark Kent was in reality Superboy, champion of the oppressed, enemy of all evil doers, dedicated to the cause of truth and justice.
"Both of your lives will be safe, Mom and Dad, because we will never allow anyone else to know that Clark Kent and Superboy are one and the same."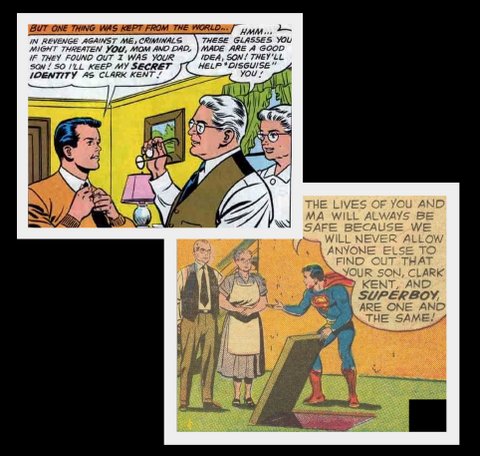 "These glasses you made with the special lenses that won't melt when you use your x-ray and heat vision are a good idea, son. They will help disguise your face," his Dad told him.
Clark also remembered that all didn't go as planned. There was the weekend camping trip with friend Pete Ross. During that night, he heard what sounded like an automobile crashing. Pete was sound asleep, so he felt that he could slip away to investigate. What he didn't know at the time was a loud clap of thunder woke up his friend, and just as he stepped outside the tent, a terrific flash of lightning illuminated the area, enabling Pete to fully see Clark changing to Superboy. When he returned and resumed as Clark, his buddy pretended to be asleep and didn't tell Clark he had learned his secret until they were roommates in college. But Pete never told anyone, and Kent knew he never would.
Then there was Lana. Oh, the many times she tried to prove Clark was Superboy, by hook or crook. Playing detective, taking fingerprints, following him, fixing it so Clark would have to drive Superboy in the high school homecoming parade. She came close a few times, but never was successful, thank goodness. Well, there was the time she did find out, but she was so drugged by Lex Luthor, she didn't remember it.
Clark also thought of another instance with Pete. Before he knew my secret, without knowing it, almost exposed it one day in high school chemistry class when he spilled that beaker of acid on me, and it burned a hole in my shirt big enough that my Superboy outfit could be seen. Fortunately, no one saw it but me, and I ran from the class as fast as a scalded dog. I had to wear my gym sweatshirt the rest of the day to cover the hole. Now, that's kind of funny looking back, but not when it happened.
Reminiscing helped the lad feel better, to forget all the tragedy he had experienced over the course of the past week. As he stood and looked around the living room of the only home he'd ever known, he violated his own code of never appearing in the Kent home as Superboy. He removed Clark's glasses, continuing until he stood in the center of the room as the Boy of Steel. Somehow, he felt a transformation from within, an inner strength perhaps. It dawned on him that he would have to learn to deal with the loss of Supergirl and Martha, just as he did with Jonathan. Not that it's easy, by any means, but as folks always have said, "Life does go on." He could feel sorry for himself, or he could continue his journey in life helping good people, just as he had been doing for a good many years. He hated the cliched sound of it, but it was true...Supergirl and Martha would want him to do just that. They would be disappointed if he did anything less.
He made the committment not to disappoint them.
Chapter 24
Dan Grayson was unlocking the front door of his general store when he looked up and saw Clark Kent looking in.
"Come in, Clark."
"Good morning, Dan."
"How are you, son?"
"I'm going to be O.K. It'll just take a little while."
"Of course it will. If I can do anything for you, I want you to tell me, will you?"
Kent remarked, "There is something actually."
"Name it, Clark."
"I'd appreciate it if you could ride out to the house a couple times a week and make sure everything's as it should be, for the time being anyway."
"Sure," Grayson consented. "You going on a trip?"
"Sort of. I'm leaving Smallville."
"What?"
"Yes sir. I've given it a lot of thought, and I decided last night that it's time for me to go. Now's seems to be a good time for me to make a, well you know, a fresh start."
"I see. Any place you have in mind?"
"Yes sir, Metropolis."
"Clark, are you sure you're ready to make such a change. From a small town like Smallville to a huge city like Metropolis?"
"Well, if I had followed through with my original plans for college, I'd be there already. But then the job at the Sentinel came open, and I put college on hold for the time being."
"So you're going to college at Metropolis University? Well, that's great."
"Not right away. The new semester has already started, so I'll wait for the next semester after Christmas. I'll try to get a job somewhere until then."
"Clark, you have a job here in town. Why not wait until the next semester and then move?"
"No, Dan, I need to get away from Smallville. Believe me, I need to go."
"Lots of great memories here Clark."
"Oh sure. But Mom's gone now, so I won't have to worry how she's doing alone. Turns out I'm the one who's alone. But that's the way it worked out. But I'll be all right."
"Well, I'm sure gonna miss ya, Clark. Smallville won't be the same without you."
"I'll certainly miss you too, Dan. You've been just like one of my family for as long as I remember. Well, I'd better get to work before Mr. Larson starts roaring."
"Say, Clark, let me ask you. Have you heard anything from Lisa since she left? I was wondering if you had any idea when she might be coming back."
"No, I haven't heard from her. She probably doesn't even know about my Mom. Otherwise, I'm sure she would have come back for the funeral. Well, thanks again for looking after the house for me. I'll probably end up selling it eventually, but not right away."
"I'm happy to. You take care of yourself, Clark."
As Kent exited the store and headed for the newspaper building, Dan Grayson had to take out his handkerchief and wipe his eyes.
"May I see you for a minute, Mr. Larson?"
"Clark, come in, sit down. I really didn't expect you in today. I mean, with your mother's funeral just yesterday, I assumed you'd take a couple of days off. Fine with me if you do. We can cover for you till the first of the week."
"I appreciate that, Mr. Larson, but I have something I need to talk over with you."
"Sure, what's on your mind?"
Kent expressed his gratitude to Larson for taking a chance by giving him a job. Then he informed his editor that he was leaving Smallville. "I'm willing to work like a week to give you an opportunity to replace me, but I'd really prefer to leave right away. I have all my clothes already packed at the house. I'm sorry to put you in such a spot, but I really need to go."
Larson sat quietly for a moment.
"Well, son, I can understand your feelings, and I really hate to lose you. Your writing improves every day. I was hoping you would stick with it. With your talent, you could, in time, be one hell-of-a-reporter. But if your mind's made up, don't worry about staying for another week." He extended his hand, "Best of luck to you, son."
"Thank you, Mr. Larson. I know I probably don't have the right, but I'd like to ask one favor of you."
Before heading out of town, the young man made two other stops for farewells. One to Police Headquarters to say so long to Inspector William Henderson, and the other to Smallville Junior College to see Professor Peterson.
"Clark, I want you to check in with me once in a while. I'm going to stay in touch with everyone I know concerning the green meteorites. If there are any further discoveries, I want you to know about them. It could be beneficial to you in the future."
"Thanks, Professor. You're a good friend. I promise you'll hear from me. And when I get settled in Metropolis, I'll let you know where you can find me."
Kent made one last walk-through at the Kent family home. He had fixed the bookcase so it wouldn't open. He would deal with the secret tunnel before he put the property on the market, just as he had done before Dan Grayson had taken possession of the store. He had packed or destroyed anything that could be found which linked him to being Superboy or Lisa's being Supergirl. His suitcases were full of his clothes and items he would be needing in the immediate future. Martha Kent's things...later. It was too soon to deal with them.
He locked the front door, then walked through the kitchen where all of those incredible meals had been prepared throughout the years. Locking the kitchen door as well, he climbed into the front seat, and the 1959 Rusty Ellsworth Ford Fairlane, now his, started down the country road back towards town. One turn onto the highway and Metropolis was straight ahead.
The chapters in the book of Clark Kent and Superboy living in Smallville were over.
Chapter 25
Clark had been sitting in a very uncomfortable chair waiting for twenty minutes. The chair was an oddly made one, as if it were manufactured for someone no taller than five feet. He had to sit near the edge of the seat, otherwise, he couldn't really bend his legs towards the floor. The thought occurred to him that maybe it was made that way purposely as if to be sure no one lingered there very long.
Finally there was an intercom buzz. The lady received the message and told him he could go in now. As he stood, he used the name on the receptionist's nameplate and said, "Thank you, Miss Bachrach."
"Right through there, young man. I'll see you when you come out. I'd guess in two minutes," the bird-looking woman responded.
Kent knocked lightly on the thick mahogany door.
"WELL, COME IN. I'M WAITING!" screamed a deep voice from within. He opened the door into the office of Perry White, the Editor of the Daily Planet, the number one newspaper in Metropolis.
"Mr. White?" he said in a reserved tone.
"Sit down, sit down."
"My name is Clark Kent, sir."
"That's wonderful. How can I help you? I can spare you two minutes."
Two minutes. Apparently, Miss Bachrach had been his receptionist for some time.
"Well, Mr. White, I'd like to apply for a job. I want to be a reporter for the Daily Planet."
"You and a lot of people, young man. What makes you think you're cut out to be a reporter for the Planet?" came the first question of the, perhaps, short interview.
"I feel I'm a good reporter and I'm willing to work long hours and to work very hard," Kent answered. "I have some clippings in my pocket I can show you as examples of my work."
"Son, let me stop you right there. It has been my policy during my many years as Editor to avoid hiring "green" reporters. I hired a few in my first year, and none of them lasted a week. I need people who have experience, who know the ropes, you might say."
"I have experience, Mr. White, at the Smallville Sentinel."
"Listen, uh, what did you say your name was?" he stumbled.
"Kent, Clark Kent."
"Listen Kent, I'm not talking a couple of months. I'm talking a couple of years. No one can learn the ins and outs of being a reporter in a couple of months. Son, let me be honest with you. You wouldn't have made it into this office if I hadn't promised my old friend Larry Larson I'd talk to you. Larry's very high on you, gave you a great recommendation, but Larry runs a small paper. There's a big difference between the Sentinel and the Daily Planet. I'm sorry, but I..."
The heavy flew open, "CHIEF!"
"Great Caesar's Ghost! Lois, didn't you mother ever teach you how to knock!"
"Listen, Chief! There's an eight-to-ten car pileup on the draw bridge over the Metropolis River. Lunch time commuter traffic, you know. The head car was knocked through the guard rail. It's hanging half-way off the bridge. Could go any second. I'm on my way out there right now. I'll be back in an hour with the story. Hold the afternoon edition for me...front page!"
As she ran out towards the hall, White screamed, "Take Ludlow with you. And tell him I want LOTS OF PICTURES!"
"Right!" she yelled back.
"That, young man, was Lois Lane. She's young, about your age, but full of fire. Had two years experience when I hired her. Been here two years. She's won the state's top journalism award for reporting both years she's been with the Planet. That's the kind of competition you'd have to deal with. Now, if you'll excuse me, I have a paper to get out."
As he stood, he leaned on White's desk. The editor seemed shocked. "Mr. White, if I can get the story about the pile-up before the award-winning Miss Lane, will you hire me? Well, will you, Mr. White?"
"Well, I don't think you can, but if you want to waste your time..."
"Well, will you hire me, Mr. White?"
"Yes, yes. Now get out of here."
"THANKS, MR. WHITE!"
Kent left White's office, and as he passed Miss Bachrach, he told her, "Four minutes."
Heading in the direction of the elevators, he looked for an empty office. He saw none. But there was a door marked Store Room. Looking inside, he found it unoccupied.
"Perfect."
Closing the door behind him, he made a fast change to his super alter-ego. He ran across the room and leaped through the open window and kept on going, heading through the Metropolis skyline towards the scene of the lunchtime traffic catastrophe.
Chapter 26
Sixty-six minutes after fleeing the building enroute to covering the big story for the Daily Planet, cracker jack reporter Lois Lane burst through her editor's door for the second time of the day.
"Lois, what have told you about knocking?"
"Sorry, Chief, but here's the story of the bridge mishap. Ludlow is taking his pictures down to the darkroom. He got some good ones," she bragged.
"That's fine. I'll run his pictures when the story runs again in the bulldog. It's too late to make the afternoon edition."
"What do you mean 'too late'? Here's my story."
"Don't need your story this time, Lois. Already have it. In fact, the afternoon paper should be coming off the press any minute. I'm sure we scooped the Blade and the Informer."
"You already have the story? I don't understand. How?"
"Lois," White says, pointing to the sofa, "meet Clark Kent." He starts to approach her to shake hands, but she stops him short with a curt "hello."
"I'll tell you how. Kent here wrote the story. He had it on my desk thirty minutes before you got back. I made sort a deal with him. He kept his part of the bargain. I intend to keep mine."
"Does that mean I get the job, sir?" Clark asks.
"It does," the silver-haired editor replied.
"What?" the shocked Lois responded.
A knock at the door was followed by White's invitation to enter. "Here's the paper, Mr. White."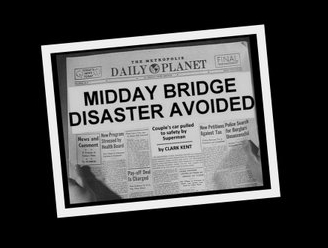 "Thanks Garvin." The man left as quickly as he had entered.
"Let me see that paper," a disgusted Lois Lane demanded. She began reading aloud. "A ten-car pileup right before one o'clock this afternoon on the Hartford Draw Bridge over Metropolis River threatened to take the lives of Albert and Rose Jacobson when the automobile in which they were traveling was pushed through the bridge guard railing, leaving their car teetering on the brink of doom. Witnesses claimed the car was starting to go over the side when it was pulled back to safety by Superman."
She looked at White, "SUPERMAN! Who's that? Ludlow and I saw Superboy there, but no one called Superman."
"Excuse me, Miss Lane."
"Yes, what is it?"
"Superboy told me that he now prefers to be known as Superman."
"And he told you that when?"
"At the bridge, when I was taking my notes about the accident."
"Well, isn't that sweet?" She was now fuming. "And by the way, there are one or two things I haven't got quite straight in my mind, Mr. Kent."
"What, for instance?" he inquired.
"Aren't you the same guy who was sitting in this chair when I left to get the story."
"I am," he smiled.
"Then, how did you leave here later than we did and still beat us to the bridge?"
"Is that all?" he answered.
She pressed further, "Not quite. How did you get to the couple in the car for an interview when every top experienced reporter in the business was breaking his neck..."
"Or her neck," he interrupted.
"Or her neck to get that story?"
Staring Lois directly in the eyes, he replied, "Maybe I'm a Superman, Miss Lane."
Chapter 27
The fiery female reporter knocked on the door of her newspaper editor.
"Got a minute," she asked.
"Sure, come on in," he answered.
As she sat, Betty Bonner pitched her thoughts. "I'm wondering if you've been thinking along the lines that I have about a couple of things."
"What's that, Betty?" Laurence Larson replied.
"Well, were you aware that since Supergirl died, that girl who worked in Grayson's store hasn't been to work?"
"Oh Betty, not this again."
"I find that to be a bit strange, don't you?"
"Not really. Look, I didn't really know the girl. She waited on me a few times when I was in Dan's store, but that's the extent of my dealing with her. But, if it will ease your mind any, I did ask Dan why I hadn't seen her around, and he told me that she had left town to try to find her parents. She had spent time at the orphanage at Midvale and had assumed she was an orphan, but apparently came into some information that her parents were still alive. So she left to find them. Can't blame the girl for that."
"Maybe, but I'm not so sure."
"It sounds reasonable to me. Listen, if you have a bee in your bonnet that this girl was Supergirl, really, what difference does it make now? Supergirl died. So, like I said, what difference does it make now?"
"Well, didn't you know that she lived with Martha and Clark Kent?"
"I did know that. Clark told me."
"Well, don't you think that if she was Supergirl, Clark and Mrs. Kent would have known about it, living under the same roof?"
"Oh, Betty, please. Martha's gone, too. Leave her in peace."
"All right, let's change horses."
"Lets!" Larson answered.
"Have you noticed that since Clark left Smallville and moved to Metropolis that Superboy, I mean Superman, hasn't been around here but has been seen there a lot more than in the past?"
"No, apparently I don't spend all my time keeping up with the comings and goings of Superboy, er, Superman. Betty, were you aware that he was in Smallville just the other day."
"No sir, I hadn't heard that."
"Well, for your information, he was out at the Sartania's farm helping Chet and Chester rebuild their silo that burned. So there. Here's still around Smallville. Fortunately, the town's been pretty quiet lately, and we haven't needed his help."
"Maybe," she admitted. "Very well, Boss, as you say. I'll get back to work."
"Good idea," the boss agreed. "Go earn your salary."
Betty Bonner returned to her desk and sat quietly in thought.
"Clark Kent working at the Daily Planet. He doesn't deserve that. That should be me. I'm the veteran reporter, not that greenhorn."
Taking her thoughts in a different direction..."Lisa Landon left town the same week that Supergirl died. She lived with the Kents. Now, if Clark were Superman, it would have been the perfect situation. Both of them using the same location as their base of operation. And after Supergirl died, Clark left Smallville and moved to Metropolis, the same time that Superman became a stranger to Smallville, but is now seen in Metropolis almost every day. Coincidence...maybe, but then again, maybe not."
Wringing her hands, she said out loud, "Mr. Clark Kent, you'd best be on your toes, because you haven't seen the last of Betty Bonner."
Epilogue
"Lunch is on the table, darling. I fixed one of your favorite dishes. And you know why?"
"And why is that?" he asked.
"Because you're special, and I love you," the dark-haired beauty replied.
"You're special, too," came his response while running his hands down her magnificent curves.
"What were you doing?" the feminine voice inquired.
"Just thinking."
"About what?"
"Actually, I was thinking about Supergirl."
She whispered into his ear, "How very sad. But that has been a while, darling. It's nice, though, that you're thinking about her. She was so good to people."
"Yes she was. Everyone thought she was invincible. But if there is something out there that could kill her, that same thing, whatever it might be, could also kill Superman," came his response.
"I don't understand."
"It's like this, dove, Superman and Supergirl must have come to Earth from the same place, don't you think? It stands to reason since no one else can do the things they can, or could, do. I mean, the extraordinary abilities."
"Yes, that makes sense, I suppose."
"But the doctors don't know what killed Supergirl," he stated.
"I know, darling, I read that in the newspapers."
"But, if someone found out how Supergirl died, though, they might be able to kill Superman."
"Perhaps, but why would anyone want to kill Superman? He's good, just like she was."
"Yes, I know."
"Come on, darling, let's have our lunch before it gets cold."
"I'll be right there," he patted her rump as she walked away.
Looking from the balcony of his French Riviera villa, the thought of killing Superman brought a Cheshire cat grin across the face of Lex Luthor.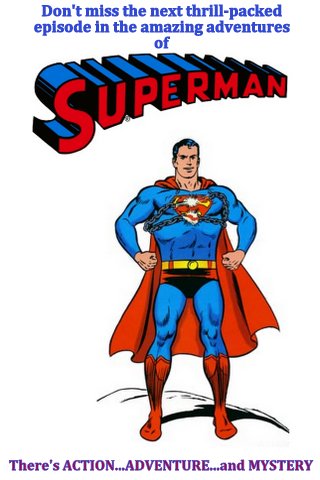 Posted April 3, 2014
Jim