PRINTS ARE NOW AVAILABLE, AND THOSE ALREADY ORDERED WERE SHIPPED ON APRIL 7

See reviews at bottom of page
"Tribute to George Reeves"

Original Giclée on Canvas, Fine Art Museum Quality reproduction offered exclusively for a limited time only through The Adventures Continue.
This color and b&w painting brings back many of the wonderful memories of George Reeves and is a lasting tribute to the man who for many of us was and is a super man.
Limited edition of 500. Approximately 14" x 16" with a 1 1/2" white border.
Each Giclée on Canvas reproduction will come with a COA and is signed and numbered by acclaimed artist, Andrew Aragon.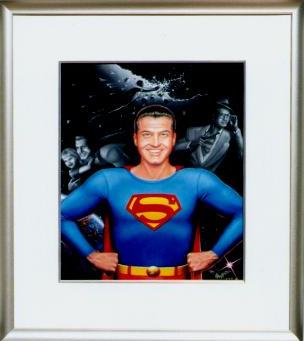 (Click on photo to see enlargement)
UNFRAMED $240.00 plus $10 for shipping and insurance.
money orders or cashiers checks only
payable to:
MARAGON PRODUCTIONS

mail to:

Jim Nolt
220 N. Walnut St., #7
Lititz, PA 17543
Allow 4 - 6 weeks for delivery
May we suggest that you frame the Man of Steel with a 1" silver/grey steel frame (see photo). A black or grey wooden frame would also work well.
Superman character and Superman logo, copyright DC Comics, Inc.
---
Dear Jim,
Andrew Aragon's "Tribute to George Reeves" arrived on Tuesday, and it's much better than I expected. I like it so much that I'm including payment for a second one. Thanks to Andrew and to you for the work you do on behalf of George.
Sincerely,
Robert Harvey
---

Hi Jim
Just a not to let you know that the painting of George Reeves arrived safe and sound and looks fantastic.It's a very good likeness, the colors are just right . I think George Reeves would've been happy to know that 41 yrs. after his passing, his memory is still being honored and his life and career is still being celebrated.
Thanks again,
Robert Castelli
---
Dear Jim,
This is a great day. Today I received my George Reeves - Maragon Giclee painting. Words cannot describe how completely satisfied I am to own this beautiful painting of George. The likeness is very true to George and the colors are so well blended, they inspire the spirit of the show in every way.
I often thought about the painting of Superman in "Superman Week", and now I have one just as good. Andrew Aragon did a wonderful job creating this one of a kind image.
Thank you in every possible way for making this available. This is going down in Superman history as a major collectible. George would be proud.
Sincerely,
Lou Koza - # 9 of 500