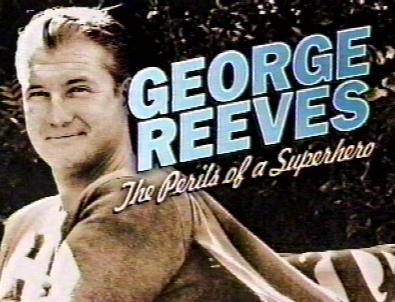 February 10, 2000
Goodness, gracious, great balls of fire! This weekend I had to read more mail than Lois Lane did when she took over the Daily Planet's advice to the lovelorn column in "The Wedding of Superman." Although the show contained a few inaccuracies, almost everyone found it to be informative and well-balanced. Here are some of those letters. I posted some of them on Thursday, and new ones will be added as they come in. The latest ones will always appear at the top.
There are a few items I should address. Several nice people have complained that the website for The Adventures Continue was shown too briefly. Still others suggested that I should have been included on the show as well. Of course, both those suggestions appeal to me very much, and I did supply information and receive credit, but the most important thing is what the show did for George Reeves, not for this website. Thanks, however, for all the nice comments and for your trust in The Adventures Continue.
Jim,
I sent a message to the Biography honchos using the feedback mechanism at their site. I've also posted that message on one of their bulletin boards. You might want to see it:

Regards,
Michael J. Hayde
Updated March 4, 2000
Still more to follow
---
Hi Jim,
I really find it fasinating all the responses you are getting to these segments focusing on George. I see new names all the time, so I would have to guess your readership for TAC continues to grow. I realize the A&E segment, although short on detail, focused more on George's life and little on his mysterious death, but I'm compeled to revisit elements I still find confusing. So just a couple of observations regarding A&E's Biography lack of providing or discussing.
A) I wasn't surprise it was mentioned Helen told young George his biological father died as a result of a suicide which of course we now know she lied to him. We learned from Jan Alan Henderson's book Speeding Bullet that George became emotionally upset at learning Don Brewer was alive and well and
further became very angry at his mother.
B) Since they did discuss his death, I was surprised there was no mentioned of Edward Bennett Williams, (the Washington attorney) if only for the fact he strongly advised Lenore not to speak to the press.
C) Ben Weldon stated in an interview conducted in Filmfax #13 dated Dec. 1988 that George pretended to shoot himself about a year and a half before June 1959. What were these circumstances? Was this a serious attempt or just clowning around? In the book Hollywood's Unsolved Mysteries by John Austin, dated 1990, Art Weisman states George liked to play practical jokes by holding a gun to his head and firing the gun loaded with blanks. Has anyone ever substantiated these remarks? I still find this hard to believe that a gun loaded with blanks is not going to cause injury, especially after both the John Eric Hexum and Brandon Lee incidents. Therefore, if George played this game all the time, wouldn't he have been hurt long before June 16, 1959. I wonder if Si Simonson, the special effects wizard, ever had any opinion on this. This gun play was not never mentioned in A&E.
So many questions and so few answers.
Overall the A&E segment was done very well considering giving the amount of time. I really believe a real deep approach cannot be conducted in less than 3 to 4 hours. I would like to see more time devoted to people who actually knew George. Too much bouncing around.
Best to you always,
Lou Koza
---
Happy Monday Morning Jim!
Well, after seeing all the praise that you posted from so many fans, I had to fire up the VCR and watch for myself. There are two words that nobody likes to say, but I'll gladly say them now, "I was wrong". Biography was really a well balanced effort to portray George as a real human being. They didn't dwell on his death, nor did they have any one theory to promote. Of course all the "new" photos were a real treat. Chuck and Jim Beaver, as usual, contributed many interesting facts, but the real surprise of the whole show was Whoopi Goldberg. She had the warmth and enthusiasm of a true fan. She expressed so well what it felt like to watch George when we were kids. When the show (and the world) were all new to us. I only had to fast forward through "Stamp Day" scenes twice, and it was really clever how they got around the copyright problem by using a clip from "The Face and the Voice," since George was neither Superman or Kent in the bit they showed. All in all George was treated with RESPECT. That rarely happens and it was wonderful to see.
Have a good week. Thanks for all you continue to do to keep the real George alive.--
Randy Garrett
---
Dear Jim:
I thought I would wait until the dust settled to comment on A&E's Biography on George Reeves. Overall, I was somewhat disapointed because I believed the documentary fizzled out during it's second half. I did enjoyed the first half of the program giving Reeves' life from before birth. However, the second half seemed to peter out and leave many loose ends. Even so, I am grateful for any interest and attention given to the life and career of George Reeves. I was very pleased that A&E allowed three possible causes for the sudden death of Reeves, two homicide theories (Jan Henderson vs the Kashners), and one theory for suicide. They did allow the viewer to draw his or her own conclusions based on the evidence and testimony presented. Even here the case laid out in the program seemed to favor homicide, but by which girlfriend?
I enjoyed seeing Jan Henderson, Jim Beaver, Jim Hambrick, and Chuck Harter on the special, and the showing of the 'TAC' website. Unfortunately, A&E has presented more entertaining Biogaphy shows on other celebrities, like the ones they made for Haloween 1997 on Boris Karloff, Lon Chaney Jr.,
Peter Lorre and Bela Lugosi. For me the most overall entertaining, accurate program on the life,
career and mysterious death of George Reeves, is the E! Channel program Hollywood Mysteries & Scandals. It was also an effective tribute to a man who is still remembered and beloved by friends and fans 40 years after his passing.
Keep up the great work, and I eagerly await the next issue of The Adventures Continue.

Sincerely
Ralph Schiller
---
Jim,
Thanks for letting us fans know about the biography of George Reeves. I usually watch the show when I get a chance, but thanks to your e-mail I did not miss this one. Actually my wife taped the show for me while I was at work. When I was buzzing the cassette back to the beginning, I stopped occasionally to see where it was, and it seemed that there was a preponderance of talk by Sam Kashner and Nancy Schoenberger, authors of Hollywood Kryptonite. My first thoughts were that this was going to another tabloid treatment. Fortunately, as I watched the episode, it did present a good overview of Reeves' career and life. It was good to see Jay Alan Henderson interviewed also, to balance out the Hollywood Kryptonite treatment. The controversy and conspiracy surrounding his death seemed to be treated with some skepticism, and rightly so. The most poignant portion of the episode was when Jack Larson told his opinion of what drove George to end it all; as much as we all love conspiracies sometimes, I think Jack was probably right.

Joe Bennett
Laurinburg, NC
---
Jim,
Hope you're doing well. Though late (as usual), I wanted to turn in my two cents worth on the A&E
Biography about George. If space permits, feel free to post my comments on your website if you like.
When I first learned of the upcoming Biography on George, I was elated. When I saw the promos and
learned that it would be part of "Foul Play" week, I became skeptical as to the show's focus. In addition, since Biography is an ABC production, I began to wonder if we would see something akin to the 20/20 fiasco. I'm very happy to say it was almost the exact opposite.
I think it was a great program, though not without it's faults. I hated to again see the involvement of
Schoenberger and Kashner, but was happy that their comments were more controlled than in the past
(undoubtedly by Biography and not by themselves). There were a few inconsistencies, the most apparent being in the segment dealing with George's death. There were far more positives though than negatives.
It was interesting to see most of the people who appeared, including a childhood friend of George's, a
fellow actor (along with Fred Crane, who has been on another show about George in the past), Jan Henderson, Jim Beaver, Chuck Harter, and of course Jack and Noel. It would have been nice if Phyllis Coates had been included as well as yourself, Jim (In fact, you should have been on INSTEAD of Schoenberger and Kashner!) It was also great to see the many photographs of George, and I took special notice of the photo used for the Variety tribute.
Even with the faults, it was wonderful to finally see a show which talked more about George's life than his death. It was a relatively well balanced look at the life, career, and of course the untimely passing of a great man. We as fans as well as those who have only a passing interest, were given a look at the humble beginnings, the emotionally difficult days, and the giving nature of a very kind and gentle person. George was not without his faults; he was like each of us are - human. We all make mistakes, and we all carry burdens. So did George. But how many of us can rise above those burdens to care for and about others, to the extent of affecting the lives of an entire generation of people? Not very many I dare say.
Thanks Jim, and best wishes!
Ty Klein
---
Hi Jim,
I thought Biography was very good. I thought everyone came across extremely well and professional. My major disappointment was that Jim Nolt was not included, with the exception of a quick clip of TAC's website with Randy Garrett artwork
.
I was surprised Jack continued with the From Here to Eternity story caliming George was cut from the print. I recall either Jim Beaver or Michael Hayde disputing this not too long ago in TAC. It was stated the scenes in the film were confirmed to be fully intact and uncut.
I tip my hat to Jack Harris and Dr. Leonard Emery, both friends of George and both very supportive of George's credibility. I would bet they have a lot more to say. You should try securing interviews with these gentlemen for TAC. I'm sure they would love to add more. I don't recall them ever before in any text, do you?
Although we've learned Whoopie Goldberg has expressed an interest in George's story for a film, I never expected her appearance. It is obvious she loves George's version of Superman. She seemed very excited about taking about him. Oh, and pin a big gold badge on Ms. Goldberg, she is probably the first to recognizes George's personal appearances for hospitalized children on national TV. Let's hope we see more of her involvement.
It was great they recognized Eleanor Needles, but the segment could have reframed from speculating on the reason they divorced. To date, Ms. Rose has not fully commented publicly on her relationship with George. I feel she deserves the respect to tell her story herself and when she feels the time is right.
Overall the photo's, mixed with some new ones were terrific. They could have done away with moving in close on photo's with large pixels. The pixels proportionately got larger and distorted the clarity as the camera moved in.
It's too bad the segment fit into only an hour presentation, it seems so much more could be talked about. George's relationships with his friends, the Vacio's, Walter Reed, Phyllis Coates, Gene Labelle, agent and friend Art Weissman, the Shaynes, the Ellsworths, Gig Young and Alan Ladd just for
starters.
That's all for now, if I think of anything else, I'll let you now. By the way, my check is in the mail for the Superman Litho.Look for it in the next couple of days.
Best to you,
Lou Koza
---
Dear Jim:
Had the opportunity to watch the A&E Bio on George Reeves, and for the most part was quite pleased as it gave many of us the opportunity to know more about and have a greater perspective concerning the man who to this day still fascinates us "adults."

Like many of your correspondents, I recorded and will save this work.

Concerning the controversy surrounding the death of George Reeves, I noticed that there were "gaps" in what was reported on the A&E Bio and what has been revealed in various readings. I don't even consider myself a student of this mystery, but did notice these gaps.

Even before his untimely death, George Reeves had a magnetic personality and an aura that attracted us viewers to the the Adventures of Superman and was responsible for making this TV series a success beyond anyone's imaginings---the unfortunate tragedy of his life's ending has only intensified this aura and has created a mystique about the man. To paraphrase from one of his TV lines, "Nobody, but nobody can do the things that Superman does,"------EXCEPT GEORGE REEVES! May he be in peace!

Since A&E aired the Bio on George Reeves, it might be better to do a story on the death of Mr. Reeves on Bill Kurtis' A&E Investigative Reports. A story like this needs more attention than what otherwise was supposed to have been a biography on the life of GR.

Finally, one last note. We had communicated a couple of months ago concerning Mr. Leon Askin who guested on the Superman. By chance I came across a Website that interviewed Mr. Askin back in 1994. By clicking on to the link below, you can see the interview. However, unless you are proficient in German (I am not, even though I am of German descent) you can not read the interview as it is done in the German language----in any event, you still may want to click on to the link as there is a picture of Mr. Askin. I had E-mailed the person who gave the interview and he advised that Mr. Askin is still living today (he will be 97 this year) and has since retired to the home of his birth, namely Vienna, Austria. I was trying to get a translation of this interview but the person advised me in an E-mail that his English is limited and to get a translation would be costly.

http://gewi.kfunigraz.ac.at/~blimp/full_text/boca/boca.html

Anyway Jim, must sign off. Hope this note finds you well and happy. Keep up the great work at TAC---I am sure GR is smiling down on you and saying "thanks." Take care!

Respectfully,
H. E. Wolfertz
[If anyone reading this is proficient in German and would be willing to translate the interview with Leon Askin, I'd surely like to read it. Jim]
---
Jim,
Biography was balanced and entertaining. I had never seen pictures of Don Brewer before, so this was a real plus. The Brewer house shown in Woolstock was not the one I photographed (was this standard mid-west stock footage??), but I do seem to recall from my 1986 visit that the Brewers may have had two homes in Woolstock.
The baby pictures of Reeves were great---the "eyes" really had it. So nice also that a friend is still around to reflect on Reeves' early career.
We were left with the hope that thoughts of a Reeves film bio are still alive---let's hope that will happen to bring Reeves talk to a new level.
Best,
Rick Spector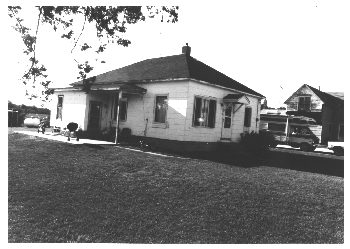 Shown above is the boyhood home of George Reeves. Photo courtesy of Rick Spector.
---
Dear Jim,
Three cheers for the fine job A&E did with their profile of George Reeves on Biography. It was thorough, objective and very informative. I was delighted that they chose to keep Kashner and Schoenberger on a short leash, giving them little opportunity to present their absurd hit man theory. Too bad A&E did not do the same with Hambricks equally preposterous claim concerning Leonore Lemmon. I was especially moved by the film footage of George playing on his bed with Sam, his pet schnauzer. It was almost too bittersweet to watch. Although we may never know exactly what happened in the early morning hours of June 16, 1959, I feel the evidence is quite compelling that the only person who fired the gun that evening was George himself... along with his three closest friends at the time - alcohol, pain-killers, and boredom. The strongest piece of evidence for a self-inflicted wound is the position of the wound itself, which, despite all the wishful thinking to the contrary, cannot reasonably be explained away by special pleading in favor of accident or murder. It is so sad, when you compare George's tragic end to the full life of Clayon Moore, who, born the same year as George, outlived him by 40 years, and kept the flame burning right up to the very end. If only things could have been different :(
Yours,
Ken
---
Jim:
The biography on George was great. Finally George has some positive light cast on him again. I also noticed the striking resemblance between George and the young Helen Lescher. Looking at the photos of George as a child is surrealistic in knowing that George the man has been gone for over forty years, and yet photos of his California home taken as he grew up look as if they were taken recently. Facts, as well as misinformation, were presented, but Jim Beaver, Whoopee, Jack and Noel anchored it all
down.
Garry Manhart
---
Jim,
For the most part, I thought the George Reeves Biography was well-crafted and, on the other hand, it could have been much, much better without too much effort. As with many things in the media today,
people do not check facts or lack experience and perspective. No offense, I wish there were more media "experts" than Chuck Harter, Jim Beaver, Jan Alan Henderson. They did fine, but this is like quoting Michael Jordan about the Chicago Bulls and their six NBA championships. "Yeah, we were great." When Bill Russell or other NBA greats say the Bulls were a true league dynasty, now those statements have more creedence. George Reeves buffs talking about Goerge Reeves buffs will
not convince the general public how talented he was and what a great show the Adventures of Superman was (is). That's why, I surmise, the producers of the Reeves Biography used the authors of Hollywood Kryptonite so much. They, as much as I despise them, might be more objective, even though Harter, Beaver, etc., knew more and researched the subject thoroughly as fans. You know the old saying "never argue with fans." Why didn't they mention some of his prominent actor friends in Hollywood and the other products of the Pasadena Playhouse? The narration about the charm of the Superman TV series, describing the "magical" powers was poorly done. Magical?
There were a lot of stills that I had not seen. The picture of the little kid in his Superman suit holding the LA newspaper the day after George's death was poignant. The shots of him in costume with the
children and the looks on the children's faces from "Stamp Day for Superman" were marvelous. He loved the kids. We loved him. Where did the shot on the title "George Reeves. The Perils of a Superhero" come from? Great shot. Looks outdoors --- makes Superman look real (as opposed to the color seasons outdoors on those lousy indoor sets. Yes, I wish they'd use other footage than the prints of "Stamp Day." I'm sure Warners charged an arm and a leg for highlights from "The Face
and the Voice" and whomever owns the rights from "From Here to Eternity." (Didn't anyone at ABC have the clout to interview Ernest Borgnine or Burt Lancaster about Reeves or being typecast?) Why not show some of the wonderful highlights from some of the greatest episodes so you can see how he was Superman. Facing Luke Benson and bending his rifle from Superman and the Molemen.. The Nazi speech to the mob from the same movie. Talking to the scientists at the atomic plant, saying: "It's new and you don't know how to handle it." The heroic scenes from "Crime Wave." This is vintage 1950s Superman and the powerful message that worked on all of us at the time. Just the fact that Superman was the top syndicated TV series for years and years. That's basic research. I am sure those ratings are available. The juxaposition of the stills could have been tied to the narration better. When they talked about the series finishing production, there's a shot of Superman punching Benson from 1951. Thought the points about the wool uniform and his stuntwork were done well. The still shot of the
Superman crew was good. Assume it was a cast and production crew shot at a party. Wasn't that Noel Neill in an attractive black dress (where was her pill box hat?)? Again, overall, a balanced version of Reeves' life. On the other hand, why does George's Biography segment have to be on Foul Up Week? Amazed at the resemblance between George and his mom. Good point about his mom chanaging his birthdate. I've watched it twice (taped it twice). At some point, I will review it and take closer notes. As always keep up the good work.
Mike Korcek
---
Jim,
How are you? I have been on your web site, and have enjoyed reading comments from other TAC readers. All in all I was suprised by the piece on George. I thought it was fairly done and that it tried to deal with his life more. I enjoyed, Jan Alan Henderson's comments and Jim Beaver's. On the negative, why do they have to even interview the Hollywood Kryptonite writers? I'd just as soon not even hear their input. At the end they had a quick comment of George Reeves web sites but no mention of you,
my friend. My question is why? You have the best site on the web regarding George, and you're fair, open-minded, and always informative. Why aren't you getting the credit, you richly deserve? I don't understand the national media, Jim. You deserve more credit. I will look forward to reading your comments on the web page. Take care, my friend,
Thom
---
Jim,
After having read all of the comments that were posted on your web page, I felt that I needed to add my 2¢ worth. I know your feelings about the way that the media focuses on June 16, 1959, so I won't dwell on that point too much. Overall, I believe that the operant word for the way that A&E handled the program was BALANCE. They seemed to focus on various aspects of George's life, without minimizing much of anything. I came away with a generally positive regard with the way that the story was handled. I was especially grateful that A&E avoided the grizzly photos of George in repose. I feel that a little bit more attention to his high regard for children could have been emphasized more, as could his apparent tireless efforts in helping charities (not to mention all of the personal appearances).
With all of the work that you've put into TAC, I'm sure that the minimal mention of your web page has to be disappointing, but to those of us who know of your work, we appreciate your efforts.
Before the broadcast, I had never seen pictures of George's first wife. I was impressed with her outward beauty. How sad they couldn't make a longer go of the marriage. I would like to have seen more exploration of dialog with the childhood friend of George's. To me, those type of segments seem to humanize the person that is featured, even more.
Finally, it's good to know that George did possess more clothes besides his caped costume and a gray suit. Every time they showed him in a variety of clothing, I had to do a double take to make sure it was the same person. Before I came across TAC and other related web sites, I had never seen him in any
clothing other than the Clark Kent/Superman wardrobe.
I hope that your health is continuing to improve, and that you are happy!
Best wishes,
Glenn Mesa
---
Dear Jim,
The A&E Biography on George Reeves was overall a great job. I'm surprised Phyllis Coates was not interviewed, although it was wonderful to see Jack Larson and Noel Neill. My dislike and mistrust for Leonore Lemmon has grown stronger while my love and respect for George Reeves remains strong because of his warmth, generosity, and that wonderful smile of his. Also, he did such a superb job of portraying Superman. I'll keep watching the tapes over and over again.
Mike Wagner
New Braunfels, TX
---
Jim,
Just finished viewing the tape of Biography from Wednesday night. Finally, a program that did George Reeves the actor justice!! I viewed it with a friend and we both agreed that it was the most complete
work on George Reeves that has ever been done. At last a complete story was told, not just the focus on his death. It was nice to see a clip of your web site on the program. Perhaps the only thing missing was a few scenes from some of the 104 episodes.
I notice all the shows seem to have available to them is the worn Stamp Day for Superman clips. I guess Time-Warner is keeping a tight hold on the regular episodes.
All in all Biography was wonderful viewing.
All the best,
Mark Rothberg
Brooklyn, NY
---
Jim,
I watched the A&E biography on George Reeves and it rekindled my memories of him. Our sons asked about him and the show, and they kid me that I can still recite the show's opening voice-over. I don't know what it is/was about Reeves but his good American boy looks and acting made you believe that he was Superman and you just knew he believed in his role. My mom still kids me about "flying" around the house with a towel pinned around my neck and the number of towels I ruined with the pins ripping holes in them. I am now 45 years old and a police officer, and the "truth, justice, and the American
way" saying and memory of Reeves still give me the drive to help others when I can. Great website. I appreciate all of your work.
Mike Higgins
---
Dear Jim,
While I'm certainly not an authority on the life of George Reeves, I found A&E's Biography to be even handed and fair. I was so happy that the the majority of the program focused on the positive aspects of his life. After much that has been written and implied over the years, not to mentioned the public's insatiable appetite for the "dark side", I think many of us were expecting a smear job or at the very least a lurid tale of a wasted life.
Instead there was positive focus on his life, his friends, his charitable work and his love for children as well as their love for him. I think that is George's true legacy. He brought joy to children, and to this day his picture has the ability to bring a smile to the face of even the most jaded among us... I don't think there are many who can lay claim to that.
On another note my father,a part time actor who lives in Hollywood, called me last week to ask if I still collected Superman memorabilia... (As if its something less than a life-long obsession...) Of course, I told him YES!!!...
He then told me that he was having a conversation with a women friend of his and they were talking about my little obsession. My father mentioned a picture of George that I keep in a prominent place in my apartment...
Well this brought a big smile to her face and she told my father that her mother was married to George for almost 10 years in the 1940's... yes, she is the daughter of Ellanora Reeves Rose... She was not too keen on the upcoming biography, worrying that it would be less than fair to George. Needless to say I was astounded and told my father about your web site and your assurance that the story was supposed to be fair. He called her to tell her about the news and she was already familiar with you and your site which she told my father she thinks highly of. It seems that she too still shares her love for George.
Well, I guess she was happy for the news and she told my father she had something of George's that she wanted to send to me. I was flabbergasted and thrilled at the same time. If its something I can share with my fellow Superman/George Reeve's fans you'll be hearing from me in the not too distant future.
Jim, Thanks again for the monthly news letter I really enjoy it. I hope your health is good and I hope to be contacting you in a few weeks with some good news.
Your Pal,
Kevin Flynn
---
Jim,
I taped Biography, so that I could watch it---and stop, rewind, and watch segments over, and let it settle in to my vision of George Reeves, the man who has been, still is, and always will be, my Superman.
I have been a fan of the series since the first time I saw it, which I figure must have been in 1954, when I was 3.
I have read two biographies on George, and was glad to see 3/4 of this program focused on the more positive aspects of his life and career.
As for his demise, I will never forget the shock I received when some kid told me, on the playground of 53rd Street School in Milwaukee, that "Superman killed himself." I was 8; and I was devastated.
I find it interesting that some of the comments you posted from others still dwell on "conspiracy" theories of his death: 'Toni did it, Lenore did it," etc.
The comment I found most telling came from Jack Larson, who I feel knew George best, and had a real love and respect for the man: George felt (like the song says) " trapped in the old Superman suit..."
I had the opportunity last fall of hearing Don McLean ("American Pie") sing "Superman's Ghost" at UW-Whitewater, my Alma Mater where I have been alumni director the past 23 years...the lyrics to this tune are haunting. I can understand how George would tear out the "S" to his costume at the end of a season, and immolate the rest...
Isn't it ironic: such a nice story in TV Guide recently about Clayton Moore. How he realized he "was" the Lone Ranger and embraced, and grew old with the character, and we, his fans. And why he did it---"for the children of America."
Much the same can be said of George. If only he could have realized how really important he was to us...and could have grown old with Superman, and us...
Jim, Thanks for all that you do...the Adventures Continue!
Mark Dorn
---
Jim,
I was pleasantly surprised overall by last night's show. Given that it was part of "Foul Play Week," I was really expecting more coverage on his death. I was telling people at work that I was expecting the death to cover the first ten and the final twenty minutes. I'm very glad that wasn't the case. I'm also glad that your site was visible at the very end.

As for the minuses, I'm distressed that some of the same myths were given coverage. I'm especially ticked about the From Here to Eternity story. Jim Beaver was interviewed, so was Chuck. You were consulted. What can we do to put a stop to Jack's misguided story about that film?

Well, here's my suggestion: how about adding a page to your site that debunks the myths. It could be formatted like the Urban Legends site, showing the myth, stating its falsehood, and detailing the proof. I'll be happy to help write it up, but I'll probably need a week or so. Let me know.

Sincerely,
Michael Hayde
---
Jim,

I watched Biography almost all the time, so I was thrilled to see George Reeves as their subject last night. With the theme of Foul Play Week, I was afraid we would get the same tired rehash of June 16, 1959. Thankfully, the first 45 minutes actually provided some new insights for me. The program really seemed to bring out the George most of his ardent fans have already discovered... a very kind and generous man who was well liked by the people around him. There were inaccuracies, of course. Most TAC followers already know them, so why dwell on the subject.
As a real Biography fan, I had to laugh out loud when Harry Smith, after Nancy Schoenberger related Helens' hiring of a thug to assault George to dissuade him from a boxing career, remarked in his narration --" This may or may not have happened." Mr. Smith knows the stretching of the truth when he hears it. As to Sam Kashner.--I am quite certain if I had written a book on a subject, I would have known how to pronounce one of the characters names. The name is Lenore--not Leanore. Nice job Sam.
Jim Beavers' credibility was first rate. The rest were fine, but I really wish Jim Nolt could have been included. Who really has more passion on the subject? And I have always liked Michael Hayde's contributions in TAC. The line had to be drawn somewhere, I guess. Biography usually has cuts from interviews with the subject of the evening. I wish they had found one with George. What a private man he was. I had never seen a picture of Ellenora. I know she has an unpublished book about their life together. I'm sure she has some stories to tell. Didn't Helen and George look alike? I had never noticed that before. In any case--what a fun hour I had last night.
Make that movie, Whoopie!

Tim James
---
Jim,
Thank you for advising us of the A&E biography on George. I was very pleased that this hour long program was more of a celebration of his life rather than dwelling on his death. It was really great to see some stunning photos from George's youth prior to his arrival in Hollywood and to hear from some who knew him and whom we had not heard from before. I thought it was also nice to have a variety of interviews that presented a balanced look at his life. If anyone had any doubts that George was a
truly kind person, they should watch this program and note that no one had an unkind thing to say about him.
It might have been nice to include comments from Phyllis Coates and the late Bob Shayne from earlier interviews but overall I was impressed with the quality of the program. Being only six months old when George died, I obviously could not have had the chance to ever know him personally, but from all the biographies, articles, and especially TAC contributors, I feel I know George well enough to know he would have been pleased with this effort to help us know the man who, despite some adversities, never failed to brighten the lives of so many people of all ages and continues to do so as his memory lives on.
Thank you again Jim for truly doing an outstanding job of helping to keep George's memory alive. God Bless.
Robbie Curlee
Barnwell, SC
---
Dear Jim:
I like the fact that they focused on George's life, but I didn't care for seeing Kashner and Schoenberger. They're the ones who spun the story about Leo Boroskin (the guy who divined that a man who was watching an episode of Superman was the hitman who killed George). So how could they be credible? If I was up to me, I'd put you in charge of putting together the show, and have you on it. After all, featuring Kashner and Schoenberger on a biography on George is like phoning Clark in his office to get Superman and then having Boulder show up.
Tom Boud
---
---
Dear Jim,
I hope your feeling well. I enjoyed the segment last night, the first 30 minutes concentrating on George's early career was presented fairly, with pictures that I had never seen before. The Superman section was
also well done, except that it perturbed me that they kept going back to Nancy whatshername. She reminded me of the 'Grim Reeper' with her black hair and the dark lighting that shadowed her. I also wondered if she could 'prove' anything she alleged. Overall the show was good and ultimately sad..
John Raspanti
---
Jim,
I thought the biography on George Reeves was fair and balanced for the most part. The first half of the show ended at the point just before George skyrocketed to TV Stardom as Superman. As the second half began we saw the beginnings of our beloved classic the Adventures Of Superman and what it meant to us and so many other children. The show will live forever. The closing part of the show focused upon George's tragic and untimely passing. Therefore I think that the way that Biography "divided the subject pie." Showing that George's pre-Superman life warranted almost 50% of the
program showed A & E's sensitivity. The interviews and video clips were wonderful. Congratulations on the brief reference to TAC. In closing, let me say that I enjoyed Biography because it showed that, despite how George left us (and I wouldn't feel any better no matter what the truth is because he left us too soon), George will always be the (Super) man.
Sincerely,
Dana Konikoff
Yonkers, NY
---
Jim,
How strange life can be. I just got in from a business trip to California today. After looking at the Daily Planet building (L.A. City Hall) everday for the last week, George was fresh in my mind. When I received your E-mail about Biography I couldn't believe the coincidence. If that wasn't enough, we were staying in Pasadena, and we passed the Pasadena Playhouse twice a day. It was great just imagining what it would have been like to have seen George perform live. Thanks for keeping the memory of the Great White Bird alive.
Regards,
Rich Marks
---
Thank you Jim,
I enjoyed it very much. So much footage I had never seen before.Over all, I think George came out of it looking very good. I just wonder why there are always so many conflicting comments between the various productions. For instance they said George's body was found on the floor. I thought it was established that he was on the bed. At any rate I thought it was good.
Russ Osmianski
---
Jim,
Once again, thanks for reminding us that Biography was portraying the life of George Reeves on A&E. I wouldn't have missed it for the world. All in all, it was done quite well. The most disappointing segment for me was when they spoke about how much George hated the role of Superman; but in the form of a true star, he continued his work for the kids who loved him so. I feel that Biography has stirred a renewed interest in George, and I would love to see a movie come out on his life. He was truly a great star who never got full credit for the incredible work he did. He was, however, a Super Man! Keep up the good work.
Jerry Dearo
Naples, FL.
---
Hi Jim,
I watched yesterday's Biography on George Reeves. I liked it. It was a great program on George's life. I have watched various episodes in the Biography series in the past and have always enjoyed them. They're well done, and the George Reeves edition was no exception. I just can't believe its taken them this long to do one on George in the first place! I personally didn't have any problems with the people they chose to be interviewed. I was startled to see Nancy Schoenberger. Speaking of her, two weeks ago I found a copy of the paperback edition of Hollywood Kryptonite at a local bookstore. I just could not decide whether to buy the book or not. At the end, I decided not to buy it. I don't understand why Phyllis Coates wasn't interviewed. Just wondering, were you ever approached to be interviewed for the show? I look forward to seeing other people's comments regarding Biography on your website.
Billie Mah
---
Feb 10, 2000
Colorado
First thank you so much to reminder me about the special on A&E last night about the biography of Geoge Reeves as Superman. I really appreciate it. I would probably have missed it because we have to move, so I am pretty busy these days! But nothing could keep me away last night. I taped it once on the VCR, and the second time I watched with all of my family.
It seems that Jack Larson is almost positive that George Reeves took his own life? Well I don't think so, but of course thats my opinion, and everybody on this subject will have his own, right? One thing they
didn't mention too much about was his feature length movie, Superman and the Mole Men. I realy love that movie. I think they did a excellent job for one hour slot, Its hard to cover everything, especially a great man like him, and a great superman hero, that everybody loves so much within our hearts.Thanks again so much for telling me about it. And I hope you're a well.
Ok Jim, until nest time, you're doing a fantastic job for us, and I mean for all of us, and especially for George Reeves, I know his looking down at all of us! Take care all the best,
Sincerely yours;
Philippe Cuypers
---
Hi Jim:
I saw the George Reeves profile on A&E's Biography program last night. I plan to watch it again, but my first impression is that it was a positive look at George's life. George was paunted as a talented,
generous, and well-liked person, who struggled with a number of complex issues, both personal and professional.
Despite those challenges, and his dislike for certain aspects of the Superman role, he made a tremendous impact on young people. I think he had higher career aspirations than "Superman," but he is better remembered then many of the movie stars who were big in the 1950's. Children, across generations, can still see George saving the day as Superman, can still sense his respect for others and his basic decency.
I don't think we will ever have a satisfactory answer as to what happened on June 16, 1959. We don't really know his state of mind (was he drepessed or happier than anyone had seen him years); there is
conflicting information regarding his career prospects (was he planning to direct feature films? Was he going to film more Superman episodes? Or was he forever typecast and unemployable?); was he happy with Lenore? Or was he ready to make a change?. And finally, did George's outgoing, generous, caring personality wage an internal war with a darker side, that could really pull the trigger and end it all.
We don't know. But in the end, I think George's work and all that he projected, not the manner of his death, is what is important. I think the A&E program managed not to overplay the fact that George died in violent and suspicious circumstances.
I'm glad this show was produced. It is the best documentary on George I've seen.
Thanks Jim. I hope you are well.
George Granger
---
Dear Jim,
Kudos to A & E for providing an outstanding hour of programming on the life of George Reeves. As a somewhat casual fan of Mr. Reeves, I was fascinated by his story and the ups and downs of his interesting life. I was saddened to learn of all the hardships he endured, especially in his once promising career. I have not seen a lot of George's work outside of the Adventures of Superman but after viewing last night's Biography, my interest is peaked. I can see just from the few clips provided that Mr. Reeves was a fine actor in his own right who deserved better than to be ignored and then typecast by the studios and the public.
Again, what a fine episode the folks at Biography put together. Finally someone told me about George Reeves - the man.....not just George Reeves - the man with a mysterious death. He deserved to have his full story told, and it was long overdue.
Jim Mossey
Minneapolis, MN
---
I thought that the A&E Special on George Reeves was intresting. Here was a man who wanted to make it in the movies, But went to television and was so big little kids were trying to test him to see if he was really Superman. The show went into detail about how he came to be, from his birth, to the best
movie ever made 'Gone With The Wind', to a show he really didn't like doing, the Adventures Of Superman, Within a matter of weeks George Reeves captured every kid's dream of seeing Superman on the small screen. Within a few years George would be so famous for that roll, that he was always being type-cast. No one wanted Superman in their movies. On July16th 1959 George Reeves went
up to his bedroom and around midnight was gone. Headlines everywhere said that Superman had killed himself. But others think that wasn't the case and that he was murdered. The A&E Special on George Reeves was very very good. Would George go on to do other shows or would he made more Superman television shows? We will never know. But with television showing the Adventures Of Superman in reruns, and with Gone With The Wind,' George Reeves will live on forever.
Ricky Lamont
---
Dear Jim,
I was somewhat pleased with A&E's George Reeves' Biography presentation.Judging by the intro, I thought it was going to be another focus on George's death. But after it got going it was pretty good. I thought it was well presented. It made this best attempt I have ever heard, (short of your website) to explain why he was and still is, adored by his fans.
I was disappointed, however, that you and"The Adventure Continues, did not get more recognition. I thought we might see you in one of the on camera interview segments. I was surprised to learn that there is talk in Hollywood of a "George Reeves Story" movie. Is this a serious talk? I hope so, I think it is long overdue. Assuming one is ever made, who do you think should play George? Maybe you could conduct a poll of your readers, of who would they like to see play George if a movie were ever made?
Keep up the great work, "the sky's the limit".
Jeff Taylor
---
Jim,
Wow! The Biography on George last night was really good, don't you think? I thought it was the most complete, even-handed and detailed coverage of George's life I've seen yet!
Of course, I guess yor're somewhat disappointed that you only got a small mention in the end credits, and your website wasn't listed. I'm also surprised that they didn't interview you on camera for the show. (Or did they, and ended up cutting it out?)
Regardless, I think most fans of George should be well-pleased with Biography's teatment of him.
Kirk Hastings
---
Jim,
Overall a good show. Way too much Whoopi Goldberg for my taste though. She served no useful purpose except to fill time. (She ruined a 3 Stooges special in the same manner.)
One of the interviewees said he was in school on June 16, which was kind of surprising. Shouldn't school have been out by then? Could have been summer school I suppose, but I didn't realize summer school started so soon after the summer vacation began. And where was Phyllis Coates? I would have like to have heard from Superman's first Lois Lane.
Saw two credits for Jim Nolt (one on the same screen as Jack Larson!), even though the producers used their infamous "squeeze-zoom" effect to promote a copy of the program for $19.95 that I was already recording for free. Also saw a credit for Pat Ellsworth Wilson, Whitney Ellsworth's daughter
David Wachenschwanz.
---
Greeetings from Music City, USA!
The A&E Biography segment on George Reeves was exceptional. I believe it was the finest and most
sympathic treatment George has received in the mass media since his untimely death. I was pleased that the emphasis was not only on the scope of his life, but the compassion he exhibited to his fellow man. I think A&E scored on this one. And congratulations on the inclusion of your website.
Regards,
John Reed
---
Dear Jim,
Overall I thought the George Reeves Biography program last night was very good. It did not dwell on his death any more than necessary. I noticed some errors (I'm sure you will have noticed more) such as never mentioning Superman and the Mole Men at all and never showing or mentioning Phyllis Coates as his original TV co-star (I expected to see her in one of the interview segments). It never mentioned his Superman appearance on I Love Lucy either.
Hope to see your impressions and those of others who watched it as well.
Best wishes,
Gary Stark
---
And now, back to the letters. Please remember, all opinions are those of the writers and do not necessarily reflect the views of The Adventures Continue.
Dear Jim:
Just wanted you to know that I watched Biography last night. I totally enjoyed the program and thought it was very positive. It showed George"s life as a actor and as a person and the good work he did with children at hospitals. I really felt part of the show as they talked about how many boomers know were they were what they found out "Superman" was dead. As I have told you in the past I know where I was and how I found out.Bravo to Biography for telling a positive story on the live of George
Reeves.
Take care,
Alan Kaminsky
---
Congratulations, Jim!
I just got around to screening the tape of the 'A&E Biography' on George, and was, for the most part, pleased with it. It's nice seeing George's life and generosity not painted in lurid colors, like that E! piece did!
On the plus side, I was impressed by the detail given to George's early years, and introduction into acting. It was a pleasure seeing Fred Crane, again (it had been a while!). Another plus were the clips from the shorts George made in the Army.
I'm glad they showed a clip from the Hopalong Cassidy film (I was afraid they'd use the medieval serials, or Jungle Jim!)
I have a few quibbles...Why no photos or mention of Phyllis Coates? Certainly she would be as entertaining as Noel to interview, and equally important! Also, I wish they hadn't rerun the same clips from Superman over and over! (How many times do we need to see George bending the gangster's
gun?) Why no color clips? (Only color still photos were used, of the later seasons.)
It was wonderful seeing your name in the acknowledgements! Way to go!
Ben Burgraff
---
Hi Chief,
Now that it is finally come and gone, as a whole I thought that it was pretty good. It certainly covered a lot more of George as George the person and not the comic strip character. It also had photos and clips that I never saw before. I certainly believed what Jack and Noel had to say, and Jim Beaver and
Jan Henderson and the fellow who runs the museum, but I was not sure about the credibilty of some of the others whose names I don't remember. I thought the movie clip of him and Robert Lowery together was cute as this was before either one was Batman or Superman. I read also in an issue of The Adventures Continue that even the director of From Here To Eternity said that George's scenes where not cut, but this show says that it was cut to the bone. From that point on I did not put too much faith in the show. I was disappointed in not seeing Phyllis or character actors from the show. Maybe that was because there are none left. I was hoping to see someone like Judy Nugent or the kid with the elephant, but no luck. It also stated that From Here To Eternity was his last movie. We know that statement is wrong as he was in the Disney western Westward Ho The Wagons in 1956. It gave a two sided picture of his demise. It showed that he was very depressed and also that he ended the relationship with Toni Mannix. I think that even though Toni and Ed were married, Ed might have been mad enough at the situation to hire a hit man; after all, his dog was stolen and his car was tampered with. That has got to tell you something. I'll bet the New Detectives could figure this one out. Another angle was that maybe he did shoot himself. He might have though that Lenore was just too much to handle, and with his money being squandered so fast he finally realized that he made a wrong move and wanted to go back to the good life with Toni but couldn't. From seeing this, my opinion is that dumping Toni for Lenore was a dumb move. Well, anyway it was a good hour long show and it is now part of my archieves.

Have a good day Jim,
Tom.Chenevert
---
Hello Jim,
First of all, I am so glad you are out there because you keep us George Revees fans right up to date. I thank you from the bottom of my heart. I learned a lot of things watching Biography last night, things from his early years before Superman that I had not heard before. The fact about his mom telling George his father killed himself with a gun, but really he was alive. One thing that is weird to me is with all of the people out there who think George was killed, Jack Larson doesn't. Over the years I have seen him do interview shows and he always says that he thinks George kill himself. Anyway it was a very good show. I would give the show a A. I did see your site come up.
Take Care, and thank you again, Jim!
George(SupermanFan)
---

Dear Jim:
For the most part it was a great biography, but they still screwed up the basic facts in his death. Now he's found naked on the floor rather than on the bed. And why on earth are they showing Nancy Schoenberger and not you, Jim? She even gets the facts about what they didn't investigate wrong. Now there are twobullet holes in the floor. No one even mentions the angles of the gunshot or where the shell casing was found. Or that the body was taken directly to the funeral home, etc., etc., etc. But then, ignoring all this makes the theories about what really happened easier to swallow.
Still, as promised, they did focus on George's LIFE more than his death. I just wish ABC News would get their facts straight. Perry White would have shouted "Great Cesar's Ghost!" at the shoddy fact checking.
They mentioned The Adventures Continues website but only in passing at the end. That was also a bit disappointing. Still, they showed George as more than just an unsolved mystery and that's what counts.
Dwight Kemper
---
Hi Jim,
Ive just finished taping the Biography episode on George Reeves, was just curious to find out, thought it was funny... just how many George biographers are there running around. I guess they all wrote a book. Anyway the show was great, and I really hope in time someone will get around to doing a movie. Something similar to the way the late Andy Kaufman was portrayed. I think the renewed interest in George's life and demise hasn't even peaked until Hollywood decides it's worth looking into and money can be made from it. Only his fans know how special George was, and how his career was sadly
overlooked and typecast. I'm so glad I saw and saved tonight's episode. It was worth staying home for.
Robert Castelli
---
Jim
I think we finally got what we wanted. I thought this segment was fabulous. I mean you can't ask for much more. They stayed focused on his life 90% of the time, only the last 15-20 minutes were on his death. Plus they didn't stay on the theories. They also didn't speculate. They gave you a biography of his life and his death. Very simple!! I've got to be really honest I will most likely buy this tape. I think it was very balanced. Out of all the shows that focused on George Reeves, this was the best because it was true!! And it was presented very well. I'm going to give it a ten.
Jeff Nussbaum
---
Jim:
I thought Biography did a fine job with George Reeves. Nancy S. was kinder than in interviews past. And Whoopi! I can't believe she actually praised George. He is conservative..she liberal. I am amazed. It just goes to show that George's influence transcended race and politics.
I am pleased that Biography treated George with star quality. What's your opinion. I caught your web site, as well. I ordered the tape. I'll let you know if additional credit is given to you on the commercial tape.
Jim, good job with your efforts!
Paul Smart
Edmond, Oklahoma
---
Jim,
Well, I was sure right about one thing, lots of Stamp Day for Superman. The available print is such low quality, it just cheapens the production. I don't understand... they used footage from "The Face and the Voice".
On balance, it was ok. Maybe too much influence from the authors of Hollywood Kryptonite to suit me. I like to think of George as a vibrant man who loved life and people, and Hollywood Kraptonite paints him almost as a pathetic figure. But to the producer's credit, they left out the worst of Kraptonite. Then too, I felt the producers left out George's many charitable works and his genuine love of children, but at least they didn't make an ogre out of him. Seems to me if your going to mention vague homosexual rumors, you could at least mention good deed facts. They did show a number of stills that I've never seen before. I thought it was interesting that they showed a photo of George in Hawaii with Deborah Kerr without identifying her.
I did catch a glimpse of your website towards the close, and your name twice in the credits (had to look fast, they shrunk the credits to make room for a promo). Congratulations.
Best,
Dave Orbach
---
Jim:
I just finished watching Biography featuring George Reeves. There were a few new bits of information I hadn't heard before, but what I hadn't realized, was that there was such a striking resemblance between George and the young Helen Lescher!
All in all, I found the show satisfying, but it certainly could have done without Schoenberger and Kashner. Perhaps it's because I'm familiar with their past work, but I think that even if I hadn't been, I would have found both of them lacking credibility. On the other hand, I thought that Jay Alan
Henderson, Chuck Harter and Jim Beaver did a fine job.
I was very pleased that ample time was spent talking about George's sense of humor and generosity. How I would love to have one of those "S" symbols George use to cut out of his costume and give away at the end of the season!!!
Good as it was, I couldn't help feeling frustrated at the end as Harry Smith reminded us that we will probably never know for sure exactly what happened on June 16, 1959.
I will be very interested to read your comments about the program.
Take care,
Steve Beckley
---
Hi Jim,
I thought it was excellent -- balanced and fair. Maybe a little too much of Nancy what's her face but it dealt with his life and his work and not so much his death. Now if they would do one on his death
and explore the different possibilities in a factual manner and let the viewer decide. I enjoyed it very much.
Joe Whiting
---
Jim:
Have just finished watching tonight's Biography, about the life ("Perils of a Superhero") and death of
George Reeves and thought it was an excellent representation of George's career. A well balanced
and still informative production. Your website got a "plug", and I saw your name on the end credits. It
was nice to see Jim Beaver, Jan Alan Henderson and Chuck Harter's commentary. I knew the writers of Hollywood Kryptonite would be interviewed also, but I was glad they're participation was kept to a
reasonable amount of time. His controversial death was indeed only mentioned in the last five or six minutes of the show. Just goes to show that the Biography people are indeed a class act.
William Armstrong
---
Hi Jim.
I enjoyed watching Biography's presentation tonight on George Reeves. Thanks for the heads up about it. Lots of photos I had previously seen in TAC! I didn't realize Whoopee Goldberg was a fan. And yes, TAC's website was (briefly) there! I personally felt the piece was well-balanced, but the writing of the last quarter hour (especially) did lend itself to a little extra "intrigue."
Gary Emenitove
---
Jim:
Although the A&E biography of George Reeves gave an interesting account of his early years I was rather disappointed with the account of his career in film. They gave the impression that Gone with the Wind" and So Proudly We Hail were virtually the only films he appeared in. Actually he was in many
films in the 1940s and made several appearances in films and on other television programs in the 1950s. He was in a couple of films with James Cagney and William Boyd's character Hopalong Cassidy. They did not mention Superman and the Mole Men or the two films he made with the great director Fritz Lang who was also his friend. Nor did they mention his controversial appearance on I Love Lucy. I wonder if I am the only person in the world who remembers Reeves's appearance with Tony Bennett when he appeared as both Superman and George Reeves. I also suspect that Reeves and John Hamilton may have had an interesting relationship because I have discovered that they were in several films together. I was also disappointed that the account that they gave of the history of the character Superman seemed to be inaccurate. They never mentioned the famous play Man and Superman, and they completely overlooked Bud Collyer's many performances as Superman on radio programs and in animated cartoons. I guess you know that the characters Perry White, Jimmy Olsen, and Bill Henderson all originated on the radio. And their claim that it was the newspaper comic strip that established the popularity of Superman is just plain false. I have recently been told that there is evidence that the U.S. government did a lot of distribution of Superman comic books during World War II. Superman was not intended to be a character just for kids until Robert Maxwell lost control of the television series in 1953. I am increasingly bothered by the way Superman is portrayed in DC Comics these days. I would claim that DC Comics has abandoned the ideal of the "superhero" and has changed the comic book characters into beings with superpowers. I think many people no longer are willing to talk about "good guys" and "bad guys."
Best wishes,
Mike Oliker
---
Hi, Jim!
I just watched the midnight rerun of Biography. Yes there were some factual errors, and overall I felt there were too many shots of some authors and not enough of George. I was also disappointed to not see Phyllis Coates at all. I did enjoy the attitude the producers of the episode appear to have, that there was indeed 'Foul Play,' and I am always happy to see footage of George wherever I can.
I was born in 1957, so as I began to head towards my eighth or ninth birthday, I began to watch the Reeves series whenever it was possible. I recall that my sister, who was two years older than I, was so infatuated with George as Superman that she used to kiss his face on the TV screen! My sister, however, denies this!
I will be getting an order for the giclee of George to you soon, I'm not saying my passion for the Reeves show, or the Superman character has ever decreased since I first saw the comic books in 1963, but boy, seeing the biography on TV has made my love of Reeves and his show even stronger. I was glad, by the way, to see Jim Beaver, Chuck Harter and Jim Hambrick in the program. They should've had you there too.I was trying to see the credits, but they were so tiny and went by so fast I did not catch them. I had been planning to videotape the show, but found out too late I did not have a blank tape available. Well I will order a prerecorded one from A&E. It is worth it! I'll get an order to you soon, for the giclee print!
Keep On Flying,
Steve Cohen
---
Hey Jim,
How's it going for you? Hope your health is doing real well!
Thanks for the reminder about George's biography.Not only did I watch it but also recorded it to watch when ever the urge hits me. I thought the program was done real well and in good taste. They covered
alot of information and clips atleast I never saw before. I wished they would have had Noel and Jack talk alot more though. It would have made it even better if Dabbs was on it also. Oh well, we can't have
everything I guess. Thankyou for all that you do.
A friend and fan,
Victor Gordon
---
Jim,
I just finished watching the A&E Biography on George. I thought it was very well done, without the lurid tone that usually is the norm in this story. His early life was well told, letting us know what he had to deal with as a child. I was struck at how much he looked like his mother when she was younger. I felt sorry for him, not knowing about his real dad, but happy that his step-father was good to him. What a natural actor he was. The Pasadena days were well told. I know he was upset about his career as it
turned out, and I'm so sorry he couldn't have been around to know how many people loved him and still do. He sure got himself into some messes, that's for sure. It sure gave me some food for thought about Toni Mannix and her role in the suicide/murder. Lenore Lemmon certainly looked like she could shoot you in the head and not think twice about it. I guess we'll never know.
I was glad to see your website shown, as I think it's the premier Superman/George Reeves site. I was also glad to know that Noel Neill is still looking so lovely and hope she is well, also hope Jack Larson is in good health. And you, are you feeling better? I know it's been a hard year for you, too. I wish you the best, in your life and in your other projects.
Ray Duke