Front Cover
TAC Table of Contents
Contact Information
Life of George Reeves Celebration
June 20, 2009 - NEW YORK CITY
Early Meeting Place at Hotel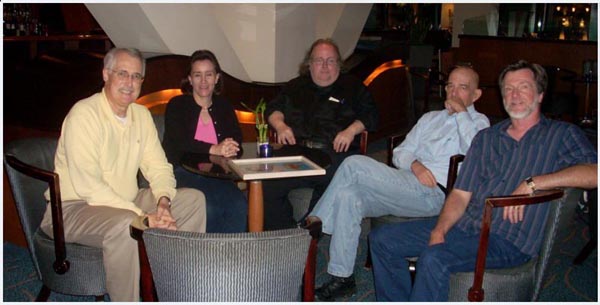 Jody McGhee, Gail McIntyre, Bill Kane, Jim Nolt, Bill Rupprecht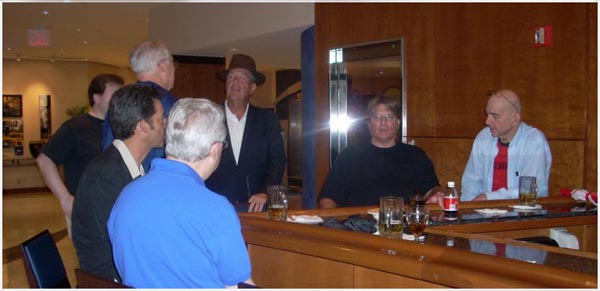 Don Rhoden buys a round of refreshments.
---
The Paley Center For Media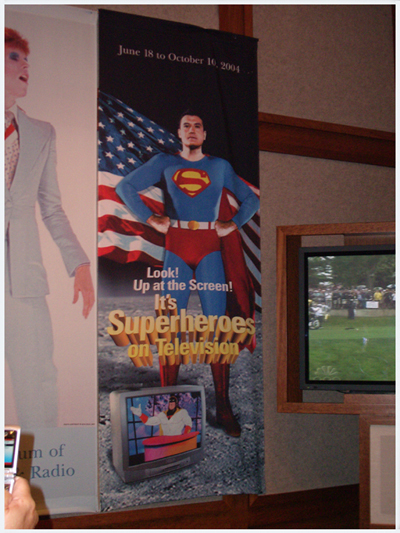 "No pictures please."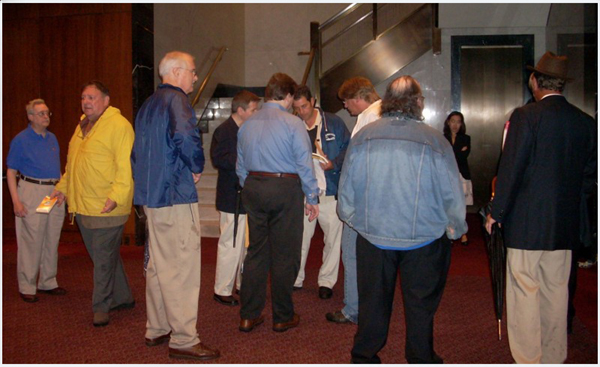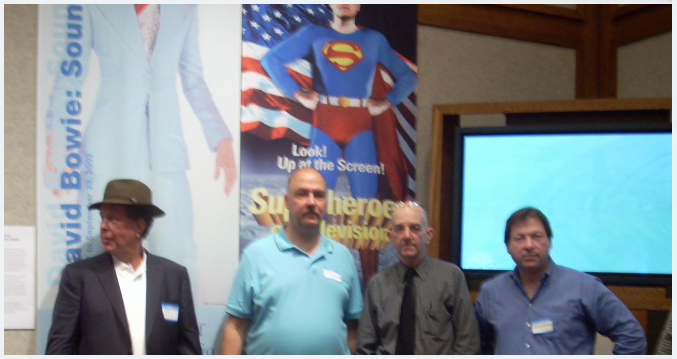 "Usual Suspects"
Dave keeping watch, Joe Kryzynski, Jim, Mike Goldman
---
Kennedy's Restaurant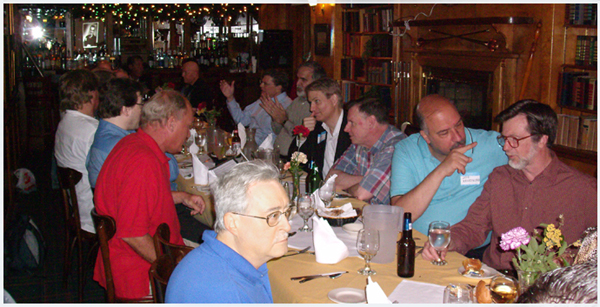 One of the attendees displayed a DVD of rare footage of 'Superman Day at the 1939 World's Fair' that he found on eBay.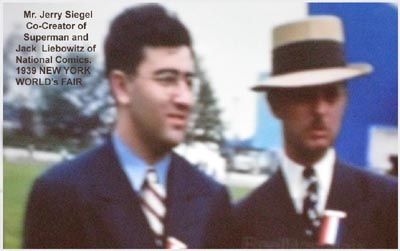 Ray Middleton appeared in 1943's Winged Victory, as did George.
Historical film footage of National Comics' "Superman Day" at the 1939 New York World's Fair.

A sneer from Jody, a nap from Alfred & Don and "what did he say?" from Mike.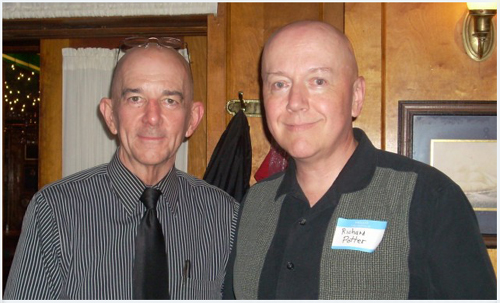 Jim and Richard Potter
"Dad, I'd believe him if I were you. He's got quadruplets!!"
Lisa, Jim's daughter, Jim and Eddie Caro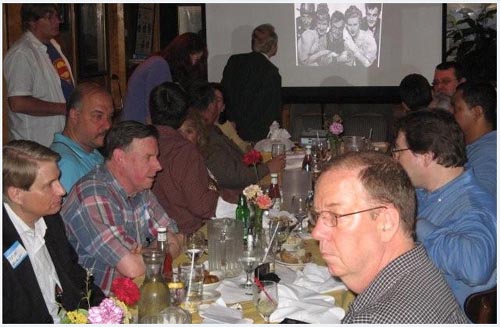 Mr. Joe Franklin, radio talk show host gets a close look at the cast of Sainted Sisters.
The Adventures Continue fanzine Publishers of issues 1 through 16.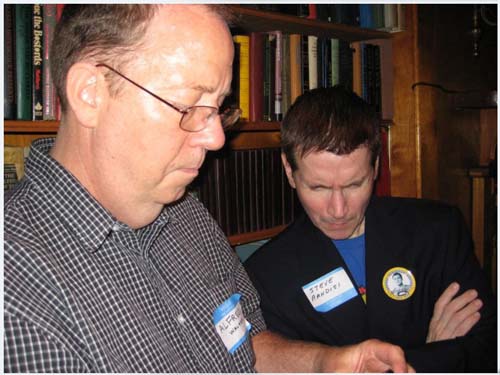 Alfred Walker and Steve Randisi contemplate the finer points of,...uhm, whatever they're looking at.
Steve is the Co-Author of Behind The Crimson Cape: The Cinema of George Reeves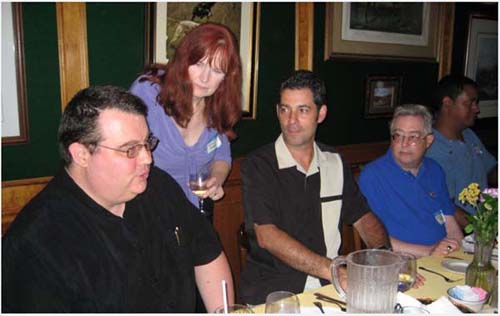 Grace Potter does her best to get Michael J. Hayde to try a "Shirley Temple."
Michael stuck to his Ice Tea as Lou and Steve Brooks look on.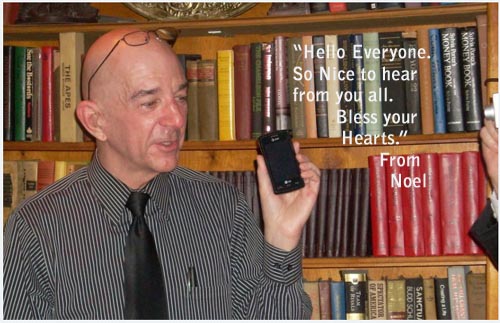 Jim Nolt with cell phone.
The party listened to the wonderful voice of Noel Neill
Steve Randisi's George Reeves button.
Don Rhoden shakes hands with Michael J. Hayde - Author of Flights of Fantasy --------------------------Jim and Steve Brant
Attendees in no particular order
Noel Neill (voice only)
Joe Franklin --- Mike Goldman
John O'Neill -- Eddie Caro --- Alfred Walker
Stephen Brooks -- Delmo Walters --- Bill and Della Rupprecht
Jody McGhee --- Dave Orbach --- Gail and Danny McIntyre
Don Rhoden --- Brian McKernan --- Steve Randisi
Steve Shapllo --- Steve Brant --- Bill Kane
Michael Hayde ---Richard and Grace Potter
Don Rhoden --- Bill Casey --- Bill Schmeelk
Joe Kryzynski --- Mark Rothberg -- Lisa Copenhaver
Jim Nolt --- Louie Koza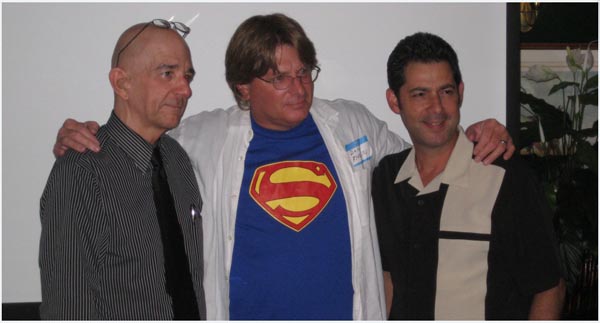 The Adventures Continue - Jim, Don and Lou
Thanks for Watching.
December. 31, 2009
(Thanks to Richard Potter for assisting with this image graphic)

"Like The Only Real Magic -- The Magic Of Knowledge"
---