Fifty-One Years Later
Fifty-one years ago today George Reeves died. How he died is of little importance to me. Far more important than the cause of his death is the story of his life. It is the story of a journey from Woolstock, Iowa to Hollywood, California. Along the way he enjoyed great fun, made many friends, appeared in several movies, starred in one television series, and earned the respect and devotion of millions of fans. I am just one of them... but I like to think I speak for many.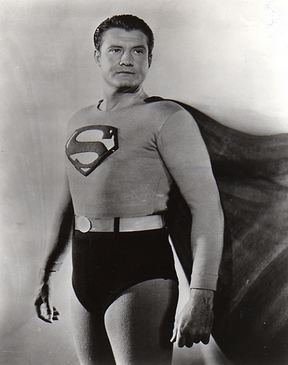 George Reeves is primarily known for his 1950s portrayal of Superman. Some believe this portrayal is old and outdated. But it was this series that gave us pause and caused us to take notice... of life and its rewards and consequences. George's inspired performance provided guidance, gently delineated right from wrong... and made us better for it. And because it gave us the values we continue to use throughout our lives, the series will never show signs of age and will surely never become outdated.
Of course, George Reeves alone did not create the series, George alone did not devolop the stories, write the words, or set the moral tone. Many people worked as a team in the background to deliver it to our little 13-inch television screens week after week, year after year. None could have imagined, I suppose, that their efforts would continue to be appreciated long after those 13-inch Zeniths became antiques.
Nor was George Reeves the only actor from that series who inspired us. We also thrilled to the performances of John Hamilton, Robert Shayne, Phyllis Coates, Jack Larson, and the ever youthful Noel Neill, who recently had a statue dedicated to her honor in Metropolis, Illinois.
But George was the focus, and for that we will forever be grateful. George Reeves' Superman performance helped shape our lives and continues to be the compass that points us in the right direction. No one, before or since, to our eyes at least, has provided a better perforance as Superman than Mr. George Keefer Brewer Bessolo Reeves. And for that reason, among many others, we remember him not only today, but all days.
Thanks, George, for being there... just like Superman... at just the right time.
Jim Nolt
June 16, 2010