Front Cover
TAC Table of Contents
Contact Information
THE ORIGINAL SILVER SCREEN SUPERMAN
By Michael Bifulco
NOW AVAILABLE FROM AMAZON.COM

Complete review with a collection of images dedicated to the first live-action incarnation of Superman on the silver screen. Veteran serial actor, Kirk Alyn, gave movie goers an outstanding performance as both Clark Kent and Superman in spite of the low budget production values, and although he did not continue the work on the television series of the 1950s, he will always hold a respectable place in the evolution of America's favorite action hero. Book includes none other than Noel Neill as Lois Lane, Tommy Bond as Jimmy Olsen, and Pierre Watkin as Perry White.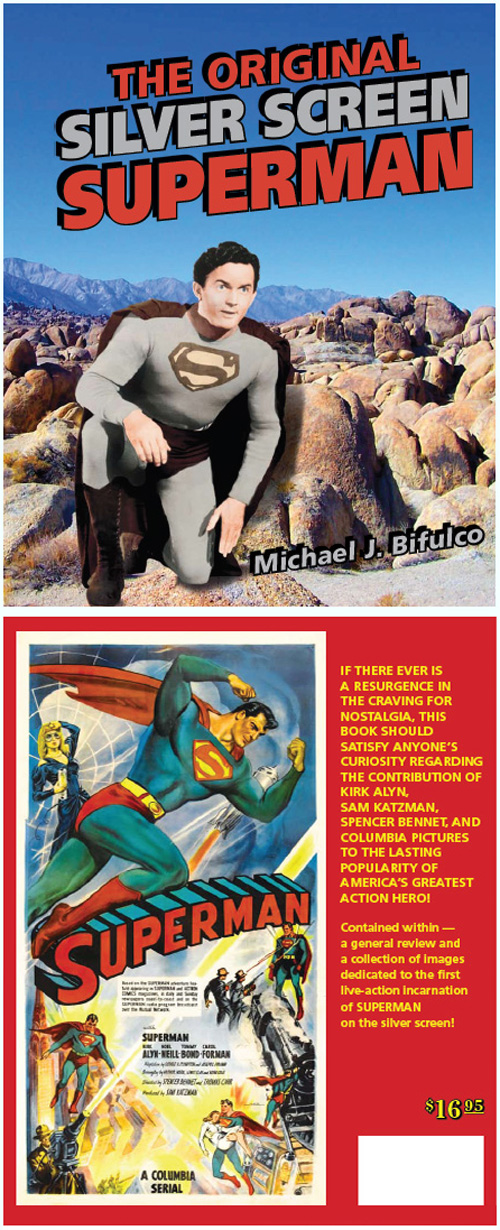 List Price: $16.95
8" x 10" (20.32 x 25.4 cm)
Black & White on Cream paper
130 pages
ISBN-13: 978-1463695569
ISBN-10: 146369556X
BISAC: Performing Arts / Film & Video / Guides & Reviews
TAC congratulates Mike Bifulco with the release of another OUTSTANDING book.
GOOD LUCK MIKE

Thanks for Watching.
Lou (July 10, 2011)
The Adventures Continue (TAC) is a website devoted to George Reeves and the Adventures of Superman. All contents copyright© by Jim Nolt unless otherwise noted. All rights reserved. Nothing from this website may be reproduced by any means, in whole or in part (excpet for brief passaged used solely for review purposes) without the written permission of either Jim Nolt (owner) and/or Lou Koza (editor).
Superman and all related indicia are trademarks of DC Comics, Inc. and are reproduced for historical purposes only. Use of the name of any product or character without mention of trademark status should not be construed as a challenge to such status. Includes the video captures from the Adventures of Superman.
"Like The Only Real Magic -- The Magic Of Knowledge"
---