Jackson Gillis
August 21,1916 - August 19, 2010
Most readers of The Adventures Continue will recognize the name; for it is Jackson Gillis who wrote the best of Superman's adventures. Gillis had a long and extensive career as a writer, starting in radio for such shows as "The Whistler, Let George Do It, and The Hedda Hopper Show. He also performed on stage in London's Westminster Theater and then in Virginia's Barter Theater.
In the early 1950s, as television grew in popularity, Gillis' writing career grew right along with it. His name can be seen in the credits to shows such as Racket Squad, Lassie, Disney's Adventures of Spin & Marty and The Hardy Boys, Perry Mason, The Fugitive, Mission: Impossible, Bonanza, Knight Rider, Murder, She Wrote, Lost in Space, Hawaii Five-0, and Wonder Woman.
He was also the author of two detective novels, The Killers of Starfish and Chain Saw. Gillis retired in 1996, and he and his wife, actress Patricia Cassidy moved to Moscow, Idaho. Gillis died there on August 19, 2010. He was 93.
*******
In the fall of 1991, I had the good fortune to speak with Jackson Gillis by telephone, just as he was preparing to move to Idaho.
JN: Mr. Gillis?
JG: Yes.
JN: This is Jim Nolt. I had written to you and sent to you copies of The Adventures Continue, my magazine devoted to George Reeves and the Adventures of Superman. Do you have a few minutes?
JG: Of course.
JN: Do you remember your days with the series?
JG: Oh yes, of course. Now if you ask me the years, I'm not sure I could tell you, but I surely remember doing it.
JN: It was 1953 and 1954. How did you get into writing for television in the first place?
JG: Well, I wrote in college, and then I went to England and wrote a play with another fellow. It had some real funny lines about Hitler, but then WWII broke out in 1939.
JN: And that took care of the funny Hitler lines.
JG: Oh, yes. So that didn't work out, and my labor permit was about to expire, so I returned to the States. So after that I moved to California and worked with another fellow on some radio scripts that were pretty successful. The other fellow later became an agent. Later I turned to television. I enjoyed writing mysteries and kid shows.
JN: Do you remember any of the first ones you wrote?
JG: Oh let me think. Some of the first ones were single shot shows... one of then was called Let George Do It. The first thing I did regularly was a series with George Raft.
JN: I'm The Law?
JG: That's it. I helped create that. We had to have a script every week, and that was a real problem. The stress of writing a new script every week broke up the collaboration of me and my partner. At the same time I was writing other single shot shows which paid about $400 or $500 each. Then the guy who had Lassie needed a pilot.
JN: Robert Maxwell?
JG: Right. Bob Maxwell. Anyway the pilot sold the series. I got along with Bob, but Bob was... well to put it mildly, he screwed the production man out of a lot of money. I think Bob sold about 120% of the production. A number of years later my friend had gone to good lawyers and filed a suit against Bob... but he waiting until Bob had some money. I filed a suit also, and it took only about ten minutes in court to settle it. So I mad a few dollars there too.
JN: How did you meet Whit Ellsworth?
JG: I think I met Ellsworth through Maxwell. But anyway, overlapping the Superman thing, I worked a few years for Disney. I created the kids shows like Spin And Marty and The Hardy Boys. I also wrote a whole bunch of other stuff which was never shot. That's been the experience of many writers who worked for Walt. You'd spend several months writing the stuff, and then it would wind up on the shelf.
JN: What did you know about Superman before you wrote for Ellsworth?
JG: Nothing. Not more than reading the funny papers.
JN: Well, then, with little knowledge of the character, you wrote some of the best episodes of the series... "Panic In The Sky" and "Around The World With Superman."
JG: Oh yeah, I remember that one, a real quick trip around the world.
JN: That's my favorite.
JG: Well they had some good men on the series. The film cutter made that look good. I can't think of his name, but he also worked on Perry Mason.
JN: Between 1953 and 1954 there was a clear change in the character of the show. Your 1953 episodes were good science fiction or warm human interest stories. The 1954 stories were more of a fantasy nature... "Great Caesar's Ghost" and "The Deadly Rock" come to mind.
JG: Some of that was Mort Weisinger, the story editor. He wanted to retain the flavor of the comic books at the time. I remember enjoying the earlier ones much more. At that time they were much more wide open for ideas. They went for more science fiction and adventures turned sideways.
JN: Were you assigned stories or was the plot entirely up to you?
JG: I was pretty much up to us.
JN: Did you know George Reeves?
JG: Not too well, no. By and large writers find it a good idea not to go on the set too often. The actors have a tendency to make too many suggestions concerning their characters.
JN: The directors who did most of your stories were Tommy Carr, Harry Gerstad, and George Blair. Did you know any of them?
JG: No, not really.
JN: When you watched the shows, were you pleased with the way they were produced?
JG: Generally not, no. But I understood the constraints of the small budget so I wouldn't say I was too disappointed. Actually in a way, I'd say that for what they were, they are better than today's shows that attempt to appeal to everyone... to too wide an audience.
JN: Some of your stories centered around Superman and some around Perry White. Others featured Lois Lane. Were you asked to write for a specific character?
JG: No... well, maybe Whit would say, "Let's give George a long weekend," or something like that. So I'd write something that would take him out of a day's shooting. But by and large, no. I'd just check with Whit to see if they'd done anything else like the story I had in mind, and if not, I'd write it.
JN: Were you asked to write a certain number of shows?
JG: No, I don't think so. Whit would call from time to time and tell me he needed another script.
JN: Were you and Whit personal friends?
JG: Not really. Not more than we'd drink together sometimes.
JN: I think George was particularly good in many of the stories you wrote, Quite often he'd have the opportunity to show a wide variety of emotions.
JG: Yes, but I think he got awfully bored with the show later on.
JN: How many times did you see George... just once or twice?
JG: Oh no... a lot of times. I didn't hang around the set much, but I saw him quite a bit. I wouldn't say I knew him on a personal level though.
JN: I know you're busy so I won't keep you much longer. I simply want to state again that among the followers of the Adventures of Superman, many feel that your stories are the best of the lot.
JG: Well, I've always enjoyed writing for kids, and I especially enjoyed writing for the Superman series.
JN: Thank you for your time.
JG: You're very welcome, and good luck to you.
*****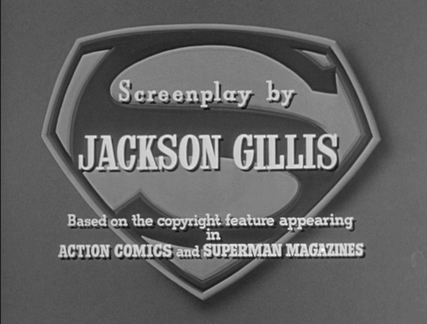 "Defeat Of Superman"
"Superman In Exile"
"A Ghost For Scotland Yard"
"The Face And The Voice"
"Panic In The Sky"
"The Golden Vulture"
"The Machine That Could Plot Crimes"
"Lady In Black"
"Around The World With Superman"
"The Lucky Cat"
"Great Caesar's Ghost"
"The Magic Necklace"
"The Seven Souvenirs"
"The Deadly Rock"
"The Wedding Of Superman"
----
Jim Nolt
August 28, 2010