George Reeves
at the La Grange Pet Parade
1956
A few days ago Charles Noble wrote asking if I could identify a series of photographs for him... one photograph in particular. These photographs were given to him by a now deceased family member, and Chuck was hoping to learn exactly where and when they were taken.
One photo showed Pat Brady, Roy Rogers' "comical sidekick," with
Roy's "wonder dog, Bullet."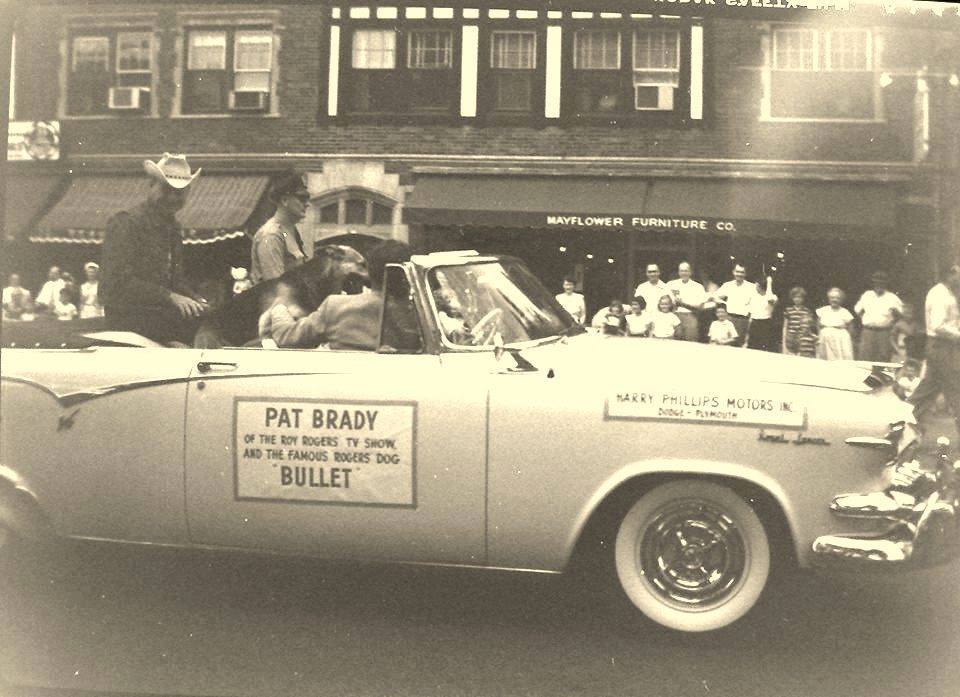 There was also one of and entertainer billed as
"The Boy With the Green Hair" and his pet lion, Togar.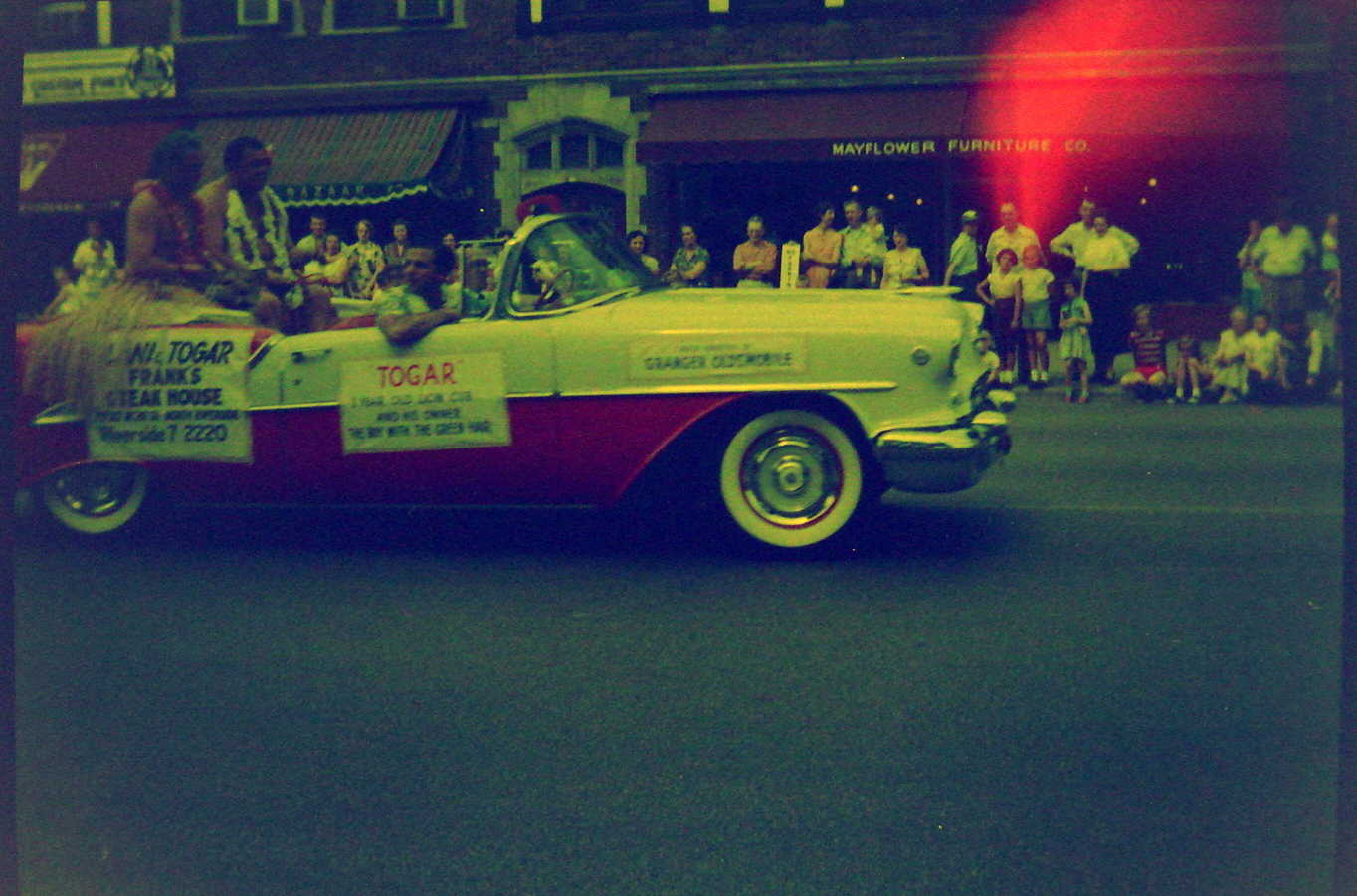 But of greatest interest to me was this one – George Reeves, star of Superman.

To solve the mystery of when and where these photos were taken, I first did a search for "Togar the lion." Google gave me this much
Because the article singled out here is on a premium site, I asked Colete Morlock if she had ever heard of "Togar." In the past Colete has researched and written several articles for TAC. As it happens, Colete has a subscription to newspapers.com which allowed me temporary access to pages with these ads:
The phone number on the side of the car matches the phone number in the newspaper ads, so it was apparent that the parade took place somewhere near Chicago as, most likely, Togar and "The Boy With The Green Hair" was appeal mostly to a local crowd.
Colete then found this website devoted to La Grange (Illinois) local history. Oddly, although many televisions stars of the 1950s are listed as appearing in the La Grange Pet Parade, George Reeves in not mentioned.
To fill in that missing piece, Chuck Noble added his photo to this page, and I put in an e-mail to the organization that sponsors the parade. Perhaps they have the needed information in their records.
Chuck was also intrigued by the Mayflower Furniture Company seen in the background in the above photos. His searches of old newspapers produced this ad. Ironically, the Mayflower Furniture Company was located at 70 S. La Grange Road... the current location of one of Chuck's favorite BBQ establishments... a place Chuck has visited no fewer than eight or nine times.

Two final notes. When I showed the parade photo of George Reeves to Mike Goldman, he immediately recognized the cardboard cutout attached to the hood of the car. It is taken from a photo I had seen many, many times... but did not recognize it as the cutout until Mike pointed it out to me.
It's always satisfying to solve a mystery. Yet as is so often the case, solving one creates another. Here is one final photo from Chuck. Can anyone reading this page identify this cowboy with the initials BA?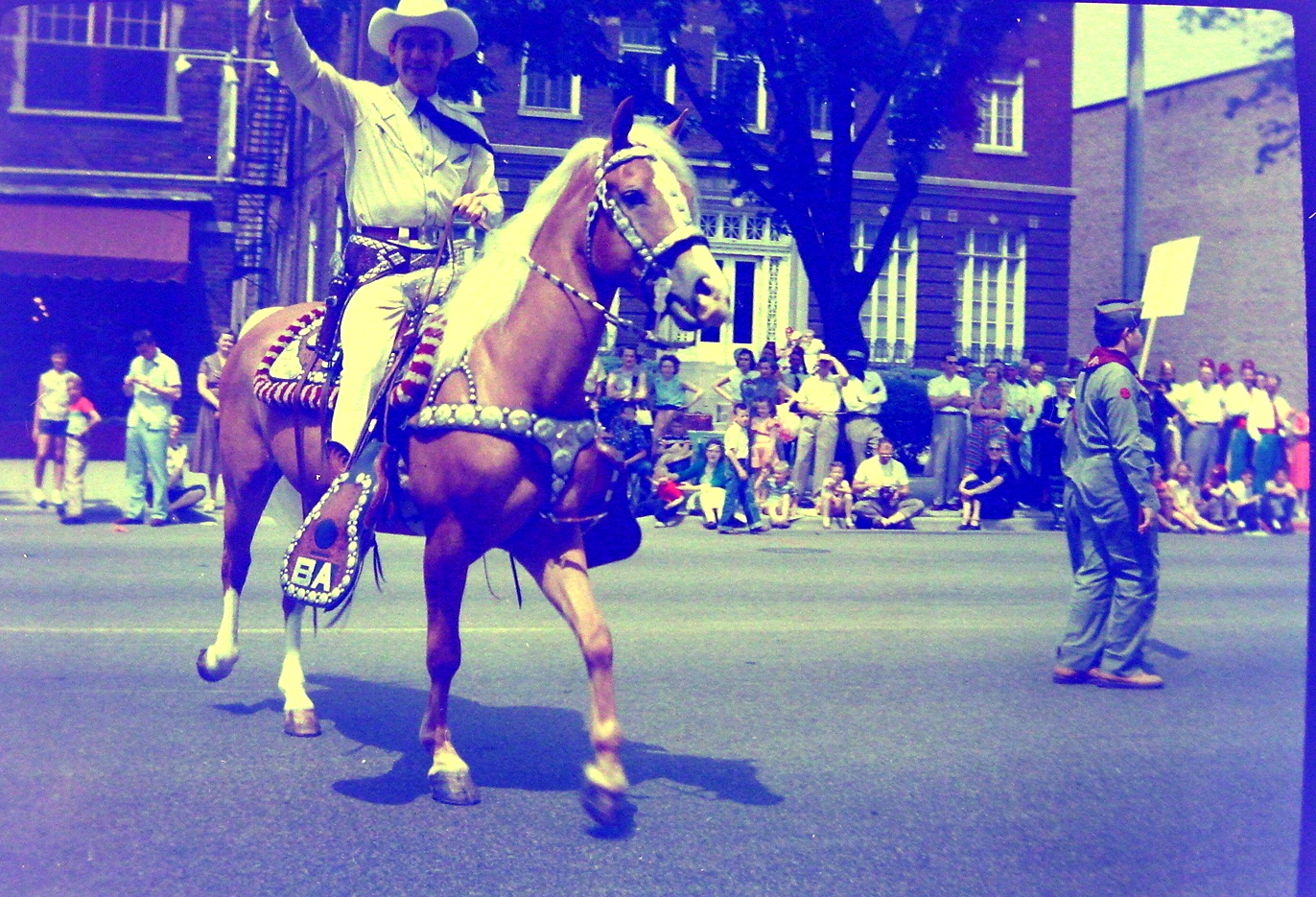 Update from Phil Riordan, January 2, 2015:
Hi Jim,
As always, I enjoyed reading your article of June 3, 2014 on the "The Adventures Continue" website. It was about George Reeves's appearance LaGrange Pet Parade of 1956. At the bottom of your article was a photo of a cowboy riding his horse. The initials "BA' were on his stirrups. You were wondering who the cowboy may be.
The cowboy pictured is Bob Atcher. Bob was a popular singing cowboy and recording artist during the 1940's and 50's. He moved to the Chicago area where he was the popular host of a kids' show, "Meadow Gold Ranch," during the early 1950's. Mr. Atcher later served as the mayor of Schaumburg, Illinois.
A fond memory from my childhood when our dad took my siblings and myself to see Bob Atcher sing at a local fair near Chicago in the mid 1950's. Below is the wikipedia link to more information on Bob Atcher.
http://en.wikipedia.org/wiki/Bob_Atcher
Happy New Year!
Phil

[Charles Noble has more than just a passing interest in vintage photographs and newspapers. If you have time, please visit his eBay auction site to see some of the other things he's discovered and preserved.]
Posted June 3, 2014
Updated January 2, 2015
Jim Nolt