Pat Ellsworth was diagnosed with Myasthenia Gravis as a teenager, and the Myasthenia Gravis Foundation of America was founded by Jane Ellsworth in 1952. George Reeves served as national spokesperson in the mid 50s.Through the years, the readers of The Adventures Continue magazine and website have donated nearly $16,000 to Myasthenia Gravis.
The letter shown below was sent to me from Esther Land in January, 2007, soon after I forwarded donations in George's name from Dave Orbach, Mike Goldman, Gail McIntyre, Jody McGhee, Mandy Owens, and Harvey Gilmore. The names of previous contributors can be found here and here.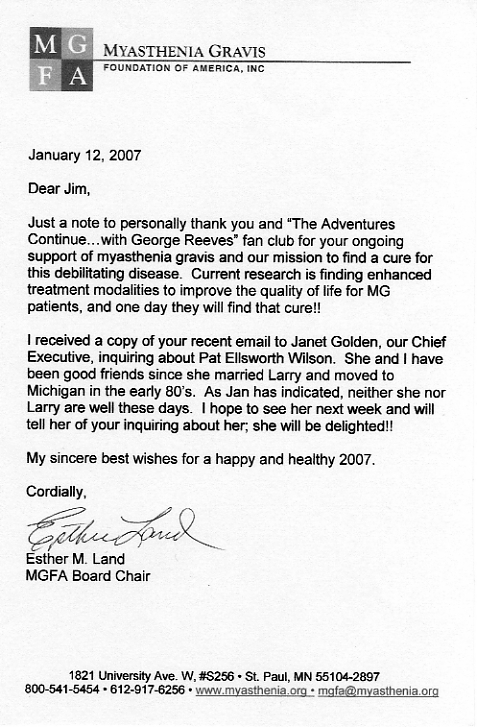 Fans of George Reeves reading this web site have gained a lot of knowledge about the man whose work we loved as kids and appreciate even more as adults. I encourage you to show that appreciation by making further contributions to MG in George's name. You may send your donations directly to me or directly to Myasthenia Gravis:
MGFA
290 Turnpike Road
Suite 5-315
Westborough MA 01581

(MG address has changed since above letter was written)
Let me know, and I can update the website total whenever a new donation is made.
Jim Nolt
January 21, 2007