Mira McKinney –
A Force To Be Reckoned With
by Colete Morlock and Thom Hamilton
Many older actresses that we've profiled had similar backgrounds prior to their television appearances in the 1950s and early 1960s. Their professional lives usually included vaudeville, stock theater, and Broadway in their résumés. Some of these actresses came from rather well to do families. Such was the case of Mira Frances McKinney. She was born on October 23, 1892 to William Mark McKinney and Loretta Frances (Beebe) McKinney of New York. Mira's father was a prominent attorney whose political career included a stint as a New York senator (1901-02), and a New York Constitutional Convention delegate (1915). According to Mira's IMDB bio, written by her great niece (Peg McKinney), Mr. McKinney "came up with the idea of compiling New York State laws in small manageable divided books for attorney's to take into court. They are still in use to this day." Those volumes are known as McKinney's Consolidated Laws of New York. He authored other law-specific publications. One other interesting point from Mira's IMDb is that the McKinney family was the neighbor to Teddy Roosevelt; in fact, Mira and her brother played with the Roosevelt children.
Very little is known of Ms. McKinney's early life except that census records indicate her family was in New York up through 1915. The obituary for her mother, Loretta McKinney revealed that daughter Mira was married to an Edd Russell, but we found no other information on him. Mira's father, William Mark McKinney served as a JAG lawyer in WWI (1918). The family relocated to San Mateo, California according to the 1920 US Census. The McKinney parents worked for the Bancroft-Whitney Publishing Company, with Mira's father as publications editor and her mother was the editor-in-chief. The publisher specialized in law books. Loretta McKinney held that position until her death in 1936, while nothing further is cited for her husband.
Exactly when Ms. McKinney got the acting bug is not known; however, as of 1924, she was part of the Majestic Stock Company Players, based in Madison, Wisconsin that included Ralph Bellamy, Edmund O'Brien and Melvyn Douglas. As of 1925, Mira's reputation as a West coast stock actress enabled her to become part of the Waterloo Players in California. One newspaper article stated "Miss McKinney has been with some of the foremost stock organization of the west country as well as some of the larger companies in eastern cities" (WATERLOO EVENING COURIER, Sat. Oct. 24, 1925, p. 12). Who would have guessed that Mira even did comedy! Her performance in "Nightie Night", a British comic farce yielded very favorable reviews: "The show is one laugh after another with Mira McKinney, taking the big comedy role…Miss McKinney puts a lot of good work into the part, one that suits her immensely" (WATERLOO EVENING COURIER, MON. Feb. 15, 1926, p. 9).
At the time of her mother's death, Mira had already appeared with Charlie Chaplin in his film Modern Times (1936), and was under contract to Warner Brothers. She had a credited role in a Perry Mason film, The Case of the Stuttering Bishop (1937) with Veda Ann Borg also in the cast. McKinney also appeared with singing cowboy, Dick Foran in Blazing Sixes (1937). Throughout her film career she had many uncredited and nondescript roles, although for Young Fugitives (1940), the audience witnessed both her familiar gruff demeanor and a softer side where she actually smiled sweetly.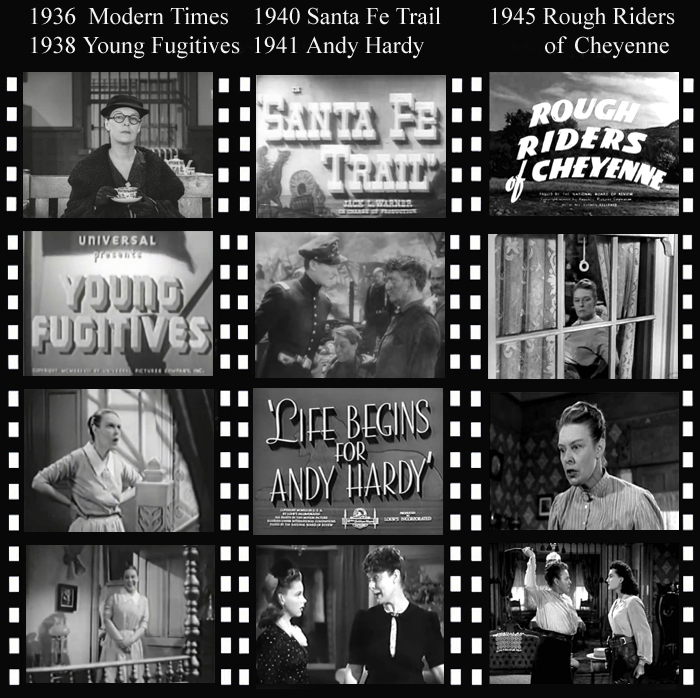 Her one scene in Santa Fe Trail (1940) showed her seated, looking rather dejected between Errol Flynn and her husband after their town had been pillaged by Confederate soldiers. In between her westerns, she appeared in Hot Steel (1940), Pittsburgh (1942), and Keep 'Em Slugging (1943). Her trademark "I'm the boss and don't you forget it" attitude was seen throughout Rough Riders of Cheyenne (1945) in which she delivered several rapid-fire slaps on the face to her own daughter. That same year she was an unsympathetic prison matron in The Man Who Walked Alone. One more appearance with the Stooges was Talk about a Lady (1946). That same year she appeared with Sidney Toler in the Charlie Chan film, Shadows over Chinatown. She had a departure from villainy with the musical Beat the Band (1947) in which she portrayed Frances Langford's proud, doting mother, sending her daughter off as a singer on tour. Gene Krupa and his band were in the film as well. With 1950 ushering in a new decade, Mira returned to the Old West for Trail of the Rustlers to co-star with Charles Starrett, sidekick Smiley Burnette, and Gail Davis. She did three films in 1951, one of which was Heart of the Rockies with Roy Rogers, Frank Morgan, and Rand Brooks.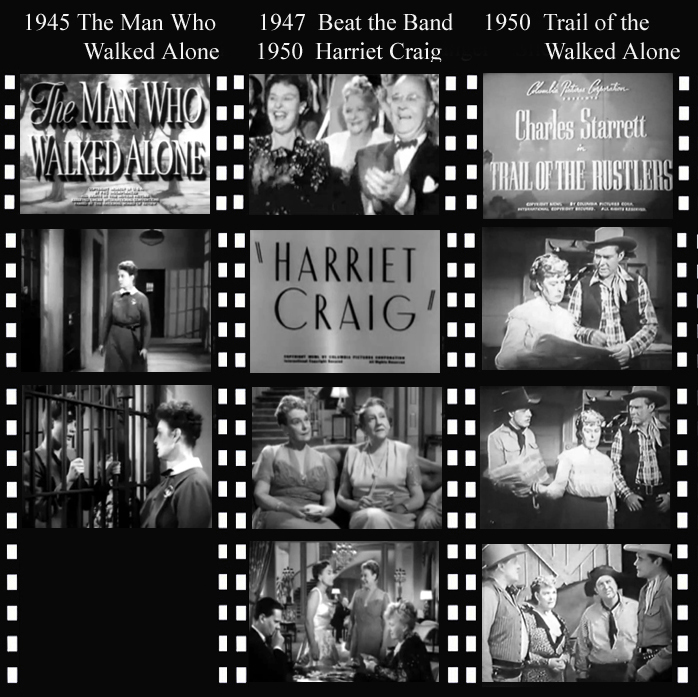 Mira transitioned from films to television in 1951 in series such as Boston Blackie and Sky King. In 1951 she did an amazing job as the diabolical proprietress of a wax museum in the Adventures of Superman episode "Mystery in Wax." McKinney had parts in Topper, Adventures of Jim Bowie, Loretta Young Show, as well as numerous episodes of The Gene Autry Show, Lone Ranger, and My Little Margie. In 1957 she teamed up once more with Gale Storm for an episode of Oh, Susanna! Her final appearance was that same year on Sheriff of Cochise with John Bromfield, Elisha Cook, Jr. and Dale Van Sickel.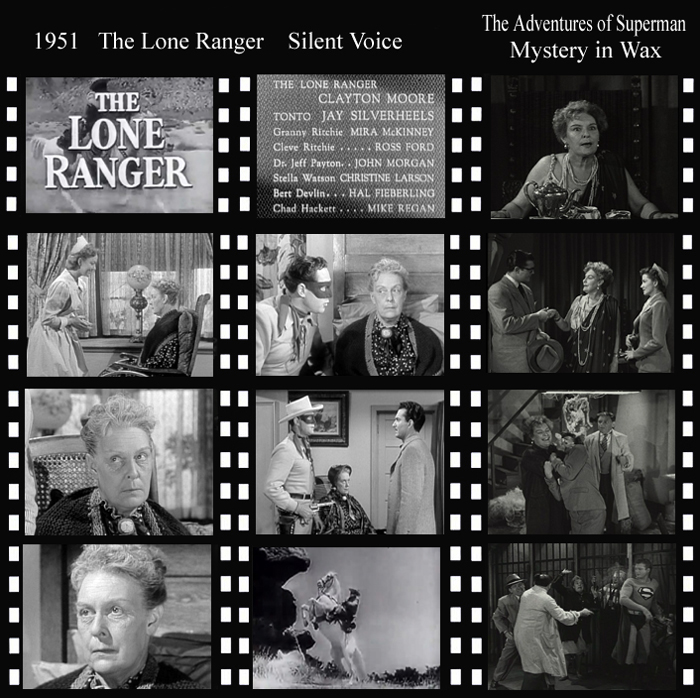 Having seen some of her film work, the Adventures of Superman episode, "Mystery in Wax" showcases the demeanor she had perfected throughout her movies. As Madame Selena, she held powerful men in the palm of her hand when she created wax sculptured heads, stating that they would all die within a month. McKinney really got into this role and just the look and tone of her voice when she talked about money and power, she made one believe that she was insane. Unlike the many westerns and period films where her hair was pulled back in a bun, Mira's hairstyle of wild, short hair, added to the fearsome character she portrayed.
What her life was like upon retirement from show business is not known. She died at the age of 85 on May 2, 1978 in Los Angeles, California.
Note: "Special thanks to Barbara L. Frye for technical assistance with the photos and to Lou Koza for the captures from "Mystery in Wax".
Sources:
https://familysearch.org/pal:/MM9.1.1/XCNL-YRN
http://www.imdb.com/name/nm0571901/
http://www.moviefone.com/celebrity/mira-mckinney/1814516/biography
http://books.google.com/books/about/McKinney_s_consolidated_laws_of_New_York.html?id=Xz0QAAAAYAAJ
http://politicalgraveyard.com/bio/mckinney.html [ The Political Graveyard
Who's who in California (Volume 1942-43) p.146 of 235
NEWSPAPER ARCHIVES: WISCONSIN STATE JOURNAL, October 30, 1924, p. 18; Waterloo Evening Courier, October. 24, 1925, p. 12; WATERLOO EVENING COURIER, February 15, 1926, p. 9; SAN MATEO TIMES, December 7,1936, p.16; MONESSEN DAILY INDEPENDENT, July 13, 1937, p.3; CUMBERLAND EVENING TIMES, November. 17, 1937, p.13.
Posted:
February 25, 2013
Jim