Superman: Straight toward Metropolis!? Excuse me Professor…I've got a date in outer space.
Professor Roberts: A chance that's all it is…just a chance…it may cost the world a terrible price…Superman.
Arguably the best episode ever created by the Superman team, Panic in the Sky retains its popularity due to its tight script by Jackson Gillis and commanding performances lead by George Reeves. As I've already said, we know all this but…what we might not know is the stories of the people that worked in the shadows. These are the folks that went to work everyday, toiling away faithfully - trying to provide us with an entertaining, suspenseful and memorable show all done on a shoe string budget. They were true professionals, loaded with years of experience and a common goal. What's amazing is the scope of some of the…as I call them… shadow people's careers. This also applies to most of the character actors who appeared on the show. Take Jonathan Hale who in Panic played the deep thinking and at times sarcastic Professor Roberts.
His voice is what I recognize…"The Professor" I mutter as I did a few years ago when watching Charlie Chan's Secret. He popped up again in another Charlie Chan and again in 1937! He had a recurring role in the Blondie series playing Mr. Dithers from 1938 to 1946. He appeared in Hitchcock's classic Strangers on a Train in 1951. Hale was what one would call a "working actor"; he appeared in fifteen films in 1935 and 244 by the time his career was over.
Clark Howat portrays the professor's assistant and receives a tongue lashing…"Don't be stupid," replies the professor after Clint says something about Superman's moon. Clint was another working actor who also was a writer, penning an episode of The Detectives staring Robert Taylor and Walk a Crooked Mile. He made his debut appearance in Miracle on 34th Street in 1947 and acted steadily until 1985. But, when I see him I think of one thing…Dragnet. He worked along side Jack Webb twenty one times from 1967-1969 playing Captain Al Trembly.
From the character actors to the shadow people, Winnie Rich was the script supervisor for the entire run of the Adventures of Superman. After Superman ended in 1957, she filled the same job for Father Knows Best, I Dream of Jeannie, The Monkees, Family Affair, Marcus Welby and even Knight Rider and Starsky and Hutch!
David S. Garber was the production coordinator for fifty two episodes of the Superman series. He also toiled as an art director in fifty eight silent films.
Composer Leon Klatzkin not only wrote the theme for Superman, he also composed music for Gunsmoke, Rawhide and Have Gun –Will Travel plus…many other shows. His career lasted until 1968.
Jack R. Glass (no relation to Carl - but definitely in sprit) labored in 78 episodes of the Adventures. He handled the photographic effects from 1953 to 1958. He then moved on to such television shows as Passport to Danger, The Life of Riley, The Great Gildersleeve and The Abbott and Costello Show.
Danny Hays started his career working with one legend…Jimmy Stewart in It's a Wonderful Life, and ended it working with another…John Wayne. He handled the special effects, just like he did on twenty fours episodes of season 1 of the Adventures of Superman…and is credited (though it's probably stock footage) with a few more including...Panic in the Sky.
Jean L. Speak engineered the sound for George and crew in thirty eight episodes ending in 1955.

On "Panic in the Sky" he did double duty, handing the editing as well as the sound. In 1952 he worked on a film that most people said would bomb. The leading man had a bad back and the leading lady was as green as a cucumber. The film? High Noon…two years before that Jean worked with a guy named Brando in The Men.
Clem Beauchamp was the classic "jack of all trades."
In 1953 Clem was the production manager on Superman and by 1955 a producer. In total he was involved in fifty five episodes including "Panic in the Sky" and "Superman in Exile." He was also an assistant director on twenty one films commencing in 1935 and highlighted by his two Oscar nominations for The Lives of the Bengal Lancer and The Last of the Mohicans. He himself directed a total of eight films beginning in the silent days. Clem also acted…boy did he, he appeared in thirty nine films the last one in 1939. He wrote the story for Westward Ho-Hum (starring Edgar Kennedy) in 1941, and Who's a Dummy? Leon Errol was the star of Dummy but supporting him was another actor who later made some appearances in Superman, some funny, and some not. His name was Herb Vigran…
Harry Thomas started applying the makeup on Superman in 1951, and ended up working on fifty two episodes. Harry witnessed the great Edward Wood Jr in action and did the makeup in three of Wood's…um…remarkable films. Harry acted in a couple of films, the first being Pardon Us with comedy legends Laurel and Hardy…
Ralph Berger had a very productive career; he worked as the art director on the Adventures of Superman for two years and a total of forty six episodes. In 1952 he labored with Robert Mitchum and soon after…Lucille Ball and Desi Arnez. He did fourteen episodes of Make Room for Daddy and the same number for The Andy Griffith Show. Ralph toiled with Jack Benny and then Robert Stack on The Untouchables…forty seven times to be exact.
Robert H. Justman was like Clem Beauchamp, he was adept at handing many jobs. He was the associate producer for seventy eight episodes of Superman. He assisted the director in twelve episodes and had the same responsibility on Lassie and The Outer Limits. He also assisted in the making of the following film noir classics, The Big Combo; Kiss Me Deadly, and The Big Knife. A number of years later he worked on Star Trek the Next Generation. His lone appearance as a thespian was in The Outer Limits.
Earlier in his career production manager and later associate producer Barney A. Sarecky hung out with The East Side Kids before they became The Bowery Boys. He worked on fifty two episodes of Superman; Barney also wrote seven episodes of The Cisco Kid and numerous other B films.
Jack R. Berne was on the job for nineteen episodes of Superman as an assistant director, and three film noir classics mentioned above as well Oceans Eleven, Whatever happened to Baby Jane and Hush…Hush…Sweet Charlotte.
Harry W. Gerstad and Harold E. Stine had long and distinguished careers. Starting in 1953 Gerstad edited twenty six episodes of Superman, and two years later was directing. He was also involved in such films as Big Jake with John Wayne and the cult classic Walking Tall. Stine was the cinematographer on forty three episodes of Superman and later Maverick, Lawman, and 77 Sunset Strip. Some twenty years before he was a boom operator for a little film called…King Kong.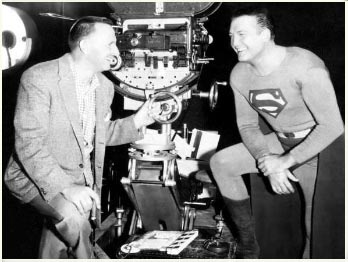 Joe Biroc and George Reeves
Joe however wasn't involved with Panic in the Sky. But the spirit of being behind the scenes is captured.
And there you have it, a list of names that most of us hardly recognize or paid much attention too. Graced with talent, passion and experience they helped create a show that fifty eight years after its first scenes were shot has maintained its popularity and dignity. There's no doubt George Reeves appreciated them...
And now we do too…
John J. Raspanti
Points of Interest:
From Brian McKernan: An interesting footnote to "shadows" of "Panic in the Sky" is that it's the only episode of TAOS that was re-made in two subsequent Superman series: Superboy ("Superboy...Lost," 1990) and Lois & Clark ("All Shook Up," 1994).