Another day is spent interviewing the few locals who remembered Helen. The next day I drive back to Chattanooga.
Ephemeral Hollywood
It's January 1977. I'm driving to California and make the trip from Chattanooga in three days, saving me an extra night of motel living. I crash on the couch of a college friend living in El Segundo. The next day I find a furnished apartment to rent across Inglewood Avenue from Hawthorne High School. My initial observation is that Hawthorne looks nothing like a Beach Boys song.
I spend the next few days making phone calls and lining up interviews. I find Whitney Ellsworth, the producer of the Adventures of Superman in the telephone directory and give him a call. He initially passes on an interview, but suggests I write a letter outlining my efforts so far. He gets the letter and calls back to say that I'm obviously a serious person so he'll see me.
I visit with relatives of George who live in Glendale, an older couple named Shelton. They're nice folks and provide me with a few more family details. They also tell me to contact Catherine Chase in Whittier.
I'm driving north on the San Diego Freeway, trying to avoid all the speeding cars. Evidently, you are supposed to add about thirty miles to the posted speed limits. There is a white Pontiac Firebird on my tail as I take an exit ramp. The driver is using a microphone to address me from speakers which must be mounted somewhere under the car's hood. No doubt he is complimenting me for my safe driving skills, but since I don't understand his language, I cannot be certain.
I take the Ventura Freeway to Thousand Oaks and arrive at the home of Whitney Ellsworth. I'm greeted at the door of his ranch-style house by his lovely wife, Jane. Her smile immediately puts me at ease as she escorts me inside to meet Mr. Ellsworth. He is sitting on the couch. Next to him is an oxygen tank. Whitney has emphysema, but his handshake is strong as he stands to greet me.
On the couch is a copy of Gary Grossman's book, Superman: Cereal To Serial. Before I can say how much I enjoyed that book, Whitney opens it and complains that, despite his cooperation, Grossman made too many errors. After a bit of venting on that subject, he loosens up and allows me to audiotape the interview.
Editor's Note: It is common knowledge, even to Gary Grossman that Whit's copy of Serial to Cereal highlighted those items he felt were incorrect. The book remains a huge favorite among the show's fan base.
Whitney shows me a screenplay he's written based on a novel by Conrad Richter. He hopes to produce a film version. He also advises me to keep a daily journal. I promise to do so, but after a couple of months, I quit.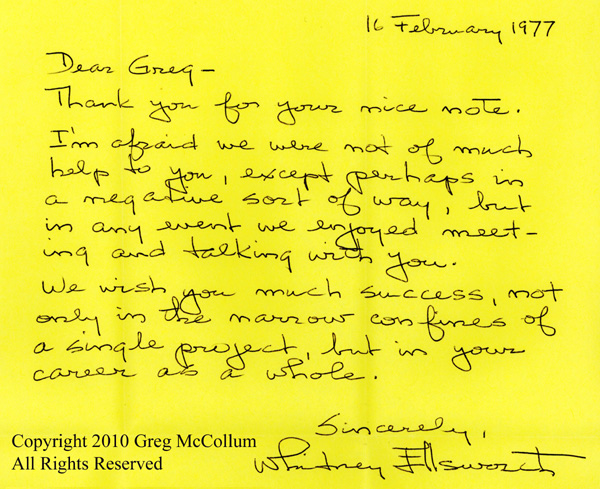 A few days later. It was a dark and stormy night… no, really… and I'm driving to downtown LA to the Olympic Auditorium to meet Gene LeBell, George's friend and wrestling partner. As I get closer, I can't tell if I'm on the "good" side of town or not. I find a parking spot near the Auditorium, tell the box office attendant my name, and she lets me inside. There are a few hundred people watching a wrestling match. Gene is inside the ring, wearing a tuxedo and announcing between matches. I notice someone wearing a gorilla mask. He walks up behind people and taps them on the shoulder. When they turn around, he growls and scares them. This activity does not appear to be an official part of the night's entertainment.
Once the wrestling matches are over and people are filing out, I sit down in a row of seats with Gene and he tells me about George. He tells me several risqué stories which I can't repeat here. (No, really, I can't. However, one did appear in my finished article, but attributed only to "a friend.") Bottom line for Gene is that George was a good person who was making plans for personal appearances and additional acting jobs. Gene doesn't understand why George would commit suicide.

Editor's note: It is Gene, aka "a friend," who in Greg's 1978 article doesn't mention by name Leonore Lemmon and Gwen Dailey as the two naked woman who greeted him a George's front door. Gene however more recently did tell the full story to Speeding Bullet and in his own book, Gene LeBell: The GODFATHER of GRAPPLING..
It's a sunny January day in Whittier as I park my car and walk up the sidewalk to meet Catherine Chase, George's cousin. Her pleasant demeanor puts me at ease as she tells me about George. At the time, 1959 seemed like ancient history, but it was only seventeen years earlier and it must have saddened her to review the details of George's tragic death. Catherine shows me a copy of a report made by a private detective hired by Helen to find out what really happened to George. In the margins Helen has written in her distinctive handwriting the letters "N.G." which stand for "no good." From the numerous "N.G.s" it appears that Helen didn't get her money's worth from the private detective. I also review the report from a second autopsy of George performed weeks after his death, initiated by Helen in an attempt to prove her son never committed suicide.
I ask Catherine if she knows anything about George's former wife, Ellanora Needles. She remembers Ellanora married a Beverly Hills attorney, but can't remember her married name. She rifles through more paperwork and finds it: Rose.
The next day, I call the two attorneys in Beverly Hills with the last name of Rose. The second one tells me that his wife was once married to George. He takes my name and number and suggests that his wife will call if she's interested. That evening, I get a phone call from Ellanora. She's easy to talk to and seems genuinely interested in my project. At the end of our conversation, she asks that I not reveal her married name. Note: several writers since have identified her.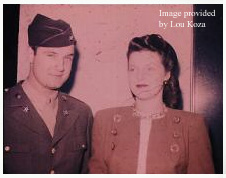 George and Ellanora Reeves, circa 1943
I keep working the phone and writing letters:
* I speak to Robert Justman who, after the Adventures of Superman, became a co-producer of the original Star Trek TV series.
* I contact cameraman Joe Biroc through the American Society of Cinematographers and have a phone conversation about his days on the set of the Adventures of Superman.
* I receive a letter on 20th Century-Fox stationery from Fred Zinnemann. He's on the set of the movie Julia, but dashes off a short note to state emphatically that George was not cut out of the film version of From Here To Eternity.
* A postcard arrives from Ireland. Novelist Richard Condon writes that his brother Robert, who was present at George's Benedict Canyon Drive house the night of June 16, 1959, always said George's death was a suicide. If the author of The Manchurian Candidate doesn't smell a conspiracy, neither should I.
* I reach Robert Shayne by telephone but he's too busy to be interviewed.
* Despite my best efforts, I never come close to contacting Noel Neill, Jack Larson, or Toni Mannix.
Editor's Note: In Speeding Bullet by Jan Alan Henderson, it is mentioned in the 70's Toni was angry that a reporter was asking questions in LA about George and was wanting to reach her. She called Howard Strickling of MGM Studios to put an end to this. Greg went out to California in January of '77. The timing seems right. Could Greg be that reporter? According to Speeding Bullet, Mr. Strickling did not act on Toni's insistance and Greg McCollum was never aware of this.
A few days later, I pack up my typewriter and drove back east. I've spent all my money, I've run out of sources, and I miss my girlfriend. Once home, I spend hours reviewing my notes and interview recordings. I write an article about George, but have difficulty selling it to a national magazine. It finally appears in The Atlanta Constitution in anticipation of the first Christopher Reeve Superman movie with the title George Reeves: (The) Real Man of Steel.
Epilogue
Over the next few years, I forget about my adventures in Illinois and California. Perhaps no one cares about the Adventures of Superman or George Reeves, an actor who meant so much to me as a little kid. But then a strange thing happens. The internet bursts onto the scene and I quickly realize that George Reeves has a huge fan base, one much larger than when he was living. And it's not just us baby boomers. Folks of all ages love and admire George for his charming portrayal and sincerity, and his personification of truth, justice and the American Way. Looking back to the 1970s and remembering the patient people I spoke to about George, I found nothing that diminished my impression of George Reeves as a gentleman and true friend to so many.
Postscript: Alma Archer Fox
I should have written a story about Alma Archer Fox. In the 1920's, she designed cars for Don Lee, a Los Angeles Cadillac dealer and early customizer before moving to San Francisco and, later, New York. Her 1988 obituary in the Los Angeles Times states that she "moved to New York in 1924 where she ran a charm school on Fifth Avenue and became a columnist. Highlights of her career included interviewing Adolf Hitler, drinking with Ernest Hemingway in Paris, and sailing south of France with James Joyce. Her column on fashion and style was once carried by more than 1,100 newspapers." Alma's charm school, Alma Archer's House of Smartness, was featured in a 1937 edition of the New Yorker magazine. She also told me she once dated Richard Helms, later CIA director under Presidents Johnson and Nixon.
I recently reviewed some of Alma's letters while writing this article. Here are some excerpts:
Alma Archer Fox: Ordained minister William P. Drew was a professor at Knox College and married Don and Helen.
Alma Archer Fox: I was fond of Gertrude Lescher, the one who had a nervous breakdown, and I presume was mother perhaps of Charles. And it was Keefer who prayed to God for recovery of Gertrude, promising to cut off her hair if He would cure her. Keefer kept her word and cut off the beautiful brown curls." Note: Helen had two sisters, Gertrude and Keefer. George's middle name was also Keefer.
Editor's Note: From Find A Grave: Katharine Keefer Lescher
Birth: December 21, 1891, Galesburg, Knox County, Illinois, USA
Death: July 19, 1916, Galesburg, Knox County, Illinois, USA
Daughter of Mr & Mrs George Lescher died suddenly at the family residence. The physician pronounced the death was due to heart failure. She had been quite prominent in social circle younger group until her health failed. After graduating High School attended Hood college at Md. for a year until health forced her to give it up. While residing at Sanitorium in Baltimore continued to take special work in domestic science and French. Member of Presbyerian church since age 10 and took active interest in Sunday School. This obit was copied from a newspaper and published by the Knox Co. Genealogical Society.

Alma Archer Fox: I note your comments about the detective (Don Johnson) who worked on the '59 case of George's weird death. If you see him again, ask if he knew my husband's mother, who told me she was a friend of a detective from Albany, New York area who worked on the case and that he said it was definitely murder by the girlfriend (Toni Mannix perhaps). Added that studios wanted coverups.
Alma Archer Fox: My father always referred to his dad as "an itinerant preacher in the Millersburg, PA area," and the reason they all became Presbyterians when they came to Galesburg was because it was closest to the Dutch Reform Church where they belonged in Pa. They arrived in PA after emigrating from Alsace-Lorraine. Note: Alma's father was Helen's uncle, making them first cousins. She is referring to their grandfather Lescher.
Alma Archer Fox: Mr. Jess Arie of Galesburg told me this morning that his brother is Arthur W. Arie, living now in Ft. Madison, Iowa. It is his wife, I believe, who accompanied Helen Bessolo to California." Note: I believe this refers to Helen's trip to California after George's death.