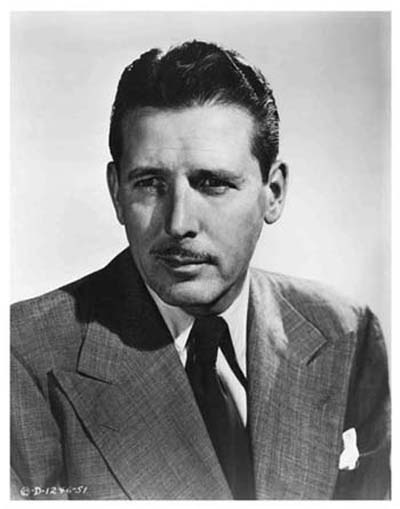 SCIENCE FICTION/HORROR
Ever since the characters of Dracula and Dr. Frankenstein were first penned by Bram Stoker and Mary Shelley, certain actors were synonymous with them. Bela Lugosi remains the best known and beloved Count Dracula. Boris Karloff began as Frankenstein's monster, but graduated to the mad scientist roles. And who could forget Lon Chaney, Jr. as the Wolfman. The horror films still captivate audiences with more recent incarnations. Many actors had at least one film in the horror and/or science fiction genre. Robert Shayne was no exception.
His first film was Monogram's The Face of Marble (1946) with John Carradine and Claudia Drake, and directed by William Beaudine. Carradine portrayed a scientist bent on bringing the dead back to life. Bob Shayne was his assistant. The film also had a housekeeper versed in the art of voodoo who used her proficiency in the dark arts to gain control of Claudia Drake and her dog to do her bidding.
Bob's character of Dr. Bill Wilson in Invaders from Mars (1953) was uncredited and his scenes took place in his laboratory. Other uncredited cast members included John Eldredge, Barbara Billingsley (Leave it to Beaver) and Peter Brocco. Janine Perreau ("Joey") and Milburn Stone (Doc on Gunsmoke), along with Helena Carter, Arthur Franz and Leif Erickson were part of the major cast. Jimmy Hunt's character was stargazing when he noticed a saucer-like object in the sky. His father went to investigate and came back "changed". The theme was similar to Invasion of the Body Snatchers and It Came from Outer Space.
In Neanderthal Man (1953), Mr. Shayne had the starring role as Professor Clifford Groves. Among the costars were Richard Crane (Rocky Jones, Space Ranger), Beverly Garland, William Fawcett (Pete on Fury), and Robert Bray (Corey Stuart on Lassie). Shayne was the mad scientist in this film who attempted to halt man's evolution by returning to the Stone Age. When criticized for his theory, he turned his pet cat into a saber tooth tiger, but the tiger died. He then injected himself with the serum and became the title character, who went on a killing rampage.
Tobor the Great (1954) was an uncredited performance for Mr. Shayne as well as Lyle Talbot, William Schallert, and Peter Brocco. Billy Chapin, (Lauren Chapin's brother from Father Knows Best), Charles Drake (It Came from Outer Space) and Steven Geray (Prof. Van Wick in "Deadly Rock") were featured. Tobor was created to pilot spaceships on dangerous missions instead of men. The scientist's grandson befriended the robot but was kidnapped by spies and Tobor became the hero to save the boy.
For Indestructible Man (1956), Lon Chaney lent his talent as "Butcher" Benton, executed in the state prison. He went to his death cursing the three men who double-crossed him following an armored-car hold-up, vowing to return and kill them. Benton's body was then taken to Professor Bradshaw (Shayne) and his assistant for experimentation. Having restored him to life, Benton became indestructible in the process. He was impervious to police bullets and killed two of the three. Mr. Shayne was very convincing as the scientist and his assistant was Joe Flynn (Capt. Bingingham of McHale's Navy).
Mr. Shayne portrayed an Air Force General in Kronos (1957). What appeared to be a meteor crashed into the ocean on Earth and a huge monster machine emerged. Its purpose was to drain all electricity from the planet. Jeff Morrow, Barbara Lawrence, John Emery (Rocketship XM), Morris Ankrum (Invaders from Mars), and George O'Hanlon (voice of George on The Jetsons) were the scientists. Atomic bombs could not kill it but they did find a cure - eventually.
The Giant Claw (1957) starred Jeff Morrow and Mara Corday. Robert Shayne was General Buskirk in this film featuring a gigantic vulture that came from outer space and terrorized the planet. One reviewer of the film had this to say: "if you look closely at one of the Pentagon scenes where Jeff Morrow and lovely Mara Corday are chatting to military chief Robert Shayne you might just detect Mr. Shayne trying hard to stifle a laugh as he turns away from the camera at one point".
War of the Satellites (1958) was one of Roger Corman's low budget sci-fi films. An "unknown force" declared war against Earth because the United Nations didn't heed warnings to cease its attempts to assemble the first satellite for launch. Dick Miller (Little Shop of Horrors) and Susan Cabot (The Wasp Woman) also starred. How to Make a Monster (1958) featured Robert H. Harris as a makeup man renowned for his monster creations. When his employment was abruptly ended with the takeover by a rival studio, he recruited two young actors who, in his makeup, murdered the new owners. Gary Conway (Land of the Giants) was the teenage Frankenstein; Gary Clarke was the teenage Wolfman. Another Corman film was Teenage Cave Man featuring a young Robert Vaughn as one of the titled characters. If you blinked you'd miss Mr. Shayne as the lighting was terrible and he was "the Keeper of the Small Fire". Lawrence Dobkin's narration from The Lost Missile (1958) - "The world is one minute away from the start of a hydrogen war" - set the tone for this sci-fi film. Robert Loggia was a scientist who was working against time to destroy an alien missile before it exploded in New York City. As he was being hoisted to the missile's nosecone, the scene switched to the bunker where Robert Shayne, the general, stated, "He'll never make it in time" with the armed missile in the background. Cecil Elliott appeared as well as Stephanie Shayne in an uncredited performance. The special effects were done by Jack R. Glass, who was responsible for the photographic effects in the Adventures of Superman and other television shows.
Since Bob Shayne had appeared in many sci-fi and horror films, we asked Stephanie if her father enjoyed this type of cinema. She explains: I don't think he particularly enjoyed or didn't enjoy Sci-Fi. It was work. I do know he enjoyed working with many of the people that were doing Sci-Fi in those days. Many were old friends. Apart from TAOS cast he had many close actor friends that he frequently worked with in Sci-Fi. Among them: Lyle Talbot, Morris Ankrum, Tris Coffin, John Carradine, Ray Burr, Vincent Price, John Alvin, Betty Garrett, Beverly Garland just to name a few.
ON THE SMALL SCREEN
There were many single guest shot appearances among Robert Shayne's episodic television resume, making him one of the most familiar faces in Hollywood. These included Racket Squad, Sky King, The Unexpected (aka Time Square Playhouse), Fireside Theatre, Ramar of the Jungle, Stories of the Century, The Mickey Rooney Show (based on his character Mickey Mulligan), Sheena: Queen of the Jungle, The Millionaire, Screen Directors Playhouse, The Gray Ghost, Sergeant Preston of the Yukon, Richard Diamond, Private Detective, 77 Sunset Strip, Death Valley Days, Tombstone Territory, The Best of the Post (anthology series based on magazine Saturday Evening Post), The Donna Reed Show, Surfside 6, Our Man Higgins, Emergency!, The Rookies, The Waltons, Ironside, Land of the Giants, Blondie, Petticoat Junction. Disney's The Adventures of Gallegher: Part 1, My Three Sons, Hazel, The Third Man, and This Is the Life.
Bob Shayne also appeared in two episodes of Adventures of Wild Bill Hickok, The Lone Ranger, 26 Men (the Tris Coffin Arizona ranger series), Assignment: Underwater (Bill Williams starred in his adventures on a charter boat), and The Flash. There were three episodes of Space Patrol, Bracken's World (with studio producer Leslie Nielsen and stories of his upcoming stars each week), and six episodes of Navy Log.
THE ROLE HE MADE HIS OWN
While he may have been a military man, police officer, or frontiersman, the role for which he will fondly be remembered is that of Inspector William J. Henderson. According to Michael J. Hayde, author of Flights of Fantasy, the first season portrayal on the Adventures of Superman was mostly based on how the character was written in the radio show. The radio counterpart was devoid of the human/humane side of the good inspector, and Mr. Hayde stated that Henderson was essentially a plot device. After watching his appearances in the television episodes, we realized how much life Mr. Shayne breathed into Henderson's character. The viewers were privy to a straight and narrow approach during the first season of the Adventures of Superman. Henderson's main focus was the enforcement of the law and staying within its confines. One of the best examples was from "The Mystery of the Broken Statues" where he cautioned Kent on vigilante justice:
But what am I going to hold them on? If there's one thing you newspaper boys have got to learn, is that you can't take the law into your own hands. This time, Kent, you pulled a real boner…as far as the law is concerned, they haven't done a thing…The Law, Kent, the law. What have they done to break the law?
"Czar of the Underworld" was another substantial part for Mr. Shayne. We mentioned the scene where Superman came to the hotel to get Inspector Henderson, who really was enjoying that steak dinner "after all, the studio's paying for it". Luigi Dinelli, portrayed so effectively by Anthony Caruso was a formidable adversary to both Kent and Henderson. Mr. Caruso was the "godfather" in that episode, a role in which he excelled in many series. We asked Stephanie Shayne if her father was close to Mr. Caruso and she indicated that: My Mom and Dad were good friends for decades with Tony & Tonia Caruso. They were very sweet people. It's possible Dad and Tony first met on "Czar of the Underworld", but I'm not certain of that.
Henderson was not immune to criticism and this came through in Shayne's dialogue with Lois and Clark from "The Riddle of the Chinese Jade": "When the department doesn't solve a crime in eight minutes flat, the newspapers, yours included, cut me into ribbons." If need be, however, the Inspector was perfectly capable of setting the boundaries of where his reporter friends' job started and ended: "Suppose you stick to your reporting, Kent, and I'll take care of the police work. Or would you like my badge?" And with that he took his badge from his pocket in a gesture to hand it over to Kent. The vocal intonations of this exchange, in conjunction with the act itself were what made this a powerful statement from Mr. Shayne. The ending of this episode was completely out of character for a law enforcement official, yet, the audience saw the closest thing to a happy ending: "Look at me, Wong. I'm going to do something I've never done in twenty years on the police force. I'm going to act as the judge and the jury. I'm not going to arrest you." We asked for Stephanie's comments on several scenes in various TAOS episodes starting with "The Riddle of the Chinese Jade". The first was the end scene where her father got kissed by both Phyllis Coates and Gloria Saunders. Inspector Henderson seemed so surprised and embarrassed at that. We also referred to a scene from "The Wedding of Superman" where Henderson arrived at the jewelry store to find Superman and Lois looking rather amorously at each other. When Superman asked him to personally keep the crowd away and Lois said that they wanted to be alone, the good Inspector looked so dejected. Later, when Lois announced her engagement, Henderson said he wasn't happy because it took her out of circulation. Lois responded with "You sweet thing!" and then kissed him on the cheek. Stephanie commented that:
Any reactions Dad had in any scene, in any episode, were either scripted to begin with or discovered and set by the actors & director during rehearsal. The scenes would be shot multiple times with; first, a master shot then close-ups and reaction shots. The ability to make everything look spontaneous and fresh, take after take is part of the craft of acting. Dad was excellent at his craft.
Another favorite from the color era had a bit of rivalry for Superman's affection between Lois and Sgt. O'Hara. With Joi Lansing as "Superman's Wife", we wondered if Bob Shayne had ever mentioned anything about her. Stephanie stated: I don't recall Dad ever saying anything in particular about Joi Lansing other than he'd worked with her.
There were some comedic moments involving the Henderson character. In "The Runaway Robot", his derriere was singed a bit by Hero, the robot. Lois, Jimmy, Clark and Horatio were warned that they would be brought downtown if they considered the incident to be humorous. One of our favorite examples from the entire series was in "The Face and the Voice". When Superman came barging into Henderson's office, the Inspector started off with "Well, this is a pleasant surprise!" as he dashed halfway around his desk to avoid the Man of Steel. When Superman tried to tell him that he had no reason to be afraid, he responded with, "Of course you wouldn't bite anyone. Now just sit down and relax." When Superman attempted to prove that he was the real one by bending Henderson's name placard, an apprehensive Bill walked around the desk saying, "Of course you're the real Superman. I'd lock anybody up who said different. And I've always admired you too!" Henderson attempted to reason with Superman, who was becoming more agitated over his friend's disbelief: "Now, now, now. We know all about it. Now Perry White talked to you. I've known him for years. I believe him. We have some very nice doctors who would see you." At that moment, the good inspector was taken by the lapels and threatened to be likened to a basketball being bounced around when the phone rang - the bank was supposedly robbed by Superman. And one almost saw the light bulb going off over Henderson's head as he and Superman headed off to the bank. We imagined that both George Reeves and Robert Shayne must have had an enjoyable time doing this exchange. As with most of his lines in this and other episodes, it was the "Face and the Voice" of Robert Shayne that added so much to his appearances.
The color years also had snippets of Bob Shayne at his best. One of these was "Peril in Paris". Many of us delighted to not only see our favorite Inspector sporting a mustache, but also speaking with a French accent. Stephanie Shayne shared this: Peril in Paris' was one of Dad's favorite TAOS episodes. Dad often had a mustache for real. He could trim it into all sorts of styles. He was very gifted at hair and make-up after being on Broadway for so long. He also had a large wardrobe of facial hairpieces. Various mustaches, sideburns, beards, goatees all made by Westmore for him. So, not sure if he grew a 'stache for that episode (he could grow one in a week or two), or if he used one of his human hair on lace ones.
We also asked Ms. Shayne if her father spoke French, particularly since he had quite an accent in that episode. Her comments indicated what a marvelous and versatile actor her father truly had been: Dad never studied French, but he had a good ear. He was a very good dialectician. All actors learn lines in a foreign language by sound and repetition. He, in fact, was my first dialect coach. I was a born mimic and he loved to throw new dialects at me to mimic. We'd speak in a dialect of his choice exclusively for a day or two or until I got it right. It also was excellent improv training because we'd make up dialogue for the characters we were playing.
Another episode where we saw a softer side of our favorite Inspector was in "The Talking Clue". In this one, the audience was informed that Henderson's wife was deceased and that he had a son, Ray. Ray had a hobby of collecting sounds and he inadvertently recorded the sound of the tumblers of his father's safe as they clicked into place. Incriminating evidence against one Muscles McGurk was housed in that safe. With Ray Henderson as the prime suspect in aiding and abetting McGurk for robberies, Henderson was being consoled by Kent, who assured him that his son was not guilty. "I appreciate you saying that, Clark, I really do. Of course, in my heart, I know it too. I've got to believe it." Being a typical father, he was concerned that his son could have gotten himself into trouble, but that he intended to stand by him: "Ray could be the wrongest kid in the world, but he's still my kid. But perhaps it's been my fault. Maybe I've failed him. Well, it hasn't been easy trying to raise the boy without a mother, but I've tried, Clark, I've tried." And to show how deeply affected he was by all this, Bill Henderson suspended himself from active duty on the police force. As he told Kent, "There's a lot of things a cop can do, but arresting his own son isn't one of them."
We were so impressed with the earnestness and sensitivity that Robert Shayne had shown in that particular episode. We asked Ms. Shayne if that one might have held some special feeling for her father. That episode is the favorite of so many people. I get more comments about that one than any other. Dad never considered himself a "method" actor. But, all actors, all artists draw from life; our own and what is observed around us. Dad was always a keen observer of life and human behavior. However he managed to arrive at that performance will remain a mystery forevermore. He rarely talked about his creative process. I observed it, but it wasn't verbal. It's gratifying to know his work still evokes such strong and positive responses. He would be so pleased by that.
The TAOS episode "Blackmail" conveyed one of Mr. Shayne's finest performances in the series in which he ran the gamut of emotion. First, there was the disbelief that he had actually listened to Clark Kent to let a criminal escape: "If the Commissioner ever learned that I let Bates escape on purpose, he'd boil me in oil. I could be disgraced, ruined, even go to jail myself!" Next was the indignation over being falsely accused of taking money in exchange for an evidence file, "I never took a bribe in my life". The conviction in Bob Shayne's voice left no room for doubt of his principles. Finally, we saw a great actor whose character evoked the sympathy and empathy of the audience while being relieved of the job that became his life:
It's just about the end of the road for me, Kent. We'll drive to wherever he tells us and find the evidence that I took a bribe. Look at these, Kent. I used to wear them when I was pounding a beat on Delancey Street when I used to dream of becoming an inspector. Now it's all over. Funny how you get attached to things - my club, badge, coffee pot, my desk, police car…
One could not watch that segment and not be touched by the masterful way in which Robert Shayne demonstrated how a man's career had been snuffed out in one moment. Throughout the Adventures of Superman, Robert Shayne gave us innumerable examples and range of reaction from Inspector Bill Henderson. From the tiptoeing away from the phone while Perry White was screaming at him in "'Czar of the Underworld" to his disbelief in hearing Superman propose marriage to Sgt. O'Hara in "Superman's Wife", these are just a few examples of the talented man who had become such a beloved part of the cast.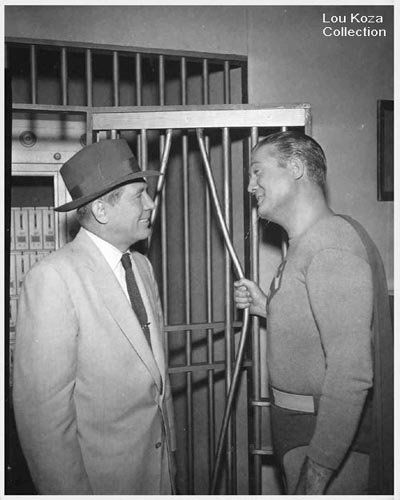 GROWING UP SHAYNE
We recognized that being the child of a celebrity or Hollywood star presents challenges. To get a better idea of what it was like to grow up in this environment, we asked Stephanie if she would mind telling us a little bit about what her formative years had been like. We thank her from the bottoms of our hearts for sharing this with us.
By the time I was born in 1950, the last of Dad's 4 children, Dad's film career under contract to Warner Bros and his Broadway career were behind him. However, Dad's longevity in life and as an actor allowed him to amass a very impressive body of work, much of which happened after he was over 50.
My half sister, Dorothy, born in 1927, and now in her 80's, grew up during Dad's NY/Broadway years. Roberta, born in 1936, my second half-sister, was witness to Dad's early film work and the very exciting Warner Bros. years. My brother, Bob Jr. (1947-1983) and I grew up during 'The Adventures of Superman' years.
It wasn't until I was well into adulthood that I started to understand how extraordinary my life with my family was: how different my childhood was from most of the rest of the world. Our lives were comprised of actors, directors and all kinds of artists as friends of our family. My brother (who worked under the name Skip Shayne) and I knew and were friends with many other child actors of our era. We worked as child actors ourselves. To us, it was just an ordinary life.
Throughout my 42 years of life with my Dad, before he died in 1992, he would regularly invite Mom to bring us to whatever studio he was working at, have lunch with him at the commissary and then visit the set after. As I grew up and was old enough to drive he would ask me to come and meet him for lunch at the studio and a visit. He always introduced us to people he worked with that we didn't already know. I had the pleasure and privilege of meeting some pretty extraordinary and legendary people in the industry. It was a lovely tradition. I cherish every one of those memories.
When Disneyland opened in Anaheim, CA in 1955, Bob Jr. and I pestered Mom and Dad to take us. We finally got to go and we ended up spending the whole day being stopped by fans wanting Dad's autograph. That was when I first understood how recognizable Dad was. TAOS was BIG! Inspector Bill Henderson was really well known! We were, of course, proud of Dad, but we were also very disgruntled that we had to stand around while Dad very graciously signed autographs for everyone that asked. We wanted to go on the rides! I don't remember saying this but my Mom used to tell the following story. When we were in the car going home from our day at Disneyland we were asked if we'd had a good time. I popped up from the back seat and said, "Yes. But, Mommy, next time we go to Disneyland, let's leave Daddy at home." Though I was apparently dead serious, both Mom and Dad thought that was hilarious and told that story many times over the years. Mom and Dad both had wonderful, rollicking senses of humor. They both had such great laughs. But, Dad's laugh was big and explosive. He'd throw his head back and laugh. His laugh was infectious.
Growing up around so many people in the industry I was not too easily impressed by 'stars'. But, there were a few that I admired so much that I read everything about them. Katherine Hepburn was right at the top of my short list. I was a fan from the time I was very a very young girl. I knew Dad had worked on Broadway with her. I'd asked Dad over the years if he thought I could ever meet her. His response was always the same. "Anything is possible".
Then in 1971, as a 21st birthday present, Dad and Mom took me to see "COCO the Musical" starring Katherine Hepburn. I was beside myself with excitement to see her perform live. I ate up every second she was on stage. But, the real surprise came after the curtain came down and Dad announced to me that Miss Hepburn had offered to meet me in her dressing room after the show. I nearly fainted. Dad, months earlier, had sent her a note before she came out for the L.A. run at the Dorothy Chandler and had arranged it all as a gift. I'll save the description of our meeting for another time. Suffice to say, my feet didn't touch the ground for weeks afterward. Miss Hepburn was gracious and generous, down to earth and funny as hell. I'm sure I was as interesting as a deer caught in the headlights. I was almost struck dumb which is rare for me! Dad insured his position as my hero for life that night. What a gift! Needless to say that gift was the envy of all my actor friends.
As extraordinary as my circumstances were in being Dad's daughter my life was also pretty normal in a lot of ways. Dad was strict. Mom was more permissive. If she thought Dad was being too strict she'd always work things out with him on our behalf. But, we had rules and curfews and consequences for not obeying the rules. We had modest allowances. By the time I was a young teenager I was expected to get a summer job each year. We were taught to contribute at home and in the world in any way we could. Volunteerism was encouraged. I was taught the value of a dollar and was taught to save. We were encouraged to never to waste anything. A solid work ethic, self-discipline, integrity, honesty and personal responsibility were expected of us. Dad's favorite mantra was "Cause and Effect" In short, Dad taught us solid, old school values.
During my high school and college years our home was always open for cast parties, summer pool parties, slumber parties, rehearsals and anything else. My parents were the cool parents and our house was the cool place to hang out. Mom and Dad loved having all the young "Drama Kids" at our house. Mom and Dad were judges at the DTASC Drama Festivals during my High School years and they never, ever missed a performance of any show I was in. Dad was always available to watch us rehearse and give us pointers. He was so generous with his time and experience. He and Mom were beloved by all my drama pals. Now, dating was another matter altogether. I was not allowed to go on an un-chaperoned date until I was in High School. When I was allowed to date Dad used to put any boy who came to pick me up through the full Robert Shayne scrutiny. He was able to scare them to death and intimidate them with "the look" without ever being rude or unkind.
Now that both Mom and Dad are gone and I have decades of perspective on my youth I can say without reservation that I was very lucky to be born a Shayne.
IN CLOSING
Back in 1975 an interview had been done with Robert Shayne himself in which he reflected on the longevity of his career: It was work, hard and long; a terrible business when things go wrong, a rewarding career when things go right. Mr. Shayne, like so many of his contemporaries, was always grateful to be employed. Whether it was a Broadway play, the temporary jobs between them, a small part or major role in all genres of film, to a cameo or regular cast member of a television series, Robert Shayne's resumé included them all. One of the finest tributes from his daughter was that Mr. Shayne: was a very down to earth and realistic man. He was never egotistic about what he did for a living or his successes. He knew better than anyone that things could change in a heartbeat.
We are extremely grateful for the opportunity to highlight some areas of the career of such a wonderful man and actor, Robert Shayne. We will forever be thankful to Stephanie Shayne, whose collaboration has been greatly appreciated throughout this project. We dedicate this tribute to Robert, Bette, and Stephanie Shayne for giving us so much to remember and appreciate.

Return to Tribute Page 1
To Photo Gallery Page One
To Photo Gallery Page Two
We at TAC want to thank Stephanie, Colete, and Thom for bringing to the community a wonderful tribute to Robert Shayne. Also, we thank Serena Enger for her assistance with some of the information and providing valued research to make this valued contribution.