Beyond Lois Lane
by Larry Thomas Ward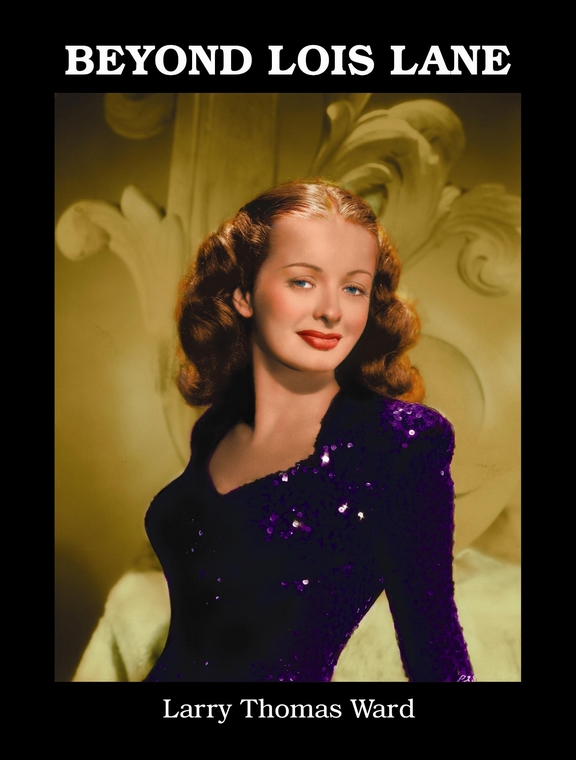 She starred in her first stage production (in her home town of Minneapolis) when she was but five years old. By the age of eight, she was singing and dancing in Vaudeville and performing on local radio programs. In her teens, she barnstormed the Midwest with several musical groups. She sang for Bing Crosby at his night club at the Del Mar Race Track, and she was a singer for several other orchestras. By the time she was 21, she was appearing in films, eventually making nearly one hundred of them... comedies, musicals, dramas, documentaries, science fiction films, and westerns. In fact, she appeared in more western films than in any other genre.
She was a highly-sought-after model, and one of her modeling photographs eventually became one of the most requested photographs by American GIs during World War II. By 1943 she had her own live television variety show, broadcast on the first television station in Hollywood... the station now known as KTLA. She helped to pioneer beach volleyball by becoming one of the first female beach volleyball players in the United States, and one of the first female surfers in California.
But in spite of these worthy achievements, Noel Neill will always be known as Lois Lane, the intrepid reporter for The Daily Planet. And although she starred with Kirk Alyn in both the 1948 movie serial Superman and the 1950 follow-up, Atom Man vs Superman, Noel Neill is actually best known for playing the iconic character on television in the Adventures of Superman with legendary actor George Reeves from 1953 to 1957. So identified is she with this role that her portrayal of the "girl reporter" set the standard for all Lois Lanes yet to come.
In 2003 the city of Metropolis, Illinois -- the adopted home of Superman -- officially acknowledged her contribution by naming Noel Neill the "First Lady of Metropolis."
Though widely associated with the character of Lois Lane, the purpose of this volume is to concentrate primarily on her overall body of work in entertainment through an array of rare publicity stills, studio press releases, film reviews, newspaper commentaries, and candid photographs.
Beyond Lois Lane is published in a 9x12 hardcover edition at 140 pages and boasts more than 150 full-color photographs. Most of these photographs are either previously unpublished, or have not been seen publicly in more than 60 years... and almost all have never before been published in color. Noted Superman artist Steve Stanley restored the vintage photograph that graces the cover of the book.
Beyond Lois Lane may ordered from The Adventures Continue. The cost for this outstanding volume is $24.95 + $5 shipping. Please note: Because of her health, Noel Neill is no longer able to provide personalized copies, but copies already autographed by Ms Neill will be provided until that supply is exhausted.
Beyond Lois Lane by Larry Thomas Ward is available now. To order, please send $24.95 plus $5 shipping to:
Jim Nolt



Please send me _________ copies of Larry Ward's latest book, Beyond Lois Lane. Enclosed is $24.95 plus $5 s&h for each copy. Payment may be made by check or money order. Please make payable to "Jim Nolt."
Total payment enclosed: ______________________________
Name: ______________________________________________________________
Address: ____________________________________________________________
State/ZIP: ___________________________________________________________
E-mail address: (optional)________________________________________________
Release date: November 11, 2007