From Kirk Hastings
I don't know which I discovered first -- the Superman comic books or the Superman TV show. I discovered both pretty much around the same time -- around 1957, when I was 5 years old. At the time I lived in a small town just south of Baltimore, MD called Severna Park. My older brother had a box of Superman and Batman comic books which I discovered one day, and I was fascinated by them, basically learning to read out of them even before going to school. I discovered the Superman TV show during its final first-run season; I think "The Mysterious Cube" was the first episode I ever saw. We got the show on one of the Baltimore TV channels. I was instantly mesmerized by this guy that wore a cape and could fly through the air and crash through walls. I loved the comics, but the guy on TV made the character real for me.
That was it for me. As soon as I was old enough to go out trick-or-treating I knew what outfit I wanted to wear: Superman! I wore the same costume year after year after that. I never wanted to be anything else. I wore that same outfit every year until I was too big to fit in it anymore! I remember when I was in the third grade we were allowed to wear our Halloween costumes to school for our Halloween Party, and at one point during the day every kid in the school (it wasn't a large school) paraded across the stage in the school auditorium to show their costumes off. When I paraded across, I remember hearing someone in the audience shout "Look! It's Superman!" Boy, was I proud of that!
I was almost never allowed to wear the costume to play in (I think because my mother wanted it to last more than just a few weeks). But, shortly thereafter, I decided that I wanted to put the Superman outfit on under my clothes and wear it to school on a regular school day, so I would be ready for any Super-emergency that might turn up. However, my mother caught me at the very last minute when I was ready to leave, and made me take the outfit off. The pants I wore that day had a small hole in the knee, and my mother caught on to what I was doing because she could see the costume showing through the hole! So much for my short-lived "secret identity"!
Kirk Hastings
Somers Point, NJ
January, 2012
---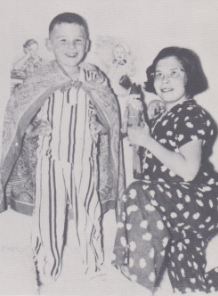 From Gary Grossman
Well, here's my contribution (from "Superman: Serial to Cereal"). Though I eventually did get a Superman t-shirt by mailing in the coupon on the side of the Kellogg's Sugar Frosted Flakes box, pajamas and a make-shift cape were enough to launch me! I remember flying across the living room in Hudson, NY, with my stomach on a green ottoman. After all these years, I still have the ottoman…and of course my memories. The pajamas and the t-shirt that came in the mail are long gone. But I do have a great story about getting another Superman t-shirt when I came to LA to interview Noel Neill for "Superman: Serial to Cereal." (It's been written up by Squire Rushnell in his wonderful book, "When God Winks." I'm checking to see if you can include it and provide a link to his terrific site and books. If not, I'll do a version for you. Wonderful story.Thanks! Gary
And here's the follow up story with permission to run it if you'd like in TAC.
Thanks again, Gary
My friend, producer Gary Grossman, is a Superman movie buff. He was writing a book called Superman: Serial to Cereal. He had completed interviews with all of the key people who had worked on the Superman television series, except for one: Noel Neill, one of the two women who played Lois Lane. On his way to meet her, Gary was apprehensive. Would she be cooperative?
Hoping to break the ice, Gary pulled over at a souvenir shop on Hollywood Blvd. to buy Ms. Neill a small gift, a classic Superman T-shirt.
Emerging from the shop Gary was startled by the sound of screeching tires and blaring horns. His package slipped out of his arms and fell to the sidewalk.
"I reached down to pick it up and I froze," said Gary, staring at where the bag had landed. "It had fallen atop a sidewalk star on the Hollywood Walk of Fame—the very star belonging to Superman George Reeves!"
Baffled, Gary said, "I didn't even know that George Reeves had a star on Hollywood Boulevard. But, because of that godwink, I somehow feel someone up there was saying, 'Hello, Gary, best wishes with the book.'"
(When GOD Winks #1/pg. 123) http://www.whengodwinks.com/
---
From Jay Pearlman
When I was little, my hero was, naturally, Superman. I loved the TV show, I loved the comics, you name it - if it had anything to do with the Man of Steel, I was fascinated. This photo was taken in the late fall (judging by the leaves on the ground) of 1959, when I was four. It was a Ben Cooper Halloween costume, and I remember that I eventually wore it out as I ran back and forth on the sidewalk in front of our house, arms outstretched, imagining that I was flying over Metropolis about to rescue someone (Lois Lane?) from the clutches of an Evildoer. I was determined to fly, but common sense (and my parents' warnings) always prevailed and my little feet remained solidly earthbound.
I was fascinated by the television series, and thought that when George Reeves posed, unmoving, in the opening sequence, that it was really some sort of wonderfully realistic, life-size statue. I wanted one just like it to display in the corner of my bedroom! Naturally, I imitated his heroic stance when my father took out his Brownie camera and shot this photo.
A truly innocent time for me, and one that I will always remember quite fondly.
Well, that's my story. Hope you found it interesting. The photo is the only surviving one of little me in my costume from that year.
November 29, 2011
---
From Steven Shapllo
Ft. Lauderdale, FL
This is a picture of me as Superman with by brother (far left) and my two cousins. My little cousin, the one I'm holding, or trying to hold, may have been afraid of me in the costume because it looks as if he was trying to get away. As I recall, my brother also had a Superman costume. I cannot recall why he was not wearing it in this photo. I remember one day we made our father watch as we, by "duplicating" myself, recreated the scene from "Divide and Conquer." My brother stood behind me while I, like Superman in the episode, concentrated very hard. Then he walked out from behind me. I also vividly remember a disclaimer on the lower part of the shirt, probably to protect the manufacturers from lawsuits in case a kid jumped out the window. It said, "Remember this costume cannot make you fly. Only Superman can fly." Good times.
August 10, 2011
---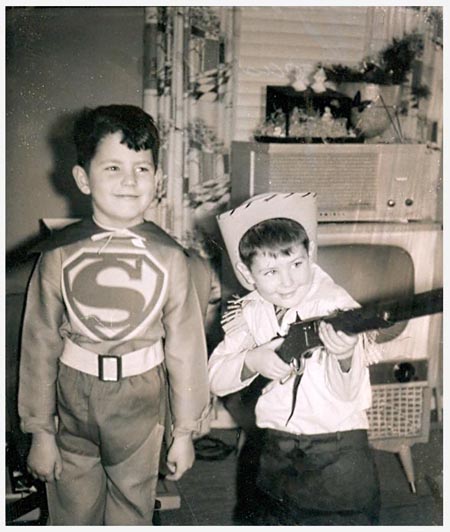 From Eric J. Roberts
Liverpool, NY
On Christmas 1959, this snapshot captured the imagination of my brother Mark and I -- fueled by that black & white TV set shown in the background (as you can see, there's also a manger display plopped on top of our "record player" that temporarily disabled the full use of our state-of-art home entertainment center). My brother was big into the Cowboys & Indians programs and - as you can see - I was a total Superman freak! I think my smile says it all: I actually felt I could bust through the living room wall and fly into the winter sky! Heck, if I had just had the costume the night before, I could have caught up with Santa and his sleigh! Great memories for a 6 year old, about to turn 7! 10/30/2010.
---
From Mike Clark
I was 'Zorro' in 1958 but the following year I wanted a more contemporary look and that resulted in the purchase of a Ben Cooper 'Superman' costume! The Cooper costumes were made of a flimsy synthetic material that looked highly flammable. The material was so thin you could see my underwear through them. Instead of creating the streamlined effect achieved on Kirk Alyn and George Reeves, the Cooper 'Superman' costume hung on my frame like a set of ill-fitting loose pajamas. The costume was tightened by a drawstring around the neck that left a large, drafty gap down my back. Fortunately the cape kept me from looking like a gowned hospital patient. This being a 3rd-generation costume it no longer had the "Only Superman Can Fly" warning.
I happily ventured into the 1959 Miami evening as The Man of Steel and did so again for the next three or four All Hallow's Eve.
Of course I'd get a new costume every year, usually several weeks before Halloween and I couldn't resist wearing it often before the big night. The photo is from 1960 and was taken in St. Petersburg, Florida, in front of our 1959 Dodge (its swept-wing design also gave the illusion of flight).
I stopped dressing up for Halloween during my junior high years but returned to the Superman costume for Halloween '77 with my own custom-made, better-fitting uniform based on a pair of Sears blue pajamas. I also had a genuine cloth cape and hand-cut felt 'Superman' emblem using the Curt Swan design. 7/02/2010
Mike Clark couldn't resist sending us a costume pose photo taken many years ago. Here's his story. 03/10/2012
Dear Lou, Here's another exciting costume shot for the TAC site. This pose was taken 22 years after the 1960 picture. After taking off many Halloweens the spirit hit me again and I appeared in this homemade Superman costume (on and off) from 1976 to 1982.

This frame grab from videotape show's my 'talent' constructing the suit from a pair of Penny's blue pajamas, a hand-cut felt "Curt Swan" logo, and red briefs. The cape was also felt and sported the correct yellow Superman emblem.
---
From Dennis Hays
I don't remember saying what I wanted for Christmas, but on Christmas morning 1959 there was a knock at the door. We opened it to find Santa and one of his elfs standing there with a big bag of gifts. I now know it was Mr. Jones a fireman that lived at the end of our block and his daughter Vicky.
Well anyway Santa comes in and says to my brother and I "What do you want for Christmas?" and we both answer right away. I say I want a "Superman suit" and my brother Brad says "A Zorro suit" I remember that we did not refer to them as costumes. Santa pulls two packages out of his bag and we both got what we asked for. Santa then went on to visit all the rest of the kids on the block. One of the best memories of Christmas ever.
---
From Ron Gross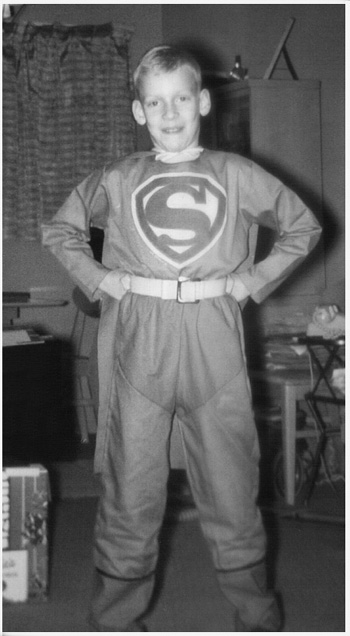 Please read Ron's story
My Dad, My Superman by Ron Gross
---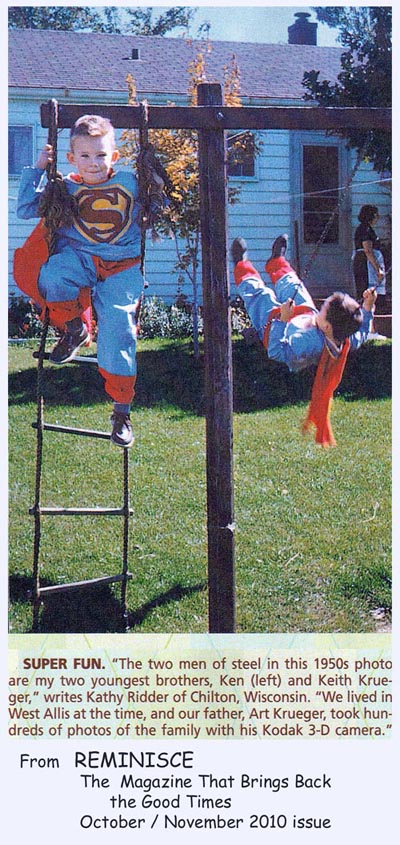 I hope the magazine Reminisce doesn't mind us adding this very appropriate image. If they should we'll remove this. In the meantime, if you've not subscribed to this magazine and you enjoy seeing American life and family photos of yesteryear then this magazine is a must have subscription. Here is a link for more information to the gem of a magazine.