And Now It's Time to Say Good-bye...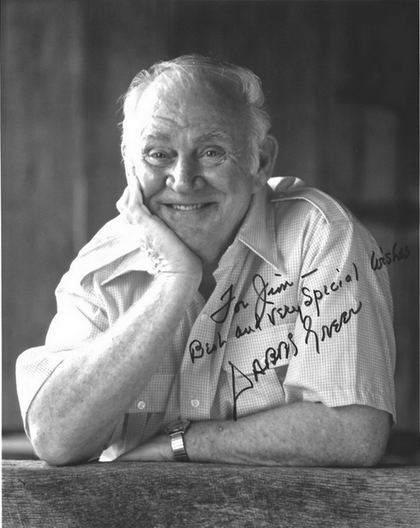 Dabbs Greer
April 2, 1917 - April 28, 2007
The notion of time is so very peculiar. Sometimes it moves painfully slow, and yet... decades vanish in the twinkle of an eye. When I first wrote to Dabbs, he was 62, and I was 33. So can it be that just last week Dabbs died at 90, and in a little over a year, I'll be 62?
Today I read through every letter I ever received from Robert William "Dabbs" Greer. ("Robert" being his one grandfather, "William" the other, and "Dabbs" his mother's maiden name.) I had forgotten so much. I forgot the delight we both felt in learning to know each other and the fun we had discussing movies, television (Superman in particular), education, politics, and relationships. Today brought all of that back to me... some of which I'd like to share with you.
Some of our correspondence was mundane. In one letter from 1990 he told me he finally traded in his 1935 era typewriter for a Brother word processor. This thing is called a word processing typewriter and has enough controls to wash the dishes and grease your car... if you don*t push the buttons that sends it into orbit instead of doing what you want it to. So please bear with me while I take little baby steps and try to answer your recent letter. His big complaint at the time was the location of the apostrophe on the word processor. On the old typewriter, it was at "Shift 8," and he just couldn*t get used to it being anywhere else.
Dabbs had a wry, self-deprecating sense of humor. One time, soon after his birthday, he wrote:
Thank you for the very clever and attractive card that remembered my birthday. Too bad this birthday boy is no longer either clever or attractive! The card industry is so vast that it is impossible to have seen all the designs and sentiments that are available, but I prowl the card shops often, and I'd never seen the one you sent. Thank you for staying in there all this time and continuing to offer your friendly gestures.
After telling me about some of his movies he taped from AMC and TNT, he wrote:
That paragraph makes it sound as if I'm taping only pictures in which I worked which isn't true because I've also gotten a lot of those old RKO and MGM greats. I may not respect Ted Turner for his stand on colorization, but I do admire his taste in reviving and restoring so many of the oldies. And after this birthday, I too am an oldie that could stand some restoration! [Note that by this time, Dabbs no longer had trouble finding the apostrophe.]
Sometimes I'd send Dabbs tapes of old television shows such as Dick Tracy, The Lone Ranger, and Superman. To that he responded:
Jim, I do thank you for all your kindness. The other night I watched an episode of The Brady Bunch I had done recently and thought, "My God! When did I get so old?" And then I watched the things you sent and wondered, "My God! Was I ever that young?"
I especially enjoyed his letters describing his "Adventures in TV Land." After I told him I spotted a double on his horse riding out of a scene in The Big Valley, he explained:
I don't ride and won't even "sit" a horse unless there is no way out. (1) I have a right shoulder which dislocates very easily... 12 times thus far... and another time would cause surgery that might leave me with only 10% of movement in that arm. (2) My first year in college a friend and I had taken a trip to Colorado and one afternoon wanted to ride around the "Garden of the Gods." We had ridden quite some time and dismounted to look at a canyon... our horses had been trained together, and when we started back my friend had gotten on his horse before I did, and he spurred his horse into a fast gallop. My horse started to catch him, and I could neither complete the mount nor loose my foot from the stirrup, and I was dragged along the rim of the canyon with my ankle in the stirrup and my head and body bumping along the terrain. Luckily nothing was broken, but it left me with an unnatural fear of horses... and they say horses can sense that emotion. So, there is nothing lost in their not liking the way I smell... for I'm not very fond of eau d'horse either.
Of course, I loved when he wrote about George Reeves and Superman. Dabbs so often said it was impossible to remember details of the shows he did so many years ago, then he'd tell me things like this in a letter dated June 24, 1980:
Another budget problem pops into my mind regarding "The Superman Silver Mine," another episode of Superman in which I worked. I played twins (two parts for one salary) and there was a plot device where George's x-ray vision was supposed to penetrate my head. This required a make-up gizmo called a "skin head"... a thin rubber head piece molded to cover the actor's hair from the forehead to the nape of the neck and covering the sideburns. It is glued into place with spirit gum. I don't know what they cost but they're not something to send you into bankruptcy. They had ordered two. The first one split (old stock, I suppose) as it was being glued on. The second one also created a problem. The assistant director pushed the panic button. The schedule had been set up so that I would do a sequence, then other actors would do a sequence while I had the prosthesis applied, we'd photograph me in the skin-head then it would be removed during another scene in which I didn't appear and then they would shoot the dissolve into my regular head (I had considerably more hair in those days). Nothing went right. It took forever to get the set ups. I'm sure there were several new ulcers before the day was over. It's nice to remember those early days. Thanks for reminding me.
In a later telephone conversation, Dabbs related another story from "The Superman Silver Mine." Jim, I just remembered something else from that last Superman episode I did in which I played the two roles of Mr. Pebble and Dan Dobey. Mr. Pebble was supposed to be a prospector, so on the first day there I met with the wardrobe man and we drove to Nudie the Rodeo Tailor to look for some kind of western costume. Now often bigs stars buy their clothes from Nudie and then later trade them in on something else. Nudie then rents the traded-in outfits to television or movie productions in need of specific wardrobe. Well we looked through the racks, and the wardrobe man picked out an outfit which once belonged to a famous country-western singer of the time. It was my size so and back we went to the Superman set. It wasn't until we got back that I noticed that this famous country-western singer obviously never wore underwear! The suit was cleaned and everything, but it was stained, and I said, "I'm not going to wear this!" The wardrobe man had a fit and said there was no time to go back to get another. Well, I couldn't walk off the set, so we reached a compromise. The wardrobe man sewed a heavy pair of underwear into the outfit. With my own underwear and that sewn in pair, I figured I could manage. But I'll tell you something, whenever you see me as Mr. Pebble, you can be sure I was most uncomfortable!
But he also liked to write of his more recent work. Some of you may recall an episode of Little House called "The Preacher Takes a Wife." It first aired October 22, 1979. In this episode Rev. Alden marries Anna Craig, one of his parishioners. The part of Anna Craig was played by Iris Korn. In 1982 I asked Dabbs why Rev. Alden's wife is never mentioned after that single episode.
No mention has ever been made of Rev. Alden's wife. There is a chance in an upcoming episode called "Alden's Dilemma" to resolve the situation, but when I asked the producer if I could add the line, "Oh, I wish Anna had been able to live to see this," I got a cold reaction from him... saying, "People don't remember what you'd be talking about." This is not my problem so I will not say the line and will shut up about it. In real life, Iris Korn died this past January 27. She called me the end of December saying that she was moving back to the Midwest, she was missing seeing her grandchildren grow up and she had told her agent that she could be on a plane in four or five hours if something worthwhile came up. She was not home a month when she died from leukemia.
Quite often we shared experiences from our years in education. I taught in Pennsylvania public schools for 27 years, and Dabbs started his teaching career as a teacher of World History in Missouri:
Jim, my teaching experience started when I replaced a woman who headed the drama and speech department and who had a field of specialization in world history. By staying twenty pages ahead of the students, I finished out the year. Then beginning with the new year I was transferred to eleventh year English along with the speech and drama program for the entire school system (plus a community theater program I organized). I worked 18 hours a day six days a week and then spent Sunday catching up on the paper work that goes along with teaching. I was there two and a half years... long enough to validate my teaching credential to a lifetime certificate. My first year salary was $90 a month. I left not because of my dissatisfaction with the work or the money, but because I realized my personality could not stand the business of training students up to the level that they were just ready to start doing some really creative and artistic work and having them graduated away from me and I had to start again from scratch. I knew I couldn't live with my life that way so I accepted a position with the Pasadena Playhouse and School of the Theatre, thinking that it would be different in a professional school. My beginning salary there was $75 a month! After seven years my salary was up to $365 a month, but I quit because the same problem existed there (the exigency of age made them move out) plus the fact that I was being moved more and more into the administrative end of the school, and if I was going to do that kind of work, I wanted to be paid for it since it was the labor of my heart to teach, act, and direct... not administrate. By that time I had done enough movie jobs that I was able to sustain myself in that field. I left the Playhouse and have been plugging away at the acting business every since.
Concerning religion, Dabbs wrote:
I cannot tell you of my personal view of religion without taking you through all the changing experiences of my life. I can only say I do attend church almost every week because I may go months without ever experiencing something of value for the growth and enrichment of my life but never knowing where or how that statement will be made to me, I find that the little investment in time of an hour a week is a small fee to pay. Doctrine or sect is unimportant to me, but on the other hand I do not feel that I can mold a God to fit my desires and needs.
No matter what the topic, Dabbs found amusement. In 1988 I sent him a copy of "Stand By All Stations," an episode of Waterfront (1954) starring Preston Foster.
You have always been nudging me for remembrances of things past. What a delightful evening you gave me with those early days tapes. I intended to watch one of them before going to bed on the day they arrived and ended up still wide awake at 3:00 AM watching The Lone Ranger! In watching Waterfront I remembered becoming very seasick while I waited in the engine room for them to need me... and spraying the whole place with reconstituted coffee and fruit juice. I've never been very comfortable with sailing, and even though we were within the breakwater I was overcome with the fumes from the engines and the motion of the boat. I wasn't able to be out in the fresh air because I would have been seen were I on deck, and the script didn't have me there. I always carry Dramamine in my kit, but I hate to use it because it makes me so drowsy, and dozing off between cues is frowned upon.
And Jim, I got hysterical about my constantly putting on and taking off my hat! I would have said men did away with hats by the time of World War II, but evidently we wore them later than I remembered... and I wasn't about to go anyplace without that hat in "Stand By All Stations." I also remember that at the end of the episode the boat has been repaired and the director wanted a thrillingly emotional shot of the Cheryl Ann [Preston Foster's boat] sliding off into the water. But along with him that day, I too learned that boats moving off dry dock creep along as imperceptibly as grass growing.
I had completely forgotten Law of the Plainsman until I saw that shot again in which I was thrown against a string of steel traps and gourds on the wall so hard that in some freak way I broke two ribs and spent the rest of the episode trying to keep from breathing too deeply because of the pain. I dared not even laugh!
And thanks too for the short interview you did on local television regarding Superman's 50th anniversary. You are a good-looking fellow and should probably be acting in pictures rather than being their historian. I can understand your poise because teaching develops that if nothing else, but you radiated a quality that one doesn't usually see in persons being interviewed. [I included that last paragraph simply because vanity got the better of me this evening. Forgive me, but it's not often that one gets complimented by the likes of Dabbs Greer.]
As many of you reading this know, I have an interest in the old Universal horrors, and in 1988 I wrote an article called for a now-defunct video magazine whose name I can no longer recall. After Dabbs read it, he replied:
My own first scare was Dracula and I sat though it twice because I was afraid to leave the theater. After the second show when the theater closed I ran all the way home at a speed which must have rivaled the four minute mile!
Every spring, Dabbs returned to his hometown of Anderson to make repairs to the family homestead and meet with old friends. In June, 1991 he wrote:
Forget to tell you a side bar from my trip to Missouri. A woman from an area paper wanted to do an interview and couldn't be talked out of it. In the article she printed the fact that I am 74 years old and that I had never married. Across the street from my home a new neighbor runs a babysitting facility. After the article came out, the woman come over with four or five of her charges of the day... one of them a 13-year-old girl. The woman said that she read the article to them and the little girl couldn't believe that I was 74. I said, "Honey, that is right, and some days I feel every day of those years." She looked me straight in the eye and say, "Well, I never knew a 74-year-old virgin before." Jim, if there ever was any doubt that my hometown was in the Bible belt, this cinched it! I didn't figure it was my place to explain life to the child, so all I could say was, "Oh, that's nice."
I last spoke with Dabbs just a few weeks ago. At the time he was in dialysis and was facing surgery to repair a heart valve. But the surgery was just too much for a man of ninety, and now no more letters will arrive in my mailbox... the calls from Pasadena have ended... and it's time to say "good-bye" to a wonderful friend. I love you man, and will surely miss you.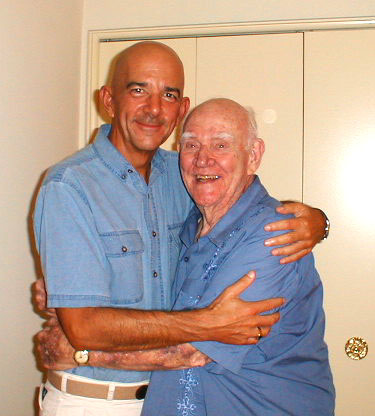 Dabbs and me (July, 2001)
Jim Nolt -- May 6, 2007