The Deserter:
Speculation on George's Choice of
Source Material for His Debut as a Film Director
by Colete Morlock
Author Lowell Barrington, had been in WW II in England, France, the Philippines, and other South Pacific areas. As the author of The Deserter, he is not well known for his books. Perhaps his biggest claim to fame was that, following the war, Barrington was employed as a Warner Brothers scriptwriter. Among the television programs for which he wrote were Celebrity Playhouse, Schlitz Playhouse of Stars, Climax Mystery Theater, Playhouse 90 and Westinghouse Desilu Playhouse.
According to Gary Grossman, in his book Serial to Cereal, it was mentioned that George Reeves was interested in obtaining the rights to The Deserter for directing a film. As I read the story, I couldn't help but wonder what attraction it held for him. The book was published about a year after the Korean War had ended and nine years after the end of WW II. The country was still recovering from the atrocities of both wars committed by all sides. The subject matter of this book, by its very title, would probably have been very controversial in the year 1954. We are well aware that during WWII, George had enlisted in the Army Air Corps and had been busy with the training films, as well as Winged Victory. So why would Reeves want to take a chance on such a project?
During WW II, the desertion rate was greater than either the Korean War or Vietnam. WW II united the United States with its allies to oppose dictatorships seeking world domination. It is no surprise then that anyone not partaking in this crusade, and abandoning his men would be publicly ridiculed and subject to military jurisprudence for such an act. The world from 1945 on had taken a different turn. By 1950 we were engaged in a 'cold war' and dealing with an 'iron curtain'. Korea was in the middle of a civil war. A little more than a decade later we would have a different kind of war. With Vietnam, the pulse of the nation, which once rallied around democratic principles, now had mixed support for the war; we became a country questioning the validity of our involvement. One of the lessons Vietnam taught us was that we might still be viewed with the 'ugly American' stigma. Children carrying within themselves a live grenade, making them the emissary of death, were sabotaging American troops. It was extremely hard to believe that anyone would send a child to do this. It is no wonder that soldiers were cynical of approaching women and children. That was the mindset back then and this understandable caution exists yet today in Iraq.
Perhaps if this book had been published during the Vietnam era, it might have had more widespread appeal. The character of Thomas Corey, an anti-hero figures prominently in this novel. We see that Corey showed great promise, pursuing his dream of becoming a surgeon until the Army refused his deferment. The loss of his index finger in an accident prevented that dream from becoming reality. Nevertheless, he advanced through the ranks from Private to Sergeant very quickly. Corey relates an incident, which provides the basis for the entire book. He tells how on one of their missions, he and a Private Page had been on patrol, ran out of ammunition, and Corey left the young private alone in order to find the munitions dump. The two never met up again. Instead, Page was gone, presumed dead, hence Corey was tried for desertion, court-martialed, incarcerated for over seven years, and was now being dishonorably discharged. Corey, now heavily laden with guilt and concern for Page's well being, decides to visit Page's family - perhaps to seek forgiveness of them. Enroute to the Page residence, Corey has a chance encounter with a young man whom he discovers is none other than the Private he abandoned. The rest of the story deals with Corey discovering that Page has residual effects from both physical and mental abuses he had endured during the war. It was assumed that he had been a POW and might have escaped. Corey violates his parole in an attempt to assist Page's family and doctor in helping to cure him. Throughout the book, as more of the circumstances surrounding that patrol are revealed, one is constantly questioning Corey's status as a deserter. It isn't until the end of the story, in fact, on the very last page, we get the confirmation of Corey's desertion. He had been justly tried and incarcerated after all.
As to the question of whether George Reeves would have had a role in the film, if he had decided to play a part himself, it probably would have been that of Major Groves. Groves was described as "an older man, the major, with iron-gray hair a little unruly, but Army right down to the last button of regulations." Looking back to photos of George with his natural hair color and texture, it isn't hard to imagine him as the Major. Groves' character is visible only in one chapter at the military prison, but he certainly is a presence to be reckoned with. There is a monologue that Groves delivers as Corey is being processed for release from prison. Groves' tone is unmistakably biased and one can almost hear George lecturing to Corey:
The one thing I do not believe, despite your seven years here, is that you have ever paid or ever will pay. With every step you take - you who are alive and well and still a young man - think a little of your victim who is dead, and of the bill to his people which is never going to be accounted for.
So once again one might ask what was it that drew George to this novel? Why would he choose to obtain film rights to a book that was controversial at best? How did he propose to fund this endeavor, given the attitudes of that era? Would he be able to convince someone to take a chance on this unpopular topic of the day or would he finance it himself in an independent, lesser-known studio? As previously stated, the 1950's values were a more simplistic black or white. Authority was not questioned; no one was expected to make waves. It wasn't until the 1960's when we experienced a cultural upheaval that a disillusioned populace saw reality was rooted in the blending of black and white as varying degrees of gray. Was George really ahead of his time?
Perhaps it was the idea of an anti-hero that appealed to Reeves. Anti-heroes were predominant in the 1960's multi-faceted characters. Corey's nature is complex because you find a lot of good in him, some sense of conscience, but there is also a darker, mysterious side to him. Within Corey's dichotomy might Reeves have felt some of the same - someone with a good heart, but also having bouts of less optimism?
Did George see parallels between his own life and that of Corey, comparing his off screen life to his portrayal of a superhero with impeccable principles? A deserter/dishonorable discharge resulted in typecasting. Employment was anything but easy given these circumstances. Lucky for Corey, he could join his brother in the family business. Reeves had been facing similar problems. Would he ever be able to retire the cape and be considered for serious acting again? It was becoming quite clear that the big screen was not going to give him that opportunity. Perhaps he could have been considered for other roles on the small screen. Lucky for him, he had been allowed to gain an insider's view of the entire production process of the Adventures of Superman. Given the opportunity to direct those three episodes of TAOS, another door was opened for George. The new contract would facilitate him into moving more behind the camera for at least half the episodes. I'm sure that he enthusiastically embraced the prospect of embarking on a new career, while still remaining in the business.
Or was this then to become George Reeves' social commentary on how war changes people? By using Corey, we see the man's potential evolving into his lifelong ambition, only to have it cut short by an accident. By comparison, even though he was stateside for the duration, had George seen the horrors of war through the eyes of others who had seen actual combat? He had portrayed parts that dealt with war in Fighting 69th, So Proudly We Hail, and even Gone With the Wind. Perhaps he reflected upon the consequences of war that American soldiers had endured during these time periods. It would be difficult to witness such horrors and not be affected by them.
Whatever his interest might have been in The Deserter, George would have given us another reason to respect his talent and versatility. This novel proves that Reeves was not afraid to tackle unpopular or controversial subject matter. What greater challenge could there be - one that was truly worthy of a superhero.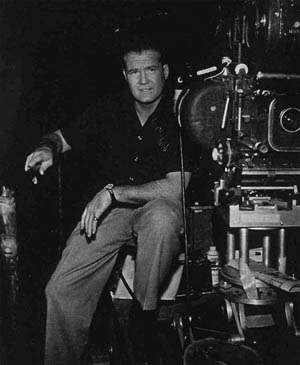 George Reeves with a director's vision.
Sources:
Army Almanac, U.S. War Dept. Judge Advocate General Court Martial, Records Branch, pp. 625, 634-637.

Life Magazine, Volume 34, No. 3, January 19, 1953, Life on the Newfronts of the World, p. 33.

imdb.com/name/nm0057489/ (Lowell Barrington)

jimnolt.com
Addendum to The Deserter
Serena Enger and I had been in touch regarding what plays or books Barrington might have written. I discovered that another novel; The Bad One was actually a renaming of The Deserter, probably due to the connotations of the title that I have already addressed, or in order to appeal to a wider audience. The inscription in my book confirms this, "To Ruth, Fred, and Sonny - Now that the reviews are so wonderful everywhere - I don't mind sending this. Love, Lowell".
Serena found two play reviews that are interesting. The first indicated that Ruth Wilk, former casting agent and daughter of Warner Brothers play department head, Jacob Wilk would be the associate manager to Jose Ferrer for Barrington's The Admiral Had a Wife. This was as of October 31, 1941. The play was scheduled for December that year. As of December 11, 1941, however, the play was scratched due to rewrites and:
"because what had been intended as a comedy approach to matters concerning the
United States Navy might now be misinterpreted as disrespectful and trivial treatment of a serious situation in the present war."
Barrington's other play, The Commander's Wife, was to be shown by the Newport Company according to a New York Times review dated June 20, 1948. George Reeves appeared in neither one of these. I was still puzzled by the connection between Reeves and Barrington.

Admittedly, prior to finding the reference to Lowell Barrington in Gary Grossman's book, I had never heard of this author. The jacket of Barrington's book did give me a bit of information about him, but not enough to link him with George Reeves. One of our Australian friends from the Schutz board emailed me with additional information. She stated that in the Gig Young biography by Jim Beaver that both Gig and George appeared in Barrington's play Pancho at the Pasadena Playhouse. Gig Young was still using his real name of Byron Barr and George's last name was still Bessolo. Additional research indicated that there were two distinct playbills for the Playbox. The one included in Mr. Grossman's book clearly shows George in the title role along with Byron Barr. The current archivist for the Playhouse, however, has another version - this one has no character named Pancho, nor is George mentioned anywhere. His playbill bears the following on the top, Apr 27 - May 6, 170th Production, 1939.
I inquired as to why there were differences. Although the styles differ, both exist in the Playhouse collection. As to the theory that there might have been more than one production of Pancho with more than one director, the former Pasadena archivist put that to rest. Because at least 80% of the cast is the same, it is assumed this was the same production. The archivists have theorized that one program was a misprint (the one with the dates) because it is missing the title character in the cast list, or the play was recast in the middle of production. This is plausible since Jim Beaver stated that, while performing in Pancho, George Bessolo was seen by a Warner Brothers talent scout. If George had then been recruited as one of the Tarleton Twins in Gone With the Wind, the Playhouse would have been searching for a new lead. This gives credence to the possibility that the program had been printed prior to the recast of Pancho, whereby a card would have been inserted with the replacement's name. Apparently, this practice is still done today at the Playhouse.
There were four Barrington plays performed at the Pasadena Playhouse:
1. The Diamond Horseshoe - April 22, 1940 at the Laboratory Theatre, directed by Bob Hancock
2. The Diamond Horseshoe - January 2, 1939 at Recital Hall (presented by the Senior Players), directed by Lenore Shanewise
3. Pancho - April 27, 1939, at the Playbox Theatre, directed by Gilmor Brown
4. Pancho - March 5, 1940, on Mainstage, directed by Maxwell Sholes
The third play listed was the one in which Gig Young appeared. One more interesting twist regarding the play Pancho is that in the March 5, 1940, Ellanora Needles appeared in the Mainstage production of Pancho.
Here's a little bit of history. Prior to 1969, Pasadena Playhouse was a campus of not one, but as many as five different stages, depending on the time period. The Playbox Theatre wasn't even related to the Playhouse or located on the same campus. The Playbox was located, of all places, in Gilmor Brown's living room! The stage was a private venture of Mr. Brown and was the first example of "flexible staging" in America. Brown directed 90% of the shows there and only invited a select group of about 50 to its performances.
Ellanora Needles, Gig Young, and George Reeves are but three of the students who attended Pasadena Playhouse School of Theatre Arts. In fact, both Reeves and Young are referred to as "among the most popular and best remembered students from this period". Many other fine actors and actresses were alumni, some of which I have written about in my Ladies of TAOS series on GHP. As part of their curriculum, students ran stage crew at least once each year. Up until 1986, students worked in every area of production in exchange for the professional experience. We know that George had worked as a stage manager in several Pasadena Playhouse productions in the 1930s and with his wife, with Repertory Productions, Inc., during the summer of 1948. The only show that George and Ellanora appeared in together was The Man From Cairo, which opened May 3, 1942 in the Playbox Theatre. This was prior to their marriage.
Sources:
Penn Genthner, Archivist and Grants Specialist, Pasadena Playhouse
New York Times, Oct. 31, 1941, Jessel, Tucker Make Their Bows in 'High Kickers' Tonight - Ruth Wilk Enters Managerial Field
New York Times, Dec. 11, 1941, NEWS OF THE STAGE: War Causes Shelving of 'Admiral Had a Wife' - Cort Gets 'Letters to Lucerne' - Romo Vincent Resigns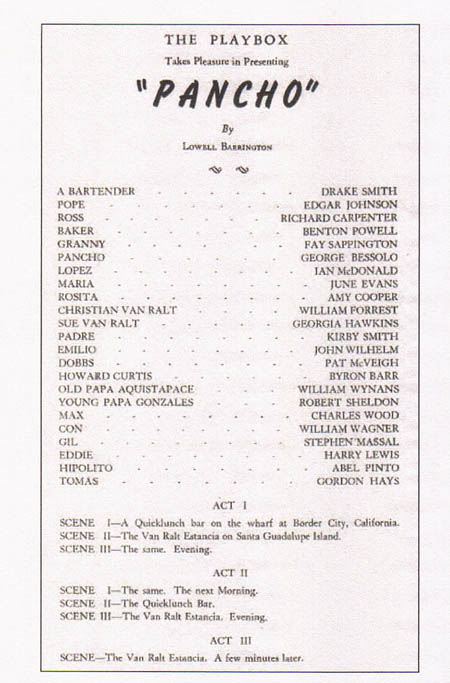 Special thanks to both Serena Enger and Penn Genthner whose information was invaluable in making this article possible.
Colete Morlock - 7/19/07
I hope you've enjoyed this article from Colete Morlock. I think you will agree this is one of her finest articles and we hope we continue to see more from her at both GHP and TAC. TAC grateful for her contributions to bring new and insightful information to the readership.
Thanks for Watching.
Lou (July 4, 2007)
Update Alert: July 20, 2007