More Than Just a Face and a Voice
by Jim Nolt
Episodes of the Adventures of Superman were populated by many wonderful actors, but it's not often that we have the opportunity to take a closer look into their lives or even to know who they were beyond a name on the end credits. Recently, however, I had the pleasure of corresponding with John Duval. John's father, Juan Duval, appeared as Dr. Cuesta in "Treasure of the Incas." Unfortunately, as you will read, John's knowledge of his father is meager, and he too would like to know more about the man fans of the Adventures of Superman know as Dr. Cuesta, head of the university in Lima, Peru.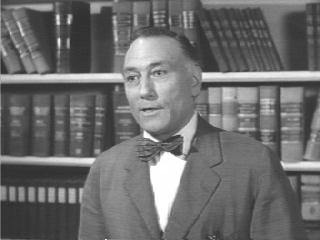 "The tapestry would have furnished the key to some
buried Inca treasure worth many million pesos."
Juan:
Jim, first let me thank you for your work relating to the Adventures of Superman which, I'm sure, many people are grateful for. I will tell you what little I know about my father.
My father, Juan Duval, was born on April 28, 1897 in Spain. He was a flamenco dancer who came to Hollywood in his teens and worked in silent films as a dancer and fight choreographer for the likes of Rudolph Valentino. He used only one of his family names, Duval, because it made it easier to get work. He also acted and directed Spanish films and toured with his dance troupe. I have only one photo of him, taken in 1947 with his dance troupe at the San Francisco Opera House where he met my mother. At that time my mother was an artist, fashion designer, book illustrator and ushered at the San Francisco Opera House in order to as many performances as possible.

"Now, you know the secret of the tapestry."
According to my older half-sister by fourteen years, my mother saw my father for a short time before he told her that he was married. My mother protected me from the fact that she was not married to my father until I was fourteen years old. She only discussed the fine arts, and never spoke much about people or revealed her views on politics or discussed her past. She did say that my father was a real gentleman and would telegraph her if he was going to be late to see her as he worked in San Francisco and she lived across the bay in Mill Valley. She also said that he was the only man she ever loved and was at his side at his deathbed when he asked her to take his name... for my benefit. My father died on April 1, 1954 and is buried at the Veteran's Cemetery in Los Angeles because he served in the U.S. Army in World War II in North Africa.

"Thank you, Doctor."
In December of 1991 my half-sister called to tell me she had just seen my father on television in the movie Neptune's Daughter. She told me that he was dying of cancer at the time the film was made and did not look well. That was the first time I saw him other than the photo of him with his dance troupe. As I said, my mother protected me from the judgment of others and didn't say much of her past. She was a proud women and a good mother who worked hard, and I never knew anyone with more integrity. My mother passed away on May 11, 1981.
That's all I know, but wish I knew more and if anyone has additional information on my father's life or career, I hope they will be kind enough to share it. Thanks again, Jim, for caring and giving me a place to share my story.
John Duval
April, 2003