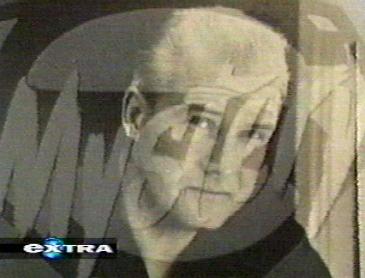 On Thanksgiving Day, November 25, 1999, Extra presented five minutes on the death of George Reeves. The lead-in mentioned a new theory. What new theory? Those interested have long argued the possibilities of suicide, accidental shooting, or murder. What new theory could there be? Of course, there was no new theory. . . just Nancy Schoenberger repeating hers that George was murdered. While not beyond the realm of possibility (after all, what on God's good earth is?), the "evidence" provided to support that theory is, shall we say, less than adequate. All that was given to us was a story from Edward Lozzi that Toni Mannix confessed to him that her husband, Eddie, had George Reeves murdered.
I'm just a tad confused... when Mr. Lozzi appeared on E! Entertainment's Mysteries and Scandals in 1998, he didn't mention anything about a confession. Why now?
---
What follows are responses from readers of The Adventures Continue.
Office of the Producer
Extra!
Warner Brothers Television
Burbank, CA 91522
Dear Sir or Madam:
As a life-long admirer of George Reeves, I feel compelled to write you about your recent piece, Superman's Death, that aired on Thanksgiving Day. To refresh your memory, this particular episode featured interviews with Nancy Schoenberger and Sam Kashner (co-authors of the book Hollywood Kryptonite), Edward Lozzi, and former Ventura County Medical Examiner, Dr. Warren Lovell.
After watching your show I began to wonder if Ms Schoenberger (who did all of the talking while her co-author remained conspicuously silent) has actually read the book that bears her name.
On camera, Ms Schoenberger stated that she believes George Reeves did not commit suicide but was in fact murdered. The "evidence" which solidifies her opinion consists of the following: no fingerprints on the gun; the absence of powder burns on Mr. Reeves' body; and the discovery of additional bullet holes at the death scene.
I found these comments utterly astounding, in view of the fact that Ms Schoenberger, in her own book, wrote that the gun that killed Mr. Reeves had been heavily oiled and could not sustain any fingerprints. She also pointed out, quite egregiously, that the actor's body had been "mishandled," having been washing and embalmed before the autopsy was performed, thereby destroying any forensic evidence such as powder burns. Baffling indeed.
The subject of the additional bullet holes remains a most perplexing aspect in this mystery (now four decades old) and various sources report that five additional bullet holes were discovered, while others claim only two.
Most perplexing of all was your interview with Edward Lozzi, a former friend to Toni Mannix, the estranged lover of George Reeves. Mr. Lozzi says he befriended Mrs. Mannix during her later years, and there is no reason to doubt him.
What was stirring about Mr. Lozzi's appearance was his announcement, at this late date, of the deathbed confession that Mrs. Mannix supposedly conveyed to him. According to Mr. Lozzi, Mrs. Mannix admitted at the end of her life that her husband, MGM executive Eddie Mannix, had George Reeves "taken care of."
Mr. Lozzi mentioned nothing about such a confession when he discussed his relationship with Mrs. Mannix on Mysteries & Scandals, a cable anthology series that probed the death of George Reeves back in 1998. Since Mrs. Mannix died in the mid 1980s, one can't help but wonder why this information is being made public in 1999.
If your staff had been more diligent in researching this story, you would most likely have referred to a far more accurate, compelling, and better written book entitled Speeding Bullet. The author, Jan Alan Henderson, spent decades locating and interviewing virtually every living player (and I use the term in the non-theatrical sense) in the life of George Reeves. And still no clear-cut answers were established as to what really happened to Mr. Reeves in the moments just before his death. The reader must draw his or her own conclusions based on the information chronicled in the book -- the only credible way this story can be told.
Perhaps the most disappointing aspect of your program was the paucity of information about George Reeves himself. It seems unfair that this man, whose talents continue to enrich the world four decades after his death, should be remembered today only for the bizarre circumstances under which he left us.
If you ever decide to present another segment about George Reeves, I hope you will let the viewers know a little more about the man behind that famous red cape.
Sincerely,
Steve Randisi
Pennsauken, NJ 08109
cc Jim Nolt, The Adventures Continue
---
An open letter to the readers of The Adventures Continue:
With regard to the November 25, 1999 (Thanksgiving Day) segment of EXTRA, this writer finds it highly entertaining that Sam Kashner and Nancy Schoenberger, authors of Hollywood Kryptonite, have now finally "solved" the George Reeves mystery.
Newcomer Edward Lozzi gives us his word that he was present as Toni Mannix was expiring, and that he alone has kept this secret deathbed confession for a decade and a half. This writer finds great irony in the fact that he did not disclose these facts on E! Entertainment's Mysteries and Scandals some 24 months before. Both he and Ms. Schoenberger appeared on this segment. Why, after all this time, is Mr. Lozzi going public with these rather startling disclosures? This writer believes that deathbed confessions are worth the paper they are written on. With no documentable evidence or witnesses, these musings are of no value
Let's examine the facts. Mr. Lozzi claims that he was alone with Toni Mannix when the deathbed confession came through. But Mr. Lozzi varied from the scenario proposed by Kashner and Schoenberger in Hollywood Kryptonite, insofar as he recalls that Toni revealed to him that Eddie had George taken care of. In the last chapter of Hollywood Kryptonite, entitled "Flight of the Bumblebee," Kashner and Schoenberger write "Earlier in the week, Eddie had suffered a serious episode with his heart, which required Demerol, among other drugs, to help him relieve the pain and his anxiety about the seizure." According to these authors, this was the time Toni made the call to the "blondes" (Eddie's hit man friends), to have George taken care of. Once again, from the text of Hollywood Kryptonite, "By the time Toni had hung up the phone, the world was a different place. For when Toni tried to speak to her husband about calling off the dogs, about reigning in the blondes, about putting the killer back in his box, Eddie was nearly comatose. The only thing Toni could hope for now was that Lenore Lemmon would be implicated in George's death." The question remains why the testimony of these participants on Extra does not jibe. What was a comatose Eddie's role in having George taken care of? These are the Hollywood Kryptonite authors' theories, not this writer's.
Are we supposed to believe that this inconsistency can be smoothed over by someone who admittedly has no concrete proof of the validity of this deathbed confession? This is a feeble, futile exercise at best. The truth of the matter is, their theory is a theory, which cannot be denied nor proven. There are many other theories, some more credible than others are. The question we must ask ourselves is what the criteria of reasonable doubt are. Reasonable doubt has shaped the course of history whether correct or not. This writer has reasonable doubt.
The Extra segment has answered nothing
It is to Extra's credit that a pathologist was heard from (even if it is the classic suicide theory) to rebut Ms. Schoenberger's claims that the purported theories that she and Mr. Kashner expounded in Hollywood Kryptonite have finally been proven.
The reader must be perfectly clear that these opinions are this writer's alone.
During this Thanksgiving Holiday 1999, this writer dug out a Superman Festival tape, aired on WWOR in 1989, hosted by Jack Larson. A poignant moment for this writer was Jack Larson's extro, where he mentions George Reeves wishing that he had a few adult fans. This was 30 years after his demise, and Jack assures the WWOR audience that indeed George has adult fans, 30 years later.
As I write this, I view this with a great sense of bewilderment. But I also come to the conclusion that it is how we treat people when they are alive, rather than how we eulogize them after they're gone that counts in the great scheme of things. The recent televised events, be it 20/20 or Extra should not dissuade true George Reeves fans the world over from drawing their own unbiased, intelligent conclusions and appraisals of Mr. Reeves. It is sad that the focus of his life is determined by the circumstances of his death. When you're dead, you're dead, and nothing will bring back George Reeves. We must focus on 45 years of exemplary behavior to get a clear perspective of his life.
God bless you and yours for the holidays,
Jan Alan Henderson
November 26, 1999
---
Hi, Jim.
Well, at first I thought maybe this show has something new. Then, I see Nancy Schoenberger, and zzzzzzzzzzzzz(yawn). you know what I mean?
The "confession" as related by Toni's friend is suspicious. Must be he's hurting for dollars, and is also going to write a book soon? I think the "composite" from Extra shown above still says it all about George's death!
Take care,
Don Holmes
November 26, 1999
---
Jim,
The only good thing that came out of this five minutes of drivel was the silence of Sam Kashner. The rest of it was simply a plug for a book out of print. Toni's guest house tennant got his five minutes of fame, the same coroner from 20/20 said suicide, and the same sequence from Stamp Day for Superman was shown. All of it was capped with the now all to familiar "no one will ever know" closing statement. What a waste of time and tape.
On a brighter note, Gary Grossman not only sent his book with an autograph, but called to thank me for a nice letter. What a class act. I read Superman:Serial to Cereal in one sitting, and enjoyed all of it. Thanks for the notice on the book, and the Extra segment. I hope your Thanksgiving was a good one.
Tim James
November 26, 1999