Jim, my experience with George Reeves (Superman) goes back nearly 50 years. As a kid growing up in Allentown, Pennsylvania, I was a great fan of the Adventures of Superman and watched it on television faithfully. Hess Bros. department store was the big store in Allentown at that time. It was like a Macy's or Broadway. Max Hess, the owner, was always doing big things. Every Thanksgiving he'd bring Santa Claus to town... perhaps in a helicopter. Well, one day in 1953 or 1954, I think, he had Superman (the real George Reeves) on hand to greet the kids. I of course had to be there. When I saw that Superman was giving autographs and I didn't have anything for him to write on, I looked around and found a sales slip on the floor and had him autograph that. As I remember he was very nice, polite and accomodating. I guess I was twelve or thirteen years old at the time.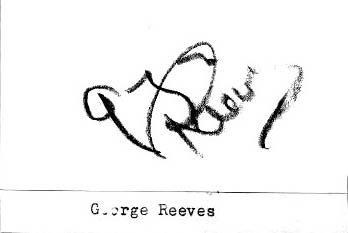 After we moved to California in 1955, my dad and I were walking along Hollywood Blvd. near Vine St. one day when we saw none other than Perry White (John Hamilton) walking toward us. I recognized him right away. We stopped him and talked a bit and he gave me his autograph.
Many years later, in 1973, I was working Duty Free sales at the airport, when Noel Neil and her husband came up to the counter to buy something. When I saw her smile, I knew who she was and said, "Superman." She grinned and we talked a bit. Later her husband came back to tell me how much his wife appreciated me recognizing her.
In recent years I had the pleasure of meeting Jack Larson (Jimmy Olsen) at the Hollywood Collectors Show at the Beverly Garland Hotel in Studio City. I guess that about sums up my experiences with the stars of Superman. Hope it is of some interest. I feel I've been very fortunate to have met them and so many other famous people over the years.
Sincerely,
Ken Huthmaker