Keith Howard Lifts Spirits Of Young
And Young At Heart
I was four or five years old the first time I saw George Reeves on our TV set in the 1960's. I watched in amazement every day when he would quickly slip off into the store room and come out as Superman! Hearing the music and the sound of him flying through the air would fill me with awe as I would imagine myself taking flight. All of us can relate to when we were children and would take a safety pin and a kitchen towel and become Superman ourselves. But George was so much more than the image of a man in a colorful costume flying through the air. He was warm, caring, intelligent, as well as incredibly strong. And he always let us, the audience, in on his secret by giving a wink and a smile to the camera. I felt that he was looking right at me.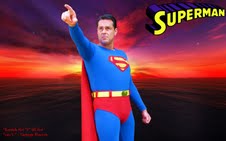 The past two years have allowed me the opportunity to represent George Reeves as Superman. In 2010, with the help of a dear friend, I made my own costume and took it with me to Metropolis, Illinois for the annual Superman Celebration in the hopes of winning their costume contest. At the age of 46, I felt a bit out of my league wearing a tight fitting Superman costume. Especially one that was home-made. But as soon as I walked out on the street in front of the statue, I was met with a reaction that I had not expected. There were so many people that recognized my costume as the one worn by George so many years ago. They approached me and told me how wonderful it was to see me there and also how I reminded them of their childhood hero. I remember how as I was standing there talking to one person, I saw another person 1/2 block away look my way and then quickly approach me with his hand extended to shake my hand. He told me that I was HIS Superman. Which was to say that George Reeves was his Superman. We talked and reminisced of when we were kids growing up with the incredibly positive influence George had on our lives as children.
George was like a second father to me and I feel that to a large degree, I would not be the man I am today had it not been for George. And to now have the honor to portray him to others is something I take very seriously. There is a great responsibility I feel in carrying on his legacy. And I will, for as long as I am able, do everything I can to keep his memory alive. Thank you Jim and Lou. I appreciate all you are doing on behalf of George. You are a hero to all of us!
Click here to read more about Keith's love for
George Reeves and the Adventures of Superman
February 23, 2012
Jim