Front Cover
TAC Table of Contents
Contact Information
---
December 2008
Dec. 1st - Happy Birthday Bette Shayne
From left to right: Jerry Siegel, Joe Shuster and Noel Neill
A very rare image since the creators of Superman unfortunately never visited the studio of the Adventures of Superman.
---
November 2008
(Courtesy of Lou Koza)
---
October 2008

(Courtesy of Lou Koza)
Happy Birthday Mr. Robert Shayne
October 4
---
September 2008
Tyler McDuff from The Boy Who Hated Superman
Tyler McDuff passed away in December 2007. His family held a memorial service for him in
March 2008 at the Pasadena Playhouse in Pasadena California.
March 22, 1918 - August 21, 2008
Fred Crane and George Reeves first met on the set of Gone With the Wind
and remained forever close friends.
We extend our condolences to the Crane family.
---
August 2008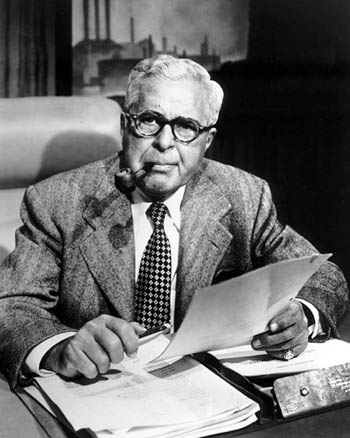 Perry White
Chief Editor of the Metropolis Daily Planet
Mr. John Hamilton
George Reeves and Judy Ann Nugent
From Around the World with Superman
Special Photo Op for Dave, Gail, Jim, Jody and Randy.
Photo courtesy of Lou Koza
---
July 2008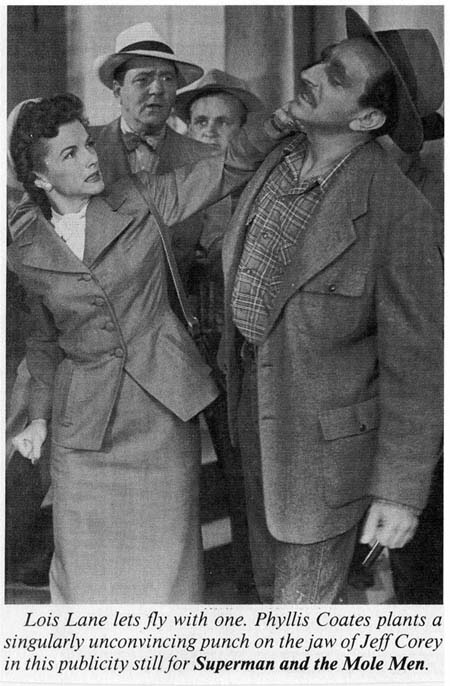 ---
June 2008
HAPPY BIRTHDAY SUPERMAN
70 Years this Month
According to Michael J. Hayde, this photo was taken at Kosair Children's Hospital in Louisville, when George and Noel were appearing at the Kentucky State Fair in September 1957.
---
May 2008
Sharp-eye fans have often spotted the flat underbelly of Superman during his flight across the skies of Metropolis, giving the look of laying on a flat glass table.
Thanks to Video-Capture methods you'll notice in the insert image an unusual portion of the flying rig seen below the cape and squaring off George's back more than the norm. Also notice in the bottom right-corner of the image there is stitching.
Vid-Caps taken from the WARNER Bros. DVD Box-set release.
---
April 2008
This image was posted on April 1st, 2008 as an April Fool's Day joke.
This idea was a long time in the making. It began on an August of 2007 evening, while dining with my family in a very lovely San Francisco restaurant. As I gazed above, I noticed a traditional boxing vintage poster ad for Joe Louis Vs. Max Schmeling, dated June 22, 1938. At that moment I wondered about the mythical fight between George and Archie Moore. Was it really true the two were going to meet in the ring for two exhibition rounds? Some newspaper reports in 1959, even go as far to state George was to fight Archie wearing his Superman costume. That's a stretch of the imagination. Hmm, maybe the inspiration for the late 70's oversize comic book Superman Vs. Muhammad Ali illustrated by Neal Adams. I thought, wouldn't it be amazing to find an ad similar to the one hanging on the restaurant wall for George and Archie. I also wondered if the highly knowledgeable fan base would be taken in by a make-shift creation. And so it was the Louis-Schmeling ad I modeled the Archie-George image from.
More important: Recently, Gene LeBell responded to an inquiry from Carl Glass and stated if anyone knew this fight was to take place it would be him, and he never heard of it. I think Gene is best qualified to once and for all dispose of this myth.
---
March 2008
The RF Micro Devices advertisement appeared in the
March 96 issue of Microwaves & RF tade magazine.
For the record, actual image states "Motorola" on unit.
---
February 2008
Noel Neill at the Phoenix Cactus Comicon Jan. 26, 2008
Image provided by Mike Goldman.
---
January
Image provided by Richard Potter

"Like The Only Real Magic -- The Magic Of Knowledge"
---