How to order Strange Visitor From Another Planet: An Adventure of George Reeves.
The book is $10.00 with $3.00 postage and handling. Turn around time is only about 3-4 days, except when Mike is attending conventions. Questions may be directed to Mike at shandafa@windstream.net
To order, send your name and address along with payment to:
MIKE CURTIS
PO BOX 545
GREENBRIER ARK 72058
and kindly tell Mike that Jim sent you.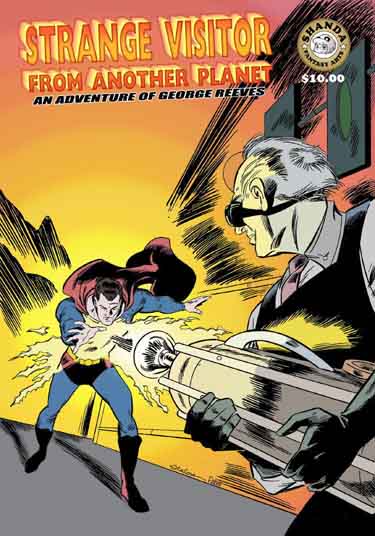 Excerpts from the preface of Strange Visitor From Another Planet by Mike Curtis:
As the title says, Strange Visitor from Another Planet is the sequel to a previously published story called By George. It's not necessary to read By George to enjoy Strange Visitor, but it would probably increase your enjoyment of this adventure.
Both By George and Strange Visitor are written for a new kind of fandom, but one that's been around for almost 50 years. A fandom devoted to George Reeves and his portrayal on The Adventures of Superman TV series.
In the past few years, we children who grew up watching Reeves as the Man of Steel have matured into writers, artists, and other professionals. Most of us have one thing in common. We believe in "Truth, Justice, and the American Way." Several of us have found ways to express our admiration for George Reeves and the example he set.
By George is the culmination of an idea I had for many years. Even though my wife Carole and I write and publish comic books, we had no real place tp By George, so we did it as a vanity fanzine.
Reaction was good from both George Reeves and Superman fans. At the time, I saw no real point in doing a sequel. Then I read Secret Identity by Kurt Busiek. This story showed me something. It's possible to have a new idea.
Lou Koza's thoughts on Strange Visitor From Another Planet by Mike Curtis:
If you haven't yet ordered your copy, I want to tweek you a little with my recommendation. Strange Visitor can be compared to the Marvel "What if" series where familar characters are placed in an altered situation relative to a major story line. "What if" Gwen Stacy, Jean Grey and Elektra (in separate titles) had lived comes to mind. DC Comics throughout the 60's and 70's published imaginary tales within their mainstream titles, eventually paving the way for the "Elseworld" series which has continued since the 90's. An excellent example, Batman Nine Live's.
In Strange Visitor we have George in an altered state of affairs, working for the Daily Planet as, who else? Clark Kent. But how he transcends into this state and the events that unravel is quite interesting and a writing achievement for Mike Curtis. How he keeps it all inter-woven, untangled and enoyable is a marvel in itself. This was definitely not an easy write and from the body of evidence, Mike and his team put an enormous amount of work into this. And from this team, you'll find many full page exciting illustrations by Ed Garcia and Shawntae Howard.
So George works at the Daily Planet! Well, there are many other surprises as Mike challenges his own skills to combine real world people with the fictional names of the 50's TV favotite the Adventures of Superman. It can be confusing, but follow along for the ride and it all works out to a really wonderful tribute to George Reeves, and the great people in his life. To be sure, there are some very interesting ramifications because of those little creatures who were unearthed in 1951 in a town called Silsbury.
Personally, I found it compelling and I was very much determined to find out what happens in the end. For reasons stated above I had no alternative but to read it over a longer period of time than I would have liked. I almost jumped ahead to find out, but stayed the course and followed through accordingly. I'm glad I did and I'm happy to add this on the shelf along side Mike's first By George, the TAC issues, and the other works from the amazing fan base that hardly needs an introduction.
As I understand it, portions of the revenue generated goes to the Myasthenia Gravis Foundation. So you have a double good reason to invest in your entertainment. It's an honor to know our dollars have in the past and continue to go towards this charity, especially since so many other causes have far more national attention.
Lou Koza, December 2005