TAC, Jr. #10
From the publisher of The Adventures Continue
www.jimnolt.com

Friday, August 1, 1997
Good Friday afternoon. Much has happened here in recent days, and I'm eager
to share it with all of you. I'm always interested in your comments, so
don't hesitate to write. For those who are wondering about updates to my web
pages, I'll tell you that as soon as my scanner problems are cleared up,
I'll be back in business. And now, on to the good stuff...
Contents:
1) SCI-FI BUZZ
2) MYSTERIES & SCANDALS
3) MOVIE VERSION OF HOLLYWOOD KRYPTONITE
4) SPEAKING OF MR. ZERO
5) VIRGIL THOMSON - COMPOSER ON THE AISLE
6) NOW YOU CAN PRINT THAT HEADLINE MR. GIGANTE WANTED YOU TO PRINT
7) RANGER? DEAD? NOPE, JUST PLAYING 'POSSUM
8) COMING IN TAC #15
9) CHUCK HARTER NEEDS YOUR HELP
10) "NIGHTMARE" FOR NIGHTMARE
11) MURDER MYSTERY WEB PAGE
12) SUPERMAN COMES TO TELEVISION (ADDENDUM)
13) APOLOGY TO MICHAEL KORCEK

1) SCI-FI BUZZ
Bobby Ryan and Michael Hayde both reported to me earlier this week that Jack
and Noel were on the Sci- Fi Channel's Sci-Fi Buzz on Tuesday evening. I was
on the phone with Jack on Tuesday night, and he didn't say anything about
it - perhaps he didn't know it was airing that night. In any event, I
checked the listings, and Sci-Fi Buzz is repeated twice this weekend: August
2 at 12:30 PM and August 3 at 9 AM (Eastern time for both).
2) MYSTERIES & SCANDALS
E! Entertainment Television has a new show scheduled for the fall called
Mysteries & Scandals. Last week associate producer Dan Abrams phoned to tell
me that they are planning an episode on the life and career of George
Reeves. As new information becomes available, I'll report it here in TAC,
Jr. For now, all I can tell you is that E! has also contacted Noel Neill,
Jack Larson, Phyllis Coates, Jim Beaver, Chuck Harter, Jan Alan Henderson,
and Jim Hambrick.
3) MOVIE VERSION OF HOLLYWOOD KRYPTONITE
Several readers, including Howard Becker, Jerry Essenpreis, and Bill
Rupprecht, reported the news that Hollywood Kryptonite may soon be turned
into a movie. The story was reported on KABC-TV and in Variety last week.
>Friday July 25 8:05 AM EDT -- Original Superman's Death Probed In Movie
by Chris Petrikin
>HOLLYWOOD (Variety) - The mysterious death of TV's original Superman,
George Reeves, is set to be investigated in a feature film.
>The project will be based on the 1996 book Hollywood Kryptonite: The
Bulldog, the Lady and the Death of Superman, which concludes that Reeves was
murdered. His death in 1959 was officially considered a suicide.
>Written by Sam Kashner and Nancy Shoenberger, the book details the evidence
left by the late Hollywood scribe and MGM executive Sam Myer, and states
that Reeves was murdered by a man named Eddie Mannix.
>"Hollywood Kryptonite exposes many dark secrets of one of America's
long-standing heroes," said David Permut, who is one of the producers. "I
was completely in awe while reading this book and I believe audiences will
be just as captivated by the feature film."
>Permut has teamed with Citadel Entertainment to develop the project. He
said the parties are working to attach a writer and possibly a director
before going out to studios.
>Reuters/Variety
As you can imagine, I'm not very pleased with this turn of events, but as
Jim Beaver pointed out, only about 10% of the projects at this stage ever
see completion, so the odds are still on our side. The executive producer,
by the way, is Whoopi Goldberg.
Another interesting note: it's been reported to me that Kashner and
Schoenberger sold the rights to the book for $4,000. I imagine even Mr. Zero
would think that a measly sum.
4) SPEAKING OF MR. ZERO
In a short note to me last month, Janeen Christensen mused: "I wonder when
the land rover on Mars will come across Mr. Zero. NASA should have packed
some good cigars for the trip, as it is well known Martians usually smoke
only corn silk."
5) VIRGIL THOMSON - COMPOSER ON THE AISLE
Francine Fleischer of Flushing, NY recently sent this note for TAC, Jr.: I
recently went to Borders Bookstore and by accident noticed Virgil Thomson -
Composer on the Aisle by Anthony Tommasini. It's very long (over 600 pages)
and very expensive, but there's a lot about Jack Larson in it and George
Reeves is mentioned. There's even a photo of Jack and George together.
6) NOW YOU CAN PRINT THAT HEADLINE MR. GIGANTE WANTED YOU TO PRINT
Author Paul Mandell recently sent this news blurb to Michael Hayde who
passed it on to us:
>Re the trial of street-mumbler Vincent "The Chin" Gigante, allegedly Mr.
Big, the NY Daily News actually had this blurb a few weeks back - "Looks
like there is no Number One crime boss in the Big Apple anymore."
7) RANGER? DEAD? NOPE, JUST PLAYING 'POSSUM
Here's a note from Thomas Chenevert of Dunstable, Massachusetts: I was just
watching "The Deserted Village. One scene has Clark walk over to a
supposedly dead Irish Setter. Look carefully, he doesn't quite touch him. He
comes to about 1/4 inch away. I have two setters (Speedy and Lacey), and
that's what they do all day. But touch them and they will really come alive.
That scene always makes me smile. I wonder whose dog that really was and how
he was picked. Irish Setters are hard to handle as a rule. That episode has
a lot of scenes in the back lot. It would be interesting to talk with
someone who actually walked through that lot and could explain in detail
just how big (or small) it really was.
8) COMING IN TAC #15
This past week, Chuck Harter, who had been visiting his parents in the
Washington, DC area stopped by with some great material for the next issue
of The Adventures Continue. Among the goodies is a photograph of Nancy
Street, 5, and her brother, 3, when they met George Reeves on April 5,
1995 at the Broadway Department Store in Los Angeles. George is shown
holding both of them in his arms with a big smile on his face.
9) CHUCK HARTER NEEDS YOUR HELP
For the past decade, Chuck Harter has been most fortunate in finding
information about George Reeves for his upcoming book and sharing it with
us. Now, he's asking your help in finding the April 1958 issue of TV Junior
which features a story about George. Chuck has pages 52, 57, 58, and 59 from
that issue. On page 52 there is a connect the dots picture, and page 57
begins the story on Reeves. Might page 56 show a picture of Reeves and other
cast members? If any of you have the April 1955 issue of TV Junior or know
where it can be found, please let me know right away.
10) "NIGHTMARE" FOR NIGHTMARE
Nelson Jimenez, who keeps his eyes open for any mention of George Reeves in
newspapers and magazines, would like to make this offer to any reader of
TAC, Jr. I will trade an autographed (by Phyllis Coates) script of
Nightmare (original title for Superman and the Mole-Men) for a hardcover
copy of Hollywood Kryptonite (another kind of nightmare). You may contact
Nelson at NelsonX1@aol.com (that's Nelson X and the number 1).
11) MURDER MYSTERY WEB PAGE
In a previous issue of TAC, Jr. I told you about Dwight Kemper's upcoming
Murder Mystery Weekend about George Reeves' death. That play has been
postponed until September 20. http://www.spectra.net/~mystery/index.html
12) SUPERMAN COMES TO TELEVISION (ADDENDUM)
One major mystery remains from those classic 1951 episodes - figuring out
the guest credits. Fans have noted that Robert Rockwell's name is absent
from "Superman on Earth," Lou Krugman is not credited for "The Human Bomb,"
and Maudie Prickett is credited on an episode in which she does not appear:
"The Haunted Lighthouse." An answer may be divined from the cast listings
on the call sheets.
We know that Robert Rockwell played Jor-El, but the name "Ross Elliott"
appears on the closing credits because Elliott was supposed to play the
part. (Unless, of course, Elliott is Rockwell's twin brother!) Regarding
Maudie Prickett and "Haunted Lighthouse," Prickett was supposed to play Mrs.
Carmady, but the role went to Sarah Padden. This substitution is curious
because Prickett was already playing Mrs. Tazie during that two week stint
and was therefore already on the set. In any event, both Prickett and Padden
are in the credits, but the actress who actually played the real Aunt
Louisa, according to the sheet, was Effie Laird. As for "Human Bomb,"
Dennis Moore was supposed to play Conway (Krugman's part in "Bomb") and is
in the credits, but in fact, it was Lou Krugman who appeared as Conway (and
as the lumberjack in "Ghost Wolf").
Only one episode which engaged substitutes for the original cast came out
right credit-wise: "The Evil Three." Howard Freeman was scheduled to play
the Colonel, and Minerva ("Tugboat Annie") Urecal was slated for Elsa. You
may notice that this episode, alone among the 104, lists its guest cast by
character name.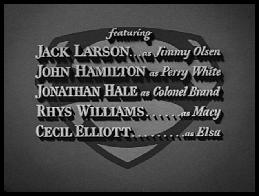 13) APOLOGY TO MICHAEL KORCEK
In TAC, Jr. #9 I printed a comment from Michael Korcek. Unfortunately, I
misspelled Mike's name on some of the issues I sent out. Mike, who is sports
information director at Northern Illinois University, has been a long-time
reader and deserves better from me. Mike, please accept my apology for the
oversight.
-----
The Adventures Continue . . .
. . .with George Reeves