From the publisher of
The Adventures Continue
December 20, 1998
Just a couple notes here in these last few weeks of 1998:
1) TV SERIES / COMIC BOOK CONNECTION UPDATE
2) SUPERMAN IN SONG
3) PHYLLIS COATES ON TBS
4) ITEMS UP FOR BID AT EBAY
5) BIRTHDAY CELEBRATION
6) THE END -- PUBLISHED IN LANCASTER, USA
1) TV SERIES / COMIC BOOK CONNECTION UPDATE
The item published in TAC, Jr. #24 that brought the most response was the
one about the connection between the Adventures of Superman and some comic
book stories. Bill Armstrong wrote that several years ago there was a list
published in Comic Buyer's Guide. He can't find the printed list, but has
some notes he made from it. If anyone has the complete list or knows about
others, please let me know.
These are from Bill's notes:
a. "Superman On Earth" -- SUPERMAN #53, (Origin of Superman, although to me
it is not that similar but it started off the list)
b. "Defeat of Superman" I cannot remember the comic book in which it
appeared.
c. "Superman In Exile" -- ACTION # 188, "The Specral Superman"
d. "The Dog Who Knew Superman" -- SUPERMAN # 88, "The Dog Who Loved
Superman"
e. "Man In The Lead Mask" -- BATMAN #82, "The Man Who Could Change
Fingerprints"
f. "Panic In The Sky" -- WORLD'S FINEST #68, "Menace From The Stars"
g. "Jungle Devil" -- SUPERMAN #?
h. "The Boy Who Hated Superman" -- SUPERMAN #?
i. "Perry White's Scoop" -- BATMAN #83, "Deep-Sea Diver Mystery"
j. "Jimmy Olsen, Boy Editor" -- SUPERMAN #86
k. "Lady In Black" -- BATMAN #80, "Dick Grayson's Nghtmare"
l. "Star of Fate" -- Superboy #34
m. "Around The World With Superman" -- SUPERMAN #96, "The Girl Who Didn't
Believe In Superman"
n. "Throught The Time Barrier" -- ACTION #201, "The Challenge Of Stoneman"
o. "Superman Week"
p. "Great Caesar's Ghost" -- SUPERMAN #91
q. "Test of A Warrior" -- ACTION #200
r. "Olsen's Millions" -- JIMMY OLSEN #3
s. "Clark Kent Outlaw" -- SUPERMAN #98
t. "Bully Of Dry Gulch" JIMMY OLSEN #3
u. "King For A Day" JIMMY OLSEN #4
v. "Topsy Turvy" -- BATMAN #80, "Machines Of Menace"
w. "Jimmy the Kid" -- SUPERMAN #93, "Jimmy Olsen's Double"
x. "The Wedding of Superman" -- ACTION #206, "Superman Marries Lois Lane"
y. "The Deadly Rock" -- SUPERMAN #90, "Superman's Last Hour"
2) SUPERMAN IN SONG
Gary Miller of Huntington, West Virginia, reports that the group Fastball
has a new release, "Fire Escape." It's climbing the national music charts
and begins with the line: "I don't want to be President, Superman, or Clark
Kent."
Gary is Assistant Program Director for WKEE-FM.
3) PHYLLIS COATES ON TBS
Steven Jensen (Cedar Falls, Iowa) reminded me that the Perry Mason episode
in which Phyllis Coates appears will air on TBS on Thursday, December 31 at
2:30 ET. The episode, "The Case of the Black-Eyed Blonde" originally aired
on June 14, 1958.
4) ITEMS UP FOR BID AT EBAY
I can't keep up on all the items for auction at eBay, but from time to time
I find some unusual items:
a. For the next three days you can bid on a t-shirt modeled after George's
first-season costume. Do a seach for item #49803910.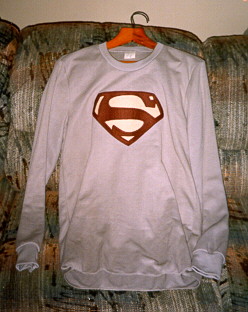 b. Steve Flax (New York, New York) found this item:
"Rare autographed photo of George Reeves as TV's Superman. Approximately 5x7
inches mounted in an air tight frame. Comes complete with certificate of
authenticity. Serious bidders only. Call Tim Barker at 407-896-4814 for
information."
This item requires a minimum bid of $4,000 -- start squeezing those lumps of
coal into diamonds! It is item # 50178326
5) BIRTHDAY CELEBRATION
I'm happy to report that the campaign to raise the $2845 for George's
Birthday ad in Variety is back on track. Several contributions have come in
this past week, and the total now exceeds $1,700. I want to again thank all
who support this effort to remember George in the coming year.
This will probably be the last newsletter for the year. Gail and I wish you
the merriest of holidays and send all good wishes for a fantastic 1999. May
Peace and Joy be yours in the coming year.