From the Publisher of
The Adventures Continue
TAC, Jr. #34
September 6, 1999
Welcome to another year of TAC, Jr. -- the newsletter devoted to George
Reeves and the Adventures Of Superman. Before we get to that, however, I
must tell you that the past three months brought a few personal changes to
my life resulting in new a new address and phone number. All future
corrspondence should be sent to me at 220 N. Walnut St., #7, Lititz, PA
17543. You may also send faxes to 717-625-4459, but this number also serves
as my connection to the Internet, so you migh have trouble getting through
sometimes. I must also apologize for not devoting more time to the web site.
I have much new information and photos to add and promise to get to it as soon
as I can.
Another issue of The Adventures Continue will be published, but not until 2000.
I will, of course, let you know when I'm ready to take orders.
And now, another exciting issue of TAC, Jr....
1) MYASTHENIA GRAVIS NEWSLETTER
2) MYSTERIES & SCANDALS TO REPEAT GEORGE REEVES EPISODE
3) ENQUIRER TV MAGAZINE?
4) OLD-TIME RADIO ON THE WEB
5) ABC'S "20/20"
6) NEWS FROM DABBS GREER
7) HAVES, WANTS, AND NOTES OF INTEREST

1) MYASTHENIA GRAVIS NEWSLETTER
This fall, the Myasthenia Gravis newsletter will feature an article thanking
George Reeves and you, his admirers, for raising the money needed for the
Variety ad and the generous donation to Myasthenia Gravis. Lois Pedersen,
executive director at MG, was impressed with your generosity and the
influence George Reeves continues to have on our lives. When the newsletter
is printed, I'll ask to include a copy of the article in TAC, Jr.
2) MYSTERIES & SCANDALS TO REPEAT GEORGE REEVES EPISODE
In case you still haven't seen it, the George Reeves episode on E's
Mysteries & Scandals will be repeated tomorrow morning, September 7 at
9:30 AM eastern time. I've also learned that on September 13, Mysteries &
Scandals will do a segment on Vivian Vance. Although she has no connection
to George Reeves other than through George's appearance on I Love Lucy,
I'm sure many of you welcome knowing about this segment. It will air at 8:30
PM on September 13 and will be repeated twice the following day.
3) ENQUIRER TV MAGAZINE?
Delmo Walters recently asked me if I know anything about Enquirer TV
Magazine with a picture of George on the cover. I've seen the cover to this
magazine many times, but don't have any specific information about it. Do
any of you have a copy? If so, I'd very much like to know when it was
published and what information it contained.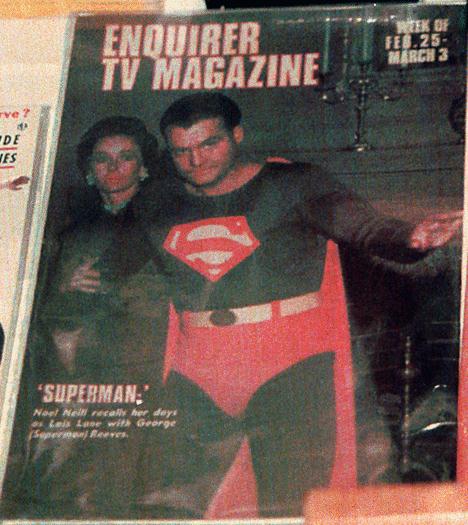 4) OLD-TIME RADIO ON THE NET
Garry Manhart sent me this link to some old-time radio broadcasts that can
be listened to and/or downloaded. You will find radio episodes of Father
Knows Best, Gunsmoke, Have Gun Will Travel, My Favorite Husband with
Lucille Ball and Richard Denning, and 48 episodes of Superman featuring
Bud Collyer as the Man of Steel. Just go to
http://members.xoom.com/OTRShows/archives.htm and enjoy.
Update 4/8/00 -- This link no longer works
5) ABC'S "20/20"
I don't have any details yet, but Jack Larson called to say that ABC's
20/20 is reportedly working on a segment about George Reeves. When I learn
more, I'll let you know.
6) NEWS FROM DABBS GREER
I'm happy to report that Dabbs Greer is now doing well... so well, in fact,
that he was able to complete another theatrical film. Because of his medical
setback last winter, Dabbs didn't think he'd be considered for a part in
which he was interested, but in May, his agent called to say that the
producer of the film had filmed the middle of the movie and had called again
to ask if Dabbs might be available now for beginning and end sequences. So
in July Dabbs flew to Blowing Rock, North Carolina to film his scenes in
Castlerock's The Green Mile, based on a Stephen King novel. In the movie,
slated for release on December 17 of this year, Dabbs plays Tom Hanks as an
older man. Dabbs adds... "I have seen the main body of the picutre, and if
what we did matches up to it, this will be one hell of a picture!" Can you
believe... Dabbs is still going strong almost 50 years after Superman found
him hanging from a rope attached to a dirigible in "Superman On Earth."
7) HAVES, WANTS, AND NOTES OF INTEREST
a -- Philippe Cuypers has two color episodes of "Superman" for sale. If
you're interested, you can visit his personal web page at
http://www.expage.com/page/philippe
b -- Bruce Lombardi would like to know where he could obtain a photo of John
Hamilton (preferably signed). If anyone knows of a source, let me know, and
I'll pass the information on to Bruce. Speaking of John Hamilton, I'm not
sure if I mentioned this in a previous newsletter or not, but Robert Prion
recently wrote that "John Hamilton's cremated remains are located at
Hollywood Forever Cemetary, located on Santa Monica Blvd. in Hollywood, just
behind Paramount Studios. The ashes are in an outside wall located behind
the large mauseleum containing such people as Valentino and Peter Finch. "
c -- Michael Hayde, friend and generous contributor to The Adventures
Continue, is a fan of yet another television and movie icon, Jack Webb, and
is hoping to publish his research in Just the Facts: The True Story of
Dragnet. You can visit his page at http://home.earthlink.net/~mmeajv/wsnD0FC.html
-----
The Adventures Continue . . . with George Reeves