From The Publisher of
The Adventures Continue
TAC, Jr. #36
November 24, 1999
1) HAPPY BIRTHDAY, NOEL NEILL
2) GEORGE REEVES AND JACK LARSON MENTIONED IN LA TIMES
3) GEORGE REEVES ON TCM
4) TRIVIA QUESTION
5) ROBERT SHAYNE IN CLASSIC IMAGES
6) MYSTERY PHOTO
7) TAC #16 IS IN THE WORKS
8) "SUPERMAN" MUSIC SOON ON CD
9) GEORGE REEVES ARTICLE IN CRIME MAGAZINE
1) HAPPY BIRTHDAY, NOEL NEILL
Join with me in wishing Noel Neill a very happy birthday, today, November
24.
2) GEORGE REEVES AND JACK LARSON MENTIONED IN LA TIMES
The following item from Steve Harvey's column, "Only In L.A." appeared on
November 5 in the Los Angeles Times. It was sent to me by Vince Marzo of
Glendale.
<Santa Monica College is often regarded as the Community College to the
Stars, with such alumni as James Dean, Arnold Schwarzenegger, and Dustin
Hoffman (who recently wed a fund-raiser for the school). But Pasadena
College, celebrating its 75th anniversary, has its own set of showbiz
alumni. The Pasadena Star-News listed such actors as George Reeves (TV's
Superman), William Holden and Nick Nolte, not to mention director John
Singleton, comic Stan Freberg, and singers Kenny Loggins and Eddie Van
Halen. Oh, yes. Another Pasadena College student was Jack Larson who was my
inspiration. He played cub reporter Jimmy Olsen on TV's Superman.>
3) GEORGE REEVES ON TCM
This isn't much notice, but tonight at 6 PM Eastern Time, Turner Classic
Movies is scheduled to run Rancho Notorious with George Reeves. Thanks to
Tom Chenevert for keeping an eye on these things for me.
Rancho Notorious (1952) *** Wed Nov 24 -- TCM 6-8pm Eastern Time
An outlaw brings a cowboy to a ranch hide-out run by a retired saloon
singer. Directed by: Fritz Lang. With: Marlene Dietrich, Mel Ferrer, Arthur
Kennedy, Lloyd Gough, Gloria Henry, William Frawley, Lisa Ferraday, John
Raven, Jack Elam, George Reeves. CC. Movies/Western
4) TRIVIA QUESTION
Tom Chenevert also sent along this bit of trivia. I've not verified this,
but I trust Tom's movie knowledge. As Perry White might say, "He's never let
me down yet."
Hi Chief. Hope all is well. Just thought of something. Here is a trivia
question you might want to use sometime.
Q: What father and son both worked on the Adventures of Superman?
A: John Merton (as Foley, one of the crooks in "The Man In The Lead Mask")
and Lane Bradford (Chris White in "Jet Ace.")
5) ROBERT SHAYNE IN CLASSIC IMAGES
I wanted to mention this in TAC, Jr. #35, but it slipped by me. If you can,
get hold of the September 1999 issue of Classic Images. There you will
find a five-page article entitled "Robert Shayne: "One Take Shayne" by John
Steinbacher. It's filled with great information as well as many great photos
of Bob and his family. My favorite is the one of an eleven-month-old Bob
with his mother, Cynthia Dawe. If you don't know about "Classic Images," you
should visit their web site at http://www.classicimages.com.
6) MYSTERY PHOTO
Tony Stapleton recently sent me the attached photo. I thought it might be
fun to see if anyone can identify the actors in the photo and the movie from
which it was taken. There's no big prize involved here, but I will give
credit in the next issue of TAC, Jr. to the first person who correctly makes
the identification.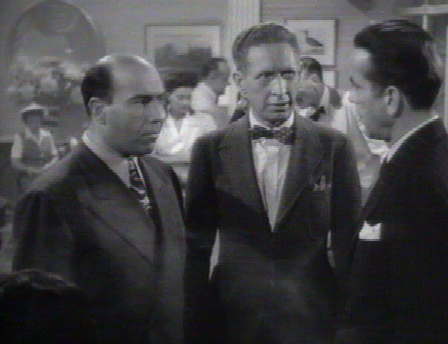 7) TAC #16 IS IN THE WORKS
I want to let you know that I'm working on another issue of The Adventures
Continue and will have it ready in the spring. I think you all for your
patience, and I'll let you know as soon as I'm ready to take orders. For
now, I wish all here in the United States a very Happy Thanksgiving. I'll be
spending the day with my daughter, son-in-law, and two wonderful
grandchildren.
8) "SUPERMAN" MUSIC SOON ON CD
Varese Sarabande is planning to soon release the first volume of a new 3-CD
soundtrack set of the music heard on the Adventures Of Superman. As I
learn more, I'll let you know, or you can check their website at
http://www.varesesarabande.com.
9) GEORGE REEVES ARTICLE IN CRIME MAGAZINE
Steve Svitek recently found an article about George Reeves in "Crime
Magazine." You can read the article by going to
http://crimemagazine.com/superman.htm . It's not entirely accurate, however,
so beware.
Happy Holidays!
-----
The Adventures Continue . . . with George Reeves