From the Publisher of
The Adventures Continue
TAC, Jr. #43
September 4, 2000
I guess there's no need to tell you that summer's about over (except for you folks in the southern hemisphere). Mine was a one of incredible fun mixed with more than a little personal sadness, but I suppose that's what life is.
Before getting to the information about George Reeves, I want to thank everyone from all over the world who sent birthday greetings on August 31. It's very gratifying to know you took the time to remember.
Now, I have interesting information to share, so let's get to it.
1) GEORGE REEVES FLIES AGAIN ON A&E
A&E's George Reeves Biography will be repeated on September 25. The content of the show will remain the same, but this time it will be hosted by Joan Lunden with a new introduction. Look for the Variety ad we published last June to be shown.

2) ANOTHER VARIETY AD?
I'd like to hear from you regarding your interest in doing another Variety ad... this one to celebrate the entire series. In the summer of 2001 it will be exactly 50 years ago that production began on Superman and the Mole-Men and the Adventures of Superman. I think it would be fitting for us to remember the efforts of everyone involved. I hope you'll support this effort, just as you did the two previous ones in 1989 and 1999. Any amount is welcome. In the past, readers contributed as little as $5 and as much as $400. Anyone interested may send their donations to me at:
Jim Nolt
220 N. Walnut St., #7
Lititz, PA 17543

3) DABBS GREER
On the afternoon of my birthday I was delighted to receive a phone call from Dabbs Greer ("Superman On Earth," "Five Mintues To Doom," and "The Superman Silver Mine"). If you haven't seen The Green Mile yet, please do -- Dabbs is excellent. And look for Dabbs in an early episode of Spin City this fall. He said it will probably be episode number 2 or 4.

4) MARK EVANIER'S CBG COLUMN
In the last issue of TAC, Jr., Delmo Walters asked me to mention Mark Evanier's column from Comic Buyer's Guide in which Evanier asked everyone to watch "The Mysterious Cube" from the Adventures of Superman. Of course, both Delmo and I hoped a promised follow-up article would present a favorable picture of that episode from he final season of Superman. Well, it wasn't exactly that. In his column published in the July 28 issue of CBG, Evanier dissects the episode, telling all that is wrong with it. Evanier first laments the low budgets of many early series and then continues:

<<In the case of Superman, the moola almost didn't matter. The concept was and is almost as bulletproof as its hero. If you can manage a decent portrayal of those characters -- i.e. decent casting -- your most of the way there. I always thought George Reeves struck the perfect note between
Playing It Straight and Not Playing It Too Straight. He, the other actors, and the concept were able to hoist some pretty weak material.
<<This was proven repeatedly during that final season with its Pick 'n Save art direction and special effects -- but never so decisively as with "The Mysterious Cube." It's as if they not only fished the sets out of a dumpster somewhere but the script as well. (By the way, I met Whitney Ellsworth once.
He kept talking about how important good writing was to any enterprise.)
Evanier than picks apart every aspect of the episode. Now he is surely entitled to his own opinion, but I think Evanier took some cheap shots.Holes can be found in any television script... and Superman is no
different. But I wonder why Evanier picked on Superman? Could it be that despite its shortcomings, it's still far superior to any other series from the early days of television and therefore known to most of his readers? Seems to me the praise, evidenced by Superman's long television history speaks far more eloquently than Evanier's criticisms.

5) TV LAND
Several readers have asked what TV Land plans to do with Superman. As you know, the series was running on Saturday and Sunday mornings at 7:00 ET. However, TV Land has recently taken to running marathons on the weekend. I've tried to get an answer from TV Land, but they haven't responded to my inquiries. A Superman marathon is scheduled for the weekend of December 9 - 10, but I'd like to know if the series will then complete its run. If anyone has that information, please let me know.
6) STRAWBERRY BLONDE
The Strawberry Blonde, 120 minutes, 1941 Directed by Raoul Walsh and starring Rita Hayworth, James Cagney, Olivia de Havilland Alan Hale, George Tobias, George Reeves
A turn-of-the-century gold digger is loved by a decent young dentist and a brash contractor.
Monday, Sept. 11, 2000 -- 12:00 pm (Eastern Time) TCM- Turner Classic Movies

7) IT'S STILL THERE
I hardly know where to begin with this one. Let's see... the first season of "Superman" was filmed at the RKO-Pathe Studios, formerly the David O. Selznick lot in Culver City, California, where Selznick filmed "Gone With The Wind." The back lot there was nicknamed "Forty Acres." In TAC, Jr. #42 (dated May 23, 2000), I published a letter from Jack Thompson who, while watching "The Mind Machine," thought he spotted "Tara" in the background. This precipitated some correspondence between Thompson and Randy Garrett.
Then near the beginning of August, I received this note from Jerry Krumm:
<<The article in TAC Jr. #42 regarding Tara in the background on the hillside of "The Mind Machine" really sparked my curiosity and got me going. You see, I was an extra in a movie filmed in 1975 at the backlot of Culver City Studios. I spent four long hot sweaty humid days there. I remember as we drove in seeing the few Marine huts from "Gomer Pyle" that were still there. The whole place was in very poor shape. I realized I was at the former Desilu lot, but I didn't realize that I was in Mayberry, and Metropolis before that.
<<After emailing back and forth with Randy Garrett. I decided to take a drive out to the old backlot. To my surprise it had been replaced with an industrial park. (They paved paradise... put up a parking lot)
<<Then I wondered... what about the hilltop where they filmed "Mind Machine." After 50 years with the real estate values the way they are in Southern California for sure it is all high dollar homes in some sort of gated community. But to my surprise, the hill is still there just as it was 50 years ago! I went back again last week and took some photos and tried to match the camera angles as they were back in the days. I almost felt that George Reeves and Phyillis Coates were there with me and the Assistant Director was yelling at me to get out of frame. Roll Sound, Speed, ... and Action.
<<I had done some research with some aerial photos of Forty Acres and determined that Tara actually was located on the lot where the "Hogan Heroes" set is in the photo Randy has.
<<My real gem that I have included is a shot of Tara and the hilltop plateau where the Clark Kent to Superman scene occured with Tara peeking through the background. What is so nice is that this is the exact same frame of reference as the Superman shot, only 500 feet up. In the "Superman" episode the hill itself is in the way blocking the view of the remainder of the lot. But in this photos all is there to behold.
<<The other photo is a different angle of Forty Acres. You can see Tara in the upper right corner of the lot all alone and isolated. You can also see the sound stages and offices of RKO/Pathe Studios. In one of those buildings was the set of Perry White's office where he yelled "and dont call me Chief!!!" On the left side of the photo on the other side of the creek is the 40 acres annex of a lake and forest set. (RKOPathe 1955)
<<Jerry
In the note I sent out last week I asked you to take another look at "The Mind Machine." If you did, the photos accompanying this newsletter will surely look familiar. In the next couple weeks I'll post more of Jerry's photos on a special page at this web site. I'll let you know when it's completed. In the menatime, does anyone have even more information on Forty Acres?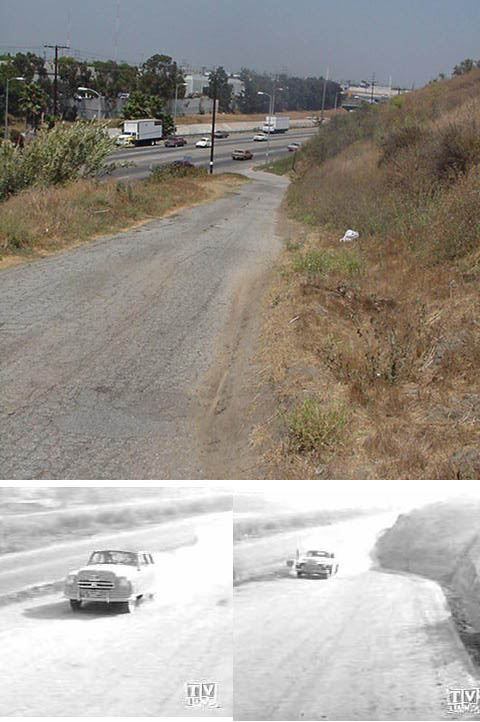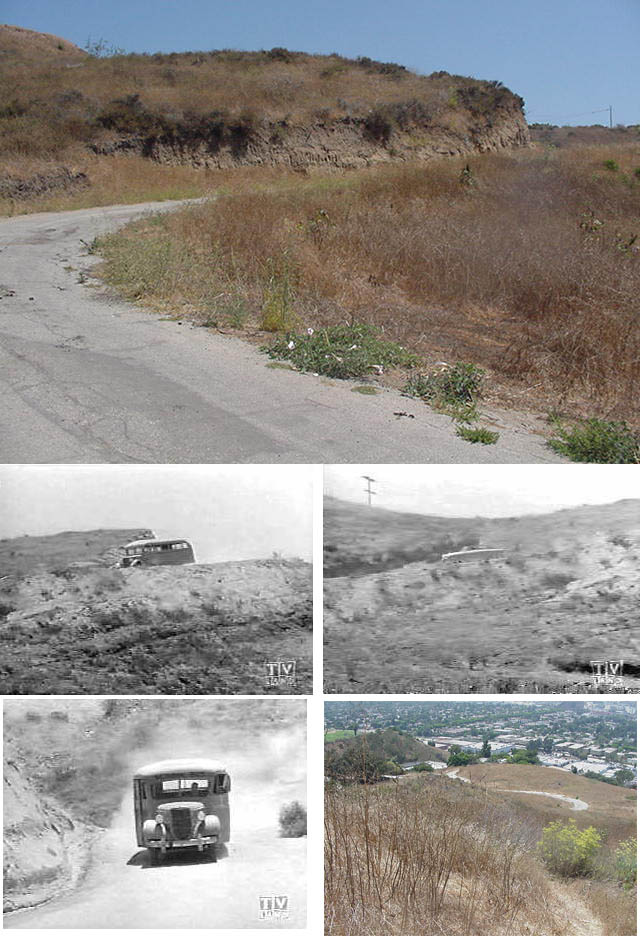 8) THE END -- PUBLISHED IN LITITZ, USA
All contents (c) 2000 by Jim Nolt.