It started out as just another "Boys' Day" at TAC. Young Lou Koza was enjoying his day behind the big desk, and just moments before, Mr. Nolt was in the city room with a pencil on his nose. No one had thought anything terribly important could happen in just one day... but all that changed when Nolt bounded into the editorial office of The Adventures Continue high on the eighteenth floor:
Jim Nolt: I've got it Chief, I've saved The Adventures Continue.
Lou Koza: What is it this time, Nolt? Pictures of "get the cat out of the tree" detail again?
Jim: No sir, Chief. A new discovery about the Adventures of Superman.
Koza: You've got pictures?
Jim: Better than that. You can phone the headline down. Private citizen discovers new Superman credit error.
Koza: What?!
Jim: Sure. I was in the city room browsing the Internet when an e-mail pops up telling me about a new Superman credit discovery.
Kent: Wait... wait.... just a minute. I wanna take this down. Here. (Lou hands his iPhone, with recording app, to Jim.)
Jim: Ladies and gentlemen and fellow reporters. You all know what a great instinct... that I have for news.
Koza: Just the story, Nolt.
Jim: Oh sure, well... as I said there I was in the city room when this guy's e-mail came in telling me that he discovered an error in something everyone thought was true about the cast of "Superman On Earth."
Kent: You mean you actually have proof of all this?
Jim: Step by step, right from the beginning.
Lois: Jimmy, we're proud of you.
Jim: Wait a minute, as Al Jolson used to say, "You ain't heard nothing yet." This joker not only corrects an error, he's found another show the actor was in.
Kent: Jimmy, you're sensational.
Koza: Jimmy, you are a rotten reporter.
Jim: What!
Koza: Do you know what a good reporter would have done?
Jim: Just what I did. Get the story and get it straight.
Koza: What would you have done, Kent?
Kent: Well, I might have brought the hero up here for an exclusive byline interview.
Koza: Exactly.
Jim: Voila! Meet Andrew "Frank Smullins" Klyde... the hero of the hour... whom I have just brought here for an exclusive byline interview.
Inaccuracy Revealed
as reported by Andrew J. Klyde
Today, in an exclusive interview with The Adventures Continue, Andrew J. Klyde, in clear concise newspaper style, made startling and important disclosures regarding "Superman On Earth."
Said Mr. Klyde:
I have discovered some new information that contradicts a long-held, important fact about "Superman On Earth," the initial installment of the Adventures of Superman television series.

All sources I have encountered credit the role of young Clark Kent in "Superman On Earth" to one Joel Nestler. I believe it was not Nestler – but another actor – who played the role.
A good first source are the onscreen credits.
Unfortunately, the onscreen credits to "Superman On Earth"
make no mention of young Clark.

A major source of information is the internet Movie Data Base (IMDB), which supports those who credited Joel Nestler in the role. According to the IMBD, in addition to "Superman On Earth," Joel Nestler played several other roles (albeit mostly uncredited) between 1949 and 1952.
And digging further, a quick "google" search indicates multiple websites that identify Nestler as young Clark Kent, (uncredited) in "Superman on Earth." One site even provides an image of a boy identified as Joel Nestler. Unfortunately there is no mention of the source for that image. (Employ Google translate if your Spanish is rusty.)
But look closely at the image of the person identified as Nestler. That person does not appear to be the same person we see seeking counsel from Ma Kent.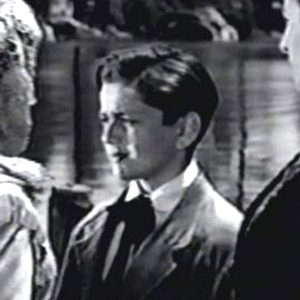 So who is the actor at Ma Kent's side?
Jim and I share an appreciation for Clint Walker's landmark series, Cheyenne. In the pilot episode, "Mountain Fortress" (directed by Richard Bare, married briefly to Phyllis Coates), Cheyenne Bodie (played by Walker) and his friend, Smitty (played by L.Q. Jones), encounter a gang of bandits led by great character actor Robert Wilke. Stew Davis, one of his henchmen, is a young actor identified in the onscreen credits and on IMDB as Jeffrey (or Jeff) Silver.
Compare the images below. On the left is the young bandit identified as Jeff Silver. On the right is young Clark Kent.

There's no doubt about it (in my mind, anyway) – Silver and young Kent are actually one and the same person.
Note Jeffrey Silver's IMDB page is significantly more detailed than Nestler's. It lists numerous film, television and radio credits spanning the years 1948 to 1961, and these credits are verifiable. (For example it states that Silver portrayed Dagwood Bumstead's son from 1948 to 1950 on the long running radio series Blondie, and appeared in a 1960 episode of Father Knows Best.) Notably, IMDB indicates that Silver was active during the same period of time as Nestler and would have been 14 and 1/2 that summer of 1951. (Close enough to "a boy of 12" as described by narrator Jack Narz.)
Accordingly, I conclude that actor Jeffrey Silver (sometimes credited as Jeff Silver) – not Joel Nestler – portrayed young Clark Kent in "Superman On Earth" (at least for one day, when the boy was twelve...).
###
Final resolution: I spoke on the phone several times with Jeff Silver who assures me it was he in "Superman On Earth." According to Jeff, his mother received a call from the Superman producer one evening asking if she thought her son could learn a few lines by the next morning. She assured them that he could, and so Jeff Silver became young Clark Kent.
As it turns out, he and Joel Nestler were friends. For some forgotten reason, Nestler was, at the last minute, not available for the role of young Clark.
Thanks to Jim Beaver for aiding in making a change to Jeff Silver's IMDB page.
###
And just in time for TAC's evening news broadcast:
Jim (August 28, 2012)