Vicki Bigelow – Ace Reporter
(Continued)




EVERYBODY'S BUSINESS
by Robert Dilworth
May 2, 1954
It is developing that one of the most hazardous jobs in the land is that of being a hero to the young gun-packin' rocket-flyin' set. It was in Battle Creek that Roy Rogers sat backstage at the W. K. Kellogg Auditorium after his downtown parade, mopped his brow with a hanky, and said he would never parade in public again. He had just completed a 20-minute trip through a canyon of moppets, each intent on patting a jumpy "Trigger" and trying to attract Roy's attention with anything that could be thrown.
Now comes word that George Reeves, who plays Superman in the Kellogg-sponsored TV series, has given up personal appearances. The kids, intent on seeing if it was all true about superman, were given to jabbing him with knives, throwing bricks at, and other "tests" which periled life and limb.
Battle Creek Enquirer and News
SUPERMAN'S FICTIONAL DEEDS FIND REAL LIFE COUNTERPART
March 20, 1955
Superman doesn't spend all his time dealing with troublemakers.
During breaks in his rigorous schedule as combination newspaper reporter and champion of justice he often finds time to pursue one of his favorite interests -- that of helping youth organizations.
A check for $150 from George Reeves, the man who plays the role of the space-cruising crusader on the Superman television show, has been presented to the Battle Creek Camp Fire Girls Council to be added to the building fund for its long-sought winter cabin at Camp Kitanniwa at Morris Lake in Barry County.
The check represents Mr. Reeves' fee for an appearance on the Superman Circus TV show sponsored by the Kellogg Co. on March 13. He asked that the Kellogg people give the money to some worthy local youth organization in his behalf.
Kellogg advertising officials, Ralph P Olmstead, H. H. List, and A. J. Finley, agreed that the money could be put to good use by the Camp Fire group in the construction of its winter cabin project.
Camp Fire leaders have been raising funds for 10 years for the cabin, which is to be a memorial to C. P Korzuk, Battle Creek businessman and promoter of conservation and nature study at Camp Kitanniwa, who died last year.
With the addition of Mr. Reeves' contribution it is hoped that construction work on the cabin can be launched in the near future.
Mr. Reeves paid a visit to the Kellogg Co. plant here last Monday. His TV show as well as Super Circus is sponsored by the company.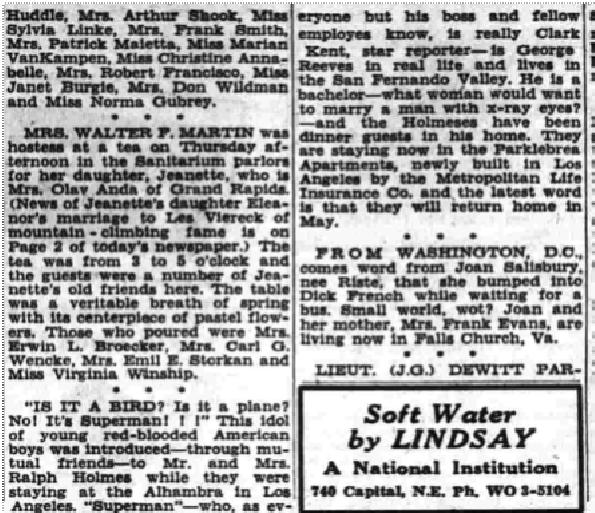 Personals Column
Battle Creek Enquirer and News
March 27, 1955
"IS IT A BIRD? Is it a plane? No! It's Superman!!!" This idol of young red-blooded American boys was introduced – through mutual friends – to Mr. and Mrs. Ralph Holmes while they were staying at the Alhambra in Los Angeles. "Superman" – who, as everyone but his boss and fellow employees know, is really Clark Kent, star reporter – is George Reeves in real life and lives in the San Fernando Valley. He is a bachelor – what woman would want to marry a man with x-ray eyes? – and the Holmeses have been dinner guests at his home. They are staying now at the Parklabrea Apartments, newly built in Los Angeles by the Metropolitan Life Insurance Co., and the latest word is that they will return home in May.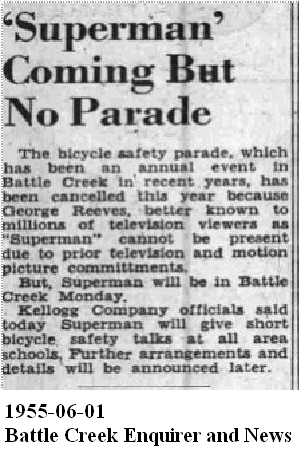 Battle Creek Enquirer and News
SUPERMAN COMING, BUT NO PARADE
June 1, 1955
The bicycle safety parade, which has been an annual event in Battle Creek in recent years has been canceled this year because George Reeves, better known to millions of television viewers as "Superman" cannot be present due to prior television and motion picture commitments.
But Superman will be in Battle Creek Monday.
Kellogg Company officials said today Superman will give short bicycle safety talks at all area schools. Futher arrangements and details will be announced later.

Battle Creek Enquirer and News
SUPERMAN STRESSES SAFETY IN WHIRLWIND SCHOOL VISITS
by "Cy" Cycle
(Your Bicycle Friend)
June 7, 1955
Superman fell for Safety in Battle Creek and Lakeview yesterday.
In a whirlwind tour of 19 schools, George Reeves, the muscular actor who plays the dual personality role of "Clark Kent" and "Superman" in the popular television series, physically demonstrated to his young audiences how a toy or other object left about the house or yard can cause a serious fall.
TALKS SHORT – Due to the schedule each talk had to be short but Mr. Reeves packed an effective message into each 10-minute presentation. His well executed falls to the stage also served the purpose of showing youngsters how to fall to avoid injury.
At each of the schools Mr. Reeves was greeted with all of the squeals and yells the thrilled youngsters could muster. There was their idol in the flesh
During the tour Mr. Reeves was in the character of Clark Kent, but the fact that he didn't show up in the costume of Superman didn't detract from his effectiveness.
"There is little new about bicycle safety that I can say since Sergeant Bob and Cy Cycle have said about everything there is to say," he said.
ADVICE TO CHILDREN – But he did urge children to keep their bicycles in good condition "a safe bicycle is a fun bicycle," he told them.
With summer vacations at hand he warned children not to go swimming alone. "It is much safer and moer fun to go in a group."
At St. Philip Catholic School, the last stop on the tour, school was out but the youngsters were waiting in the school yard. Mr. Reeves was virtually mobbed when he drove up. For a few moments it appeared as though there would be too much noise for him to speak. But he arose to the occasion by putting his fingers in his teeth and producing a super whistle which got the children's attention.
At each school Mr. Reeves, along with Arthur Finley of Kellogg Co. and Sergeant Bob, was introduced by either the president of the student council or the school safety patrol captain. In Lakeview, Battle Creek Township Chief of Police Don Ward also was introduced. Arthur Middleton of the Automobile Club of Michigan, who worked with Sergeant Bob in the annual bicycle safety inspection, accompanied the group.
STARTED EARLY – The tour started at 9 a.m. Nineteen 10-minute talks, 38 falls and five hours and 40 minutes later, Reeves, alias Superman, alias Clark Kent was done.
Although Superman is a fictional character it almost took the stamina of a superman to make the tour.
"If it saves the life of one child the program was more than worth it," Superman said as he flew back to Chicago last night -- by airplane.
Battle Creek Enquirer and News
SUPERMAN TO VISIT SCHOOLS
by "Cy" Cycle
(Your Bicycle Friend)
June 3, 1955
Actor George Reeves, better known to millions of television viewers as Superman, will arrive here Sunday night for a tour Monday of 19 schools in Battle Creek and vicinity in the interest of bicycle safety.
While here he will be in the role of Clark Kent, the shy newspaper reporter.
REPLACES BAKE PARADE – At each school he will give a short talk on safe bicycle riding.
His visit is being arranged by the Kellogg Co. which sponsors the weekly Superman television series. His appearance will replace the bicycle parade which has been canceled becuase Reeves, due to prior television and motion picture commitments, could not attend on the date set for the affair.
Reeves has received many awards for his efforts in the interest of safety. Among these are citations from the American Red Cross and the National Safety Council.
In his visits to the city schools he will be introduced by Sgt. Robert Tomlinson of the Battle Creek Police Department who is known to local bicycle riders as Sgt. Bob.
Arrangements for the tour of the schools were made by James Alexander of the Chamber of Commerce in cooperation with school officials.
This is the final event in the concerted bicycle safety campaign which began in April when Sgt. Bob went to each of the Battle Creek schools and gave a talk on safe bicycle riding and maintenance.
The second part of the campaign was the annual bicycle safety inspection done by Sgt. Bob and Arthur Middleton of the Automobile Club of Michigan.
Part three was the free distribution of Scotchlite reflector tape to 2,000 area bicycle riders by the Y's Men's Club.
Sgt. Bob said today everything has been done to make young bicycle riders aware of safety and to encourage them to adopt safe riding and maintenance habits.
"As the summer vacation begins it is now up to the riders. A vacation from school should not be a vacation from safety," Sgt. Bob stated.

Battle Creek Enquirer and News
June 16, 1959