Based on the in-bound manifest and articles above the evidence is Toni went to Hawaii after the filming The Great Ziegfeld was completed. Jack refers to Toni going to Hawaii during the filming. If Jack's memory is correct, which is Toni, followed by Eddie went to Hawaii during the filming of The Great Ziegfeld, then the only logical explanation is we simply haven't found the documents. It is safe to say Toni went to Hawaii on several occassions. Below is an image of Toni and George in Hawaii during his filming of From Here to Eternity.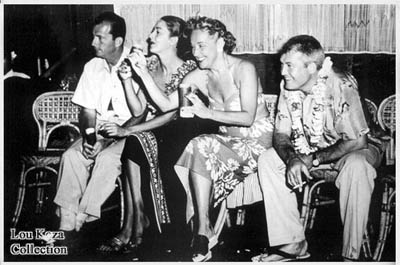 In one of my conversations with Jack I sat in my car after work talking to him on my cell phone. When involved in a telephone conversation, because of the many subjects covered I will jot down notes, since I'm not of the habit of audio recording conversations. So what follows is not word for word Jack's, but similar to what he continued to tell me: It is not known exactly how long after Toni returned to California but eventually she moved in with Eddie. Eddie in 1936 was married to Bernice... that is, until the car she was a passenger in overturned in the desert 4 miles south of Palm Springs. Based on Eddie's rough-tough demeanor and background, ridiculous rumors circulated that Eddie had something to do with Bernice's death. Rumors it remained. Bernice Mannix died on November 20, 1937. They were married for 18 years. It has been told that Toni moved in with Eddie a very short time after Bernice's tragic death.
It is not known when Toni Lanier began actually calling herself "Mrs. Edgar J. Mannix." Most likely sometime in the late 40's. The LA Times dated, Mar 24, 1950 referred to Toni as "(Mrs. Eddie) Mannix." Rumors told the two might be getting married when on October 26, 1938 it was reported Eddie was searching for a new home and again on August 1, 1944 when it was reported the couple were planning a trip to Mexico.
But, just when you think you have a handle on it all, along comes this bit of news oddity for those of us who never would have thought the future Mrs. Mannix and the original Mrs. Mannix had ever crossed paths.
So now we are to logically consider that Toni and Eddie knew each other before Jack's story of Eddie being dispatched to Hawaii to retrieve Toni during the The Great Ziegfeld. Are you confused?
A photo of Toni sitting with Walter Pidgeon in PHOTOPLAY Movie Mirror - May 1943 has her identified as "Toni Lanier." Throughout the 40's Eddie had many girlfriends as was fairly common with studio executives of the time. Toni therefore engaged in her own spicy relationships. It would become as George described to Jack their long standing "arrangement." After all, the two were not actually married. By the time Toni met George, he and Ellanora had separated in 1949 and offically divorced by 1950.
Jan Alan Henderson has proclaimed on a number of occasions to me that once Toni and Eddie decided to be legally married in May 1951, Toni stated to Eddie that George would be coming with the deal. Jack felt this is certainly possible. By conventional standards an "arrangement" in most typical marriages is unheard of. But this is Hollywood and for whatever reasons things are done slightly different in this part of the country. Spencer Tracy while married had a loving relationship with Katherine Hepburn. It too was an open secret. Perhaps it was more the devout Catholic factor, but one reason Mr. Tracy and his wife were not divorced was because she enjoyed the social life of Hollywood and would not want to have her status compromised. I suspect Toni had similar reasons. Certainly the name "Mrs. Mannix" got her into many doors and social circles. Toni's personal reason for not leaving Eddie was the he would soon pass away from his illness, so why jeopardize losing the Mannix fortune. The estate being the reason the two married in May 1951, fearing a sudden death of Eddie would leave Toni with no legal grounds for finanicial security. George would prove money wasn't most important when he terminated the relationship with Toni in Sept. 1958.
Various documents Serena sent show that Toni's year of birth which, when compared, show different years and days of birth in the month of February. Imdb.com lists her birth date as September 19, 1906. The Fourteenth Census of the United States - 1920, City of Rochester you see below gives her estimated year of birth as 1907, which is a estimate from the Census Department. " Numerous passenger list documents, which we assume were based on her passport, list her birthdate as February 22, 1911, (and 1916) as does the California Death Index. It is clear Toni had reasons of her own, perhaps professionally to adjust her birth date accordingly.