The Evolving "S" Emblem

First, regarding this squib, I'd like to share credit, or blame as the case may be, with my good friend Jody McGhee, who, like me, disregarded the admonitions of William Shatner, and never "got a life." Instead, he remained a devout TAOS fan for more than half a century.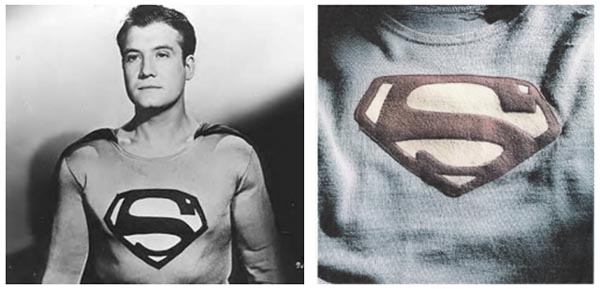 If memory serves, the above photo on the left, taken in 1951, was a costume test, one of the earliest photos of George as Superman. His chest emblem is made from heavy wool felt, a brown piece for the "S", and a cream colored piece for the background. The picture on the right makes this easier to see.
I'm told that the felt used for the emblem was far too heavy to cut by machine, the work had to be done by hand with pinking shears. The top edge of the emblem, above left, shows definite signs of being hand cut. The photo on the right is from a 1953 uniform, as evidenced by the straight top edge.
---

Above is a close-up from 1951's Night Of Terror. The two layers of felt and the hand cutting and sewing are plainly evident
Since all the emblems were cut by hand, it was difficult to follow a pattern precisely, and according to Jody, no two emblems were alike. Above is a close-up from 1951's The Stolen Costume. Note the rounded top edge of the emblem, and the irregular border, indicative of hand cutting. We'll see more of this emblem later.
---
Sometimes the wool felt didn't stand up to the rigors of production. Note the above emblem is starting to fray, in this scene from 1951's Crime Wave.
Some emblems were recycled and reused on new costumes. This picture, from 1953's Shot in the Dark, according to Jody, shows George in a newly tailored costume, but the emblem was taken from the tunic shown above from 1951's The Stolen Costume. Note the rounded top edge and the tiny cream colored dot created by the top curl of the "S".
---

Sometimes emblems changed from scene to scene. Above left is George as Boulder in 1953's The Face and the Voice, confronting Perry White. Note the top edge of his emblem, clearly a 1951 type pattern, a slightly rounded top edge.
On the right, in the very next scene, we again see George as Boulder leaving Perry White's office. Note that his emblem is totally different. The top edge is perfectly straight, and thinner than the 1951 pattern. This pattern was used for pretty much the rest of the 1953 season.
---