The Machine That Could Plot Crimes
January, 2006 --
I was watching "The Machine That Could Plot Crimes" tonight and I think I know where Lois was tailing Clark on foot. My DVD player has a zoom feature and was able to read the sign of the side street behind Clark Kent. It is Jesse Street, north of where we solved the other location mystery in the same episode. It is between 6th Street to the north and Seventh Street to the south. It could be Santa Fe Ave. and Jesse St., but it would take a visit to find out for sure. I was more curious about that location than with the one where Superman pushed the truck.
Armand Vaquer
Oh the wonders of DVD and zoom feature. The street identified or guessed at as 6th St. in the locations used for production of "The Machine That Could Plot Crimes" is actually Jesse St. This street is just one block north of the Seventh Street Bridge (Grant & Company) off of Santa Fe Ave and dead ends into Misquit St.
Richard Taylor
---
April, 2005 --
My cousin (another Sturdy) found your website about filming Superman episodes in downtown Los Angeles. I recognized Associated Gear and Machine Company right away. I'm 55 years old and I worked at that business as a teenager. It was owned by my father and my cousin's father who got the business from their father (our grandfather). It is true that it was located at 829 S. Santa Fe Ave. in the heart of Los Angeles' industrial area. On Sundays the area was practically deserted and I've seen it used in many movies for chase scenes and such.

My father is still alive and probably recalls the landscape in that area. He worked at that business for 36 years. Associated Gear and Machine was sold to a company called L.A. Gear in the 1980's, I think. I was 5 years old in 1954. I will send the site to my dad and see if he can identify the buildings that were there back then.

Good luck.
Gary Sturdy
---
May 4, 2004 -- Thanks to the diligent work of several people, primarily Vince Marzo, the pieces of the puzzle are now falling into place. See the bottom of this page for today's report from Vince and a link to a new page... Then and Now.
[Editor's Note: I first posted this page on April 8, 2004. As new information or questions came to me, I posted them in descending order.]
For the most part, the Adventures of Superman was filmed inside. On occasion, however, Superman, Inc. took to the streets, and there are several such outdoor sequences in "The Machine That Could Plot Crimes." John Sheridan would like to get some discussion going regarding the location of those sequences. Any information you can add will be appreciated.
John wrote:
I just watched this episode and observed the following landmarks:
1) "G. F. Wright Steel & Co." appears on a background building in two different getaway scenes.

---
2) Pinky runs out of a door marked with an address number of "2132-40".

---
3) In the second "G.F. Wright" getaway scene, two other businesses also appear: "Associated Gear & Machine Co." (selling stock gears, sprockets, etc.) and "FORNACIARI Co." They appear to share the same building (closer to the camera) and is on the same side of the street as "G.F. Wright".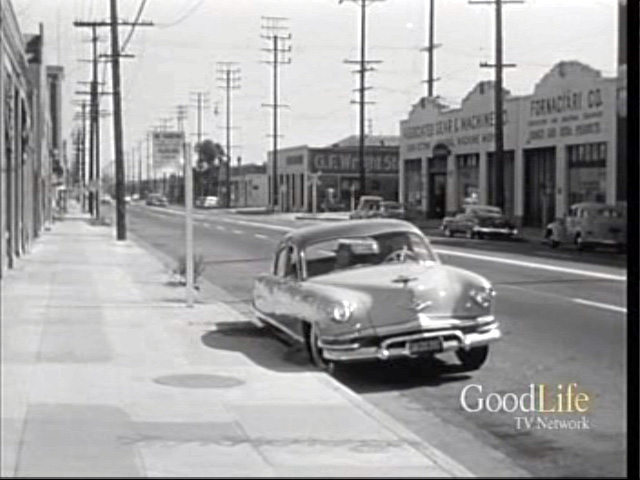 ---
A building sporting a sign the says "Grant & Company" becomes obscured just as a large truck (the one Superman pushes away) pulls into the scene.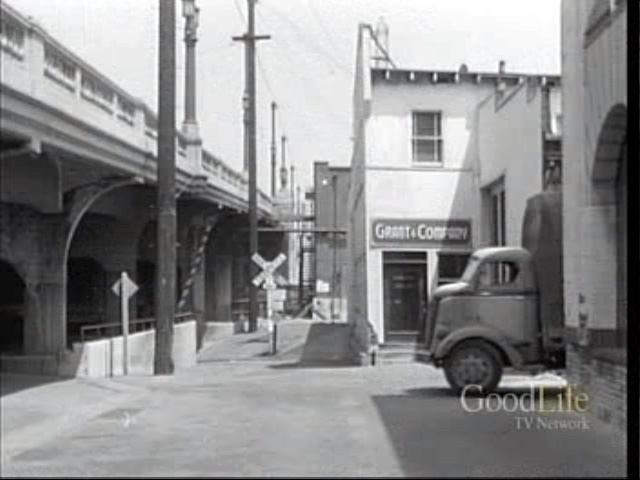 ---
As Clark (shadowed by Lois) rounds the corner of a building made with a corrugated steel exterior wall, a corner street sign can be seen that appears to say "W. 6th St." It's a bit fuzzy on my screen so I'm not exactly sure about that one! But it would make sense since 6th Street is definitely "downtown" in Los Angeles.

So in retrospect, we've got:
1) G. F. Wright Steel & Co.
2) 2132-40
3) Associated Gear & Machine Co.
4) FORNACIARI Co.
5) Grant & Company
6) W. 6th St.
Not exactly a reebus as in "Mystery Of The Broken Statues," but I'll bet if we fed these factors into Mr. Kelso (or someone with access to old LA phone books or Yellow Pages), there might still be just enough existing information to cross-reference in order to come up with this episode's shooting location. Obviously, this was a part of downtown that catered to automotive care and machine shops. Even if many, or all, of these businesses have ceased to exist, West 6th Street is certainly still around. I'd start there. Maybe even 2132-40 West 6th Street. it's a start...
Because I really shapened my eyes for this episode, I noticed a few other oddities. The computer tape feeding out of Mr. Kelso appears to be the same kind of "measuring tape" you'd find in a mother's sewing basket! It appears to be marked with the same kind of measuring appointments!
Also, when Ben Welden reads how "Superman can be fixed", he's reading the tape from right to left! Apparently, Mr. Kelso and Ben Welden are both fluent in Hebrew!

April 9
From John Sheridan -- I checked Mapquest for "2132 West 6th Street," and I now feel it's a bum steer... that address is right across the street from MacArthur Park, which was never a heavily industrialized neighborhood. Remember, I mentioned that I was not completely sure what that corner sign said on my fuzzy
screen.
Additionally, there are no train tracks in that area, either. This episode's exterior scenes seem to be riddled with railway crossing signs, so I suspect it's close to some commercial train lines (as in transporting steel from G.F. Wright). However, when I opened the Mapquest scope to East 6th Street, there's definitely train lines. Also, that large light-colored overpass (pictured to the left of Grant & Company) goes over tracks as evidenced by yet another railway crossing sign. Though there may be several overpasses like that in downtown L.A. as I know I've driven over at least one of them years ago while vacationing. Too bad this episode was the last thing on my mind at the time, otherwise I would have investigated.
Feel free to add any of my remarks to your site. It may help others sidestep my original false lead while allowing them to zero-in on those downtown overpasses that have train tracks below. If any of these landmarks are still standing, those overpasses [Well I hope no substandard steel was used in any of those overpasses. Oh wait, that's a different episode! Editor] and tracks may very well lead to the general location we're looking for. Since location shooting is very costly, I'm sure all those scenes were shot right around the corner or right down the street from one another. The railway signs and all those industrial buildings obviously attest to that.
It also occurs to me that the main branch of the Los Angeles Public Library may have old phone books or similiar information still on file or on micro-film. So if someone's got the time to research all this, they'd
really have a field-day, but all in good fun.
From John Sheridan -- Armand, those are great bridge pictures you sent, though the supports seem a bit too tall compared with the bridge supports in the "Grant & Company" scan from the episode. But just the same, you seemed to have narrowed our search nicely. Yes, we're definitely in the right neighborhood. I would imagine we're looking for a cross-street that's near shorter bridge supports, close to where the bridge first becomes a bridge from a surface street. The angle where the 3 gunmen are firing at the police, just as Superman arrives, shows this to be the case if you look way up the street. Early in this angle (before the police arrive), you see a black station wagon crossing the surface street from right to left from where the bridge obviously begins. That's our target neighborhood. I'll bet all those other landmarks are just right around the corner from that spot!
From Vince Marzo (April 23, 2004) -- Hi Jim. I was in downtown L.A. this afternoon and had a few minutes to spare, so I made my way to the L.A. central library. They do have a limited number of old hard-copy telephone directories, as well as complete directories on microfiche. Since my time was limited, I researched through a hard copy 1959 metro L.A. directory (the oldest one on the shelf) and did find two of the businesses we are looking for.
G.F. Wright Steel & Co.: 909 S. Santa Fe Avenue
Associated Gear & Machine: 829 S. Santa Fe Avenue
Fornaciari Co. was listed at 5350 E. Washington Blvd, so it is obvious to me that they had moved sometime between 1953-54 and 1959 to a new location. I found nothing for Grant & Co. Hopefully, my schedule tomorrow (Friday) will allow me to research the microfiche of the 1953 metro L.A. directories and get "good" address on the other two businesses. Time permitting, I'll photograph the areas, also.
Keep your fingers crossed! I had a feeling that our search pattern wasn't too far away from the often filmed location of 6th and Santa Fe. I was only three blocks off.
From Vince Marzo, April 24 -- The major parts of the puzzle have been solved. I accessed the 1953 metro Los Angeles phone book on microfiche at the central public library and got the missing address we have been looking for.
G.F. Wright Steel & Company was listed as being located at 909 South Santa Fe Avenue. The building is still there and the street numbers "909" are still visible on the front of the building. It is now Yerevan Truck Sales, 905 South Santa Fe Avenue. Although the building has been repainted, you can still make out the words "G.F. Wright Steel & Company" , as seen on TAOS. The building is at southwest corner of Santa Fe Avenue and Violet Street. The railroad right-of-way is gone, as is the railroad crossing sign. However, the rails are still evident bridging the sidewalk and continuing down Violet Street, as they have not been paved over.
North of the former G.F. Wright building, on the northwest corner of Santa Fe Avenue and Violet Street, is the former location of Associated Gear & Machine Co., 829 South Santa Fe Avenue, and Fornaciari Co., 821 South Santa Fe Avenue. That building has been demolished and replaced by a block-long building housing the Imperial Toy Company.
A block north, on the east side of Seventh Street at Santa Fe Avenue, is the beginning of the Seventh Street bridge, which spans the Los Angeles River, as well as the Burlington Northern Santa Fe Railroad tracks on the river's west side, and the Union Pacific Railroad tracks on the river's east side. Grant & Company was listed at 2144 East Seventh Street. The street, which runs parralel and below the Seventh Street bridge, is now Seventh Place. The Grant & Company building no longer exists. In its place is a paved parking lot. The building in the foreground, to the right of the truck pulling out, is still there. The Grant & Company building was probably the site of the scene involving the door marked "2132-40".
I spent the better part of two hours driving the area in an attempt to pinpoint the locations where the other two unidentified scenes were filmed - without success. Many of the buildings are still there, however others have been demolished, abandoned railroad tracks removed or paved over, even streets disappeared as businesses expand their buildings.
I photographed the buildings/areas in question and will get the prints off to you. I still want to take another crack at trying to find the two exterior location sites I couldn't find this afternoon. All of the documented exterior filming of this episode was done in less than a two block area. I can't believe that they went too far from this general area for additional filming, considering the meager budget they had to work with! Hey, it's worth a shot.
Vince
May 4, 2004
The Adventures Continue is grateful to both Vince Marzo, Armand Vaquer, Richard Lassner, and Richard Taylor for taking of their time to provide us with current photos taken on the street where "The Machine That Could Plot Crimes" was filmed in 1953. Please let them know, via the message board, that you value their time and talents. Each day I am more in awe of the generosity shown by those who enjoy the Adventures of Superman.