The Luncheon
Following the ceremony, our guests were transported to the Cafe Pinot (700 West 5th Street) where a luncheon was served in their honor. Our selected menu consisted of:
Cafe Pinot Simple Green Salad with a Garnished Crouton
Three Mustard Crusted Chicken with Pinot Fries, or
Roast Pork Loin with White Beans, Fennel and Parma Ham
Apple Tart Tatin with Hazelnut Ice Cream or
Milk Chocolate Mille Feuille with Candied Hazelnuts and Milk Chocolate Sauce
A "Luke Benson" Apology

Unfortunately, Jeff Corey, better known as Luke Benson to fans of the Adventures of Superman, was unable to attend the luncheon because of family matters. A few days later, after I was back home to Pennsylvania, Mr. Corey called to say he was sorry he had to leave directly from the ceremony. "Jim, you looked so crestfallen when I told you I couldn't go to the luncheon that I'm calling to explain that we had made arrangements to pick up my grandson that afternoon, and I didn't think the ceremony would run as late as it did. I'm sorry I couldn't be there, and I don't want you to think I didn't care." I told Mr. Corey that I understood and was indeed sorry he had to leave, but my sadness was over the fact that he missed out on a great meal and some time with old friends. He thanked us again for the tribute to Superman and said he was glad to be included.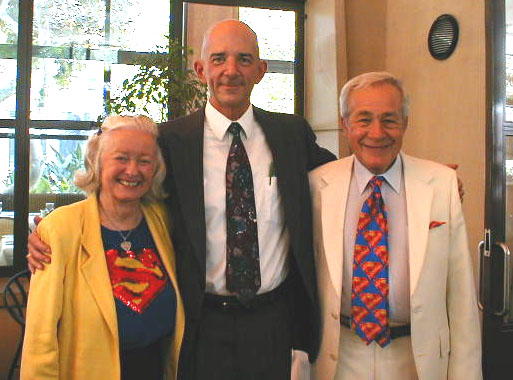 On the same day as the ceremony, Noel Neill and Jack Larson were interviewed by The Travel Channel, so there was some concern that they might not be able to attend the luncheon. As we left the Kenneth Hahn Hall of Administration for Cafe Pinot, Jack promised he and Noel would get there if they could. True to his word, they arrived at the restaurant in plenty of time to enjoy their meal, chat with the guests, and sign some autographs.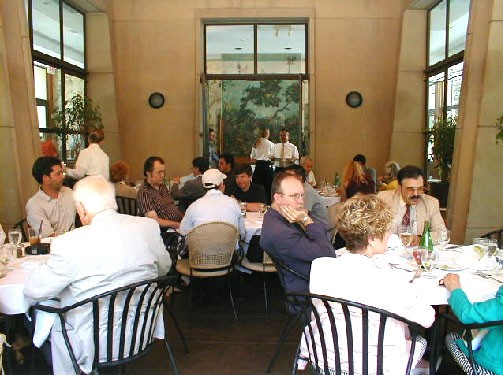 Seating at the Cafe Pinot was comfortable, and it afforded plenty of opportunity for conversation. On the left, you can see Robert Rockwell and Lou Koza. To the right, Stephanie and Bette Shayne with Jim Beaver and Armand Vaquer. At the center table is Chuck Harter, Richard Taylor, Terry Ryan, and Stephen Kirk. The Siegels, Paul Levitz, and Peter Marino are seated at the far table to the left, and Noel and Jack at the far table to the right.

Superman Week Ceremony
The Day Before
Candid Shots
Back in the Room