Film Reviews
by Lou Koza
With all we've learned about George Reeves and the Adventures of Superman, I'd like to take this moment to encourage others, if they haven't already, to explore his other performances. To really appreciate George as an actor watching his other performances is a must. As you know George had a very good career outside Superman. Much has been written that he did Superman because he was out of work. All I can say is, like all actors and actresses, for whatever reasons, careers have their ups and downs and certainly George's is no different. Director Tommy Carr, regarding his selection of George for the role of Superman, said George had the look and could act. That's something that many had, but only one or the other. Throughout George's career he worked with James Cagney, Veronica Lake, Merle Oberon, Burt Lancaster, Ginger Rogers, Tyrone Power, Rita Hayworth, and so many other wonderful actors. Although much of George's career was designated to character and supporting roles, at times the producers flirted him with the leading role. After seeing So Proudly We Hail and Always a Bride it seems unreasonable with his range of talent that producers didn't feature him prominently often. George has a star on Hollywood Boulevard for his television work, most likely for being recognized as Superman, but it's the overall body of work that shines through.
Below are the films of George Reeves that I've seen. Thanks go to Randy Garrett for supplying to me The Good Humor Man, Thunder in the Pines, Man At Large and Argentina Nights, films I had wanted to see for a very, very long time.
For each I've written a quick note to give the curious an idea of how large or small his role in the film was. The list is in no particular order and for further details such as year, full cast members, director's, producers, studios, I leave that to your research on the Internet Movie Database. Also Janeen Christensen has supplied many terrific film reviews in the pages of The Adventures Continue.
Forever Female (Available on video) - George plays George Courtland, boyfriend to the character played by Ginger Rogers. In George's only scene in the movie he is dining in a restaurant with the husband, played by Paul Douglas. Douglas is needling George who is not much amused. The scene is several minutes long. Interesting to note is that Courtland's relation with Beatrice Page ( Rogers) and E. Harry Phillips (Douglas) in the film bares a striking resemblance to George's personal relationship to Toni and Eddie Mannix. Look for Vic Perrin and Walter Reed. The cast also includes William Holden.

---
So Proudly We Hail! (Available on video) - George plays Lt. John Summers, the love interest to Claudette Colbert. In the leading male role George is warm, charming and sincere. Interesting to note is Paulette Goddard reading a Superman comic book to several children many years before George donned the suit and cape. This is perhaps George's finest film role. The cast also includes Veronica Lake.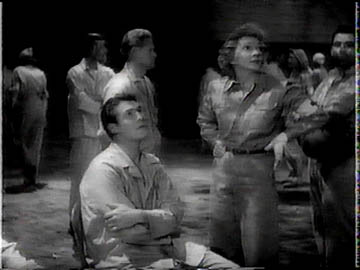 ---
From Here to Eternity (Available on video) - George plays Sargent Maylon Stark, an ex-boy friend of the character played by Deborah Kerr. George is seen throughout the film, but mostly in the background. He has one prominent scene in which he warns Burt Lancaster about the married woman he (Lancaster) is developing a relationship with. This classic film stars Donna Reed, Montgomery Cliff, Ernest Borgnine, and Oscar winner Frank Sinatra.

---
Rancho Notorious - George plays Wilson, a rough tough member of a band of renegade bad guys. George enters about thirty-five minutes into the film. At one point the camera zooms in to George's face as he proudly shows off a large scar he received in a vicious fight. The cast also includes Frank Ferguson, Dan Seymour, John Doucette, John Kellogg, Dick Elliot, and Francis McDonald. All of these actors appear later in different episodes of the Adventures of Superman. Stars Marlene Dietrich.
---
The Good Humor Man - This film stars Jack Carson as an ice cream man. George plays Stuart Nagle, an insurance claim investigator and boss to Jack Carson's girlfriend. Nagle has his sights on Carson's girl and at one point has ice cream smeared in his face in an elevator by Jack Carson. Later it turns out George is the leader in a scam which Jack Carson unravels with the help of a group of youngsters who idolize the comic book character Capt. Marvel. Look for Arthur Space and Frank Ferguson.

---
The Great Lover (Available on video) - In this Bob Hope comedy George plays Williams, a gambler on a cruise ship. Unfortunately, he's killed in the first three minutes of the movie.

---
Samson and Delilah (Available on video)- George enters the movie three quarters of the way through. He plays a wounded messenger warning the King that Samson, played by Victor Mature, has just slaughtered an entire Roman army garrison. George's part is approximately 45 seconds long. This classic film also stars Hedy LeMarr, George Sanders, and Angela Landsbury.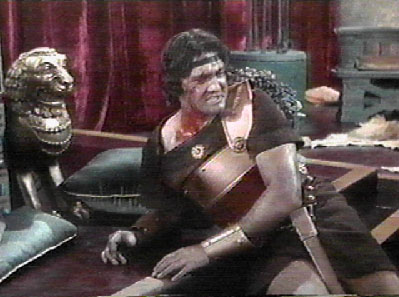 Samson and Delilah, 1949

---
Jungle Jim - George plays Bruce Edwards, the lead bad guy in this Johnny Weissmeuller movie. I don't have to tell you who comes in second place. As much as I prefer to see George as the hero, it is terrific to see him as the bad guy. This film is the first of the Jungle Jim series. Look for Rick Vallin.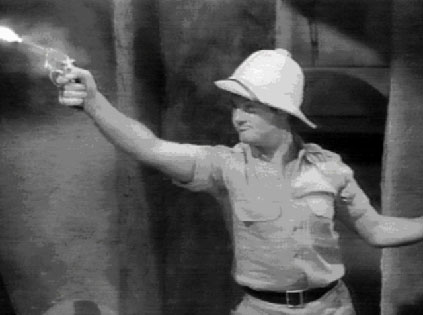 Jungle Jim, 1948

---
Always a Bride - George plays the lead male role as Michael Stevens, a jobless, non-committal, and happy go lucky man in love with Rosemary Lane. Offering competition for the affections of Lane is Superman bad guy John Eldredge. This movie is a lot of fun, mainly because of George who carries this film completely from start to finish. George is at his charming best.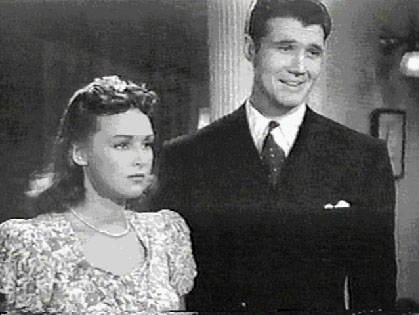 Always A Bride, 1940

---
Torrid Zone - George in the most minor role of all his James Cagney films. Playing Sancho and appearing only a couple of times with no substantial impact in the story.

---
Thunder in the Pines - George plays Jeff Collins along side fellow logger Ralph Byrd, both buddies... until they find out they have the same girlfriend, played by Denise Darcel. George a major player in this film is terrific as a tough guy logger.

---
The Fighting 69th (Available on video) - George has a minor role playing Jack O'Keefe. Although he speaks once or twice early in the film. It isn't until the end that, in a battle, he takes a bullet meant for James Cagney and has his final dialog as a dying soldier. His performance is very sincere.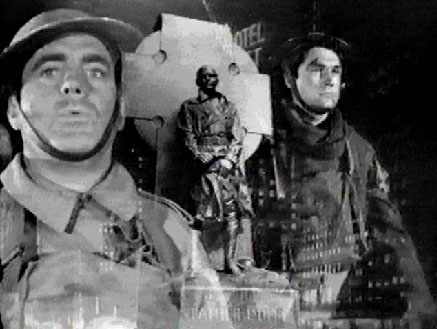 ---
Strawberry Blond (Available on video) - George plays Harold, a tough guy not willing to let James Cagney get the best of him on the streets. George is seen in the beginning where he almost has a fight with Cagney and at the end where Cagney does best him in a brawl. Also stars Olivia De Havilland as Cagney's love interest.

---
Bar 20 (Available on video) - George plays Lin Bradley, a Hopalong Cassidy side kick. George is very heroic, rides the horse with vigor, looks at home in western attire, and at one point has a brawl with Robert Mitchum. George is seen throughout the film and speaks in almost every seen he's in. If not for William Boyd as the star this could have been George's movie.
---
Lydia - This romantic film has Merle Oberon sentimentally recalling her youth and the four men who loved her dearly. George plays Bob Willard, an athlete who comes close to marrying Lydia. This is until she is turned off by his drinking. George has a sizable role. He's seen on the ballroom floor dancing elegantly with Lydia, playing football, and he is thrown out of Lydia's house by Granny (Edna Mae Oliver). Lydia's recollection of her time with Bob is the first of four stories. He is also seen during each of the present scenes; like all the actors in the film, he is aged through the art of makeup. This is a wonderful movie with many touching moments. Look for Pierre Watkin giving a speech in the first two minutes of the film. Cast includes Joseph Cotton.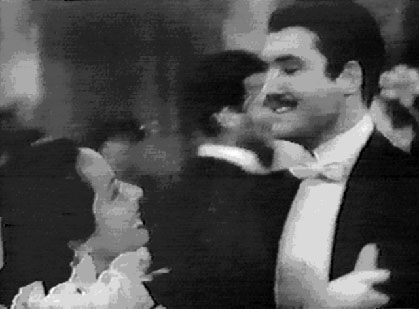 Lydia, 1941

---
Gone with the Wind (Available on video) - George in his very first major silver screen role plays Stuart Tarlton, an energetic and eager southern gentlemen excited to join the Confederacy with his brother. He appears in the early part of the film generously devoting attention to Scarlett O'Hara played by Vivian Leigh. All time classic Film.

---
Blood and Sand (Available on video) - George plays Captain Pierre Lauren sporting a Latin accent. Seen partially through the film investigating a crime revolving around a bull fighter played by Tyrone Power. Also stars Linda Darnell and Rita Hayworth.

---
Knute Rockne, All American (Available on video) - George's role as one of the football players is uncredited. He has a minor speaking part in the locker room and is seen sporatically on the field. Film stars Pat O'Brien and Ronald Reagan. Classic line: "Win one for the Gipper".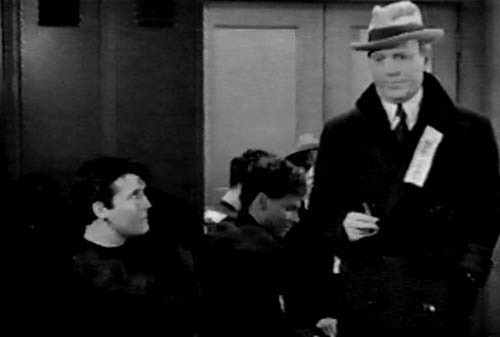 ---
Blue, White and Perfect - The subject of this Lloyd Nolan film is diamond smuggling. Thirty minutes into the film George joins the investigation on an ocean liner as Juan Arturo O'Hara. At first he's at odds with Nolan, but then the two team up against the bad guys. George steals the movie during his scenes.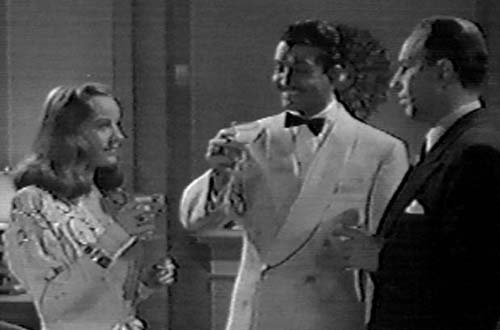 ---
Variety Girl (Available on video) - George comes in somewhere at the star studded finale. Blink too quickly and you've missed him, or so I'm told. I have yet to spot him, but you can see him in this picture. This may be the only known image of him from this film.

---
Heart of Gold - This half-hour television episode is set in 1903. George plays James, the father of two children played by Tommy Rettig and Beverly Washburn. The children are surprised to learn their stern father was once a little boy with an imagination. Shrugging off Christmas as a fantasy George marches off to work. There are two interesting items to note. One is George comparing Christmas to another fantasy -- flying. Dispelling the Wright Brothers' plans as far from common sense, he blurts out sarcastically, "In a few years we'll all be flying, now that's a real fantasy." The second is for those interested in George's pinky rink. George's hand, in a close up, covers the mouth of the fast talking son played by Tommy Rettig. If you are watching a clear recording you might see some details of this much discussed piece of jewelry. Also stars Edmund Gwenn as a snowman come to life who gives the family hope. In one scene the snowman allows the mother, played by Anita Louise, to recreate the touching moment James proposed marriage to her. George returns, and through the help of his wife, learns that life isn't just facts and common sense. Children need to have fun, especially around Christmas. This Christmas story is a gem.
---
Man At Large - George plays Bob Grayson, an undercover FBI agent on the trail of a Nazi spy ring. George is the lead along side Marjorie Weaver (as newspaper reporter Dallas Gilmartin) after the exclusive story. George and Marjorie continuously seek to get the upper hand before finally working together to catch the bad guys. Their chemistry is wonderful together. Marjorie is as persistent as Lois Lane would be. This is a really fun and exciting movie to watch. George is handsome, cunning and heroic. Does George get the girl at the end? You'll have to watch the movie to find out. Interesting to note is a scene in a night club with George sitting on stage impersonating a mind reader identifying various objects given to Marjorie by the patrons. I couldn't help but think of the similarity between this scene and Superman episode 29, "The Man Who Could Read Minds." Could George have had some input into the plot of this classic episode? Hhmm, makes one wonder. Another interesting scene has George and another actor listening to a radio report. It isn't hard to detect that the voice belongs to George. Look for Elisha Cook Jr., Lucien Littlefield, Stephen Geray, and George Chandler.

---
Argentine Nights - George plays Eduardo, a Latin athlete with eyes for Constance Moore. George in a small role with his Latin accent is very handsome and suave. The movie is mostly focused on the Ritz Brothers and an all girl band that includes the Andrew Sisters.

---
Leather Burners (Available on video) - Hopalong Cassidy finds himself involved in a railroad takeover masterminded by Mr. Dan Slake (Victor Jorey). George plays Harrison Brooke, an attorney for the railroad owner. George is polished in his three piece suit while going over the railroad finances with Sharon Longstreet (Ellanora Needles). George is seen early on speaking in the railroad office with Hoppy and Sharon discussing the railroads problem and later joins a posse out to rustle up the bad guys. His role, although a good one, is seen much less than the role he performed in "Hoppy Serves a Writ" and "Bar20." In the final shootout Hoppy saves the day and George is wounded. Interesting to note: George was married to Ellanora Needles... and it's easy to understand, for she is very beautiful. Ms. Needles has a sizable role in the movie and rides a horse with the best of these cowpokes. Cast includes Robert Mitchum.

---
Hoppy Serves a Writ - Once again Hoppalong Cassidy (William Boyd) is after the bad guys, and this time the bad guys include George Reeves. Victor Jory is the leader of a band of outlaws (George plays his younger brother Steve Jordan). George, in this western, has a good size part, but I much prefer him on Hoppy's side. As a bad guy he is more serious and, of course, not at all heroic like his Lin Bradley in Bar20. But he still rides the horse like a real cowboy. In any case, the movie has cattle rustling, chases, poker games, shootouts and fistfights. Sit back and enjoy. Cast includes Robert Mitchum.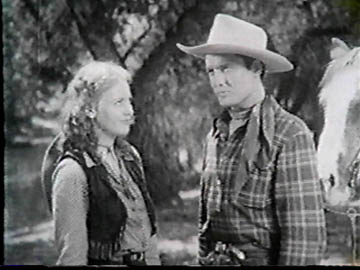 ---