Richard Reeves
By Bruce Dettman
For all I know, in real life actor Richard Reeves (no relation to George, by the way) might have been a Rhodes Scholar, a bone fide genius whose hobbies were integral calculus and theoretical physics. But as far as screen and TV work was concerned the guy was simply born to play dumb. When I make this statement no criticism or cruelty is intended. A lot of Hollywood actors -- Mike Mazurki, Jack Lambert and Leo Gordon immediately come to mind -- made quite good lives for themselves by steadily portraying mindless thugs, dimwits and human vegetables, particularly during the earlier days of Tinseltown when character actors tended to permanently stay just that, remaining what both the public and the studios perceived and even demanded their images to be, and rarely moving up the ladder to more substantial parts and multi-dimensional roles.
Richard Reeves, born Richard Jourdan Reeves, August 10, 1912 in New York City, was big and burly with slicked down hair and rather exaggerated and hound-doggish facial features that suggested both a certain vulnerability of intellect coupled with a decidedly ominous physical presence more often than not manipulated by some superior associate or nefarious cohorts. In short, he was a lummox and sometimes a dangerous one. If you go by his very impressive number of credits, this image served him quite well and he didn't seem to be out of work much. Like a lot of actors who got their start in the 1940s in often uncredited rolls, he slipped easily into the new medium of television where he appeared on dozens and dozens of different shows; comedy, drama, crime, western - there always seemed to be a place for him.
His work on The Adventures of Superman was multi-seasonal, his parts never center stage. As with most of his other work on the small and large screen he usually figured in the background action and plot development. Sometimes he was not even named although you always kept your eye on him. He was big and threatening but never the brains of the operation. Sometimes, even as a villain, he could be marginally likable. Directors. seemed to recognize this and he was often given amusing lines.
His best role on TAOS -- and the one which fans most connect him with -- came in the first season's No Holds Barred episode where he plays Bad Luck Brannigan, wrestling promoter Murray's (Herb Vigram) top performer and the practitioner of the dreaded paralyzing hold that has sidelined and even crippled several grapplers thanks to the unwitting instructions of Indian mystic Ramm (Tito Renaldo). Reeves' Brannigan (doubled none too effectively in various ring encounters) is definitely on Murray's side all the way but his knuckle-headed observations and comments ("I might paralyze myself") somehow manage to dilute his villainy a tad even though he, just like all his fellow grapplers, deserves the shellacking dealt out by Superman. Reeves looks fairly fit in the episode and helps make it a success. His other four roles on TAOS could pretty much be intertwined so similar are they.

In the second season's Jet Ace, he is Frenchy, strong-armed partner to Nate (Ric Roman) out to assist reporter/spy Steve Martin in kidnapping and murdering Perry White's test pilot nephew Chris (Lane Bradford). The Boy Who Hated Superman features him as "Babe," one of gangster "Fixer"s (Leonard Penn) underlings while Olsen's Millions pairs him (as Stacey Tracy) with fellow criminal Big George (George Stone) as they plot to separate Jimmy from his newly acquired million dollars. Completing his tour of duty on the series he was last featured in The Big Freeze where he once again plays second banana in the role of Little Jack to George Stone (Duke Taylor). As was the case in so many of the later color episodes, despite their attempts to destroy the Man of Steel, it's hard to take these guys seriously as villains.
Although early on appearing in dozens of films, he rarely received screen credit but his resume continued to grow and as time went by his name could occasionally be spotted in the cast list (sometimes as "Dick" Reeves). Some of his mainstream film work includes: This Is The Army, Force of Evil, Force of Arms, The Racket, Girl In Every Port, Retreat, Hell, Carbine Williams, Pride of St. Louis, I Dream of Jeannie, She's Working Her Way Through College, Jack Slade, Fair Wind To Java, Man of Conflict, Gunfight At The Ok Corral and City of Shadows. Genre roles would include a part in the Republic cliffhanger Trader Tom of The China Seas, Tarzan's Hidden Jungle and the low budgeted but highly enjoyable science-fiction picture Target Earth where Virginia Grey and he play a couple of lovable night club crawlers and steal the show from leads Richard Denning and Kathleen Crawley.

It as mainly television work, scads of it, that would help him pay the rent in the latter part of his career. Name a show of the 50s and 60s and he likely played on it. Just a fraction of his appearances would include The Untouchables, Lassie, Boston Blackie, I Love Lucy, Dick Tracy, Hopalong Cassidy, General Electric Theatre, Kit Carson, Roy Rogers, Cheyenne, Fury, I Married Joan, Four Star Playhouse, The Lone Ranger, Annie Oakley, Lineup, Trackdown, Sheriff of Cochise, Tales of Wells Fargo, Date With Angels (in the semi regular role as Murph), Jim Bowie, Bat Masterson, The Texan, Tombstone Territory, Wanted Dead or Alive, One Step Beyond, The Virginian, Larado, I Dream of Jeannie, Jack Benny, Perry Mason, Mr. Ed (with Ben Weldon), The Munsters and Batman.

Reeves, apparently a private man whose life is clothed in anonymity, left a huge body of work that fleshed out and added considerable enjoyment and dimension to hundreds of films and TV shows. Undoubtedly many Superman fans will always remember him as "Bad Luck Brannigan" but he was much more than this.
Tyler McDuff, Jack Larson and Richard Reeves as "Babe" from
The Boy Who Hated Superman
September 1, 2008 - Bruce
---
Walter Reed
By Bruce Dettman
By his own count, actor Walter Reed, who passed away in 2001, appeared in some 150 movies and 400 television shows. His was another of those faces we Baby Boomers grew up watching and recognizing yet rarely if ever putting a name to.
Reed did not chalk up a great amount of time on TAOS, only two appearances all told. He was first Bill Corrigan, the tight-lipped but well-intentioned general manager of the Silsby mine, the deepest shaft ever drilled on Earth, in the pilot film Superman and the Mole Men. In the show's first season, Superman and the Mole Men was broken into two halves and aired as The Unknown People. Reed returned to play General Barrel in the final season's The Atomic Captive. Yet this was not the entire story of Reed's involvement in the series since his familiar voice can often be heard in The Mind Machine (as both a radio announcer introducing the crime commission's daily broadcast and as the air flight controller clearing Clark Kent for takeoff) in Rescue as the announcer announcing Lois Lane's predicament in a mine cave-in over the car radio (which Clark cannot hear since he is up front fiddling with a difficult engine - no super hearing here!) as well as several other off screen appearances.
Born February 10, 1916 in Bainbridge, Washington as Walter Reed Smith, he grew up in Hollywood where following a fight at his first school he was sent to another institution in Hollywood, which he attended with a number of the children of noted Tinseltown stars. It was during the depression and following his parents' divorce that the 17 year-old Reed made his way to New York by means of freight cars to try and find work on the stage. While staying with his brother (singer Jack Smith later of You Asked For It fame) he slowly found employment both in stock and on Broadway (So Proudly We Hail, The Front Page, Dead End, The Night of January 16th) and thanks to an eventual assist from actor Joel McCrea (who he had stood in for in an early film) he eventually broke into films in the 1940s, mostly in small films and often in non-credited parts.
His extensive film work would include My Favorite Spy, Bombardier, Return of the Bad Men, Young Man With A Horn, Desert Passage, Submarine Command, Seven Men From Now, The High and the Mighty, The Last Command, Tora! Tora! Tora, four efforts for his favorite director John Ford, Cheyenne Autumn, How The West Was Won, Horse Soldiers and Sergeant Rutledge up through his last feature length effort The Sand Pebbles in 1966. He also appeared as the lead in two late Republic cliffhanger Flying Disc Man From Mars and Government Agents Verses the Phantom Legion, numerous B westerns with the likes of Tim Holt and Rocky Lane, and took radio work in broadcasts such as Hitler's Children.

For all of his big screen work, however, it was the small screen that really occupied his time during the last two decades of his busy career. Although criticized by some actor friends for becoming involved with the new medium, he simply told his critics that "Yeah, I want to learn it." Just a small smattering of shows he appeared on would include: The Lone Ranger (three episodes), Buffalo Bill Junior, Annie Oakley, Have Gun Will Travel, M Squad, State Trooper, Casey Jones, Peter Gunn, Men Into Space, Wyatt Earp, 77 Sunset Strip, The Untouchables, Cheyenne, The Twilight Zone, Perry Mason, The Millionaire, Colt .45, Maverick, Ozzie and Harriet, Wagon Train, Sea Hunt, Thriller, Lawman, Dennis the Menace, The Virginian, Ironside, Batman, My Three Sons, The Invaders, The F.B.I. and Family Affair. He also shot a pilot for a projected series called Deadline which was to have co-starred John Payne, but it didn't sell.
After a heart attack in the early 60s, Walter slowed down his work as an actor and went into the real estate field where he found great success. He moved away from Hollywood and spent the remainder of his days in Santa Cruz, California. Although eventually quitting the acting field altogether, he enjoyed attending various western film festivals around the world and in 2002 was the recipient of the Golden Boot Award for his participation in the western genre.

Not long after "Walter Reed Day" was celebrated in Santa Cruz, the actor passed away on August 20,
2001 leaving behind a great legacy of work and memories for his many fans.
Superman and The Mole Men
Also known as: The Unknown People
Phyllis Coates, George Reeves, Walter Reed and Jeff Corey
Photo courtesy of Lou Koza
July 1, 2008 - Bruce
---
John Kellogg
By Bruce Dettman
Just as the camera often seems to have an unabashed love affair with certain actors, invariably revealing them in the very best light possible, it also, sometimes unfairly, has the reverse effect with other performers. With these individuals the camera detects highlights and even intensifies what under normal circumstances would hardly be noticeable physical traits, but which, when magnified by the subjective lens, can lead to an unbecoming and sometimes threatening harshness. Character John Kellogg's features, while not the cosmetic stuff of a Cary Grant or Gregory Peck, were still handsome enough in themselves (check him out as Mickey Rooney's older brother in 1940's Young Tom Edison for evidence of this), but as he aged the years lent a certain telltale cragginess and hardness to his already slightly squinty eyes, a meanness to his thin lips and an overall suggestion of icy toughness to his entire countenance which served him well in his many later film and television roles as a bad guy but, with only a few exceptions, excluded him from many occasions on the right side of the law.
This fact was certainly in evidence when Kellogg appeared three times on TAOS. In the first season he was one of three gunmen out to eliminate Lois and Jimmy in Night of Terror, a no-nonsense, violent show filled with the sort of murder and brutality which would soon disappear from the Superman video formula. The second season's leadoff episode was Five Minutes To Doom in which Kellogg appeared as a professional hit man who rigs a bomb to do away with Lois and Clark and then disappears from the story. His final appearance on the series was as the nasty blackmailing Luke Maynard out to ruin a pre-Ward Cleaver (Leave It to Beaver) Hugh Beaumont in The Big Squeeze.
Known at various times in his theatrical career as both "Giles" and "John" Kellogg, he was born in Hollywood, California in 1916. Beginning his career in a stock company in New England and surviving a role in a major Broadway flop, he was selected to play the lead in the long-running service comedy Brother Rat. His considerable stage work continued until interrupted by service in World War II. He free-lanced at various film studios following the war and finally signed a contract with Columbia Studios in 1946. His roles were of varied size and quality but he was particularly memorable in Twelve O'Clock High (perhaps his best film work), Thirty Seconds Over Tokyo and A Walk In the Sun. A few of the many other films he appeared include To Be Or Not To Be, Johnny O'Clock, House of Strangers, Out of The Past, The Greatest Show On Earth and Rancho Notorious (with George Reeves).

His television work, if anything, was even more extensive. Just some of the shows he was featured in were Boston Blackie, Inner Sanctum, Studio One, Black Saddle, Tightrope, Hawaiian Eye, One Step Beyond, Maverick, Lawman, The Untouchables, Gunsmoke, The Virginian, Bonanza, Daniel Boone, The Fugitive, The Outer Limits, Alfred Hitchcock, Rawhide, The Invaders, Police Story, Alias Smith and Jones, Kojak, St. Elsewhere and Wiseguy. Personally, I will always recall his ultra villainous and unsettling performance as Jack Chandler, a re-occurring role on Peyton Place.

Kellogg was a fine actor, believable and solid whether hero or villain. He was the kind of actor too easy to take for granted. Had the breaks been different or the camera favored him a bit more his cinematic destiny might have been different. As it was, he left us with many fine and memorable performances and a rich heritage of characters.

John Kellogg died not far from where he was born, in Hollywood in 2000 of Alzheimer's disease.
The Big Squeeze
VidCap selected by Carl Glass
July 1, 2008 - Bruce
---
Philip Pine
By Bruce Dettman
The post World War II period is replete with faces of literally hundreds of young struggling actors who came along just as television was beginning to muscle its way into the entertainment industry and the old Hollywood contract system was being shown the door. For this reason, a lot of fine performers who just a few years earlier would have been placed under the professional guidance of Universal, Warner Brothers, Twentieth Century Fox or MGM studios were now left with only their agents and professional instincts to help navigate them through careers. It was a tough time to make it in the movies, but there was nonetheless a lot of work to be had on television, both live and filmed, for struggling and aspiring actors since, with a few exceptions, the big stars stayed clear of the small screen due to either studio pressure or their own disdain for the new medium.

Phillip Pine, born July 16, 1925 in Hanford, California, is known to Superman fans for his roles in two first year shows, The Mystery of the Broken Statutes and The Case of The Talkative Dummy (both 1951). In the first he is Tristram Coffin's criminal cohort in search of the answer to a puzzle that will net them bucko bucks. In the latter (which would also feature Coffin) he is the ventriloquist/usher in league with a gang of armor trunk robbers.

The curly-haired, square-jawed Pine had the good looks, voice and presence to handle nearly any part, but as often is the case stardom eluded him. Still, when on the screen, quite often playing slightly shifty and scheming characters, he lent a kind of keen intelligence and smoldering intensity to his roles which made you want to pay attention to his time on screen, brief as that sometimes might have been. This was particularly true in his two Superman appearances.

His early stage work was extensive and impressive with a debuting role in a play written in Portuguese. Some of his other theatrical outings included parts in See the Jaguar, The Immoralist and the lead role in King Creole (the part later played by Elvis Presley in the film version). For a few years he also worked on showboats along the Mississippi and Ohio Rivers

He later had mostly small but good parts in films including The Street With No Name, The Set-up, Murder by Contract, My Foolish Heart, Battleground, Wild Blue Yonder, I Shot Jesse James and Hoodlum Empire.

His TV work was considerable and varied and he appeared in most of the best-remembered shows of the 50s, 60s and 70s including Lineup, Science-Fiction Theatre, The Millionaire, Rawhide, Peter Gunn, Alfred Hitchcock Presents, Wyatt Earp, Johnny Ringo, The Deputy, The Untouchables, Checkmate, Twilight Zone, Voyage to the Bottom of The Sea, Get Smart, Bonanza, Star Trek, The Fugitive, Death Valley Days, Lassie, Adam 12, Hawaii Five-O, Mission Impossible, Quincy and Barnaby Jones. Made-for-TV movies include Outrage, Cry Rape, The Clone Master and Stone.

As a writer and director he made the independent films Don't Just Lay There in 1970 and Posse From Heaven in 1975. He also co-wrote the 1982 horror film Dark Sanity.

Phillip Pine, a fine craftsman and unforgettable presence onstage, film and TV, died in 2006 at the age of 86. His death was not reported until May 2007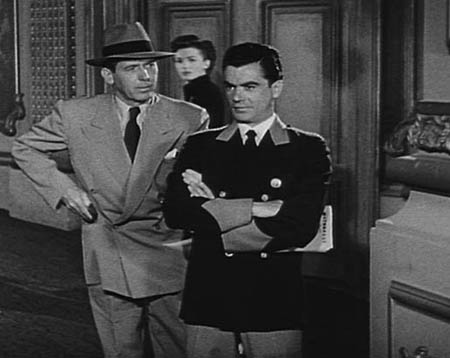 Suspect apprehended by Inspector Henderson
The Talkative Dummy

July 17, 2007 - Bruce
---
Dabbs Greer
By Bruce Dettman
I can't be certain of this, but I think my connection with Dabbs Greer was the first time the notion of the character actor ever occurred to me. I knew about the stars of my favorite movies and TV shows, of course, because they always played either the same parts -- James Arness in Gunsmoke or Jack Webb on Dragnet - or the same kind of parts (John Wayne or Alan Ladd come to mind). The idea of portraying all sorts of different characters, however, was something quite different and became rooted in my adolescent noggin' when I noticed that the same guy who semi-regularly played storeowner Mr. Jonas on Gunsmoke was also the gas station attendant, recently the victim of pod absorption, in the 1956 science fiction classic The Invasion of the Body Snatchers - yep, that's right, Dabbs Greer. In addition to putting this two and two together I distinctly recall being interested in the actor from the very start although even today, after all these years of admiring his excellent film and TV work, I really can't say exactly why this was. My suspicion, however, is that Dabbs, with his relaxed manner and style -- never one to showoff or slide over the top regardless of what sort of role he might have been playing - embodied a sort of everyman quality, a suggestion of the average guy in the street, down to earth and always highly believable and very often most likable. No matter how secondary the part, there was just something about Dabbs Greer that made you glad he was a featured player and that made you want to target in on him and watch what he was up to. Like all the great appealing character actors he often took the emphasis off the larger than life (and often one dimensional) main figures in the story and lent substantial background texture and depth to the storyline and action.

For fans of TAOS Dabbs holds a special place of distinction. He was the first character that the Man of Steel saved on television when, in the first episode of the series, Superman On Earth, he is ready to plummet to his death hanging from a dirigible when Superman catches him in mid air and flies him to safety. In the second season's premiere episode Five Minutes to Doom, he gives one of the strongest performances in the show's history as a man falsely accused of a murder and waiting execution. Finally he appeared in a duel role in The Superman Silver Mine.

Dabbs Greer was born Robert William Greer in Fairview, Missouri on April 2, 1917 but reared in Anderson, Missouri. The only child of a pharmacist father and speech therapist mother, the acting bug apparently hit him young when he appeared in a children's theatre production at the age of eight. He attended Drury College where he earned his BA and would later head the drama department and Little Theatre in the town of Mountain Grove, Missouri from 1940 to 1943. Next on the career agenda was the big move to California and the famed Pasadena Playhouse where he worked as an actor, administrator and instructor from 1943-1950. In 1949 he made his film debut (unbilled) in Reign of Terror and would continue to be featured in films and television for the next fifty years.

Many of his earlier screen appearances were uncredited, but as the years went by he built up a solid reputation as a dependable and versatile character man. Some of his film work include The Damned Don't Cry, Storm Warning, Diplomatic Courier, Deadline, U.S.A., Monkey Business, Above and Beyond, Trouble Along the Way, House of Wax, Riot in Cellblock 11, The Seven Little Foys, Affair With A Strange, The Bad and the Beautiful and Tension at Table Rock as well as fantasy films including the aforementioned Invasion of the Body Snatchers, The Vampire and It The Terror From Beyond Space.

It was TV work, however, that took up so much of his career. Looking at his immense credits over the next four decades it would be difficult to come up with many shows where he was not at one time featured. Just a few of these would include The Lone Ranger, Father Knows Best, Wyatt Earp, Gunsmoke, Cheyenne, Alfred Hitchcock Presents, Charlie Chan, Tombstone Territory, State Trooper, Wanted Dead or Alive, Richard Diamond, Johnny Ringo, The Rifleman, Laramie, Checkmate, have Gun Will Travel, Surfside Six, Twilight Zone, Lawman, Andy Griffith, Lassie, Rawhide Perry mason, The Wild Wild West, the Brady Bunch, Bonanza, The F.B.I., Cannon, Saturday Night Live and Roseanne. Along with his Superman work he would also appear on The Incredible Hulk and Shazam. His most recognizable television role was that of the Reverend Robert Alden on the long-running Little House on the Prairie. In 1999 he was given a major role in the Tom Hanks film The Green Mile, a part he initially turned down for health reasons. The director was so insistent on having Dabbs in the cast, however, that he went ahead and shot all the other scenes in the movie, later persuaded the recuperating actor to reconsider and do the part, and filmed his scenes last. Dabbs would continue to work up through 2003 until further health issues curtailed any future film or TV work.

Dabbs Greer would pass away on April 28th in Pasadena, the place where his great body of film and television work really began. He will be remembered fondly and with great respect as one of the best known and best liked character actors of his era and to fans of TAOS as one of its most memorable and gifted guest stars.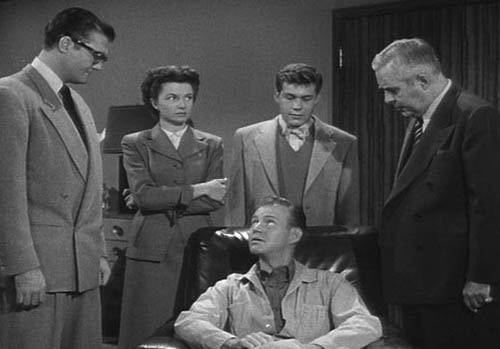 George Reeves, Phyllis Coates, Jack Larson, John Hamilton and Dabbs Greer.
From Superman on Earth

June 17, 2007 - Bruce
More on Mr. Greer:
Good-bye My Friend by Jim Nolt
Dabbs Greer in the Green Mile by Colete Morlock
---
Sterling Holloway
By Bruce Dettman
If Kirk Douglas is remembered in large part for the cleft in his chin, Betty Grable for her legs, Errol Flynn for (among other things) his pencil thin mustache, and Clark Gable for his big ears, than certainly Sterling Holloway, more than anything else, is surely recalled for his trademark voice, one of the most distinctive in the history of motion pictures. Although Holloway was too often pigeon-holed as a voice actor for his extensive work in animated features and commercials, he was also, thanks to his tousled unruly hair and cartoonish expressions, a familiar face in movies and television where more often than not - often to the actor's frustration - he was cast as a loveable hayseed or comical eccentric.
On the Adventures of Superman he was featured in three episodes under, curiously enough, two different names. Why the Uncle Oscar Quinn of both The Machine That Could Plot Crimes (where he invented Mr. Kelso, a mechanical brain) and The Whistling Bird (where he inadvertently stumbled across a new deadly and powerful explosive) is suddenly Professor Twiddle in Through The Time Barrier (creator of a time machine) is anyone's guess. There is, other than the name change, little to differentiate the two men. One of those mysteries of TVdom probably never to be solved.
Holloway, named after a confederate general, was born in Cedartown, Georgia in 1905. A stint at the Georgia Military in College park was followed by attendance at the American Academy of Dramatic Arts in New York. His first big break was in the early Rogers and Hart review The Garrick Gaieties where in his light tenor voice he introduced the two classic melodies I'll Take Manhattan and Mountain Greenery.
In 1926, the fledgling young actor moved to Hollywood, joined the Pasadena Playhouse and initiated a movie career that would last for nearly half a century. Although he appeared in numerous films, he early on developed a strong reputation as a voice actor when he first affiliated with the Disney studios in the making of 1941's Dumbo and later provided distinct voices for the company's Bambi, The Three Caballeros and Peter and the Wolf as well as what was probably his definitive vocal achievement when he supplied the voice for Winnie the Poo in a number of Disney featurettes. Meanwhile, his regular film work, usually portraying colorful rural types, would include a wide variety of roles the likes of Alice in Wonderland, Life Begins At Forty, Nick Carter, Master Detective, The Blue Bird, Meet John Doe, The Lady Is Willing, A Walk In The Sun, Elmer the Great, International House, Gold Diggers of 1933 and The Beautiful Blonde from Bashful Bend. He was also Gene Autry's sidekick in five westerns and starred in a series of comedy shorts produced for Columbia Pictures.
During World War II he was assigned to the army's Special Service's unit, produced a show for servicemen and toured with it near the front lines in North Africa and Europe.
When television came on the scene, Holloway was equally in demand with numerous appearances on the small screen including a semi regular role on The Life of Riley, That Girl, the Andy Griffith Show, Rin Tin Tin, Circus Boy, F Troop, The Baileys of Balboa, The Untouchables, Twilight Zone and Gilligan's Island.
Sterling Holloway, who also was an expert and occasional lecturer on the subject of contemporary art, passed away on November 22, 1992 not long after being honored as a Disney legend for his contributions to the studio's classic creations.

Uncle Oscar: Mr. Kelso, who is Superman?
Mr Kelso: Wouldn't you like to know!
May 20, 2007 - Bruce
---
Larry Blake
By Bruce Dettman
Whenever I think of character actor Larry Blake I conjure up one overriding image, a con artist. Of course, as a highly capable supporting player, Mr. Blake played numerous roles during his long and varied career, but for me he epitomized the slick, bargain basement, big city confidence man. Perhaps it was the shifty eyes, the phony smile or the cheap suits the wardrobe department always seemed to have him wear. But whatever it was, one look at him and audiences knew he was up to no good and could be trusted about as much as a two dollar wristwatch.
In TAOS he makes two appearances, in the first season's The Secret of Superman and the next year in Jet Ace. In both he predictably plays a louse, a criminal bottom feeder with nothing in mind but furthering his own dark little nest. And, as usual, he's wonderful to watch. The Secret Of Superman has him playing a henchman recruited by Peter Brocco to learn the Man of Steel's true identity. He tries to exploit Clark Kent for help and is later gunned down for his efforts. In Jet Ace he is a reporter named Steve Martin (no relation to either the real life comedian or Raymond Burr's newsman in Godzilla) working for the disreputable Metropolis Blade who, it eventually turns out, is also a spy and traitor. He's delightfully oily and treacherous in this one and eventually gets his clock cleaned not by Superman but Perry White's test pilot nephew played by the usually villainous Lane Bradford.
Born in Brooklyn in 1914, the young actor, who prior to his film work gained a solid reputation as an impressionist in vaudeville, had the peculiar career distinction of being the first person to play Adolph Hitler onscreen when he portrayed the young future dictator in director James Whale's 1937 film The Road Back. Originally he had been signed exclusively for the role of German soldier, but after Hitler invaded Poland Whale brought him back for additional scenes in a second part as the dictator. Unfortunately all of these shots were later cut. This did not deter him from continuing with his screen work and he worked steadily for nearly three decades - sans a four year stint with Uncle Sam's Navy in both the Atlantic and Pacific theatres - doing character and supporting player work in such films as The Boys From Syracuse, The Trap, Calling Northside 777, Smash-Up: The Story of A Woman, Sunset Boulevard, Force of Evil, The Winning Team, High Noon, Man of A Thousand Faces, Hang 'em High, The Love Bug, Portrait of a Mobster, Diamonds Are Forever and his last film Time After Time.
If anything, he was even busier with TV work. Just a few of the series he was featured on include State Trooper, Perry Mason, The Restless Gun, Have Gun Will Travel, Sugarfoot, Surfside Six, Dragnet, Gunsmoke, M Squad, Broken Arrow, The Munsters, Lawman, Jack Benny, Burke's Law, Wagon Train, the Virginian, Ironside, The Beverly Hillbillies, The Big Valley and Little House on the Prairie. He was also a regular on the series Pride of the Family which featured a young Natalie Wood.
Husband to actress Teresa Blake (who died in 2005) and father of well known makeup artist and Lon Chaney Sr. biographer Michael Blake* (who appeared with his father in the feature film One More Train to Rob as well as the TV show Kung Fu), Larry Blake passed away in May 25th, 1982 in Los Angeles.
Mr. Blake epitomized the sort of solid and dependable second string actor and consummate pro, little in evidence these days, who so greatly improved the textural background of so many films and shows.
* The author is indebted to Michael Blake for his assistance in the preparation of this piece on his father.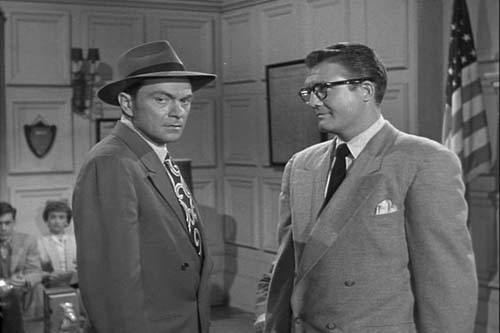 Jet Ace
April 1, 2007 - Bruce
---
Leonard Mudie
By Bruce Dettman
One of the most memorable characters in the extensive pantheon of TAOS villainy is Brockhurst, the crazed magician played with juicy madcap zeal by the wonderful character actor Leonard Mudie. For a whole generation of children who viewed the series in its infancy, Brockhurst was the thing of nightmares with his cadaverous face, wide penetrating eyes and unhinged demeanor. Frankly, many of us had never seen anyone quite like him and the image of his countenance projected and enlarged upon the cloud-littered sky was something we never forgot. Mudie would also appear in three other TAOS episodes, The Jolly Roger as Captain Blood, The Drums of Death as Masters and The Magic Necklace as Professor Jody.

Born in 1884 in England, Mudie spent nearly two decades on the legitimate stage (debuting in 1908), touring British repertory companies in such productions as Lean Harvest, Macbeth, Red Dust, The Merchant of Venice and The Guilty Man. In 1932 he migrated to America and settled in Hollywood where he remained until his death in 1965. Among the better known of the130 feature films he appeared in are The Mummy, Lost Horizon, The Letter, Autumn Leaves, the Big Fisherman, Kiss Me Deadly, Cleopatra, Mary of Scotland, The Golden Idol, Berlin Correspondent, When World's Collide and The Story of Mankind. He also essayed the part of Commissioner Andy Barnes in the Bomba the Jungle Boy series with Johnny Sheffield.

No stranger to the small screen, he appeared in many TV shows of the period including Science-Fiction Theatre, Mr. and Mrs. North, Jungle Jim, The Untouchables, Sea Hunt and in his last video appearance the Star Trek episode The Cage.
Mr. Mudie passed away in 1965 at age 82, due to heart ailment.
Brockhurst disguised as Rocker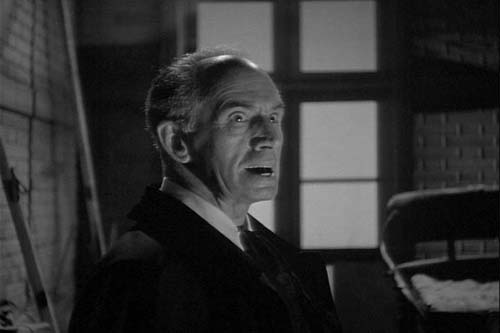 "CRAZY AM I ?"
Leonard Mudie as Brockhurst the Magician, from, A Ghost for Scotland Yard
March 5, 2007 - Bruce
---
Peter Brocco
By Bruce Dettman
Let's face it; some guys just weren't cut out either by design or temperament to ever play heroes. It is perhaps an unfair and sad commentary on how we perceive people by their physical shells, but it also cuts a lot of corners when you're making a half hour TV series and you want the audience to know right off the bat who the bad guys are. Now in the villain department you have various types, all who were on regular display, sometimes with multiple appearances, throughout the history of TAOS. You have the brute type and brainless thugs (Richard Reeves, Frank Richards), the slick con guys and confidence men (Herb Vigran, Phil Van Zandt), the big bosses (John Eldridge, Peter Mamakos) and last but not least, the stool pigeons and weasels (John Harmon, Sid Tomack). Peter Brocco, who logged three appearances on the show, would best fit into the final category with his small stature, pinched features, shifty expressions and hesitant, somewhat cowardly demeanor making him a natural in the weasel department. There was also something European and foreign about his deportment that made him a natural to play spies and traitors. Later in his career, the addition of a full beard dulled and softened this physical imagery and oddly transformed him so that he was often cast as a man of wisdom and intellectual attainment. Such are vagaries of show biz.

Brocco was born in 1903 in Reading, Pennsylvania. Although he made his first film appearance in 1932's The Devil and Deep, he would leave Hollywood shortly after this and travel to Europe where for ten years he toured in theatrical productions in Italy, Spain and Switzerland. In 1942 he resumed movie work, mostly in small often uncredited roles (The Lone Wolf In Mexico, The Boy With Green Hair, Boston Blackie's Chinese Venture), but he worked fairly steadily. Although blacklisted during the early 1950s, he continued to find small parts and films and supplemented his career with a great deal of TV work appearing in everything from dramas to situation comedies. Just a handful of shows he appeared in during this period would include Captain Midnight, Burns and Allen, I Love Lucy, Zorro, Richard Diamond, Have Gun Will Travel, Peter Gun, Perry Mason, State Trooper and M Squad. Films during this period ranged from The Narrow Margin and Rogue Cop to Elmer Gantry and Spartacus (penned by fellow blacklisted figure Dalton Trumbo). His genre efforts included Invaders From Mars (with Robert Shayne) The Atomic Kid and Tobor the Great. Meanwhile, cliffhangers fans will always remember his as Krog, Commando Cody's frustrated nemesis in the Republic serial Radar Men From the Moon.

On TAOS he appeared three times, in the first year's The Secret of Superman, in 1954's The Clown Who Cried as the evil clown Crackers and in the later The Phantom Ring as The Spectre, leader of an invisible gang.
Working nearly up to the end of his life, Peter Brocco would die in Los Angeles in 1992.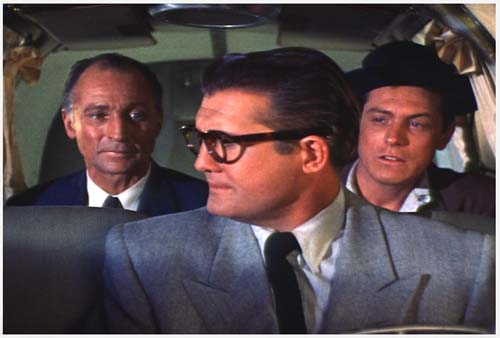 Peter Brocco, George Reeves and Paul Burke in The Phantom Ring

February 1, 2007 - Bruce
---
Dan Seymour
By Bruce Dettman
Some guys were born to play villains just like others were born to play the tuba, paint watercolors or sell used cars. Occasionally, even the worst Hollywood bad men redeemed themselves midstream in their careers and re-invented themselves as heroes and on the right side of the law. A few that come to mind are Charles Bronson, Raymond Burr and Neville Brand. Dan Seymour, who chalked up three memorable performances during the first year of TAOS, eventually could be found in character and non-villainous roles, but even then, with his great girth, intimidating speech pattern and sinister demeanor it was difficult to view him as vulnerable or totally reputable.

Dan Seymour was born in Chicago (his birth date is variously given as 1912 and 1915) graduated from the University of Chicago with a B.S. in Fine Arts. He got his professional start in night clubs and ironically -- given his later dark film image -- gained a solid reputation as a standup comedian. He later moved to Hollywood where his swarthy looks and brutish appearance made him a natural for unsavory and criminal parts. Interestingly, his career is almost always associated with the classic 1942 film Casablanca with Humphrey Bogart in which he had the small role of Abdul the doorman at Rick's Place. He would later graduate to the part of Chief of Police in the Marx Brothers spoof A Night in Casablanca ((1946) and finally tackle the role of Feerari (Sidney Greenstreet in the original film) in the 1955 TV series Casablanca produced by Warner Brothers. Like most actors of that period he worked steadily by appearing on both the big screen and in the new medium of television.

His feature films include The Way We Were, Return of the Fly, The Big Heat, To Have and Have Not, Johnny Belinda, Cloak and Dagger and many many more. On TV he made the rounds showing up on dozens of shows including, Kojak, Mayberry R.F.D., Get Smart, numerous Perry Masons, The Untouchables, The Restless Gun, Mike Hammer and Batman.

His Superman appearances -- The Mind Machine, Stolen Costume and Runaway Robot -- where he played roughly the same ruffled, slimy and remorselessly nasty villain, were all terrific, wonderfully heavy-handed and appropriately over the top.

Mr. Seymour, married and the father of two children, died in 1993 in Santa Monica, California.
He is said to have enjoyed collecting rare liquors and to have smoked 12 cigars each day.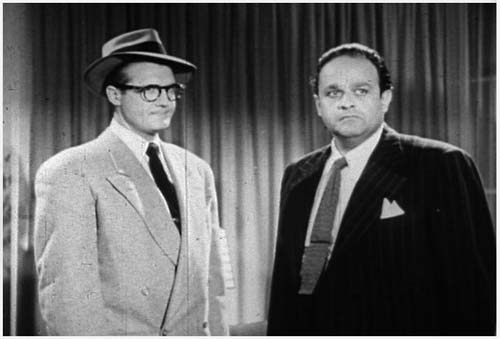 The Stolen Costume
December 16, 2006 - Bruce
---
JOHN DOUCETTE
By Bruce Dettman
If you switched on your TV set in the 1950s and visited any of the three major networks to a drama, a western or a cop show you wouldn't have to wait long before coming across actor John Doucette's face, one of the most familiar to be found on the small tube of the era. Because of his amazing visibility -- primarily cast as a heavy on the small screen but later in his career finding good solid character work in such feature films as Patton -- it somehow seems that he was featured on the Adventures of Superman more than he actually was (three appearances). In fact, I was rather startled by this low number, low in comparison with other actors such as Ben Weldon and Billy Nelson, and thought I had miscounted but I hadn't. With his familiar deep voice, stocky build and bull-like features he instantly registered either menace or authority and he was always as memorable as he was recognizable. Ironically, in his first appearance on TAOS, he was neither of these but rather miscast in The Birthday Letter as a somewhat over-the-top punch drunk ex-fighter (employing little restraint in the already exaggerated part) peripherally in league with a couple of crooks who take advantage of a small crippled child, something he cannot bring himself to do. He was much more suited for his other hard-edged crooks in both The Lady In Black and Clark Kent Outlaw. Unlike some other later episode villains on the show, there rarely anything comical or light-hearted about Doucette's bad guys.
The Brockton, Massachusetts born (1921) actor's resume of television appearances reads like a history of the early medium. Just a small listings of the shows he appeared on would include: Harry O, Mannix, The Virginian, Get Smart, The Big Valley, Bonanza, Wagon Train, Rawhide, The Fugitive, Tales of Wells Fargo, Bat Masterson, Have Gun Will Travel, Sea Hunt, Ozzie and Harriet, Gunsmoke, The Lone Ranger, M Squad, Zorro, Trackdown, Cheyenne and Tombstone Territory. He was also a regular on both the police/court drama Lock Up with MacDonald Carey and the comedy series The Partners.
Some of his big screen credits are: True Grit, The Sons of Katie Elder, Cleopatra, Julius Caesar, New York Confidential, River of No Return, The Big Heat, High Noon, The Pride of St. Louis, Winchester 73 and The Fountainhead. He also and an uncredited part as a henchman in the 1949 Columbia serial Batman and Robin.
Mr. Doucette passed away August 16th, 1994 in banning, California of cancer.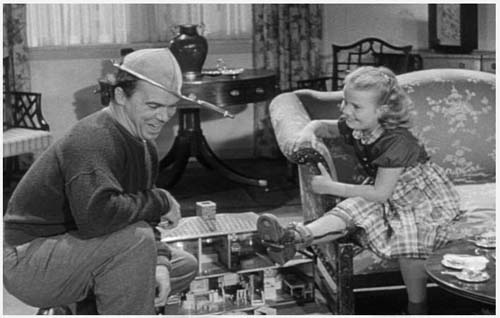 John Doucette and Isa Ashdown in The Birthday Letter
November 1, 2006 - Bruce
More on Mr. Doucette:
A Fine Character Actor by Colete Morlock
---
ALIENE TOWNE
By Bruce Dettman
Aliene Towne (conflicting sources list her birth name as either Fern Eggen or Aileen Bouchard) was not the first actress to portray Lara, wife to Krypton's finest scientist Jor-El and mother of Kal-El, one day to become Earth's Superman. That honor would go to Luana Walters who would create the part for the 1948 Columbia serial SUPERMAN. There is some notable irony here in the fact that it was Aliene, not Ms. Walters, who was most associated in her career with movie cliffhangers. In fact, her participation in five chapterplays made her the very last of the so-called movie Serial Queens although her roles were far less showy or noteworthy than earlier actresses in the genre such as Linda Sterling, Francis Gifford and Kay Aldridge (Phyllis Coates and Noel Neill also entered fairly late into the world of serials). For the record, the St. Paul, Minnesota born * actress (1919) would appear in five serials, The Invisible Monster, Don Daredevil Rides Again, Radar Men From the Moon, Zombies of the Stratosphere and Trader Tom of the China Seas . She would also be a regular on the TV series Commando Cody: Sky Marshal of the Universe where for the third time in her career she would star opposite a hero wearing the famous Republic Studios rocket suit.

Following her work in serials she did a great deal of TV work, appearing in many of the popular shows of the period including The Lone Ranger, Racket Squad, Hopalong Cassidy, Four Star Playhouse, Navy Log, The Life and Legend of Wyatt Earp, M Squad, Leave It To Beaver, Tales of Wells Fargo, Wagon Train, Sea Hunt and Maverick. Film work would include Harbor of Missing Men, The Steel Trap, The Vanishing Westerner and Gog.

In addition to the part of Lara in the episode Superman On Earth, Ms. Towne would appear on two other episodes of TAOS, in The Human Bomb (uncredited as a receptionist) and in The Big Squeeze.
After retiring from show business in 1979, she spent the remaining twenty five years of her life doing what she most enjoyed, traveling with journeys to Asia, Africa, India, Russia, Central American and the Mid East.

Aliene Towne passed away on February 2, 1996, in Burbank, California.
* Other sources list her birthplace as Canada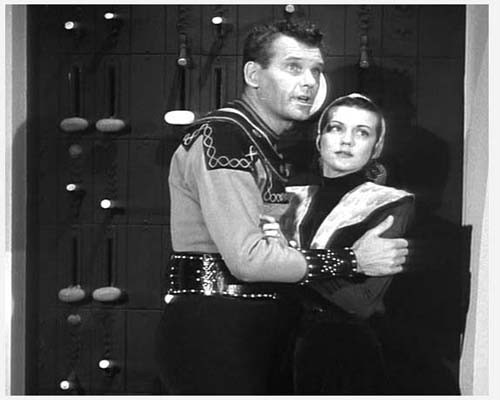 Robert Rockwell and Aliene Towne in Superman on Earth
October 3, 2006 - Bruce
---
HERB VIGRAN
By Bruce Dettman
Outside of the regular cast members on TAOS, it would be difficult to conjure up a more familiar face than character actor Herb Vigran who logged a near record-breaking six appearances on the series. Vigran's signature character, personified in such episodes as No Holds Barred, Superman Week and The Big Forget, was a big talking city gangster (what else could you be with names like Si Horton, Legs Leemy or Muggsy Mapples?) invariably up to no good. This rough persona aside, there was always something in his makeup, a kind of cagey mischievousness coupled with a likable false bravado and squeaky delivery of lines, that made him seem less tough or dangerous than he might have wanted us to think.
Vigran was one of many performers who the general public could rarely give a name to, but who was instantly recognizable to TV viewers, particularly in the 1950s and 1960s when the medium was still in its infancy. He did it all, comedy and drama, and appeared on most of the important and memorable shows of the period. As a matter of fact, it would be more difficult to name shows he did not appear in than those he did. Just a small fraction of these would include 77 Sunset Strip, The Dick Van Dyke Show, I Love Lucy, My Little Margie, I Dream of Jeannie, Charlie's Angels, Wanted Dead or Alive, The Jack Benny Show, Burns and Allen, Dragnet, Gunsmoke (as a semi regular) and The Beverly Hillbillies.
Born in 1910 in Fort Wayne, Indiana, he first set his sights on a career in law and graduated from the Indiana University Law School, but his real passion was acting. After a few lean years in New York he began to find stage work including appearing in the Broadway hit Having A Wonderful Time. He later migrated to Hollywood accepting small and uncredited bit parts in films as well as establishing a lucrative career in radio with appearances on Jack Benny, Bob Hope and Jimmy Durante's shows. In addition, he secured the lead role in the popular wartime series The Sad Sack.
In addition to his monumental TV work, his feature films include The Unsinkable Molly Brown, A Hatful of Rain, 20,000 Leagues Under The Sea, Appointment With Danger, Good Morning Miss Dove, Benji, The Band Wagon and his favorite role, that of a rumpled detective, in the Dick Powell/Debbie Reynolds comedy Susan Slept Here.
Herb Vigran, truly one of the great character actors of our time, passed away in 1986 in Los Angeles of cancer.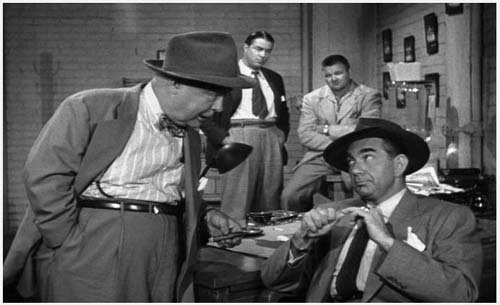 Dick Elliot, Herb Vigran (foreground) and Richard Reeves, Henry Kulky (background) in
No Holds Barred
Billy Curtis and Herb Vigran in Mr. Zero
September 1, 2006 - Bruce
---
JONATHAN HALE
By Bruce Dettman
While other actors logged more guest appearances on TAOS than Jonathan Hale (Dabbs Greer, Tristram Coffin, Ben Welden, Herb Vigran, to name just a few), it would be hard to imagine a more divergent set of performances than those given by the Canadian born actor (1891) in the two standout episodes The Evil Three and Panic In the Sky.

In the first he portrays Colonel Brand, a sword-wielding madman in league with the equally nefarious Macy (Rhys Williams) to, among other things, kill Jimmy Olsen and Perry White. Even being confronted by Superman doesn't make much of an impression on the bloodthirsty Brand as he attempts, with predictable results, to use his blade on the Man of Steel. Although the character has few lines, Hale infuses the part with a disconcerting blend of Southern gentility and a ferocious and unchecked lunacy. In a 180 degree switch, Panic In The Sky gives us Hale as Professor Roberts, a dignified and cerebral astronomer so curt, rude and verbally abusive ("Don't be stupid") that he makes Perry White (who calls him a "Gloomy Gus") look like a Teddy Bear in comparison. Of course, to be fair, Roberts has a few worrisome things on his mind other than lapses in social etiquette, like keeping his eye on the asteroid careening towards Earth with possibly cataclysmic results. Whereas Brand in unbalanced, unhinged and erratic, Roberts is steady, measured and focused. Two memorable performances.

Oddly enough, given his portrayals in these dark episodes, it was his comedic role as J.D. Dithers in the "Blondie" series of films (1938-1946) for which he is best remembered. In addition to these, Hale, who prior to his acting career was a member of the diplomatic service, appeared in some two hundred movies and television shows, usually in authoritarian roles.

His better known big screen work includes: Strangers on A Train, The Fountainhead, Call Northside 777, Since You Went Away and Boys Town. He also had the regular role of Inspector Fernack in several "Saint" detective thrillers. On TV he appeared in Burke's Law, The Adventures of Wild Bill Hickok, The Range Rider, and Studio 57, among many other shows.
Jonathan Hale took his own life in 1966.
Panic in the Sky

August 1, 2006 - Bruce
---
RHYS WILLIAMS
By Bruce Dettman
Although known principally to TAOS fans as Macey, one of the trio of unhinged inhabitants of the Bayou Hotel from what is probably the most violent episode of the entire series run, the first year's The Evil Three, Rhys Williams more often than not spent his considerable career on both the big and small screens playing good guys.
Born in Wales in 1897, he began his theatrical career in Britain learning his craft in several Shakespearean stock companies including the world famous Globe Theatre troupe. His foray into the world of film came in 1941 when John Ford hired him as a dialect coach for the director's How Green Was My Valley. In addition, he was eventually given the role of Dai Bando who in one memorable scene teaches a sadistic teacher a thing or two about boxing.
Following this debut, Williams was seldom out of work and quickly earned a reputation as a versatile and colorful character actor. Appearing in over 70 feature films and dozens of TV shows, his credits spanned a wide spectrum of genres. His "A" efforts include the Oscar winning Mrs. Miniver with Greer Garson (who he would play opposite to in five movies), The Corn Is Green with Bette Davis, Gentlemen Jim with Errol Flynn (again playing a boxing master) and The Bells of St. Mary's with Bing Crosby. Other noteworthy appearances are found in The Spiral Staircase, The Farmer's Daughter, Johnny Guitar and Battle Cry.
His considerable talents were also showcased on the new medium of television where he often appeared. His credits include Wagon Train, Alfred Hitchcock Presents, Perry Mason, Mission Impossible, The Wild, Wild West and, of course, The Adventures of Superman.
Rhys Williams passed away in 1969 at the age of 71 in Santa Monica, California.
The Evil Three
July 8, 2006 - Bruce
---
TRISTRAM COFFIN
By Bruce Dettman
Although his acting career began at the tender age of fourteen on the legitimate stage and he would subsequently have numerous roles in both large and small films, Tristram Coffin would be most visible on the small screen. His appearances during the so-called "Golden Age of Television" run into the hundreds and cover nearly every show of that era, from 77 Sunset Street, Wagon Train and Bat Masterson to The Lone Ranger (he played the Ranger's doomed brother Captain Reid) to I Love Lucy and The Real McCoys.
Good looking with wavy hair and a trademark pencil thin mustache, he would achieve cult status in his only starring role as Jeff King in the Republic serial King of the Rocket Men where he would be the first actor to zip up the classic jet pack uniform with the bullet helmet. He also starred in his own TV series, the western 26 Men, from 1957-1958 where he played Captain Ryning of the Arizona Rangers. He was equally adept at playing good and bad guys and on TAOS he had a chance at both. In the first season he did the back to back episodes The Case of the Talkative Dummy and The Mystery of the Broken Statues. Later he would have parts, although not quite as colorful, in Stamp Day For Superman, Whatever Goes Up and Clark Kent Outlaw.
Mr. Coffin passed away in 1990 of lung cancer.
The Case of the Talkative Dummy
June 1, 2006 – Bruce
Lou (July 30, 2006)