Front Cover
TAC Table of Contents
Contact Information
Our Favorite Character Actors From the Adventures of Superman
Part 2
I'm not certain what has inspired me to devote some time to the guest cast of the Adventures of Superman. Perhaps it was Randy Garrett's use of the many, many characters in his ground breaking Superman and the Secret Planet illustrated story, or Peter Murano's focus on the character actors in his fun packed book The George Reeves Adventures of Superman Companion book. Maybe we three simply came to the same conclusion that recognition for these many great performers was well overdue. Smart minds think alike. In this next series of images, you will find many familiar faces from the Adventures of Superman we've grown to love.
The Magnificent Seven (1960) Natividad Vacio (Inspector Tomaio) from The Brainy Burro as Tomas. Nati had a special personal relationship with George Reeves. They were life long best of friends. Nati taught George to speak and sing in Spanish as well as play the guitar. Film stars Yul Brenner, Eli Wallach, Steve McQueen, James Coburn, Charles Bonson, Robert Vaughn, Brad Dexter and Horst Bucholz. One of the all-time greatest westerns.
---
That Funny Feeling (1965) Dale Van Sickle from Money to Burn. Film stars Sandra Dee, Bobby Darin, Donald O'Conner and Larry Storch. Dale's minor uncredited part was that of a taxi cab driver. You'll score big points if you watch this fun movie with the Mrs. Cut from the same cloth as the Doris Day - Rock Hudson pillow talk movies.
---
That Funny Feeling (1965) Herb Vigran (Mugsy Maples) from The Big Forget. That face, that voice, instantly recognizable.

---
Angels with Dirty Faces (1938) John Hamilton (Perry White) from Superman on Earth. Classic gangster film noir. Starring James Cagney, Humphrey Bogart, Pat O.Brien, Leo Gorcey, Huntz Hall, Billy Hallop

---
It's A Wonderful Life (1939) Tom Fadden (Eben Kent) from Superman on Earth. Starring Jimmy Stewart, Donna Reed, Lionel Barrymore, Ward Bond, Beulah Bondi, Thomas Mitchell and Henry Travers. The all time classic Christmas holiday story.

---
Hit the Ice (1943) Dan Seymore (Lou Cranek) from The Mind Machine. Bud and Lou, great fun. One of the top all-time classic comedy teams. Great fun.
---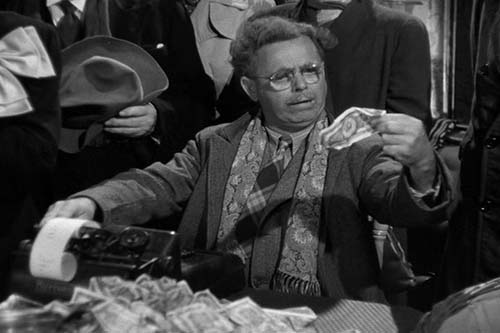 It's A Wonderful Life (1939) Charles Williams (Jim) from The Clown Who Cried and (Yo Yo) from Topsy Turvey (now this even shocked me).

---
Abbott & Costello Meet Frankenstein (1948) Frank Furgeson from The Lady in Black. Starring, Bela Legosi, Lon Chaney Jr. and Glenn Strange. Perhaps the very best of all A&C films.

---
Abbott & Costello Meet Frankenstein (1948) Bobby Barber (Tony) from Crime Wave.
---
Abbott & Costello Meet the Invisible Man (1951) Sam Balter from Crime Wave.

---
Abbott & Costello in the Foreign Legion (1950) Dan Seymore (Ace) from The Stolen Costume and Henry Corden ( Johnson / Legvoo) from Drums of Death. Henry Corden replaced Alan Reed as the voice of Fred Flinstone.

---
Abbott & Costello in the Foreign Legion (1950) Ted Hecht (Abdul Ben Bay) from The Tomb of Zaharan.

---
Comin' Round the Mountain (1951) Robert Easton (Marvin) from The Runaway Robot. Mr. Easton is a master of dialects, and frequently coaches other actors.

---
Mclintock (1963) Jack Kruschen (airport robber) from The Tomb of Zaharan. Starring John Wayne, Murreen O'Sullivan, Patrick Wayne, Stephanie Powers and Jerry Van Dyke. A light hearted western film, with a slant on Native-American support.

---
Mclintock (1963) Robert Lowery (Barry Allen) from The Deadly Rock. Robert Lowery is also best known for his role as Bruce Wayne / Batman in Batman and Robin, 1949.

---
Joe McDoakes short; So You Think You're Not Guilty? (1949) Phyllis Coates (Lois Lane) from Superman on Earth. I wanted to showcase Phyllis as more than just Panther Girl of the Jungle or I was a Teenage Frankenstein as she is mostly identified outside the 1951 TV Superman series. She appeared as Alice McDoakes in up to 22 shorts, from 1948 to 1956.

---
Joe McDoakes short; So You Think You're Not Guilty? (1949) Ralph Sanford (Superburger customer) from My Friend Superman.

---
Blood in the Sand (1945) Hugh Beaumont (Dan Grayson) from The Big Squeeze. Best known as Ward Cleaver in the popular Leave it to Beaver series.
---
The Thin Man (1934) Philips Tead (Professor Pepperwinkle) from All That Glitters. Difficult to recognize because of his young appearance, but listen for the voice..undeniably our favorite absent minded professor.

---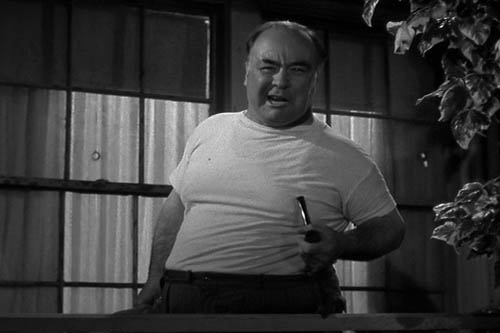 It's A Wonderful Life (1939) Dick Elliot (Sam Bleaker) from No Holds Barred. Doesn't matter what film I see him in, I still expect to hear him say "Hi Clarkie Boy."

---
Puck Privates (1941) Jane Frazee from Panic in the Sky.
---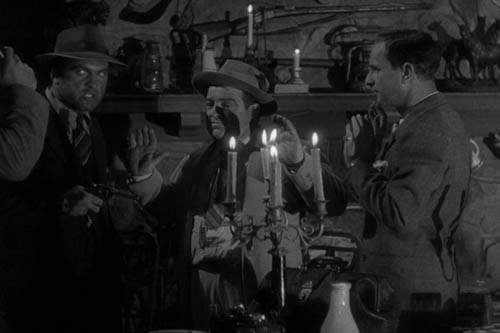 Hold That Ghost (1941) Frank Richards (Sully) from A Night of Terror.

What I find common in most of the actors listed above is they all have their own unique distinctive voice. If you go back through the list you can almost hear their voices echo through your memory.
TAC welcomes and thanks Bruce Dettman for researching and scribing further information about our favorite character actors. Here you will find mini-profiles with very interesting information.. So follow this link to Bruce Dettman Documents.
I hope you've enjoyed this installment of Our favorite Character Actors From the Adventures of Superman brought to you by Jim Nolt's The Adventures Continue.
Thanks for Watching.
Lou (May 17, 2006)
Modified on 12/18/2010
Back to: Page 1
"Like The Only Real Magic -- The Magic Of Knowledge"
---