Last Update - January 2, 2013
If you can't find what you are looking for on this Front page, you'll find those past articles and features on
and

TAC Book Library

____________

– Scoops Of News –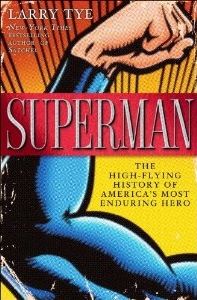 Superman – The High-Flying History Of America's Most Enduring Hero by Larry Tye
is now available in paperback. Read these words from Larry Tye about the early days of Superman on television.

Jim Beaver recently discovered this new television credit for George Reeves:
PHILCO TELEVISION THEATRE
"The Uncertain Molly Collicutt"
March 12, 1950
Announcer: Jay Jackson
Original story by Booth Tarkington
Adapted by William Kendall Clarke
Producer: Fred Coe
Director: Gordon Duff
Cast: Lilli Palmer, Philip Bourneuf, George Reeves, Valerie Cossart, Ben Lackland
► From Bruce Dettman
The Dettman Observatory (the following articles are all on the same page)
Faster Than A Speeding Bow Tie
Super Pairings
Who's The Guy In The Circus Suit?
That'll Put The Whammy On Your Superman Racket, But Good!
Season One: A Highly Subjective List Of Favorite Moments

Ladies of TAOS: Mira McKinney by Colete Morlock and Thom Hamilton
Say, boys and gals... here's a swell story for you to read on a Sunday afternoon. The Haunted Island by Kirk Hastings.



---
Since 1989, the readers of The Adventures Continue, through donations and proceeds from sales of certain items, have contributed a total of $19,033.00 (as of May 1, 2013) to the: Myasthenia Gravis Foundation of America
George Reeves was National Chairman of MG in 1955
Read
letter of appreciation
from the Esther Land of the Myasthenia Gravis Foundation of America.
With the most recent donations, friends of TAC (The Adventures Continue) have now contributed a total of $18,596.00 to the Myasthenia Gravis Foundation of America. MGA was founded by Jane Ellsworth, wife of "Superman" producer Whitney Ellsworth. George Reeves served as national chairperson in 1955 and remained close to MG in the years following.
In fact, through TAC, George Reeves maintains a connection with MG to this day. MG marked its 60th anniversary with a special newsletter that includes the history of the organization complete with the photo of George Reeves accepting a certificate from Jane Ellsworth and Mathilda Kark Spak (page 5).
I'm proud to note there is also a nice mention of The Adventures Continue. Anyone wanting to make a donation in George's name is invited to contact me at jamesnolt@gmail.com. Wouldn't George be surprised to know he continues to inspire generous donations these many years later. ~Jim
Foundation Focus
60th Anniversary Edition
June, 2012
Listen to and buy Old Time Radio adventures.
Candid photo image of George Reeves at Disneyland July 17, 1955. Anaheim, Ca.
---
Jack Larson
News of Jack Larson
Jack Larson Remembers filmmaker James Bridges
Anyone interested in hiring Mr. Larson for his writing skills and/or acting talents can contact the Gersh Agency. Business inquiries only.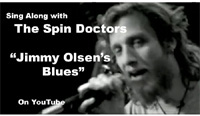 ---
Photo Of The Month



April, 2013

Composite by Lou Koza.

Previous Photos Of the Month
---
Links to Message Boards and Related Websites
---
"Like The Only Real Magic -- The Magic Of Knowledge"
The Adventures Continue (TAC) is a website devoted to George Reeves and the Adventures of Superman. All contents copyright© by Jim Nolt unless otherwise noted. All rights reserved. Nothing from this website may be reproduced by any means, in whole or in part (except for brief passage used solely for review purposes) without the written permission.

Superman and all related indicia are trademarks of DC Comics, Inc. and are reproduced for historical purposes only. Use of the name of any product or character without mention of trademark status should not be construed as a challenge to such status.