MARCH MADNESS
Mid-February, Carl Glass of Glasshouse Presents let it known to TAC that he was taking his website in a new direction. In order to move in this new direction he offered numberous established works relative to TAoSuperman to TAC. My first reaction was yes, of course. If these features need a place, The Adventures Continue is that place. But oh boy, with 80 features to transfer, I knew this was going to be a lot of work and I wasn't looking forward to it dominating the year by taking me away from other projects. I had to do this quick, and easy. The first step would be to consolidate the images, rather than place them in zigzag text boxes. This worked effectively for Bruce Dettman's and Colete Morlock's features, however it didn't lend itself to the features by Alfred Walker and Dave Orbach. In all, it was a challenge and the fun was getting a bit artsy with some of the consolidated images. I did my best imitation of the British magazine vendor from the episode "The Ghost of Scotland Yard." In all, working a a rapid pace, it took a month to complete the 80 feature. March madness to say the least.
Thank you Bruce, Colete, Thom, Alfred and Dave for the time you initially put into these and we are glad they have a new home at TAC.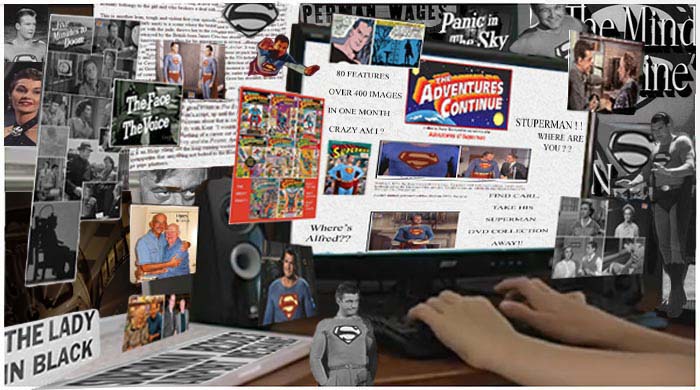 By Bruce Dettman IN RETROSPECT
This is an amazing entrance into a life as seen by Bruce's younger years as it progressed and developed along with his fascination with the Adventures of Superman. Bruce continues for forge ahead with his goal to write about each episode and where and when it weaved into his life. Since generating the In Retrospect pages, TAC has added "Peril by Sea," "Flight to the North" and "Money to Burn." Anyone who is familar with Bruce and his writings not only at TAC, but elsewhere on the Internet know all too well he is a thriving force bringing intelligent and interesting stories to the readership. But as of late, even Bruce has finally admitted the need to slow down a little. He'll still be the "Iron Horse" by my standards.
On a side note, I'm hoping by chance someone out there might have printed Bruce's review of "The Secret of Superman" and "Drums of Death" because we are missing these personal recollections from our line up. Unfortunately, I made the error by not grabbing these from GHP and by the time it was realized they were lost when Carl permanently removed them from his site. If someone has printed a copy of these episode reflections we'd greatly appreciate you forwarding a scanned copy so we can recreate it at TAC.
By Colete Morlock and Thom Hamilton LADIES OF TAOS : Colete and Thom pay wonderful tributes to the many gracious and respectable ladies who have appeared throughout the Adventures of Superman. Since generating the page, TAC has added an excellent feature in the name of Joi Lansing. Joi is a fan favorite for her stunning looks. But Colete and Thom give us far more than her looks. They provided something I think Ms. Lansing herself would be especially proud to know she is being recognized for attributes other than her stunning appearance. I think you will all agree that Colete and Thom gave us a whole lot more than we knew about Joi Lansing, and we are better for it. Thank you Colete and Thom for a wonderful feature.
By Alfred Walker Alfred Walker's Basement : Have you ever spoken to a comic book collector who is mostly all about buying vintage comic books, or even modern copies simply for the investment. Usually, they are latecomers into the interest and often know very little about comic books and the characters at all. All they know is they have number one issues of Fantastic Four, Incredible Hulk, or The Avengers, or The Flash. Well, Alfred is not one of these kind of collectors. You can be sure if you have a discussion with Alfred about comic books, he is going to know a great deal about them. His favorites of course are the Superman titles of the 50's and 60's. So when you are watching the Adventures of Superman and come to the closing credits with it's narration, "Superman is based on the original character appearing in Superman magazine," think of that little fellow named Alfred Walker who was watching those episodes with a small stack of Superman comic books at his side. Read Alfred Walker's Basement. The journey is worth it as Alfred takes us through his favorites stories.
By Dave Orbach X-FACTOR : Have you ever wondered about the various slight changes Superman S Chest Shield over the course of 6 years of episodes? Well, maybe not. But in case you did, be sure to read Dave Orbach's feature showing the evolution of the S on Superman's chest. Dave also presents a study of Superman's muscles. Well, actually the fake muscles worn beneath George's Superman costume. There's also stunts to examine, color processing results of episodes, reviews of the Warner Brothers DVD boxset releases and personal review of the film Hollywoodland.
Thank you Carl Glass for offering these features to TAC. TAC is fortunate to add these features to it's line up and better for it. We also wish the very best for Glass House Presents. Personally, I feel a little sad GHP will no longer stand side-by-side with TAC in the effort to bring to the community features relative to the Adventures of Superman. I always felt there's so much to tell, and for me it took a little pressure off TAC by not having to be all things George Reeves and TAoS. I never felt our sites, along with George Reeves Forever created and owned by Richard Potter were a competitive threat to each other. If that was the case I would have lost interest long ago. Competition worked for Lennon and McCartney, but it doesn't work for me. Let those who can do better shine for it.
In the image above, you will see a news headline which I have overlapped on the forefront of the laptop. Be the fifth e-mail response repeating the correct headline and you will win a mint copy of The George Reeves Companion Book by Peter Murano.