Page 3
Just to the side of the courthouse is Floyd's Barber Shop... but in Superman's "Deserted Village," Peter Godfrey has his drug store there. You can see Clark Kent and Lois Lane walk from the courthouse past the barbershop as they follow Carl Wagner in "Mind Machine". They make a mad dash for their 1951 convertible that's parked directly across the street in front of an odd, many-sided structure which could represent several different buildings, depending on which side was being filmed.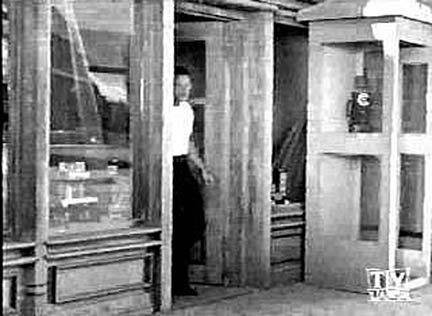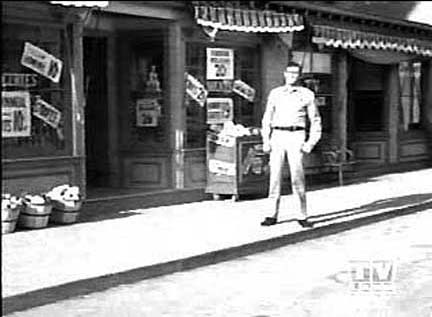 Compare Peter Godfrey's Drug Store and Floyd's Barber Shop

Superman -- Clark and Lois rush to their Nash to follow Wagner... Carl Wagner.

The side opposite the courthouse/morgue has "Inland Hotel" painted on the windows. This can be seen in several other Superman episodes including "No Holds Barred". The Inland Hotel is better known to Andy Griffith fans, however, as "Walker's Pharmacy", where Andy's first girlfriend, Ellie Wallker (Elinor Donahue) worked as a "lady druggist".
The Andy Griffith Show -- Ellie Walker's Drug Store is on the left side of the center building.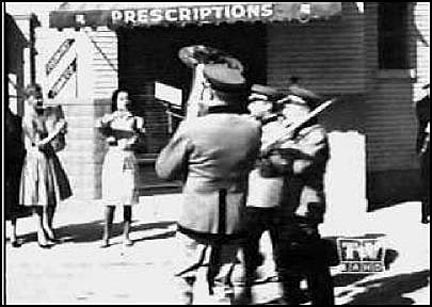 The Andy Griffith Show -- In front of the Ellie's drugstore.

In "Mind Machine", as Lois backs up the car to turn around to trail Wagner, she backs past the corner of the Inland Hotel, and we can see the adjoining side of the building which is familiar to us as the Standish Arms Apartments where one Mr. Clark Kent lived in "Stolen Costume".

Superman -- Connie and Ace await the explosion.

Superman -- Candy waits for Connie and Ace.


Superman -- Connie and Ace, thinking Candy is Clark Kent, "escort" him to their car.

Clark also stopped in front of this building to pick up a paper in "Rescue."
---