I had to only meet her once, along with her daughter Stephanie, for an afternoon, to know I was in true excellent company. Together we came to celebrate 50 years of TV's Superman. Our famed encounter took place on July 10, 2001. For Bette and Stephanie to attend this rather small gathering at the Kenneth Hahn Hall in downtown LA and later at the Cafe Pinot restaurant made me feel our little event was really far more than that and solidified just how important the show was to them. Bette's husband, of course, played the role of Inspector Bill Henderson. While Marshall Reed filled in adequately for the inspector for one episode in The Human Bomb, we fans took a sigh of relief when Robert Shayne returned. The loving woman who stood with Robert Shayne is Bette. Be sure to watch the touching tribute to Bette Shayne shown on YouTube. Thank you "Steb" for your wonderful tribute. Click Here to watch.
*******
Jackson Gillis wrote numerous TAoS episode. Of these, Around the World with Superman is the standout among the many greats. Both Jim Nolt and I have claimed this to be our favorite episode. I never really followed the careers of television writers, but one must recognize how important they are to a show. It is their talents and creativity that is the heartbeat of any film. When I refer to my Top Ten list I found to my surprise only one Jackson Gillis episode. Then I think, how valid can my list be if it doesn't include the likes of: Defeat Of Superman, Superman In Exile, A Ghost For Scotland Yard, The Face And The Voice, Panic In The Sky, The Golden Vulture, The Machine That Could Plot Crimes, Lady In Black, The Lucky Cat, Great Caesar's Ghost, The Magic Necklace, The Seven Souvenirs, The Deadly Rock and The Wedding Of Superman? These are outstanding episodes in every way and I'm positively certain, without a shadow, of a doubt that many of these episodes can be found on most anyone's favorite Top Ten. If you read Jim Nolt's interview with Mr. Gillis, you will find that he had fond memories of TAoS. That's comforting for us fans to know our favorite series had a lasting impression on someone with a long career in television writing that included: I Spy, The Man From U.N.C.L.E, Columbo, Perry Mason, The Fugitive, Lost In Space, The Wild, Wild West, Mission Impossible, Medical Center, Mannix, Bonanza, Ironside, Land of the Giants, Hawaii 5-0, Murder She Wrote, all iconic shows of their time. We had a legend in our midst folks and his name was Mr. Jackson Gillis.
*******
Late last year, Jim and I learned that our good friend Janeen Christensen of Milwaukee was ill with cancer. In the early days of TAC, when it was published in the readers-digest-size magazine format, Janeen was a contributor. During those years, I always took a great interest in what interested others and what was the foundation of their admiration for George. Randy Garrett had this amazing artwork where he channeled his TV Superman interest. Because I immediately admired his talent, I contacted Randy and we've been great friends ever since. Through TAC, it became obvious to me there are many sides to George Reeves to explore. That's were Janeen came in. To the best of my knowledge, Janeen was the first to review the films of George Reeves beyond his Superman work. Up to that point, his work except for Gone With the Wind, was a mystery to me and to many others. Janeen sparked that interest for me with her reviews. After all, while exciting and thrilling it is to watch Truth, Justice and the American Way, however the Superman fraction is just a portion of what we've come to learn who George Reeves was.
With each Janeen Christensen review, I would write her to express my thanks. Janeen always wrote back with wonderful letters. Once in a while I would receive a spontaneous, casual hello letter with off-topic subjects from her. And wow, the lady had a really great sense of humor. Janeen didn't own a computer, so once in a while I would print and send her Internet - TAC features. This past January, I spoke to Janeen for the first time on the phone. It was a real delight. She was upbeat while discussing her condition and seemed to know her life in this world was short. She must have taken a cue from George to be brave, as he would tell the children he visited in hospitals. What a brave woman she was, pausing a number of times because of her condition and then continue on with her grand sense of humor and wealth of television history knowledge. Boy wouldn't it been incredible if George were around today to pay her a visit? She had most of the Superman episodes on VHS to watch as often as she desired. Janeen passed away just two weeks after my call. I had a package filled with TAC feature stuff to send her which was all ready to go when Jim told me of the sad news. Like George, I know there is far more to this lady than meets the eye. Unfortunately, her life was cut short before we could realize how far more splendid she was.
TAC no. 6: So Proudly We Hail TAC no. 11: Jungle Goddess
TAC no. 7: Rancho Notorious TAC no. 12: Father is a Prince
TAC no. 8: Jungle Jim TAC no 14: Man At Large
TAC no. 9: Lydia TAC no. 16: Forever Female
In the months to follow we will occasionally post Janeen's George Reeves film review individually. In closing this year, we kick off with an early peak at Janeen's 1991 review of So Proudly We Hail. I hope you enjoy these as we remember Janeen for her genuine spirit, along with the love and appreciation for George Reeves.
*******
Also this year we felt the loss of Tom Bosley, famous for his role as "Howard Cunningham" of the iconic 70's classic television show Happy Day's. Fans of 50's Superman will recall Mr. Bosley hosting a late 70's television special titled Superman Super-Star, with guest appearances by Noel Neill (Lois Lane) , Jack Larson (Jimmy Olsen) and Thol "Si" Simonson (special effects). Noel and Jack would recall a number of behind the scenes anecdotes and sentimental memories of George Reeves. Generous time was spent with Si Simonson and how he achieved the amazing special effects on a limited budget. George Fisher, a stuntman sporting an original GR Superman costume, was on hand to recreate the stunts. Mr. Bosley treated the subject with respect and presented an extremely fun and memorable show. BTW, am I the only one who thought during the Happy Day's run that a Superman appearance would have been cool! Imagine, Superman and Fonzie side by side. Aye!!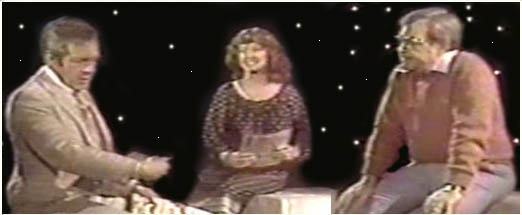 *******
On October 25, rumors were circulating on the Internet that Thol "Si" Simonson had passed away. Michael J. Hayde confirmed the reports through connections with the Hollywood Yacht Club, an organization where Mr. Simonson was a member and previously president. In addition to the Adventures of Superman, Mr. Simonson worked on the classic television series The Fugitive starring David Janssen. Most notable of the series was the final two part episode titled The Judgment. This episode held the record at the time for the highest viewing share of American homes with television sets.
When the producers of Superman: The Movie contacted Jack Larson asking him for a cameo appearance, he suggested they get Si Simonson for the special effects. Jack turned down the request and Mr. Simonson was not asked to work on S:TM. One has to wonder how Mr. Simonson would have handled the more physical aspects of the effects requirements. For example, would Chris Reeve's Superman have floated gently into the air when leaping for the skies? As is, the results were far less impressive than Simonson having George run and jump onto a springboard for his takeoffs. He did more, with less. Si Simonson was an important figure in the Adventures of Superman, no less than any of the individuals cast in front of the camera. He was vital in making TV's Superman a success. Today's films are filled with digital computer graphics. Simonson incorporated ingenuity, combined with simple solutions to solve difficult problems. How do you make it appear that Clark is crushing a piece of coal into a diamond? Well, as Si Simonson did, run a concealed thin tube up the sleeve, to the fist and blow smoke through it. The effect is very convincing.
Legend has it George wouldn't appear on the I Love Lucy episode Lucy Meets Superman unless Si was there to supervise the stunts. This speaks volumes for Thol "Si" Simonson. Jack mentioned that Si was a wonderful person. He greatly admired him and had complete trust when it came to the effects. Jack didn't realize how spoiled he was working with Si when he realized not all stunt coordinators knew what they are doing. Jack recalled working with a crew which had a war scene with numerous explosives which he was required to navigate though. Jack learned a hard lesson.
Years later after Superman, Jack and Si worked together on the Barbara Hershey film, The Babymaker. This film also includes Phyllis Coates.
*******
Notable mentions: Fess Parker and Art Linkletter
Yes, life is a fleeting and a precious commodity. We should all give thanks to the gods that we have had the privilege to share this earthly existence with each other - and that we are bonded together by certain precious elements of multimedia, including TAOS and George Reeves. - Jody McGee- 2010
Look up in the skies. There you will see several wonderful people.